THE MORNING RANT: Electric Vehicles Are Exploding In Popularity!!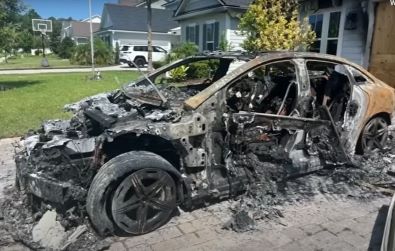 I frequently mock electric vehicles for their propensity to spontaneously combust, but these things are seriously scary. We just keep hearing more disturbing stories about EVs that burst into flames, many while they are parked, turned off, and not charging. Here are some more of these stories since the last time I discussed the topic.
*****
"Mercedes EQE Loaner Car Burns Down Inside Florida Homeowner's Garage" [Inside EVs – 7/24/2023]
A Mercedes-Benz EQE Sedan caught fire and burned to a crisp inside a Florida homeowner's garage last week, severely damaging the building.
The link directly above includes an embedded video of the house burning from this ferocious EV fire.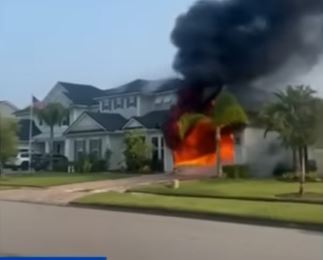 The 2023 Mercedes-Benz EQE 350+ Sedan was in the garage when it caught fire on July 19. According to Jennifer Ruotolo, the EV was a loaner from Mercedes-Benz while her own car was getting serviced. She told News4Jax that the luxury electric sedan wasn't even charging when it burst into flames – she doesn't own a home charging unit.
The header picture up top is what the electric Mercedes looked like after it was pulled out of the garage. As we've discussed before, even very minor fender-benders often cause EVs to be considered total losses by insurance companies, because there is no way to know what damage was done to the battery, and it doesn't take much to turn a lithium ion battery into a potential bomb. Ponder that the next time you rent an EV or consider buying a used one, since you have no way of knowing if that car had some minor impacts or curb encounters that might have damaged the battery.
*****
The World Rallycross Championship was shut down last month
due to a destructive EV fire, again, from a vehicle that was not being driven.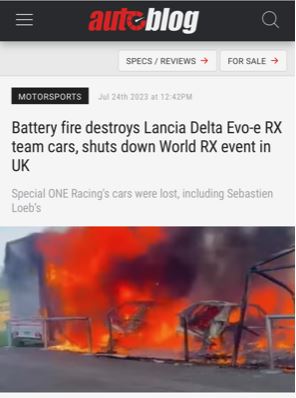 A battery fire has destroyed both of Speed One Racing's electric Lancia Delta World Rallycross cars. The two Lancia Delta Evo-e race cars were reportedly in the paddock at Lydden Hill Race Circuit in the UK on Friday morning when a fire originating in one of the cars' battery packs spread and consumed the team's road tent, taking both cars with it. The fire shut down the World Rallycross Championship event while race authorities attempted to ascertain the cause of the fire.
*****
A few weeks ago I covered the story of electric truck manufacturer Nikola, and how it tweeted out that foul play was suspected when one of its semi-trucks caught fire, which soon engulfed other trucks around it. Of course, an investigation revealed that there was no foul play. The problem involved the batteries. Apparently, once EV batteries are damaged, they're like those wacky birthday candles that re-ignite even after you blow them out. One of those damaged trucks caught on fire
again
at Nikola's headquarters.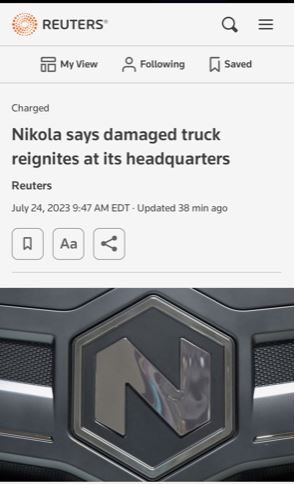 Undamaged EVs are alread terrifying enough (there is no way would I ever allow one to be parked in my garage) but if an EV was in a wreck or otherwise damaged, where the heck do you store it knowing that it could erupt in flames at any time. If I were a wrecker driver I would not want to ever tow a damaged EV. Back to Nikola, you may recall that I put it at the top of my "EV Manufacturer Dead Pool," predicting it would be the next to go out of business, following Lordstown Motors' bankruptcy. Well, Nikola is getting closer. It just suspended all sales of battery powered trucks and recalled all those on the road.
"Nikola Recalls All Battery-Electric Trucks, Halts Sales After Fire Probe" [Reuters – 8/14/2023]
Nikola said on Friday it was recalling all the battery-powered electric trucks that it has delivered to date and is suspending sales after an investigation into recent fires found a coolant leak inside a battery pack as the cause.
*****
I have an obligation to acknowledge when I get things wrong. As noted above, I predicted that Nikola would be the next EV manufacturer to go bankrupt. I got it wrong, it was actually a Biden-touted electric bus maker that was next in line.
Proterra, Electric-Bus Maker Touted by President Biden, Goes Bankrupt [WSJ – 8/08/2023]
Proterra, an electric bus maker that has been lauded by President Biden for its U.S. manufacturing operations, has become at least the third electric-vehicle business to file for bankruptcy in roughly the past year.
[h/t to Mr. CBD for bringing this one to my attention. I think Proterra was his entry in my EV Dead Pool.]
*****
GM has been plagued by exploding EVs,
so they are now trying to figure out why.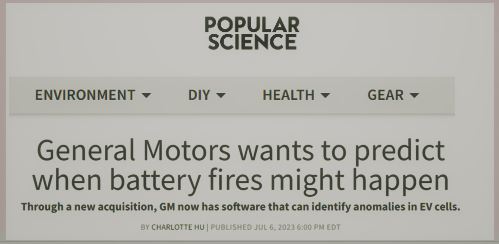 I know! I know!
[Buck waves hand furiously in the air.]
I know the answer to this one!! It's when lithium-ion batteries are used as a power source for a vehicle rather than using a gasoline powered engine. You're welcome, GM.
*****
I believe that others on the blog have already covered this next story, and I am not going to joke about it, because this awful EV conflagration took a man's life.
"Burning Car Carrier Towed to Temporary Location off Dutch Coast" [Reuters – 7/31/2023]
A burning car carrier off the Dutch coast has been towed to a new location away from shipping lanes as part of an operation to salvage the ship, the Dutch public works and water management ministry and local media said on Monday. The freighter, which was travelling from Germany to Egypt when the blaze broke out on July 26… Ship charter company "K" Line said on Friday there were 3,783 vehicles on board the ship - including 498 battery electric vehicles, significantly more than the 25 initially reported. EV lithium-ion batteries burn with twice the energy of a normal fire, and maritime officials and insurers say the industry has not kept up with the risks.
Shipping companies and insurance companies have a day of reckoning coming regarding EVs. They are under pressure from the eco-left to embrace electric vehicles, but EVs are explosively dangerous, they are almost impossible to extinguish when they catch fire, and they are so fragile that the slightest damage to an EV will require it to be totaled.
[buck.throckmorton at protonmail dot com]
Posted by: Buck Throckmorton at
11:00 AM