The Morning Report — 5/17/23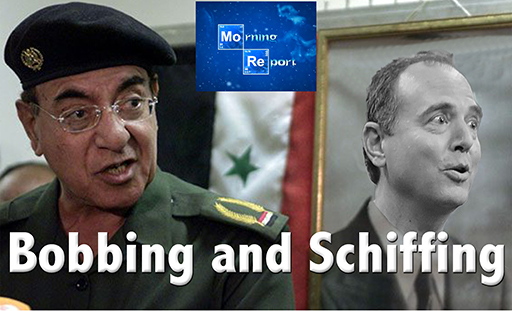 Good morning, kids.
Yesterday, we reported on Senator Josh Hawley calling for "the end of the FBI as we know it,"
essentially demanding change in leadership. Over on the other side of the Capitol,
Marjorie Taylor has called for the Bennie Hinn-coiffured scalp of the director.
"Under Wray's watch, the FBI has intimidated, harassed, and entrapped American citizens that have been deemed enemies of the Biden regime. As such, Director Wray has turned the FBI into Joe Biden and Merrick Garland's personal police force.

The Soviet-style tactics used by the FBI against normal Americans are unprecedented in this country. FBI whistleblower Garret O'Boyle told congressional investigators that the FBI created a terrorist threat tag following the Dobbs Supreme Court decision in 2022. O'Boyle confirmed that the purpose of the tag was to target pro-life individuals. On September 23, 2022, armed FBI agents in tactical gear raided the family home of Mark Houck, a pro-life Catholic and father of 7 young children, because he obstructed access to an abortion clinic," Greene's office said in a statement. . . . . . "Not only has Director Wray persecuted political opponents in an unprecedented and partisan way, but he has also overseen his agency take actions to shield and protect the current President and his family. A senior FBI official left the agency under a cloud of accusations that he shielded a laptop belonging to the President's son, Robert Hunter Biden, from a criminal probe," Greene's office said. "It is unacceptable for the Director of the FBI or any civil officer to exercise his power in a way that targets one political class while doing favors for the other," they continued.
I only excerpted her communiqué but MTG is 1,000% correct,
but let's just hold this for a moment as we go to another Reichsministerium creating havoc and chaos via our southern border.

"He should be impeached as soon as humanly possible," Rep. Chip Roy (R-TX) told reporters on Tuesday. Rep. Ben Cline (R-VA) told Breitbart News, "I support beginning impeachment hearings. I've said that to chairman [Jim] Jordan. My constituents think it's long overdue, and I feel as though once we lay out the facts for the American people and for my colleagues in the House, it'll be inevitable." Rep. Barry Moore (R-AL) said in a statement, "Mayorkas has done more to help the cartels and child traffickers than he has to help the American people. It is clear he is intentionally violating the law and he must be impeached." The calls come after the Biden [junta] lifted the Title 42 border protection last week, which followed at least two consecutive days of border officials apprehending more than 10,000 illegal migrants per day, the highest single-day totals ever recorded, Fox News observed. Overall, under Mayorkas's watch, officials have apprehended more than five million illegal migrants at the southern border, not including an estimated 1.5 million gotaways [sic]. Dismissing calls for his impeachment, Mayorkas told CNN over the weekend, "I am focused on the work in front of us. … I will continue to focus on [DHS's] work throughout my tenure."
I'll just bet you are, considering your "work" is the obliteration of our national sovereignty, identity and culture
. Crucially important as addressing this is, it's beside the point I want to make regarding both these criminals. So, you impeach Wray and you impeach Mayorkas. What does that really accomplish? How many thousands of nameless mid-level to senior level bureaucrats who talk, think and act exactly like those two tits do you think are there, ready, willing and able to take their place?
Like Lois Lerner and John Koskinen before them,
they don't necessarily have to be told what to do by Joey Sponge-Brain Shits-Pants or whoever is shoving the words into his cake hole to spit back. They know what he wants because since the time of the New Deal and for sure The Great Society, they and those in every other unconstitutional bureaucracy, agency and department collectively have been the de-facto rulers of this country and as such, have been the drivers of the Leftist agenda that Grampa Daughter-Doucher, as well as every president since LBJ to greater or lesser extents with the exception of Reagan and Trump, has served as figurehead. This is why not only the DOJ, DOD and CIA were Hillary Clinton and Barack Obama's co-conspirators as proven and underscored in the Durham Report in the attempt to take Trump out in 2016 but every single department in Washington DC committing covert and sometimes overt acts of insubordination and mutiny in derailing his presidency, culminating in the rigging and then outright theft of the 2020 election. Trump, as a businessman and true outsider, ran to drain the swamp which he correctly saw as impeding our growth and prosperity at home, and our stature and national security abroad. What he did not see, and really very few of us saw was just how deep and dark that swamp was. The irony is that his greatest achievement, unintentional for sure, was his political assassination at the hands of 9.1 million
Eichmanns, little and not so little
, that collectively make up the Leviathan. That is, his presence and goals being what revealed this monster for all of us who had eyes to see to recognize and admit its existence. Impeach Wray and Mayorkas? Even Biden? What good will that do? You are going to have to "impeach" all of DC and every single blue statehouse and legislature, along with the RINO stooges who do their bidding. I do not see elections, even those that yield legitimate results if those are to ever happen again, as being a solution here. The rot and corruption in government is merely, pace Andrew Breitbart, downstream from the source of the contamination: the schools and the culture. That is going to take time to address – at least a few decades – and we simply are running out of it. And that even assumes that the same kind of evil bastards who run the schools are going to simply hand over control.
In fact, they not only do not recognize the absolute authority of parents, but consider parents who object to what is being taught as akin to child abusers and terrorists.
A Hernando County, FL parent is upset about a Winding Waters K-8 school fifth-grade teacher showing her students a pro-LGBTQ Disney movie. The parent, Shannon Rodriguez, protested fifth-grade teacher Jenna Barbee's decision during a local school board meeting. "It is not a teacher's job to impose their beliefs upon a child, religious, sexual orientation, gender identity, any of the above," Rodriguez said. "But allowing movies such as this assist teachers in opening a door — and please hear me — they assist teachers in opening a door for conversations that have no place in our classrooms." Barbee begged to differ. During an appearance on "CNN This Morning," the fifth-grade teacher argued parents were stripped of their rights when the child entered a public school system. "We had played that for the viewers in the introduction, but I just want to give you a chance to respond," host Poppy Harlow said. "Yes, so, that's — what she's missing and what these parents are missing is, they're not in the school system. That just shows me that she's ignorant and has not come and volunteered at all because our — these conversations, these doors, they're open. These students have one-to-one devices. The amount of things that they're able to pull up that we have to shut down, they – they — these conversations, these doors that she's talking about, that's telling you I'm stripping her rights as a parent, those rights are gone when your child is in the public school system because there are students talking about these things. It's where they get 90 percent of their socialization for the day. And we can't shut down every conversation every child has."
Emphasis mine. Barbee, as in Klaus? "Impeach." With extreme prejudice.
SHAMPEACHMENT 1.0, 2016 CLINTON/OBAMA COUP, CONGRESSIONAL PERSECUTION, SPYGATE, DEEP STATE, MUELLER DECEPTION
NOTE: The opinions expressed in the links may or may not reflect my own. I include them because of their relevance to the discussion of a particular issue. ALSO: The Morning Report is cross-posted at
CutJibNewsletter.com
if you want to continue the conversation all day. Follow us on Twitter:
@CutJibNews
Follow us on Instagram:
@Cutjibnewsletter
TIP JAR
:
Your support helps keep the lights on and is truly appreciated. Note: We are on Stripe, not PayPal.
Posted by: J.J. Sefton at
07:47 AM
MuNuvians
MeeNuvians
Polls! Polls! Polls!
Real Clear Politics
Gallup
Frequently Asked Questions
The (Almost) Complete Paul Anka Integrity Kick
Top Top Tens
Greatest Hitjobs
News/Chat