Saturday Overnight Open Thread (4/1/23)
(H/T Roger)
***
The Saturday Night Joke
A nun gets into a cab and notices that the VERY handsome cab driver won't stop staring at her. She asks him why he is staring.
He replies: "I have a question to ask you but I don't want to offend you." She answers, "My son, you cannot offend me. When you're as old as I am and have been a nun as long as I have, you get a chance to see and hear just about everything. I'm sure that there's nothing you could say or ask that I would find offensive." "Well, I've always wondered what it would be like to have a nun kiss me." She responds, "Well, let's see what we can do about that: #1, you have to be single and #2, you must be Catholic." The cab driver is very excited and says, "Yes, I'm single and Catholic!" "OK," the nun says. "Pull in to the next alley." The nun fulfills his fantasy with a kiss like he has never been kissed before. But when they get back on the road, the cab driver starts crying.
"My dear child," says the nun, "why are you crying?"
"Forgive me but I've sinned. I lied and I must confess, I'm married and I'm Jewish." The nun says, "That's OK. My name is Kevin and I'm going to a costume party." (H/T "Iris")
***
Let's see if I understand this correctly.
It is against the rules to take a shower and change clothing while being nude.
An Australian surf lifesaving club has found itself at the center of a controversy following its implementation of a no-nudity policy in showers and changing rooms. Ocean swimmer Nada Pantle, who regularly uses the changing rooms after a morning swim in Terrigal, New South Wales, said she was sent a letter warning that she had breached Terrigal Surf Life Saving Club's nudity policy, CNN affiliate 7News reports. A sign in the club advises users to "shower in your swimming costume and change with your towel around you." Another swimmer told the BBC that the sign appeared "probably three months ago."
***
An interesting fishing partner. You don't have to argue about who drives the boat.
***
Someone failed to take the basic Internet Security Training course, right Mrs. Atroshchenko?
Ukrainian hackers use Russian officer's wife's nude photos to gather intelligence
Mrs. Atroshchenko agreed to surprise the regiment with a pinup calendar, thinking she was speaking with an officer rather than Ukrainian hackers.
***
Yours truly is very honest with you. I'm not a big fan of baseball.
Does the game need to be revolutionized? I think some tweaking is necessary. This seems over the top.
THE DRIVE FROM Tempe, Arizona, to Orange County takes roughly six hours, so Tucker Davidson had plenty of time to talk as he trekked from spring training to his home in the Los Angeles area. Just like everyone else in baseball, the 27-year-old left-hander has time at the forefront of his mind these days. The next pitch Davidson throws for the Los Angeles Angels will come with a digitized clock winding down and a penalty for its expiration. A new brand of baseball will reveal itself to the world Thursday, when the Angels and 29 other teams inaugurate the 2023 season, or, as it will be known in future years, the beginning of the pitch clock era. It will be the most significant change to the on-field game since Jackie Robinson's arrival altered the player population.
***
It has been a while since The ONT featured some Bill Burr.
NSFW
***
Hey - I can do movie reviews as well........
***
You thought you had a shitty job. I'm betting it isn't this bad.
Meet Brendan Walsh, Professional Poo Diver
Brendan Walsh runs a commercial diving business in Melbourne and spends his days in all sorts of no-air environments, with a small part being sewage. Sewage diving in Australia is essential because we use bacteria instead of chemicals to break down the solids. Big stirring machines run 24 hours a day and moving parts constantly break, which is when Mr Walsh's business is called in to repair them.
"It's more thick than normal diving and you can't see anything no matter what. It's more like walking than swimming when you get down there.'
Speaking of shit. The following was submitted for your approval from CBD.......
Some Poor Viking Dropped this Massive Deuce Over 1,000 Years Ago
During an archaeological dig of a plot of land in 1972, a massive and incredibly well-preserved turd was discovered. Coming in at a whopping 8 inches long, and 2 inches wide, it was dubbed the largest, oldest human fecal sample in existence.
***
The ONT Musical Interlude & Dark Chocolate Emporium
On this day: 1 Apr 1985
David Lee Roth quit Van Halen shortly after releasing his version of The Beach Boys 'California Girls', (which featured Carl Wilson on background vocals). He was replaced by Sammy Hagar later in the year. via thisdayinmusic.com
&&&
On this day: 1 Apr 1984
Marvin Gaye was shot dead by his father at his parent's home in Los Angeles, California. The argument started after his parents squabbled over misplaced business documents, Gaye attempted to intervene, and was killed by his father using a gun he had given him four months before. Marvin Sr. was sentenced to six years of probation after pleading guilty to manslaughter. Charges of first-degree murder were dropped after doctors discovered Marvin Sr. had a brain tumour. via thisdayinmusic.com
***
Oh great. She said "Yes". And they will probably breed.
Genius Award Winner.
A Los Angeles Dodgers fan ran out onto the field during Opening Day on Thursday night and was brutally tackled by a security guard while he attempted to propose to his girlfriend. But the story ended happily with the news that in spite of a hard hit and a brief detention, she said "yes." Ricardo Juarez posted a video on social media that showed him running out onto the field and looking for the right spot to get down on one knee.
***
We needed this.
Tonight's Feel Good Story of The Day.
A grandmother who was working in her food truck allegedly shot a 23-year-old man who tried to rob her. Keshondra Howard Turner, 53, was cooking behind the counter of the soul food truck her family owns when a man approached in a vehicle around 1pm on Tuesday and asked what was being served, according to Houston police Lt Bryan Bui.
***
Tonight's ONT has been brought you by Frosty The Snow Man.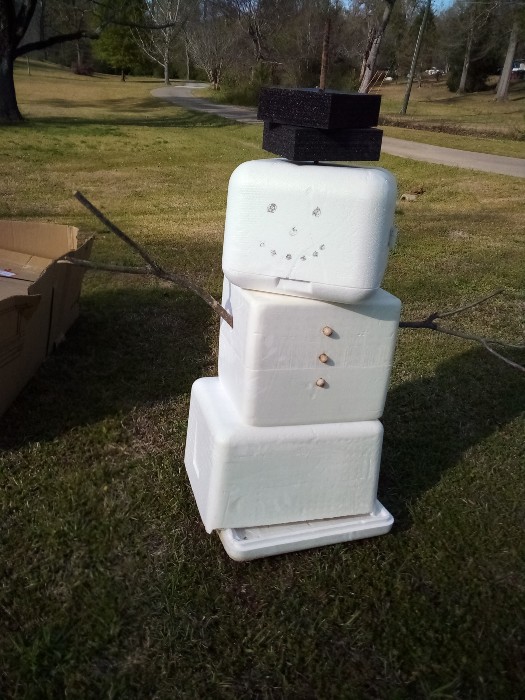 (H/T fd)
Notice: Posted with permission by the ....... I'm not sure. No one is here. Hello? Anyone here? Oh well. Enjoy.
Posted by: Misanthropic Humanitarian at
09:47 PM