Food Thread: Goat Cheese Is A Breeze, Unless It Makes You Sneeze, Otherwise Please, Give It A Squeeze, It Really Is The Bee's Knees!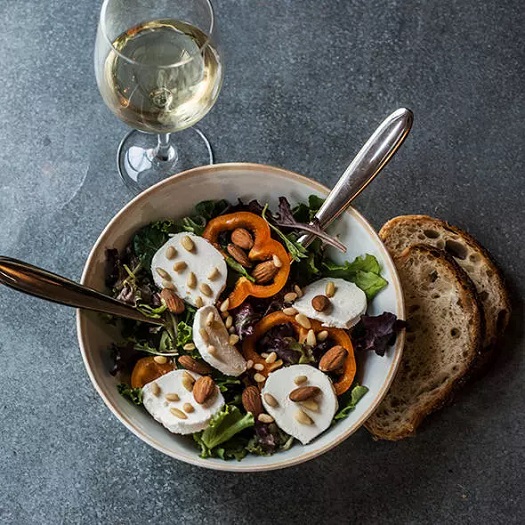 Many's the long night I've dreamed of cheese--toasted mostly.
-- Ben Gunn [In Robert Louis Stevenson's
Treasure Island
] Cheese is almost always a good thing; as a meal, a topping, an addition, and all things in between! And recently we have been enjoying goat cheese in salad. And why goat cheese? because it has just enough firmness to provide the occasional small chunk, but it blend deliciously with the dressing and seems to coat the lettuce leaves with a delectable frisson of tartness that compliments the dressing and the lettuce. I usually make a classic vinaigrette with the addition of a small amount of honey because I like a hint of sweetness, and it is that contrast with the goat cheese that works so well. We have used Parmesan to great effect as well, and I won't throw you out of my dining room for suggesting it, but goat cheese works with more than just flavor, and I really like ingredients that do double duty. The Frogs will often use rounds of baguettes toasted with goat cheese as toppers on composed salads, and I absolutely approve, especially if the salad has sauteed gizzards in it! And if you haven't had deep fried goat cheese you simply haven't lived life to its fullest! Give it a try. You can start with Feta if the idea of goat cheese makes you pause. Yeah, it's got a bit of gaminess, probably from the trace amounts of caproic acid in the goat milk. Give it a shot...you'll like it...I promise! My word as a dildo!
******
I was poking around the sewer of the internet and came upon a World Health Organization (WHO) page on
Food Safety
. I was curious how far into the article I would get before I began cursing. The bullet points at the beginning of the article had some sketchy math, but that's par for the course with government organizations. But then I found this!
Of most concern for health are naturally occurring toxins and environmental pollutants.
Oh...bullshit! The vast majority of food borne illness is caused by inadequate food storage during processing and storage, and poor food safety in the home and restaurants. Sure, there are naturally occurring toxins, but they are far down on the list of problems. Just like environmental pollutants! The suggestion that consumption of environmental poisons is the top concern in world food safety is laughable. But politically expedient! Here's another doozy!
The burden of foodborne diseases falls disproportionately on groups in vulnerable situations and especially on children under 5, with the highest burden in low- and middle-income countries.
Oh...I see! Food safety is a big problem when countries can't afford modern food safety systems like clean food production facilities and refrigeration in stores and restaurants and homes? Who knew? And you knew this one was coming!
Urbanization and changes in consumer habits have increased the number of people buying and eating food prepared in public places. Globalization has triggered growing consumer demand for a wider variety of foods, resulting in an increasingly complex and longer global food chain. Climate change is also predicted to impact food safety.
There is the predictable Global Warming
TM
reference! But they are also suggesting in the last quotation that poverty is an issue, but here they are suggesting that wealth is an issue. Why, if I didn't know better I would guess that there is a political agenda embedded in this article.
******
Commenter "Doof," who sure does like to drink good bourbon, sent this along and asked what I thought about it, and presumably premixed cocktails in general.
I think I already know the answer, but would you even consider buying this?? 70 proof. $41.99 at a hole in the wall shop on Cape Cod.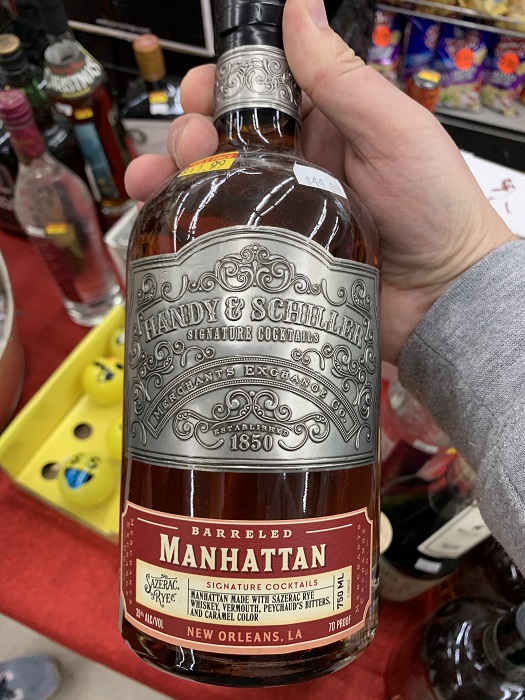 Yup...he knew the answer. I think cocktails should be fresh. I have tasted the packaged ones and I think they are dreck. Maybe there are good ones out there, but I haven't tasted any. Even the hipster "Barrel Aged Cocktail" affectation in some bars are sort of...eh. I think they taste flat and boring.
******
This is really, really embarrassing. I was unaware that there were so many people on earth who were so profoundly stupid that they would try this and actually eat the stuff.
Revolutionary 'Life Hack' Teaches People How to Make 'Fresh Pasta' From Pasta
I despair for the world when there are so many people with so much leisure time that they dream up this sort of crap. [Hat Tip: Jane D'oh]
******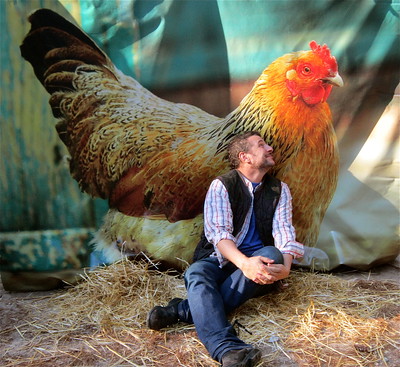 [Hat Tip:
Cooper Boone
] I have ranted before about the difficulty in finding reasonably small chickens for roasting. Not too long ago I could find a three+ pound chicken in most stores. Now? Not a chance. They are easily another full pound bigger, and I think that comes with a downside in tenderness and flavor. I understand the economic advantage of growing them bigger. Less processing and packaging time/pound, and it is possible that chickens grow through that weight range more efficiently (that's just a guess). But I don't think they taste as good! Sure...in a braise they should be fine, but not roasted, or in tartare (email me for my recipe). Yeah...I'm a grumpy old fart, but DAMN IT! I want a tender chicken!
******
Dessert is usually an afterthought after the Seder. But I like desserts with big meals, and as long as it isn't a coconut macaroon, I'm fine with most of these. Well, except for the matzoh toffee crack at the end. My mother used to try to make something like that, and while she was a marvelous and inventive cook, she didn't know desserts...at all. So I was subjected to weird bitter chocolate concoctions that were just awful.
Let's talk about Passover desserts
On second thought, it does look promising, so maybe one of you can make it and test it out on your kids or dogs or cow-orkers!
******
[Hat Tip: JT]
******
Just send me oysters. Lots of oysters, and I will provide special dispensation for those without taste who insist upon maple syrup with their French Toast. And pork rib roasts from the front end of the pig where all the good and fatty meat lives, carrots that don't taste like stalky chalk, spare bottles of Van Winkle Special Reserve 12 Year Old Bourbon, an herb garden that actually produces herbs (but no basil!), well-marbled NY strip steaks and elk backstrap to:
cbd dot aoshq at gmail dot com.
And don't think that the rest of you are off the hook with maple syrup and French Toast: I'm still watching you! And I am watching you perverts who shake Manhattans and keeping a list for the Burning Times.