THE MORNING RANT: Global Electric Vehicle Sales Are Collapsing & Periodic Update on Other EV Follies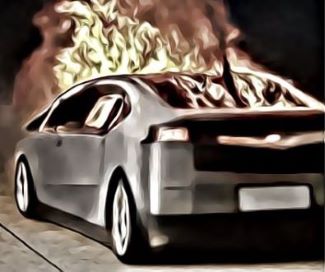 Electric vehicles are a niche product with limited appeal, and it has become quite clear that massive subsidies are the only way to get their sales volume above those of other exotic and novelty cars.
EV Sales Collapse As Subsidies and Tax Credits Come to an Abrupt Halt
The global electric vehicle (EV) market is reeling from one of the most dramatic collapses in monthly sales to date, with Rystad Energy Research showing that only 672,000 units were sold in January, almost half of December 2022 sales and a mere 3% year-on-year increase over January 2022. The EV market share among all passenger car sales also tumbled to 14% in January, well down on the 23% seen in December.
Governments literally have to pay people to buy EVs. Without massive subsidization, people choose gas-powered cars. In Germany, the market share of EVs dropped from 55% in December to 15% in January when the government reduced the amount of incentives it was paying consumers to buy EVs.
Electric Car Sales Plummet in Germany Following Subsidy Cut
Registrations of new electric vehicles collapsed in Germany following cuts in buyers' premiums at the beginning of the year. Registrations for battery electric vehicles dropped about 83 percent to 18,100 in January from 104,300 in December… The share of e-cars fell to 15 percent in January from more than 55 percent in December, while total car registrations dropped three percent…
Why did the government cut incentives?
The government decided in mid-2022 to reduce support payments for new e-cars, arguing they had become increasingly attractive for buyers even without support payments.
That's funny. No, EVs are
not
attractive without support payments. There is not enough perfume or lipstick that you can slap on EVs to make them attractive without massive government subsidization. EV sales are collapsing in China too…
Tesla Rivals Cutting Prices Amid Major Sales Slump In China; Ford and Volkswagen Are Both Offering $6,000 Discounts on EVs
The Wall Street Journal reports that manufacturers and dealerships in China are facing a sales slump. Ford, GM, Volkswagen, and others are now running EV promotions and cutting prices. Ford has knocked $6,000 off its Mustang Mach-E, which puts the base model at around $31,000. This came after just 84 of the electric crossovers were sold in China in January 2023, as compared to around 1,500 in December 2022.
*****
So let's say you bought an EV thanks to the generous government subsidy. You still have to insure it.
Electric Car Insurance: Why It Costs More [Forbes – 01/04/2023]
Insuring your EV will cost you a little more than a regular car, about $100 or so per year. Maybe you're cool with that. But what happens if you're in a fender bender. You better hope there isn't so much as a scratch to the battery case.
Scratched EV Battery? Your Insurer May Have to Junk the Whole Car [Reuters – 3/20/2023]
For many electric vehicles, there is no way to repair or assess even slightly damaged battery packs after accidents, forcing insurance companies to write off cars with few miles - leading to higher premiums and undercutting gains from going electric.
Why not just replace the battery?
Battery packs can cost tens of thousands of dollars and represent up to 50% of an EV's price tag, often making it uneconomical to replace them.
In Teslas, the problem isn't just the exorbitant cost to replace a battery, it's also due to the structure of the car.
The new, large 4680 cells in the Model Y made at Tesla's Austin, Texas, plant, are glued into a pack that forms part of the car's structure and cannot be easily removed or replaced, experts said.
Sending low-mileage EVs to the junk yard after a minor fender bender doesn't sound very green, does it, considering all the energy and rare earth minerals that go into assembling one EV.
Lauterwasser [of Allianz Center for Technology] noted EV battery production emits far more CO2 than fossil-fuel models, meaning EVs must be driven for thousands of miles before they offset those extra emissions. "If you throw away the vehicle at an early stage, you've lost pretty much all advantage in terms of CO2 emissions," he said.
Total losses also tend to have an unfavorable impact on your future auto insurance rate.
*****
I get some criticism for being so persistently negative about EVs, so a little credit where credit is due. Electric vehicles are pranksters, and they can play funny gags on their drivers. As a British radio DJ found out, EVs will sometimes lock you in your own car! That's hilarious, and you certainly don't see gas-powered cars pulling that prank.
DJ Scott Mills Misses Holiday After Getting Locked in Car for Five Hours [The Independent – 02/28/2023]
Scott Mills has revealed that he had to cancel a holiday after being locked in his electric car for five hours.
The BBC Radio 2 DJ shared the unfortunate anecdote with listeners during Monday's instalment of his radio show. Mills had set off on Friday, with his fiancé, Sam Vaughan, intending to spend the weekend together in Amsterdam.
However, a flat car battery meant that Mills and Vaughan were stuck inside his car near the BBC's Wogan House studios. "Get in the car. Car doesn't start. In fact, nothing works. I go to get out of the car. I can't get out. Sam tries his door. Nothing. Also cannot leave the car." According to Mills, he had charged the car's main battery beforehand, but had allowed a secondary battery to run empty.
I thought spontaneous, un-extinguishable EV battery fires were terrifying enough before I read this story. God forbid your EV locks you inside it when it catches fire.
*****
Speaking of EV battery fires…
Ford F-150 Lightning Production Halt Was Triggered By Vehicle Battery Fire [CNBC – 02/15/2023]
Ford Motor expects production of its electric F-150 Lightning pickup to be down through at least the end of next week to address a potential battery issue that resulted in a vehicle fire on Feb. 4, the automaker said Wednesday. The confirmation of the fire and updated timing comes a day after Ford confirmed production of the highly watched vehicle had been suspended at the beginning of last week.
Ford finally resumed production of the F150
Conflagration
Lightning
in mid-March.
*****
So how is Georgia Governor Brian Kemp's EV boondoggle coming along? As you'll recall, he got seduced by EV startup company Rivian into promising $1.5 billion in taxpayer funded incentives for a plant in Georgia. The good news is that Rivian is doing so poorly that the proposed plant will likely never come to pass. In 2022 Rivian formed an alliance with Mercedes that fell apart in just three months. Most famously, Rivian announced that it would be providing 100,000 electric vans to Amazon. Now it wants out of that exclusive agreement. Why would it want out? It would appear that Amazon doesn't want all those electric vans.
Rivian Wants Out of Exclusive Amazon Electric Van Deal [The Drive – 3/13/2023]
An exclusive agreement between Amazon and Rivian for 100,000 electric delivery vans is reportedly on its way to being scrapped. The Wall Street Journal reported Monday that Rivian is negotiating its way out of the deal after Amazon asked for only 10,000 electric vans this year
OK, so Rivian's partnerships with other companies keep falling apart. But how is it doing financially? Oh.
Rivian's $6.4 Billion Cash Burn Might Be a Record for Startups [Wall Street Journal – 3/01/2023]
Rivian electric trucks don't burn gas, but they sure do burn cash. Free cash flow for 2022 ended up at a negative $6.4 billion, according to results posted late Tuesday, as Rivian lost money on each car it sold while also investing for the future.
A business that loses money on every unit sold doesn't sound like it has a viable business plan to me, but then again, I'm no Brian Kemp.
Rivian Stuns Investors With Very Bad News [The Street – 03/07/2023]
The fear of many investors regarding Rivian is becoming a reality.
What is that fear? It's the fear that stockholders will see their investments evaporate as the company has to keep raising more capital to outrun the cash burn the company is going through.
At the rate at which Rivian was burning cash, the question arises whether the firm will have to raise additional capital to finance its operations and expansion by the end of the year as the automaker is building a second plant in Eastern Georgia and plans to start production of a smaller, more affordable vehicle, the R2 series, in 2026.
But consumers are buying Rivians, right?
CEO RJ Scaringe was not reassuring when he admitted that the company, which manufactures the R1S SUV, the R1T pickup truck and the EDV van at its Normal, Ill., plant, may have a demand problem.
"Demand problem." Heh. For those who have bought Rivians, how are they doing?
Rivian Addresses Battery Issue Stranding Drivers [Teslarati – 3/22/2023]
Rivian has released an announcement regarding a battery issue that is leaving drivers stranded. The problem was initially reported by owners on Reddit, with some being stranded by their trucks in less-than-ideal locations. Rivian announced its plan to address the issue in a Reddit post on the company's subreddit.
I have little expectation that Rivian will still be around a decade from now. I'm most curious if there will be a big empty building in the Georgia countryside standing as a reminder of Brian Kemp's great taxpayer fleecing, or whether Rivian will have gone under before ground is even broken.
*****
Songs of the Season
The first day of Spring was earlier this week…and the temperature dropped down into the low 20s at my Tennessee home that day. Oh well, it looks like things are about to warm up. To celebrate the arrival of Spring, here is a beautiful arrangement of the first movement of Vivaldi's "Spring" as performed by the Classical Concert Chamber Orchestra.
Have a great weekend.
[buck.throckmorton at protonmail dot com]
Posted by: Buck Throckmorton at
11:00 AM