Saturday Overnight Open Thread (3/25/23)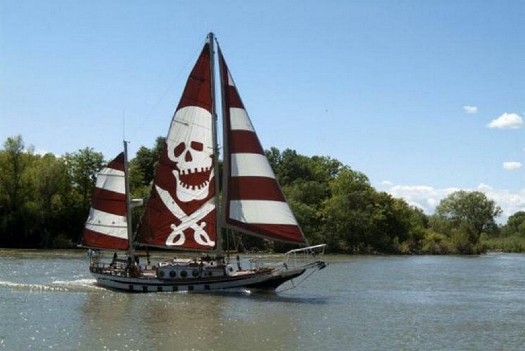 ***
The Saturday Night Joke
PANCAKES
Brenda and Steve took their six-year-old son to the doctor. With some hesitation, they explained that although their little angel appeared to be in good health, they were concerned about his rather small penis. After examining the child, the doctor confidently declared, "Just feed him pancakes. That should solve the problem." The next morning when the boy arrived at breakfast, there was a large stack of warm pancakes in the middle of the table. "Gee, Mom," he exclaimed, "for me?" "Just take two," Brenda replied. "The rest are for your father." (H/T TNDeplorable)
***
For the good guy to win, he has to be the bad guy.
Handyman turns the tables on squatters who took over his mother's house Squatting on the squatter: Man shares his story of reclaiming his mom's Northern California home A handyman turned the tables on suspected squatters who took over his mother's Northern California home. "If they could take a house, then I could take a house," Flash Shelton of the United Handyman Association said in a YouTube video. "They're the squatter, and they have rights. Well, then, if I become the squatter on the squatter, then I should have rights, right?"
***
The regulars know this.
But those new to The ONT do not know: The ONT Is Always Looking Out For YouTM
Tonight's segment: 10 of the World's Most Dangerous Roads.
***
Everything you wanted to know about the Pentagon secret code names.
If there's one place one can find plenty of nicknames, it's within the sprawling landscape of the armed forces. When it comes to the greater civilian world, there's no historical precedent or agreed upon social norm for how someone or something gains a substitute informal title. However, given the Department of Defense's fondness of rigid structure, it should be no surprise that when it comes to nicknames, there's a policy for them, too. Meet NICKA
Prior to 1975, names for military operations and projects were exclusively chosen at the behest of military commanders. As a result, within the annals of American military history one can find a diverse range of interesting titles from Operation Killer—a major 1951 counter-offensive during the Korean War—to Operation Beaver Cage—a U.S. Marine Corps operation that occurred during the spring of 1967 as part of the Vietnam War.
***
Pat Sajak of Wheel of Fortune fame hams it up on the show.
Fred Fletcher-Jackson, a Wheel of Fortune contestant, recently won an impressive $75,800 in a "perfect game" on the game show. As he celebrated his victory, host Pat Sajak playfully "tackled" him from behind and put his arm in a "chicken wing" move. Some viewers criticized Sajak for the move, calling it "cringe." However, Fletcher-Jackson is actually a professional wrestler and drama teacher, and it's clear that Sajak thought he could goof around with him like this.
***
A joyful experience? You be the judge.
***
I'm guessing that there is more than a strong arm and accurate passing involved.
Alice Little, have invited Garoppolo to use their services as a thank-you for joining the Raiders, per TMZ. "But he gets free sex for life from us just because he's such a legit babe!" Bell said in a statement. And Stephen A., who often calls the quarterback "Pornstar Jimmy," couldn't stop himself from commenting on the unusual offer in a recent episode of his Know Mercy podcast. Smith shared a clip of his monologue on Instagram with a caption that read: "Jimmy Garoppolo got offered free WHAT now?! Vegas is DIFFERENT!"
***
Tesla auto is hacked again.
Hackers Render Tesla Car Unsafe to Drive, Win Themselves a Model 3
Synacktiv security researchers conquered two separate Tesla systems at a hackathon sponsored, in part, by Elon Musk's EV company. A Tesla Model 3, but not the one that security researchers won by breaking into its software systems at a hacking competition.
Photo: Allison Dinner / Stringer (Getty Images)
A group of security researchers have, once again, proven that Tesla vehicles' high-tech software and systems are easily exploited. At Zero Day Initiative's Pwn2Own 2023 hacking competition this week, cybersecurity firm Synacktiv successfully cracked both Tesla's infotainment and Gateway networks in a Model 3 car, as first reported in a Zero Day blogpost.
***
It's good to be Crypto King. Or is it?
An alleged kidnapping, duped investors and losses topping $40 million — those are some of the newest details emerging as authorities try to unravel what Canada's self-proclaimed Crypto King did with the money investors gave him. According to claims spelled out in a new trustee report from bankruptcy proceedings against Aiden Pleterski, while authorities were trying to track down millions of dollars given to him to invest, the 24-year-old was allegedly kidnapped in the middle of the night last December. The trustee believed much of it went to fuel a lavish lifestyle and that very little of it was actually invested. Pleterski's father told the trustee Pleterski was driven around Southern Ontario, beaten and tortured. Pleterski's landlord said he got a call asking for ransom of $3 million.
***
The ONT Musical Interlude & Front Row Seats Emporium
The Fabulous and I saw this artist last night. Tight band with a very good sound. The mystery click was also on the bill last night.
&&&
&&&
***
Talk about fast car service.
Genius Award Winner.
Palm Bay police arrested a man accused of speeding on Tuesday. According to an affidavit, 22-year-old Jevon Jackson was going 100 mph in a 40-mph zone in the area of Degroodt Road and Gates Street. After he was pulled over, Jackson reportedly told officers he was speeding to get his girlfriend to a job interview at Taco Bell. Police say three children were in the vehicle at the time. Jackson was arrested for reckless driving, child neglect and habitual traffic offender.
***
Tonight's ONT has been brought to you by a Realistic Excuse.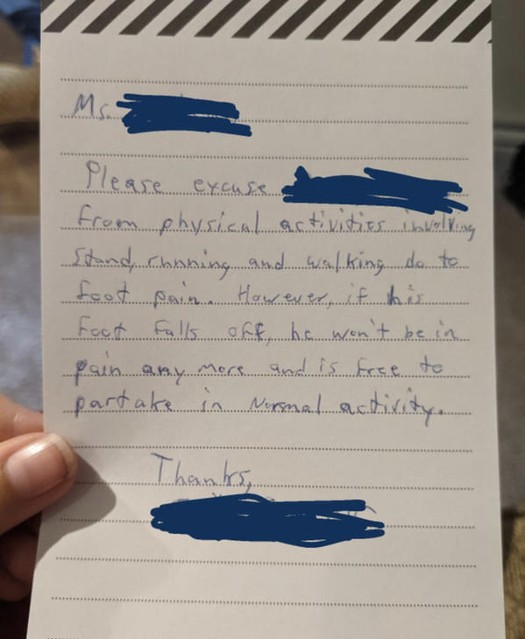 Notice: Posted with permission by the loyal & dedicated weekend staff at the Ace Media Empire. Saturday night jokes, loose change, drink tokens, burner phones & dark rye bread to petmorons at gmail dot com.
Posted by: Misanthropic Humanitarian at
10:00 PM
MuNuvians
MeeNuvians
Polls! Polls! Polls!
Frequently Asked Questions
The (Almost) Complete Paul Anka Integrity Kick
Top Top Tens
Greatest Hitjobs
News/Chat