Quick Hits
Our Fettermanesque "president" had another Adventure With Stairs today.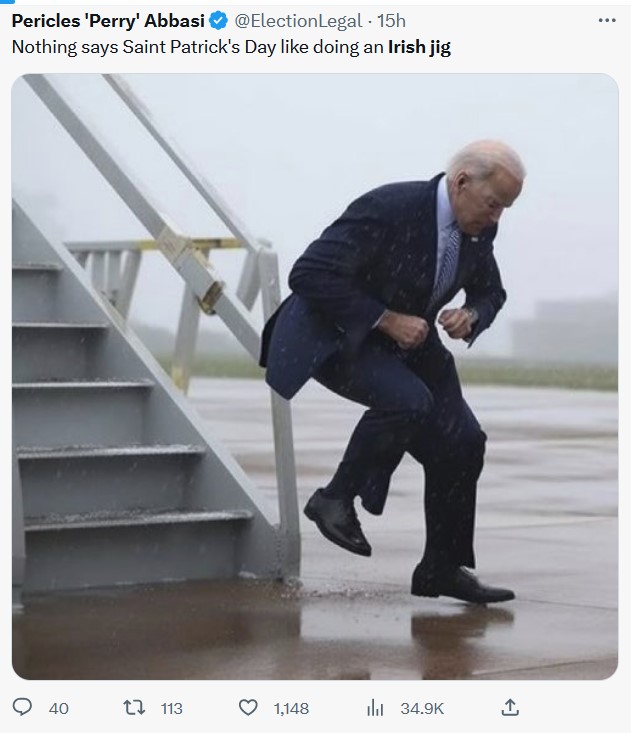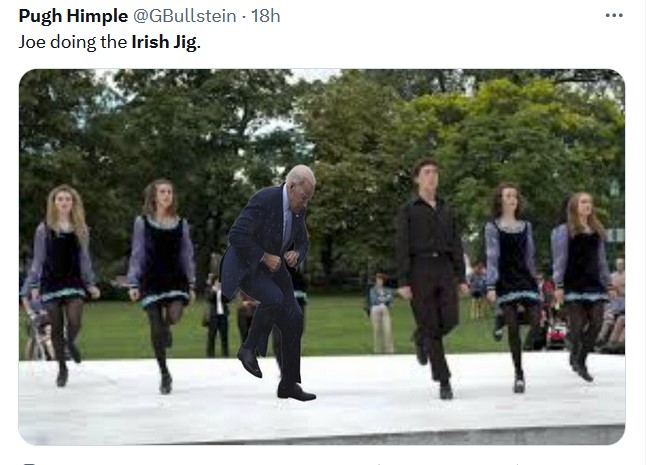 A gay hysteric posted a letter her wrote to his father,
forbidding him from voting for political parties that "seek to murder me." Calm down, Susan.

A letter from a gay man issuing an emotional ultimatum to his Republican father went viral after he posted it on Twitter. "So, I'm having to send that email that so many of us LGBTQ+ are sending--parents, vote GOP or keep your son. They're in denial about anti-queer, anti-trans legislation in the USA," read the tweet from Ryan Short, a gay man from Seattle, Washington. He posted a screenshot of his message to his father and the response back. "It's simple: he can do the right thing, or not. There's no compromise on this very specific requirement I make, which is this -- You are not allowed to vote for government parties that seek to murder me," read the text. "I shouldn't have to type those words out loud, but here we are." "This is your Dad stop your viscous [sic] Words this is not about homosexuality I have friends who are gay and a brother who I supported loved and," the response read, but was cut off in the screenshot. He also posted the entire letter to his family members issuing the same ultimatum. "Here me clearly -- you cannot vote for the GOP and continue to have a relationship with me. No exceptions. I am inviting no dialogue, and I have no interest in nuance," he wrote in part.
I could very easily see his family deciding to have no further dialogue with this sissy.

... The letter did not specify why the man believed the Republican Party was seeking to "murder" him or anyone else. Short's pinned tweet on his account read, "My goal this year is to be a hot dumb slut."
Well you nailed the "dumb" part. I imagine the "slut" part is well taken care of as well. "Hot," I'm thinking:
nah.
Speaking of hysterical drama queens obsessed with sucking,
Alexander Vindman asked his Twitter fanclub if he should sue people for reporting that he's peddling "defense services" to Ukraine after doing so much to create the need for such services in the first place.
Jim Thompson at RedState reminds us that this sketchy bearclaw-shaped operator (you are what you eat!) has sued people for saying Mean Things to him before.
After Vindman testified about the call, he was removed from his White House post and escorted off the property. He later retired. Vindman sued Trump and others claiming, among other things that they defamed and smeared him and kept him from being promoted to full Colonel. In November 2022, his lawsuit was summarily dismissed with the court telling Vindman that he hadn't proved his case. But the judge still took a swipe at Trump and his allies saying:

[Vindman's] pled facts, taken as true, certainly suggest that Defendants leveled harsh, meanspirited, and at times misleading attacks against him. But political hackery alone does not violate" the law.

In short, Orange Man Bad isn't a cause of action.
Vindman has confirmed he's trying to peddle his dubious "services," probably involving deactivating and disposing of dangerous pastries, to Ukraine. In a tweet -- which he has now deleted -- he commented on someone reporting his efforts to sell his "services" to Ukraine:
"Thanks for the advert. I'm trying to get logistics in place to help Ukraine win the war and secure America. Looking for philanthropic contributions to get it going. Reach out if you support the cause of democracy and US National Security."
So yeah, he admitted he was doing that. But now he asks his Twitter fanclub if he should sue: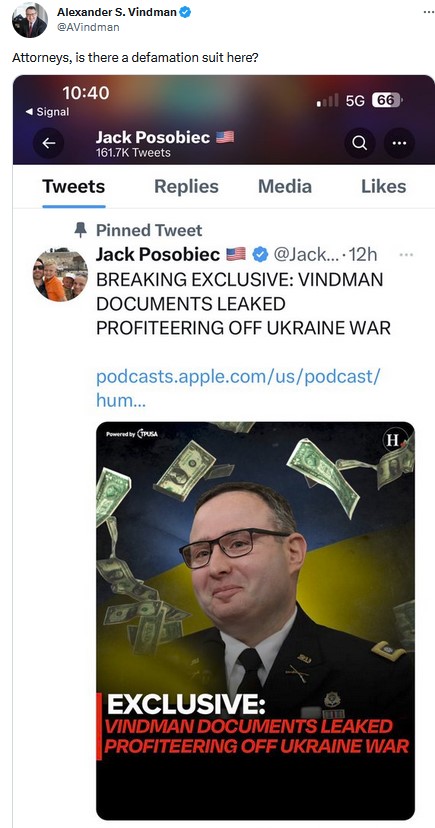 Fatty Fatty Four-by-Four, you already confirmed you were shopping your "logistics" services in a tweet. You deleted that, I guess so you could then deny the story, but we can see the tweet, and any defendant can subpeona Twitter for a record of the tweet. If, you stupid fat blob of failure and Not Fighting In Any Actual Wars, you are thinking that "profiteering" is libelous, no, Fatty McGoo, "profiteering" has a vague definition which is opinion-based:
: one who makes what is considered an unreasonable profit especially on the sale of essential goods during times of emergency
That's from Merriam-Webster. It is an opinion whether or not the profits you seek are "unreasonable" or not, and you can't sue for an opinion. Given that you're constantly demanding that Americans sacrifice their wealth for the sake of Ukraine, one might consider it "unreasonable" that you're pitching a
paid position
to provide "logistics" to Ukraine instead of offering your Obese Services freely. Or does the list of Americans who are supposed to sacrifice for Ukraine not include you, Prison Lips? But let's face it, you're not really asking for legal advice; you're just attempting to wage sleazy lawfare on your critics and set up the predicate for an Alexander Vindman Legal Defense Fund GoFundMe. Right? Former Pink Floyd member Roger Waters has decided to re-record
Dark Side of the Moon
without any of his former band-mates, who he hates.
And the feeling is mutual.
Is it any good?
Eh. It feels like it's different for the sake of being different.
He says he's going to really stress the "political" themes of the original album. Yayyy, politics in everything!!!
Stacey Abrams has moved on to her next highly-paid grift,
which will be attempting to ban gas stoves. Which the media tells us is definitely
not
on the leftwing agenda, but oh wait, maybe it is.
Failed Georgia gubernatorial candidate Stacey Abrams has announced she will be joining an environmental advocacy dark money group that is pushing to regulate and ban natural gas-powered stoves.
It's always
food
with this one.
Rewiring America, the nonprofit group Abrams will join as senior counsel, is a self-described "leading electrification nonprofit, focused on electrifying our homes, businesses, and communities." Through her role, Abrams will "launch and scale a national awareness campaign and a network of large and small communities working to help Americans go electric," according to the group. "She will also guide the organization as it builds the tools and capacity to connect Americans and their communities to machines, installers, Inflation Reduction Act incentives, and jobs in the clean energy transition," the group added of Abrams.

The media will insist that this is totally
not
the Democrats' agenda, until the very moment the Democrats ban gas stoves -- and then they'll start praising the Democrats for their "deft handling" of the issue. Which is exactly what they did on gay marriage, too. They just lie to the public about their intentions, with the media backing up all those lies -- and then the media praises all this lying as "skillful politics."
DeSantis: The government is a threat to your freedom, but it is not, as Corporate "Conservatives" contend, the only threat to your freedom.
Tucker Carlson savages the media as the Proletarian Guard of the Oligarchy -- and also savages himself for serving this monster for most of his adult life, and never having noticed that he was just a pawn of the Oligarchy.
Glenn Greenwald
@ggreenwald More explicit, genuine and unflinching penance for past mistakes in this single two-minute video than most media figures offer in their entire careers[.] Many people responding to the above clip by claiming this is some new thing Carlson is saying. He's been saying things like this for several years, but since liberals have their views shaped by snippets chosen by Media Matters and Vox Video Dunce, they have no idea this is true.
Update: Is Tucker talking about Fox?
You'll notice Tucker Carlson went on his rant just a couple days after it was pretty explicitly reported that he was forced to stop doing Jan 6 stuff by the cuckservative management at Fox. I think that's the 'revelation' he was referring to. Posted by: DudeAbiding
Small point, but we don't
know
Fox told Tucker to stop airing the videos. I sure suspect they did, however. If they did, then their main draw is three steps from walking out the door, and good for him if he does.
I first thought of this video as another Gym Thot video, but it's not really the girl's fault. Yes, she should have checked where she was setting up her camera and should not have pointed it at the bench. But I can see someone just forgetting to do that, especially if there aren't many people around. I don't know if the guy should have moved or not. It depends on how far away the next bench is. And it's not like this girl can't also just move her tripod. It's not a heavy implement. So I think this is just two people, blundering into a confrontation, neither being considerate, both insisting on their own way, and both making each other's days a little worse.