THE MORNING RANT: "Wind Theft" and the Climate Impact of Wind Farms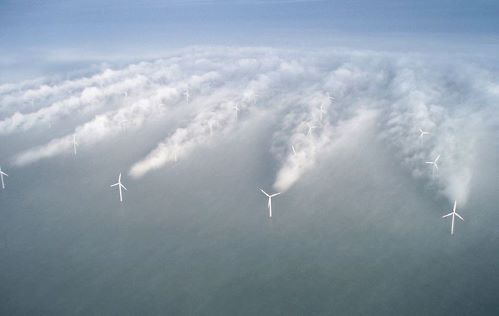 What is the climate impact of removing wind energy from the atmosphere with "climate saving" wind turbines? In my previous posts about green energy and the climate religion, I have often seen comments making reference to this issue. When I was at the Heartland Institute's "climate realism" conference in Orlando a few weeks ago, I had the opportunity to visit with Lord Christopher Monckton, who is one of the world's most prominent and published "climate skeptics," so I asked him about the effect of removing wind energy from the atmosphere with wind turbines. He told me that it is a real issue that he has incorporated into his arguments against wind energy, explaining that by pulling energy from the atmosphere, wind farms can affect the movement of weather systems and the amount of precipitation they produce. I did some research on the subject when I got home, and my friends at Heartland also provided some info at my request. (
Thank you, Sterling Burnett.
) The more I learn about wind energy the more I realize how truly awful it is. Most ironic, wind energy is being employed to fight "climate change" when in fact it actually changes the climate!
Wind Power Found to Affect Local Climate [Scientific American – 02/14/2014]
Wind turbines take energy from the atmosphere and turn it into electricity: so we know they must have some impact on the atmosphere's flow. With industrial grade turbines being built at a terrific rate, scientists have been trying to assess exactly what the effects are both at local and at global levels. Using [the] observational approach, researchers have found that the climate around a large wind farm in Texas was affected by the presence of the turbines. Taking the ground temperatures measured by satellites, they detected a warming of 0.5°C at night in the region directly under the farm.
I've spent most of my life in Texas, and it's hot enough as is without warming it up even more with green energy contraptions. And don't you just love the idea that efforts to save us from imaginary global warming will cause localized increases in temperature? What is the global impact if the net-zero crowd gets their wish and windmills blanket the globe to produce all the electricity the world might need?
[Modeling] was first attempted by David Keith and colleagues in 2004. When they compared the climate in their model with and without extremely large wind farms (large enough to generate about twice the world's total present electrical demand), they found that in addition to climate effects in the immediate vicinity of the wind farms, there were changes in climate all around the world.
Scientist David Wojick has done much research on the subject and summarizes from several scientific studies in this piece…
Do wind farms change the weather? [David Wojick – CFACT – 3/08/2022]
There is much more at the link, but these two sentences capture the thesis well:
The effect of lots of wind turbines on weather and climate is a small but active research area. Wind power converts wind energy into electricity, thereby removing that energy from the air. Thus if you took out all the energy possible by wind, the climate effects might be big. And this is just for land-based wind towers, so a lot of offshore wind should add to this effect.
Are there other localized climate effects other than just warming at the wind farm?
Wind farms dry surface soil in temporal and spatial variation [Science Direct – 01/20/2023]
Wind energy is renewable and clean; however, the long-term operation of wind turbines can affect local climates. Soil moisture affects ecosystem balance, so determining the impact of wind farms on soil moisture is important. Our research shows that the operation of wind turbines will cause significant drying of soil, and this drought effect differs significantly according to season and wind direction.
That makes perfect sense. Constant wind has a drying effect. When drying a house out after it gets flooded, industrial fans are placed throughout the house to help the slab and sheetrock dry out. Soil moisture also helps reduce the air temperature, so it makes sense that there would be higher temperatures where the wind farms have sucked moisture out of the ground. This study goes on to note that wind farms decreased soil moisture by 4.4%.
Wind farms aggravate the soil drying in grassland areas, which may have impacts on grassland ecosystems. Therefore, when building wind farms, we need to better understand their impacts on the environment.
There are many studies (that I'm not going to bother linking to right now) about the relationship between soil moisture, storm development, and rainfall amount. Decreasing soil moisture in already-too-dry-places (e.g. most of the American West) seems like a really bad idea. So what happens downwind from existing wind farms? Those areas suffer from "wind theft."
Offshore "Wind Theft" Could Prompt Legal Conflicts Between Developers
Offshore wind farm developers already have to contend with rising costs and supply chain shortages, but in areas where the industry is expanding rapidly, they face a challenge after construction as well: "wind theft" by the next new installation built upwind.
With "environmentalists" wanting to pretty much cover the entire earth in solar panels and wind farms, wind theft clearly becomes a problem for those who are downwind. It's sort of like being downstream from a dam that captures a river's flow.
In a new study, researchers from the University of Bergen's Offshore Wind Centre found that as the offshore wind industry grows in the North Sea, the interaction between wind farms' "wakes" - the disturbances that turbines create downwind - will increase markedly. Under the right conditions, wakes can stretch for up to 30 nautical miles, easily reaching into the territory of another wind farm.
Speaking of offshore wind farms, what climate effects are they having on life cycles in the ocean? It's not good.
Offshore Wind Projects Hurt Ocean Life [Heartland Daily News – Dec 2022]
A team of scientists from various German research institutes and universities studied the world's largest offshore wind project, which is in the North Sea. They measured the wind wake effect on ocean currents and sea life, determining that offshore wind farms "
could reduce annual primary productivity—the ability of microbial life, algae, phytoplankton, plants, and animals to obtain food and flourish—in the area encompassed by and beyond the wind farms by 10 percent or more.
" In other words, the impact is less of the food that whales and other ocean creatures feed on. Their models also indicate that offshore wind farms
"slow ocean currents, resulting in less cycling of dissolved oxygen in affected areas and thereby reducing oxygen concentrations. Lower oxygen levels are bad for marine life."
We'll likely look back someday at the current wind farm craze as an ecological horror story, and wonder how the religious fervor of The Sustainable Organic Church Of The Carbon Apocalypse could allow us to do so much destruction to our environment, our ecosystems, and even our climate.
*****
Songs of the Season
It's St. Patrick's Day! I reckon that more than a few of you will be indulging in some Irish whiskey or some Guinness today. Enjoy! Of course, I'm not one to celebrate or promote alcohol abuse, but I do believe that funerals should be more celebratory than somber, and with a little whiskey, so did Paddy Murphy's friends. Here is Tim Hicks and Alan Doyle with
"The Night Pat Murphy Died"
.
Oh the night that Paddy Murphy died, is a night I'll never forget
Some of the boys got loaded drunk, and they ain't got sober yet
As long as a bottle was passed around, every man was feelin' gay
O'Leary came with the bagpipes, some music for to play That's how they showed their respect for Paddy Murphy
That's how they showed their honour and their pride
They said it was a sin and shame, and they winked at one another
And every drink in the place was full the night Pat Murphy died As Mrs. Murphy sat in the corner pouring out her grief
Kelly and his gang came tearing down the street
They went into an empty room and a bottle of whiskey stole
They put the bottle with the corpse to keep that whiskey cold About two o'clock in the morning after emptying the jug
Doyle rolls up the ice box lid to see poor Paddy's mug
We stopped the clock so Mrs. Murphy couldn't tell the time
And at a quarter after two we argued it was nine They stopped the hearse on George Street outside Sundance Saloon
They all went in at half past eight and staggered out at noon
They went up to the graveyard, so holy and sublime
Found out, when they got there, they'd left the corpse behind!

Have a great weekend. [buck.throckmorton at protonmail dot com]
Posted by: Buck Throckmorton at
11:00 AM