Biden's Deep State Defenders Put Out New Official IC Lie That Chinese Spy Airships Were Always Over the US Under Trump

The report began spreading on Saturday that supposedly Chinese balloons had incurred into American airspace three times during the Trump Administration. Now, this report came right as Joe Biden was getting a lot of backlash for being slow to react and it came without any real details, allegedly from an unnamed Biden defense official. But there were no details apart from that none of the incursions were on the order of magnitude of the one this week in terms of length of time over U.S. territory. As we reported, the Trump team including President Donald Trump quickly shot the report down. Now there are more details of this story. According to a "senior administration official," it's apparently "U.S. intelligence, not the Biden administration" assessing that "PRC government surveillance balloons transited the continental U.S. briefly at least three times during the prior administration and once that we know of at the beginning of this administration, but never for this duration of time."


The official said this is "part of a larger pattern." "These balloons are all part of a PRC fleet of balloons developed to conduct surveillance operations, which have also violated the sovereignty of other countries," the official explained, adding that these activities are "often undertaken at the direction of the People's Liberation Army." The official said that over the past several years, Chinese balloons have been spotted over countries across five continents, including in East Asia, South Asia, and Europe. "Two things can be true at once: this happened and it wasn't detected," the official told Fox News Digital.
Note that they're saying the balloons "went undetected." They claim the balloons' existence was deduced retroactively, after they'd already gone from US airspace. This retroactive discovery is itself a very helpful retroactive discovery for Joe Biden and his evil,corrupt, and woke military leadership,
who knew about the balloon for a week and tried to keep it a secret from the American People they definitely do not serve.
Biden knew China spy balloon was in US airspace for nearly a WEEK but kept it secret - fearing Blinken's planned meeting with Chinese President Xi Jinping in Beijing would be derailed Biden knew about the China's spy balloon before it's presence became public The president told about the existence on January 28 but he failed to act On Saturday, the balloon was finally shot down as it hovered over North Carolina

Republican are expressing outrage at the Biden administration's lack of transparency with the American public over the Chinese surveillance balloon that has been hovering over the US for days. The existence of the inflatable drone was first confirmed on Thursday when it was reported by the Billings Gazette after it was spotted over Montana, home to one of the US military's three nuclear missile silos. A subsequent report from Bloomberg found that the president was made aware of the balloon, and its dangerous threat, days earlier on January 28. The decision to keep the story quiet as officials were worried the hysteria caused by the balloon would derail Secretary of State Antony Blinken's upcoming meeting with Chinese President Xi Jinping. ... Republican Rep. Nicole Malliotakis told DailyMail.com 'Communist China's surveillance balloon violates international law and threatens our homeland. It's an outrage that the Biden Administration spotted this balloon days ago as it was flying over the Aleutian Islands and did nothing about it.' The recently reelected congresswoman added: 'The president has not even made a comment about this unacceptable act of aggression by the CCP, 'Whether it's our border or air space, Congress must take action to protect it, because it's clear this President won't,' she continued. While the House Judiciary GOP Twitter account tweeted: 'Joe Biden knew the Chinese spy balloon was coming. Tried to hide it from the American people. Let it fly across the ENTIRE COUNTRY.' The message added: 'And only after the entire country begged him to act, our great military shot it down. Embarrassing. Scary. Sad.'
Richard Grennell says "bullsh!t, this never happened."

Richard Grenell
@RichardGrenell Feb 5 Biden's DoD is shamelessly using an anonymous source to say that Chinese balloons flew over the US under Trump - and the Trump team allowed it. It is a lie. We never heard this - ever. Congress should demand @SecDef tell the truth. Shame on @JakeSullivan46 And shame on the DC media activists who continue to allow the Biden team to be so weak by giving them aid & comfort in their lies and weakness. @jonkarl @maggieNYT @JuliePace lead the coverup. @RichardGrenell Ask yourself why @jonkarl would quote an anonymous official when every senior national security official in the Trump Administration is on the record saying Jon Karl is wrong. @abc has a serious credibility problem with Karl.
Former Director of National Intelligence John Ratcliffe also says this simply never happened.
Now you understand the beauty of the anonymous Woke Army official claiming "We didn't detect the balloons, we just figured out they had entered the country after they'd left the country." They have an explanation as to why Grennell and Ratcliffe
were never briefed about these alleged balloons.
They can say, These things happened, as we are anonymously claiming, but we never briefed you about it, because we didn't actually ever
detect
the balloons when they were actually present, but only figured it out later. Later, as in, in the past week, perhaps? Meanwhile, NeverTrump is having a normal one. Bill Kristol, who, poignantly, is himself blimb-shaped and the size of three schoolbuses, and also poses a Threat to Ground should he stumble and fall, says that MAGA people would support the surveillance airship if it were more racist.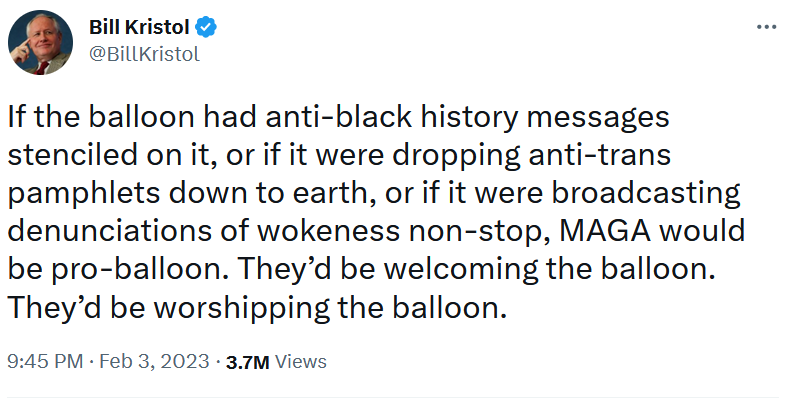 Effeminate cvck Max Boot shrieks girlishly, "Stop attacking Brandon!"
China was so impressed by Brandon's belated balloon-bursting that they actually
threatened the United States over it.

China responds with a threat after U.S. shoots down balloon After a Chinese balloon was discovered flying high in the sky in the U.S., the military shot down the balloon with a missile over South Carolina on Saturday. China responded to the military action threatening to "take further actions" and said it would be responding to "an obvious overreaction and a serious violation of international practice," Associated Press reported.
China's so afraid of Bill Kristol's and Max Boot's paymaster they're threatening retaliation over his belatedly ordering the shoot-down of a provocative surveillance airship. Your daily reminder that NeverTrump supported Biden, they said, to restore America's place of respect and leadership on the world stage. But really it's because they're liberal f*****s and they wanted money.