Pentagon to Discuss Chinese Spy Balloon and Why Brandon Is Mocked by the World
The Briefing Is a Lie; Pentagon Refuses to Say Anything Except "Everything's Fine"
A Chinese spy balloon is being tracked over the continental US.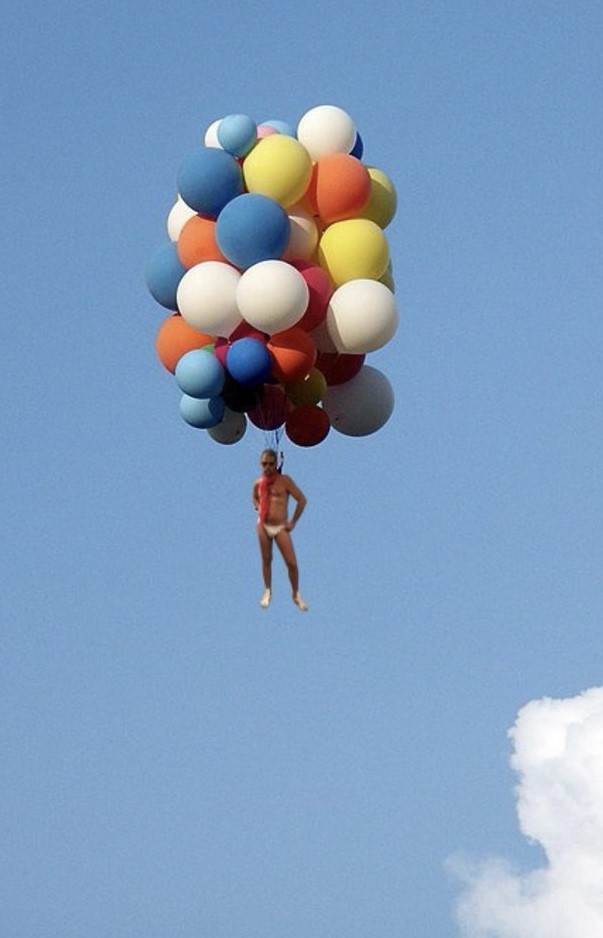 A massive spy balloon believed to be from China was seen above Montana on Thursday and is being tracked as it flies across the continental United States, with President Joe Biden ultimately deciding against "military options" because of the risk to civilians, U.S. officials said on Thursday. The high-altitude reconnaissance balloon was not the first such vessel to pass over the country in this way, a defense official said in a briefing. A separate senior official told ABC News the balloon is the size of three buses and complete with a technology bay. The defense official said they "are confident" the balloon was sent by the Chinese government. "The United States government has detected and is tracking a high-altitude surveillance balloon that is flying over the continental United States right now," Brig. Gen. Pat Ryder told reporters Thursday.

Brandon told the Pentagon to shoot it down, but they ignored him because he's a pathetic old r@pist. They also noted that there would be a danger from falling debris. China is
clowning us.
WASHINGTON -- The United States has detected what it says is a Chinese surveillance balloon that has been hovering over the northwestern United States, the Pentagon said on Thursday, a discovery that comes days before Secretary of State Antony J. Blinken's visit to Beijing. The Pentagon has chosen, for now, not to shoot down the balloon after a recommendation from senior defense officials that doing so would risk debris hitting people on the ground, according to a senior defense official who was not authorized to speak publicly. The decision to publicize the discovery appears to put China on notice ahead of Mr. Blinken's Beijing visit -- the first by an American secretary of state in six years -- during which he is expected to meet with President Xi Jinping. The sudden appearance of the balloon is bound to raise already escalating tensions between the two powers. The official said that while it was not the first time China had sent spy balloons to the United States, this one has appeared to remain over the country for longer.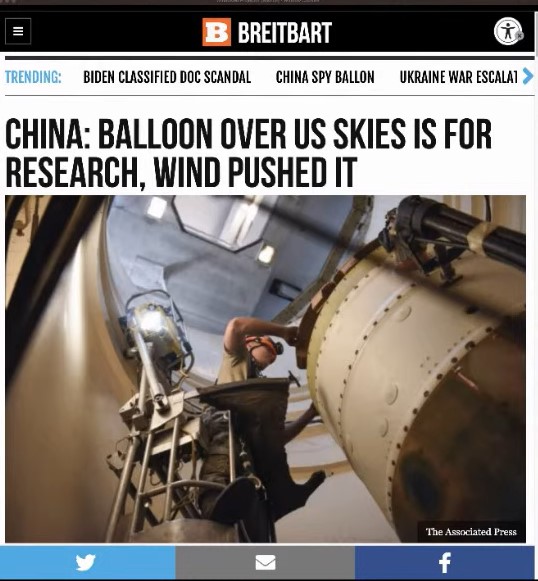 Kevin McCarthy
@SpeakerMcCarthy China's brazen disregard for U.S. sovereignty is a destabilizing action that must be addressed, and President Biden cannot be silent. I am requesting a Gang of Eight briefing.
The Pentagon will hold a briefing on the Chinese Spy Balloon and why China thinks it can clown us,
at 12 pm.
Photo via Anonymous Wrecks. Link to briefing fixed, below.
Update:
There is no briefing. The Pentagon official refuses to say anything, beyond "It's not a threat to people on the ground." Just another Brandon Protection Agency. Defund.