ONT Title Goes Here
Hi everybody! Welcome to Thursday night. What have you been doing with your week? I thought I'd get in some valuable training for the dark times.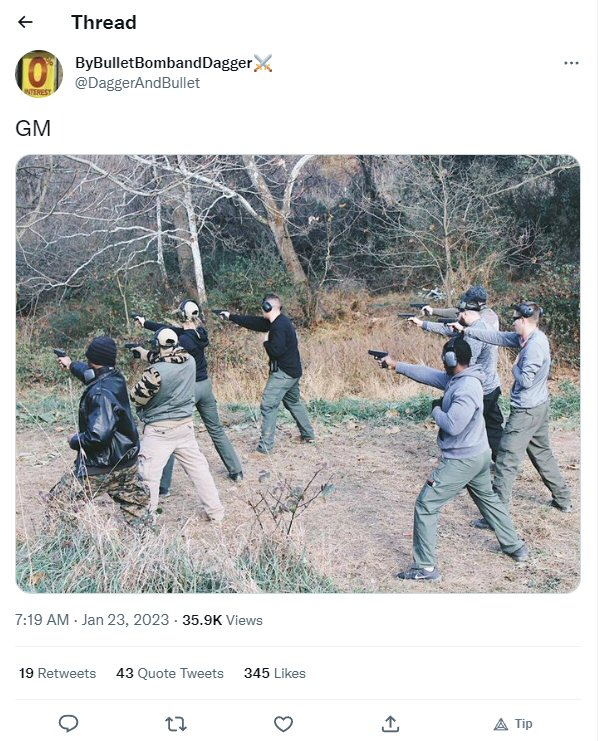 Layoffs Coming At Buzzfeed
Someone got the bright idea to try and prompt the new chatGPT AI in the style of Buzzfeed. Tell me, if you didn't know this was AI generated, would you be able to tell it isn't a real Buzzfeed article?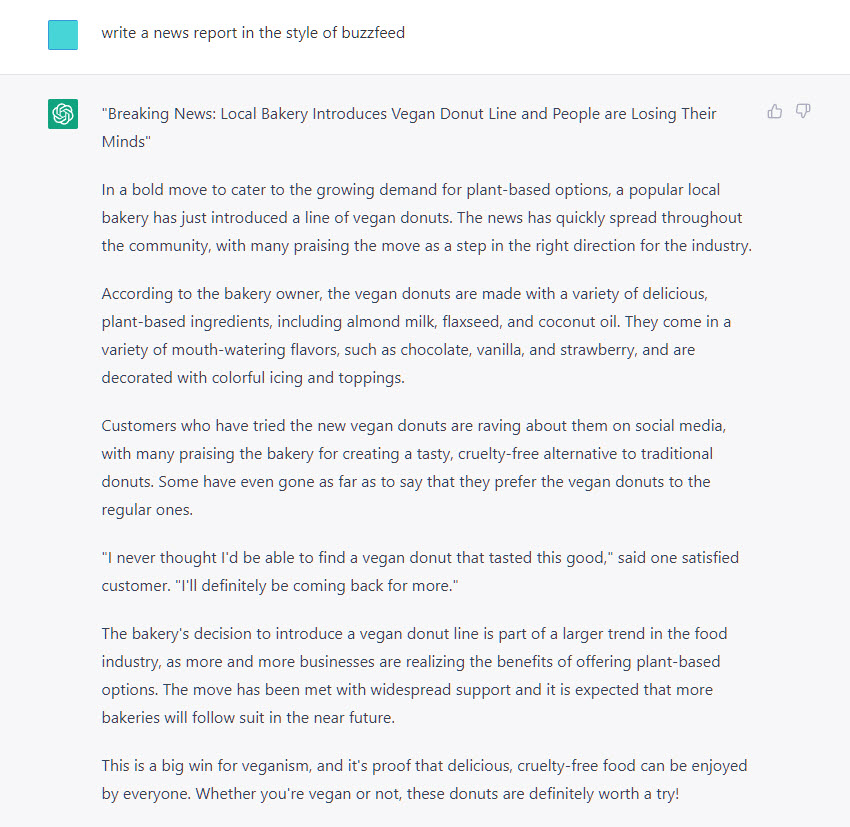 Oh, but it gets even better. After the above hit social media, some wag realized exactly what I said above, and figured there was never a wound that couldn't use a little salt: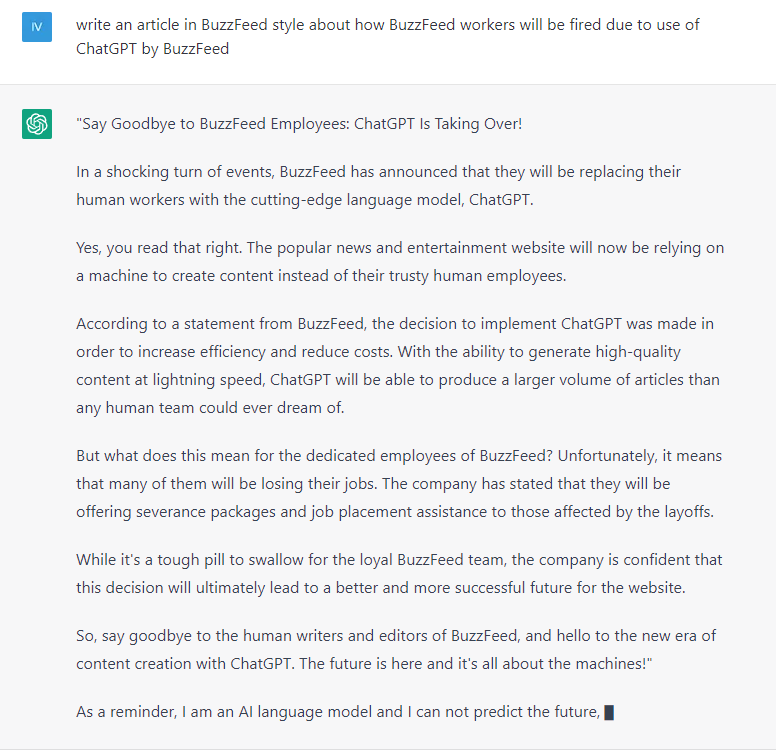 Nobody type ONT into that thing, OK?
Bringing Down A Clue By Four
Dom Lucre TRICKS Dems/Lefties into reading about and SHARING their racist history
He baits 'em. For example, the referenced tweet said "THREAD: How Republicans Started Slavery and the KKK:" The thread that follows is full of actual facts about the Republican Party (founded to oppose slavery) and the KKK (founded by Democrats after the Civil War). The beautiful thing about it is that his provocative initial tweet is picked up and retweeted by scores of Democrats and other leftists, looking to score points against conservatives.
Doomsday Cult
Gaslight politics
Luxuries we could live without. That attitude is shared by a vast swath of the climate movement, perhaps even most of it. For activists, those things they demand we sacrifice are luxuries. That is why they can be sacrificed. Or rather, why they want everyone else to sacrifice them, even though cars and air conditioning and planes have become fundamental to modern life. Perhaps barbecues and lawns, toward both of which climate hawks have turned their jaundiced eyes, are extravagances that can be done without. Yet such extravagances are what give the world its flavor, make life worth living. The green world is an impoverished world. Nowhere is this truer than in the most controversial remedy for global warming, one that's gained in popularity over the last decade: having fewer children or even none at all.

It's a good article. The author even recognizes the connection between green policies and the endgame:
A doomsday cult peddling socialism is the reputation climate activists have forged for themselves. It is, moreover, an image a fair number of them want to cultivate.
He gets
so close
, but then he loses the plot completely.
Climate change is a genuine problem. But it will only be fixed by adapting solutions to the way people live, not by making altering the way people live the solution. As long as the climate movement regards humans and how they live as the planet's greatest ill, it will not gain much traction in the political arena. Nor should it.
I think this is part of the disturbing "journalistic" demand to "fairly present both sides of a story", which is why you see seemingly normal people doing bizarre things like defending or even justifying pedophilia, or at least pedophiles. (How many of you have seen articles which condemn pedophilia, but also talk about how we need to be careful not to "stigmatize" "MAPs (minor attracted persons, the current favorite euphemism for pedophiles)"? After all, we're told, it's not their fault, they were "born that way".) This strikes me as that. Since he didn't make the last little step, let me lay it out clearly: "Climate change" is simply the latest cudgel employed to beat traditional Western values, like freedom and rule of law, into dust so that they can be replaced by communism.
Marxism
is the political philosophy behind the entire movement, "climate change" is simply the latest weapon being employed. It isn't a "reputation" that well meaning do-gooders have accidentally saddled themselves with, "climate change" is the mask that Marxists use to hide their machinations. The powers behind the green movement couldn't give a crap about the Earth, they just want the middle class destroyed, and human civilization returned to its traditional structure: a small cadre of rich elites and a vast mass of serfs. That's it. End of story.
The Grades Are In!
Annual Gun Law Scorecard from the Giffords Law Center
There's a map at the page if you want to find out how your state did. California got a A, which makes sense because there haven't been multiple mass shooting events there in, oh, hours.
i R aN JoUrNaLiSt!
Inside El Chapo's Son's House After a Deadly Gunfight
The article is from
Vice
.
The early morning visitors to Ovidio Guzmán's mansion didn't knock. They opened fire, riddling the massive wood double-doors with hundreds of bullet holes, leaving one side hanging precariously by one hinge.
Of course they helpfully include pictures of the devastation. Like this.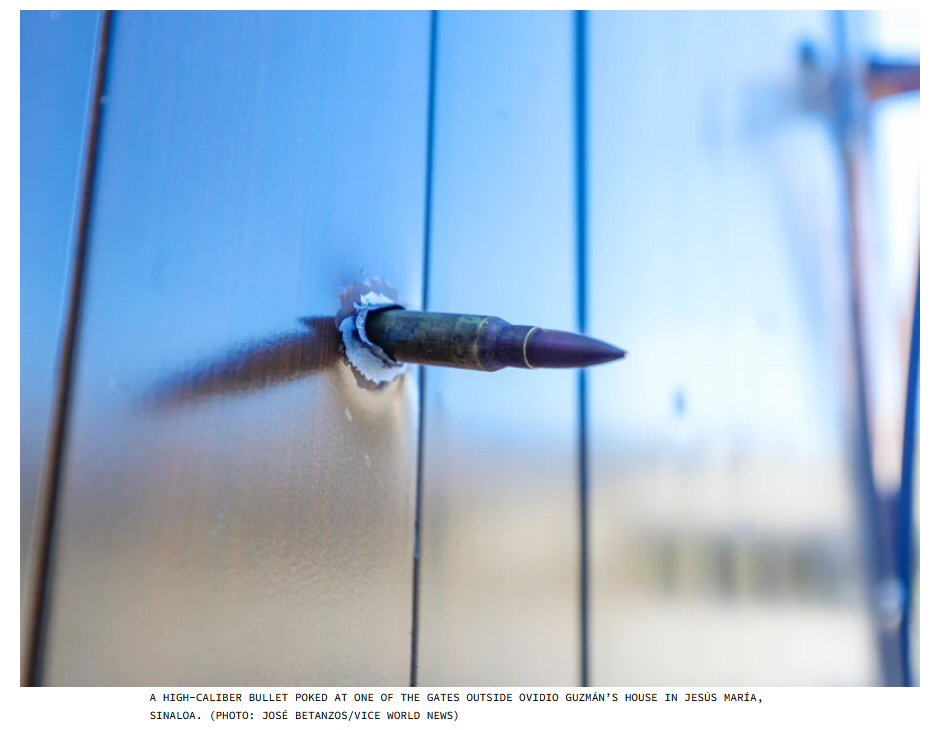 Top notch journalisting there.
The Wild Blue Yonder? Nah. I Said, OFF WE GO, Motherf***er!
A Memorable Fright
So, an RAF engineer, with limited piloting experience in light singles, finds himself behind the controls of a Lightning XM135 jet fighter, rocketing down the runway at full throttle, with a full fuel truck on the runway just ahead. The ejection seat is inoperable, since he was supposed to be just running some tests on the ground, and he's seconds from a fiery death. Rotate! Now what? Read it to find out. Related:
The Worst French aircraft manufacturer?
"Allow me to introduce you to the grizzly Gaulish output of Avions Farman." Interesting planes at the link.
CIA, GRU...WT?
Two days, two leaks: sensitive F-15 data posted by War Thunder fan
So there's a combat game called War Thunder. Apparently, players keep getting mad that such and such in the game isn't 100% accurate, and then posting classified documents to prove their point. Tonight's ONT has been brought to you by Jerry:
Posted by: WeirdDave at
09:55 PM