Surprise! Biden's Latest Appointment to the Federal Judiciary Doesn't Know What Article II of the Constitution Is
See end of post for update about Hamilton68.
Article I details the powers of Congress, Article II details the powers of the executive, Article III details the powers of the federal courts. It's not so hard to remember if you remember them together like this. But Biden's latest #Woke #DiversityHire nominee just doesn't know what Article II is. She also doesn't know what Article V is, but I was going to let that slide, even though, you know, she's supposedly a
judge
and all.
Amazing. Amazing.
During a Senate Judiciary Committee hearing for President Joe Biden's Federal District Court nominees on Wednesday, a left-leaning judge could not answer simple questions about the US Constitution. Senator John Kennedy (R-LA) began by asking Judge Charnelle Bjelkengren, nominee for the Eastern District of Washington about Article V of the US Constitution.
Bjelkengren responded, "Article V is not coming to mind at the moment." Article V outlines the process in which the Constitution can be amended. Kennedy then asked, "Okay, how about Article II?"
"Neither is Article II," Bjelkengren replied. Article II establishes the executive branch of the federal government, outlining the branch's roles and duties.

He continued quizzing her about general theories of judicial interpretation and current controversies before the Supreme Court -- and she kept not knowing what he was even talking about. See the article for more about that.
Biden is filling the judiciary with sub-Biden intellects, and I didn't think that was possible.
And I thought
I
was The Big Dummy. Update on Bill Kristol's grift, Secure Democracy and Hamiton68: Matt Taibbi again demands Bill Kristol and "Alliance Securing Democracy" (which is in fact Bill Kristol's grift) respond to his questions about their methodology. As I wrote earlier (skip if you read this already):
Hamilton68 is the leftwing "disinformation" group which has repeatedly branded social media accounts as "RUSSIAN AGENTS" or "Russian bots" without evidence. They claim they have some Black-Box Algorithm to make these conclusions, but this Black-Box technology is never explained, and seems a lot like Elizabeth Holmes' Miracle Blood Analysis Technology. Even Twitter pushed back against Hamilton68 behind the scenes (of course), as we learned from the Twitter files, noting that Hamilton68 kept claiming this or that account was a "RUSSIAN AGENT," but their own analysis showed nothing of the sort. Hamilton68 pushed its made-up, evidence-free "analyses" to Democrat Senators and congressmen like Noted Non-Vietnam Vet Richard "Danang Dick" Blumenthal and the nearly braindead Diane Feinstein, who then pushed them to the public and media. And apparently Matt Taibbi has a coming expos´ about this Fake News smear group.
Taibbi demanded they respond to his inquires about the story he's written. The questions were private, but I guess they blew him off so he called them out publicly. They offered some bullsh!t about their "methodology." Taibbi says: Nah. That's the bullsh!t you tell your donors and the media. I know your
real
methodology. Comment on
that.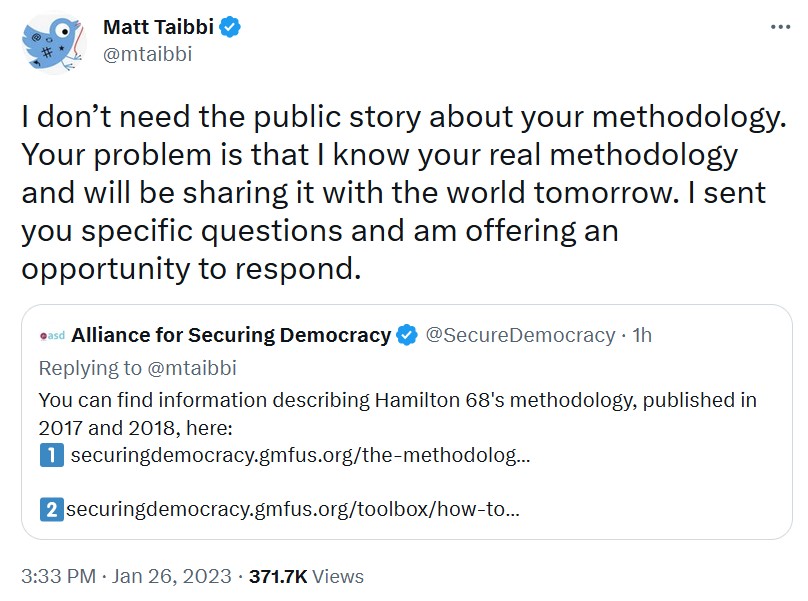 I have a strong feeling the real methodology will turn out to be no methodology -- just
lying
to get into the media.