Food Thread: Baby-Backs, Beans, And BullSt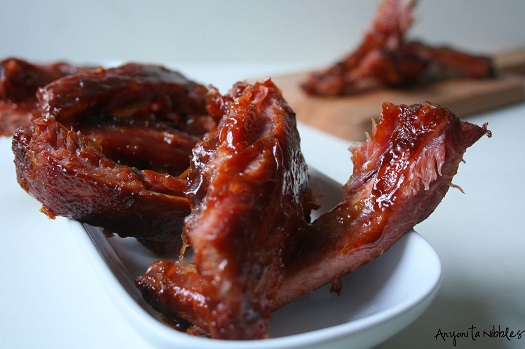 [Photo courtesy of
Anyonita Nibbles
] I know there are millions of barbecued or smoked (or both) rib recipes floating around, and I have tried more than my share of them. And you know something? They are all pretty good! I can't remember the last time I had ribs that weren't at least good, except for last year when I screwed them up and they were tough and overcooked. Ribs are pretty forgiving, because they have lots of fat and connective tissue that with minimal technique will turn into something tasty. Maybe not ethereal, but still pretty yummy. We were visiting some relatives last weekend and I was corralled into cooking for eight people. A couple of chickens, and at the last minute I zipped into a Winn-Dixie and grabbed two racks of ribs. A quick dry rub and into a 300 degree oven for about three hours. Then onto a grill/smoker for about 10 minutes. And you know what? They were delicious. Commodity meat, a dry rub that was limited to the spices on hand, and a little bit of thought about time and temperature. It is so easy to overthink this sort of stuff and agonize over the perfect recipe and technique and cooking vessel and phase of the moon. But with just a little bit of thought most people can make pretty damned good food! Why am I thinking about this? Because my local market has baby-back ribs on sale, and since I am a cheap bastard who also likes to eat well, that seems to be a match made in heaven!
******
This is our government
reporting their official inflation numbers and their outlook for the coming year.
Summary Findings: Food Price Outlook, 2023
In 2022, food prices increased by 9.9 percent. Food-at-home prices increased by 11.4 percent, while food-away-from-home prices increased by 7.7 percent. All food price categories tracked by the U.S. Department of Agriculture (USDA), Economic Research Service (ERS) increased by more than 5 percent. Following an outbreak of Highly Pathogenic Avian Influenza (HPAI), egg prices had the largest price increase (32.2 percent) of any category tracked by ERS between 2021 and 2022. Beef and veal prices increased the least (5.3 percent) between 2021 and 2022 and generally declined from peak prices in November 2021. Eleven food-price categories increased by more than 10 percent, including fats and oils (18.5 percent), poultry (14.6 percent), other meats (14.2 percent), cereals and bakery products (13.0 percent), other foods (12.7 percent), dairy products (12.0 percent), processed fruits and vegetables (12.0 percent), nonalcoholic beverages (11.0 percent), and sugar and sweets (10.4 percent). All food categories grew faster than their historical average rate, and the 20-year average inflation rate increased for all food categories. Food prices are expected to grow more slowly in 2023 than in 2022 but still at above historical average rates. In 2023, all food prices are predicted to increase 7.1 percent, with a prediction interval of 4.2 to 10.1 percent. Food-at-home prices are predicted to increase 8.0 percent, with a prediction interval of 4.5 to 11.7 percent. Food-away-from-home prices are predicted to increase 8.2 percent, with a prediction interval of 6.7 to 9.7 percent.
Wow...that is a load of nonsense the likes of which I have not read in many years. The government is either lying to us or is so out of touch and uses such outdated and incorrect data collection techniques that their work product is worthless. Here is a random list of products I buy, and my perception of the price increases. Cauliflower: +100%
Eggs: +75%
Canned beans: +70%
Grape Tomatoes: +75%
Olive Oil +25%
Ground Beef: +33%
Garlic: +25%
Bacon: +30%
Bell Peppers: +50% Yes, some things have not gone up in price as much, but when I look at my food bills from 12 months ago compared to now, the increase is far more than the nonsense fake data that our enlightened government is providing.
******
Sandwich construction is vitally important to the end result. The best ingredients combined with substandard building techniques will yield a boring mess. I see this most frequently with Italian deli sandwiches. The builders conflate mass with quality. Layering meat and cheese so that there is an inch of impenetrable salami and provolone encased by a loaf that is soaked in vinegar and oil does not make a good sandwich!
Want to Make Restaurant-Worthy Sandwiches at Home? Start Here.
There are some good points to be gleaned from this, especially if you can look past the hipsters who are giving them. [Hat Tip: Misanthropic Humanitarian]
******
This...thing...is a "Lobster Bacon burrito," from "Chef Gruel." Courtesy of commenter "Sharon (Willow's apprentice)."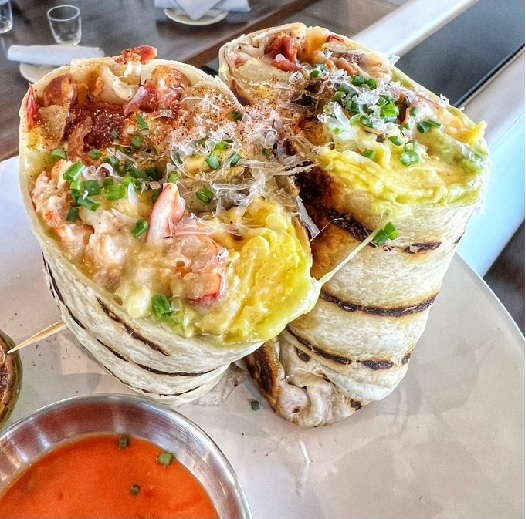 I am unsure what to think. On one hand, I love big sloppy burritos that are bigger than my head and take 15 minutes to eat. On the other hand, drowning expensive and delicate lobster in bacon seems like a big waste of time and money.
******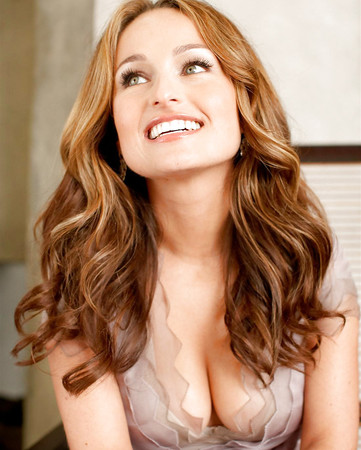 I was poking around the internet for something interesting to do with halibut, which is deceptively easy to overcook because it is quite lean. I can cook salmon in a drunken stupor and it will turn out fine because all of that fat makes it a very forgiving fish. But halibut is delicate, even though it seems like it isn't, and it is also expensive, so I would prefer not ruining a pricey chunk of it because I was stupid. This recipe, from
cleavage lady
Giada De Laurentiis is excellent! I was really surprised how well it turned out. My first thought was that there was far too much butter, but then I smacked myself on the head with a mallet and snapped out of that insanity.
Halibut with Lemon-Butter and Crispy Shallots
I ran out of shallots so I used some plain old yellow onion. I also mixed the shallots and the onion before I crisped them, which was dumb. Shallots take less time, so be aware! And the butter needs to be truly room temperature or the lemon jest and juice won't blend in. Aside from that? Easy and delicious!
******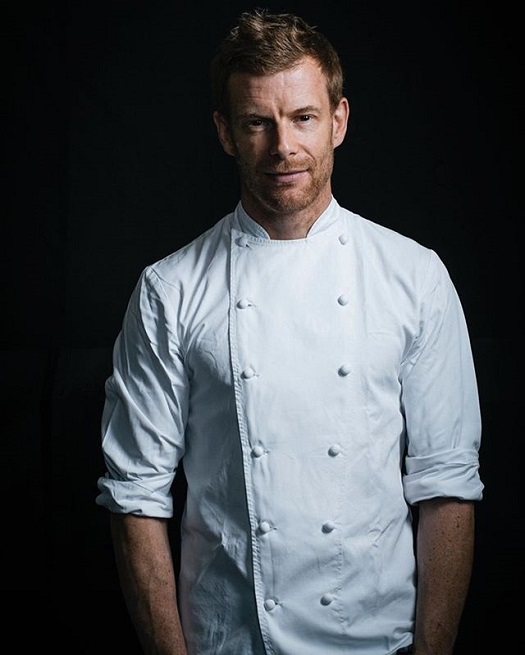 I have been looking for recipes for large chunks of meat for my traditional British Sunday Roast, which is loads of fun and should become a staple in America. Yes, we dumped the monarchy, but we should have kept the Sunday Roast! Anyway, last time I made a bone-in pork loin (Sous Vide of course) that was great. This time I think lamb would work well, and this recipe is simple and classic. I like the addition of balsamic vinegar to cut the richness of the fatty lamb. It also makes it a beautiful dark color. I'm not sure where I will get a
Shoulder of Lamb
, but I imagine that the legs we have on this side of the Atlantic will do just fine. [You chicks better stop saying I never do anything for you!]
******
From commenter "Bitter Clinger" comes a delicious looking sandwich, and yes, that is a homemade bun!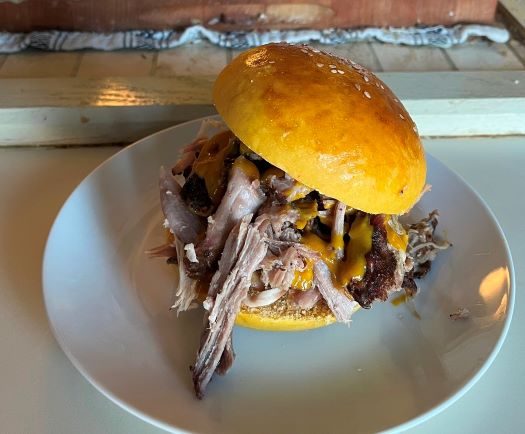 Had a bag a sweet potatoes nearing their use by date, so I baked them all off. Wasn't really keen on eating half a dozen sweet potatoes, so I investigated into other uses and settled on making Chef John's (of Food Wishes fame, for the uninitiated) sweet potato burger buns. Man are they good! Not quite as fluffy as commercial made buns, but the flavor is wonderful and they really become a significant part of any sandwich instead of simply serving as a meat delivery mechanism. The batch I made gave me an excuse to smoke a pork butt in the middle of winter! I'd definitely recommend giving them a try and I wonder what other sweet potato recipes the Horde enjoys?
Well? Any brilliant uses for sweet potatoes?
******

Two missionaries are sitting in a cannibal's cooking pot... One says to the other "I don't know why you're looking so pleased with yourself, we're about to be eaten!" The other replies "I've just pissed in his soup.".


A man wakes up after a heavy night of drinking to his wife happily cooking breakfast. Confused, he approaches his daughter for an explanation of last night when he arrived home. "You kicked in the door when you couldn't get your key in the lock, fell through the table and broke it, and pissed your pants." "Jesus! So then why the hell is she in such a good mood?" "When she tried to take your pants off to wash them, you slapped her hand away and said, 'Get your hands off me! I'm married!'"


I just watched an Australian cooking show and the audience cheered when the chef made meringue. I was surprised...usually Australians boo meringue.

******
Just send me oysters. Lots of oysters, and I will provide special dispensation for those without taste who insist upon maple syrup with their French Toast. And pork rib roasts from the front end of the pig where all the good and fatty meat lives, carrots that don't taste like stalky chalk, spare bottles of Van Winkle Special Reserve 12 Year Old Bourbon, an herb garden that actually produces herbs (but no basil!), well-marbled NY strip steaks and elk backstrap to:
cbd dot aoshq at gmail dot com.
And don't think that the rest of you are off the hook with maple syrup and French Toast: I'm still watching you! And I am watching you perverts who shake Manhattans and keeping a list for the Burning Times.