Quick Hits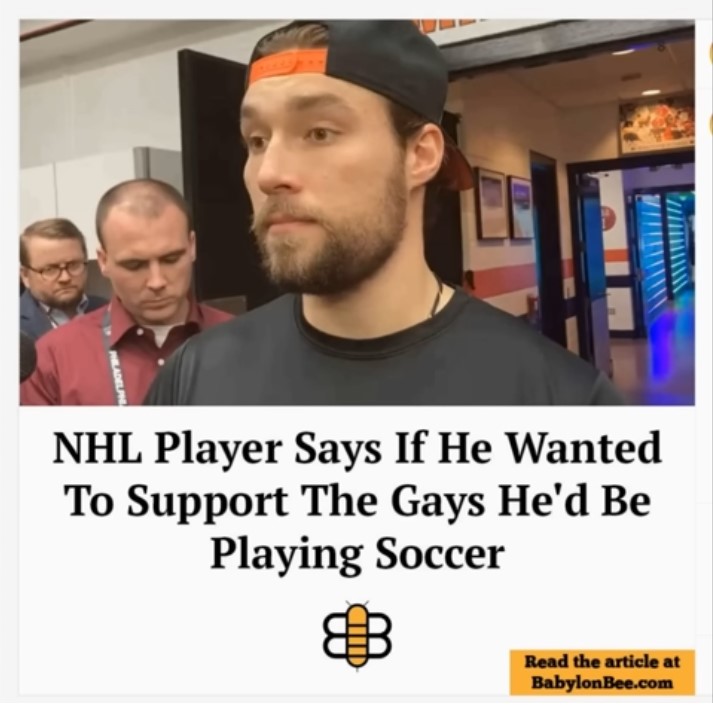 Weirdo and adulterer Jeff Bezos is allegedly considering selling his leftwing corporate propaganda newsletter the Washington Post in order to buy
the Washington "Commanders."
(If they want to be called that, I'll call them that -- the Redskins are dead to me and so is the NFL. I won't keep their legacy alive for them.) Bezos has the money to own both, but Dan Snyder doesn't want to sell Bezos the football team while he still owns the "news" paper.
Snyder is reportedly very unhappy with how he has been reported in the Washington Post, which had published a series of exposes in 2020 alleging a toxic management culture at the team. "Dan Snyder detests the Washington Post. No way he'd sell to the owner of that paper," an unnamed source reportedly said. There is speculation that Snyder suspects that Bezos encouraged the tough coverage in order to force him into a position where he had to sell the team.
LOL, the corporate press using lies and smears to take out an opponent for personal or political gain? What an absurd
conspiracy theory!
Like that could ever happen! Biden's chief of staff -- and therefore one of the people actually acting as president -- Ron Klain announced that he will be leaving
within weeks to spend more time with his Chinese investment opportunities.
As J.J. noted in the Morning Report, his replacement will be Jeff Zientz of...
Bain Capital.
Bain Capital, ripped by Obama-Biden as the Locus of All Evil in 2012. And now... one of the good guys, I guess!
President Joe Biden's new chief of staff, Jeff Zients, is a centimillionaire businessman who, like the failed Republican presidential candidate Mitt Romney, got his start as a consultant at Bain Consulting. (For Romney and Bain, in Biden's telling, that was just a pit stop on the road to putting Americans "through hell and back.") Zients's appointment is riddled with irony. Biden's role in the 2012 presidential election, when he served as former president Barack Obama's running mate, was to attack Romney, the Republican nominee. Like Zients, Romney began his business career at Bain & Company before serving as CEO of Bain Capital, a private equity company he cofounded with Bill Bain. But unlike Zients, Romney's association with Bain and wealth was the subject of Biden's vituperation. At campaign stops throughout the country, the then-vice president accused Romney of unethical business practices in an attempt to paint him as untrustworthy and out of touch. Bain Capital, Biden claimed, was in part responsible for the decline in domestic manufacturing over the past half century. "There's Romney economics, which says as long as the government helps the guys at the very top do well, workers and small businesses and communities can be left to fend for themselves," Biden told an Ohio audience in May 2012. "You've been through hell and back. Outsourcing. Padlocked plants. How many times have you opened your newspaper to find out another factory was closing down? And you probably knew someone who worked there too. Or maybe it was you."
But now the Vulture Socialists and Vulture Capitalists have merged to form the All-Vulture Party. The Vulture Party: Feeding on the ripening meat of the American carcass. The Marshall of the Supreme Court has clarified that she (of course) did in fact interview the justices themselves--
but did not require them to sign an affidavit, under penalty of perjury, stating that they did not leak the Dodd draft opinion and don't know who did.
Interesting. Kind of gibes with my "If an investigation is so weak as to fail to find the guilty party, examine the possibility that the person who set up the investigation wanted it to fail" speculation.
Schools in Florida proposed classes in Advanced Placement (AP) "African Studies."
Ron DeSantis said, no, that's not a real subject.
Note this isn't African-American history. It's African-American
Studies.
"Studies" is the catchall b***shit term for a woke/CRT course that is primarily about political indoctrination of a specific segment of the population -- Women's Studies (note it's not the History of Women), Gender Studies, now "African Studies." It's "interdisciplinary," which means it's Anything Your Woke Professors Want It To Be. It doesn't have the rigor to remain within one actually recognized field of study.
The Florida Department of Education (FDOE) has rejected an Advanced Placement course from the College Board on African American studies, saying that the course "lacks educational value." In a letter sent to Brian Adams, Senior Director of the College Board Florida Partnership, the FDOE's Office of Articulation stated that "As presented, the content of this course is inexplicably contrary to Florida law and significantly lacks educational value."

Coming soon:
Artificial gekko-skin gloves and boots that will let you climb walls like Spider-Man.
Well, I don't know about how soon. But a guy was able to climb a glass wall using gekko-skin climbing gear.
George Santos, a Democrat's kind of Republican, denied that he had been a drag queen in Brazil. However, he now admits that
he might have dressed up as a woman now and again, but not as a drag queen, certainly!
Lying Long Island Rep. George Santos finally admitted to dressing up as a woman in the past-- though he denied he was a "drag queen" while talking to reporters at LaGuardia Airport on Saturday. "No, I was not a drag queen in Brazil, guys. I was young and I had fun at a festival. Sue me for having a life," the embattled Republican congressman said, in his first public response since allegations that he performed as a drag queen named Kitara emerged last week.
Grandpa Gropefingers says, "Hold my beer."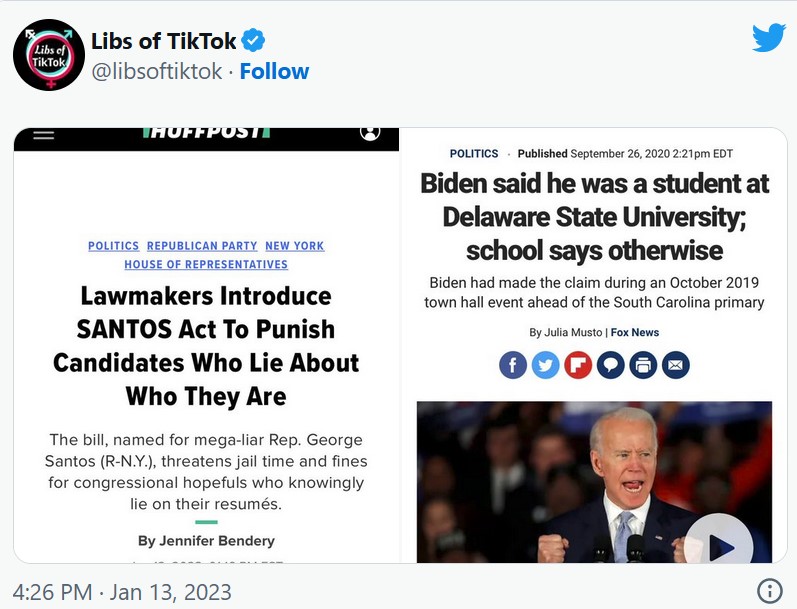 Ilarrria's fake Spanish accent is back:
#Based Mr. Rogers is going on tour with Jordan Peterson:
M&M seems to be doing some trolling with its woke make-over of M&M's. They say they're putting their "spokescandies" "on hold" due to some "controversy" over their shoes; I think I heard that the "sexy" M&M lost her high heels and got flats so she could be "empowered" or something. It all just seems like more
stupid advertising b*llshit.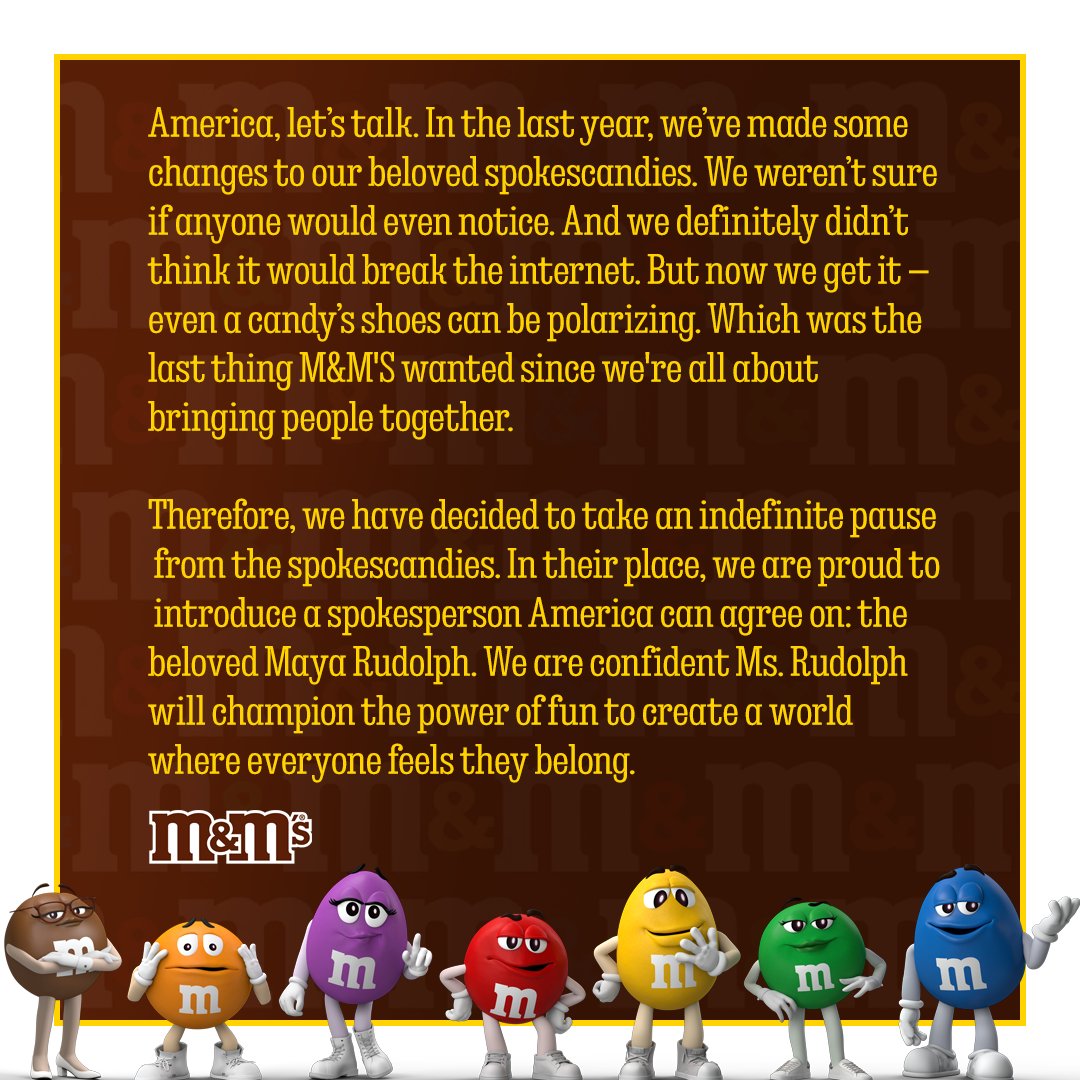 Yum, I can't wait to eat more of your bland chocolate Diabetes Tablets.