The Morning Report — 1/23/23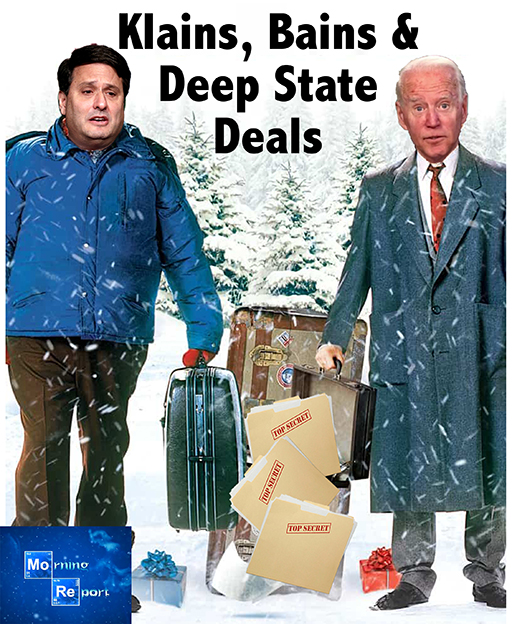 Good morning kids. So, I guess the supposition that Joey Sponge-Brain Shits-Pants' chief of staff, and longtime Biden crime family lieutenant and confidante, Ron Klain is the one pulling the skin on the back of his turkey neck and making him talk like a Pocono Mountain Schickelgruber is wrong. For whatever reason, Klain has suddenly decided to abandon ship, during what some in the media are describing as the greatest most successful administration in American history.
Oddly enough, just as this "Document-gate" scandal is heating up. I'm sure that's just a coincidence, right. But the Deep State's got a deep bench, proving once again they are the "Bain" of our existence.
[So-called quote-unquote "president"] Joe Biden's new chief of staff, Jeff Zients, is a centimillionaire businessman who, like the failed Republican presidential candidate Mitt Romney, got his start as a consultant at Bain Consulting. (For Romney and Bain, in Biden's telling, that was just a pit stop on the road to putting Americans "through hell and back.") Zients will take over for Ron Klain in February. The former head of the White House's [Chinese] COVID response, Zients amassed a vast fortune working for Bain & Company and other management consulting firms. But at Bain, according to the Wall Street Journal, Zients "fell in love with Bain's culture, teamwork … and analytical rigor." By age 35, his estimated net worth was nearly $150 million. Zients's appointment is riddled with irony. Biden's role in the 2012 presidential election, when he served as former president Barack Obama's running mate, was to attack Romney, the Republican nominee. Like Zients, Romney began his business career at Bain & Company before serving as CEO of Bain Capital, a private equity company he cofounded with Bill Bain.
Yeah, yeah, yeah, Mitt tortured a homo classmate, put his dog on the car roof and per Harry Reid's secret source at the IRS was a tax cheater. Blah blah blah.
Now, square that last paragraph with this little nugget:
Before joining the Biden [junta] as the White House [Chinese] Coronavirus Response Coordinator in the early days of Biden's [so-called quote-unquote "presidency"], he also previously served in President Barack Obama's administration in numerous positions. The roles he has held include director of the National Economic Council and assistant to the president for economic policy, in addition to serving in the Office of Management and Budget (OMB).
Wait, what? An entire year ripping Bain Capital and Obama picks this guy to join the team? After everything we've been through since the Trump era, this should not be a head-scratcher but just one more bit of evidence that the America we thought we knew is no more, and likely since the end of the Second World War if not the First, probably never was. So, it certainly seems as if The State which is "deep" in terms of its reach as opposed to being hidden, wants Biden gone. Regardless of whether these revelations hurt or hinder them and their narrative, or if some other way to get rid of him might have been better from their point of view, the writing surely is on the wall for Biden. The big question of course is why? The GOP is a clusterfuck of a joke, as is the prospect of victory at the polls given the now legalized, institutionalized and impossible-to-reverse system of rigging in key swing districts and states that favors Democrats. Or am I wrong about that and Biden in '24, if he has two brain cells to rub together, would get wiped out by Trump, DeSantis or even George Santos?
It doesn't add up. But we're still in the HOV lane to Hell.

It's hard to shake the sense that Joe Biden's classified document scandal, like Donald Trump's Mar-a-Lago saga, is a lot of hype. Trump's "crime" turned out to be a lot more trivial than the breathless whispers and leaks suggested. It turns out Trump was keeping presidential records as personal trophies, which is just about the least surprising thing ever. It's unclear what Biden was doing with White House papers in his house, but unless there was some malicious or pecuniary interest, is it really such a big deal?  Many have speculated that there is something more going on, that Democrats are taking Biden out, like yesterday's trash.  If the Justice Department can pick and choose the president, then we don't really have a "democracy" at all but an oligarchy with a Praetorian guard. Of course, many suspect this has been the case for some time. We all saw how Trump was sandbagged with a bogus criminal probe into Russian "collusion," and the witch-hunt is ongoing. It's worth considering whether the Justice Department, by going after Biden, is creating a pretense of fairness to justify indicting Trump. This would be a truly egregious interference in the democratic process. . . . . . Richard Nixon was the first president to be forced out of power by permanent Washington and the media, after winning reelection in the biggest landslide in U.S. history, no less. Is Biden getting the Watergate treatment? The media's sudden interest in the contents of his Delaware garage feels disingenuous, given all of the corruption they have overlooked until now. Biden is a dubiously elected, corrupt hypocrite, but a scenario in which he is removed over contrived media outrage, and legal pressure would be a Pyrrhic victory for the Right, which has little to gain from an even more powerful and entrenched deep state. A Justice Department that can remove an ineffective puppet can neutralize any resistance to bureaucratic rule, whether from Trump or whoever would fill his shoes.
Speaking of "Tricky Dick". . .

Something's happening here.  Last month Tucker Carlson made the case for the CIA's direct involvement in President Kennedy's assassination.  This month he has made the case for the CIA's direct involvement in President Nixon's forced resignation.  Tying the two events together, Carlson outlines a chief motive for the Agency's alleged actions against Nixon by highlighting a recorded conversation between Nixon and then-CIA Director Richard Helms in which Nixon told Helms to his face that he knew "who shot John," an accusation from the president that the director answered with telling silence.  In publicly prosecuting the Intelligence Community for taking down Nixon, Carlson notes that four of the five Watergate burglars worked for the CIA, that young metro reporter Bob Woodward had been a naval officer at the Pentagon who "worked regularly with the intel agencies" and "had a top-secret clearance," and that Woodward's infamous Deep Throat source for his Watergate news stories, FBI Associate Director Mark Felt, had run the FBI's illicit counterintelligence program specifically designed to discredit and disrupt American political organizations. Furthermore, Carlson points out that Nixon's replacement, Gerald Ford, the only unelected president in American history, had no achievements to justify his rapid rise from forgettable congressman to White House occupant in the space of eight months, aside from his service on the Warren Commission, which had "absolved the CIA of responsibility for President Kennedy's murder."  When unelected federal bureaucrats forced Nixon's vice president, Spiro Agnew, to resign in late '73 for tax evasion, Democrats in Congress "gave Nixon no choice but Ford."  The next summer, the Intelligence Community replaced an adversarial Nixon, arguably the most popularly elected president in U.S. history, with a rubber-stamp for the CIA. . . . . . Kennedy's assassination and Nixon's forced resignation occurred a half-century ago, and plenty of people have disputed the American government's official telling of those events since they first occurred.  Only now, however, is one of the most popular hosts in the small world of news commentary dedicating his time (and reputation) to throwing down the gauntlet against America's Deep State.  Why?  Well, that relatively new and disparaging epithet — Deep State — tells a big part of the tale by reflecting an "awakening" American cynicism and a sizable collapse in Americans' trust in their own government.  It should be a big deal for someone of Carlson's stature to accuse the Intelligence Community of multiple coups d'état; that he does so suggests that he feels the American people have begun to fundamentally shift in their understanding of and relationship to the federal government. . . . . . The government's illegitimate exercise of power goes to the heart of the question: who really runs America?  For most of American history, Americans proud of their nation's history and its dedication to individual rights, liberty, republican virtue, and respect for democracy would have answered, "The people."  Now, however, they are beginning to wonder whether something much darker and more nefarious has been in charge all along. . . . . . If American elections mean so little because the Deep State's power is so great, then things must change.
Read the whole thing. And agreed about "things must change." The question is "how?" The cold, hard truth is this illegitimate State has finally overthrown whatever vestige of the American republic that had remained before 2020 and taken over. The bureaucracy is as powerful as ever and with trillions in borrowed, printed and stolen taxpayer money continually thrown at it, probably invincible. Add to it their allies in the C-suites of the private sector and it certainly looks hopeless. The illusion of regular order, vis a vis debates in Congress and
now legally rigged elections
makes things seem normal but of course, that's the illusion. As our freedoms and our ability to feed, house and clothe ourselves disappears, this junta will only lash out and clamp down harder. There is no way out, except some sort of radical uprising. Peacefully, I pray. But as history shows, that doesn't always work out and the outcome is not guaranteed.
ABOVE THE FOLD, BREAKING, NOTEWORTHY
BIDEN CRIME FAMILY REVELATIONS
NOTE: The opinions expressed in the links may or may not reflect my own. I include them because of their relevance to the discussion of a particular issue. ALSO: The Morning Report is cross-posted at
CutJibNewsletter.com
if you want to continue the conversation all day. Follow us on Twitter:
@CutJibNews
Follow us on Instagram:
@Cutjibnewsletter
Posted by: J.J. Sefton at
07:27 AM
MuNuvians
MeeNuvians
Polls! Polls! Polls!
Real Clear Politics
Gallup
Frequently Asked Questions
The (Almost) Complete Paul Anka Integrity Kick
Top Top Tens
Greatest Hitjobs
News/Chat