Ace of Spades Pet Thread, January 21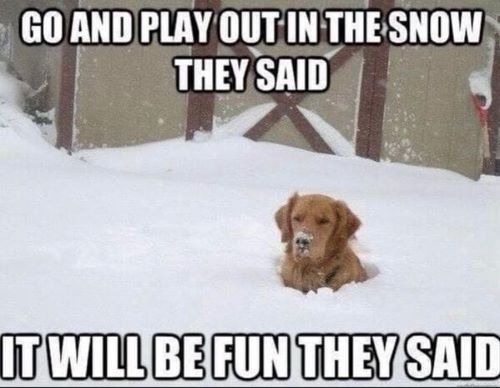 * * *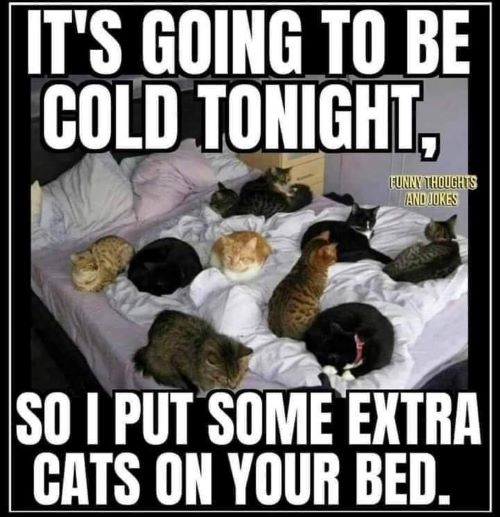 * * *
Good afternoon and welcome to the almost world famous Ace of Spades Pet Thread. Thanks for stopping by. Kick back and enjoy the world of animals. Would you like a treat? Let's enjoy the animals and leave the world of politics and world affairs outside today.
* * *
* * *
* * *
Meet The PetMorons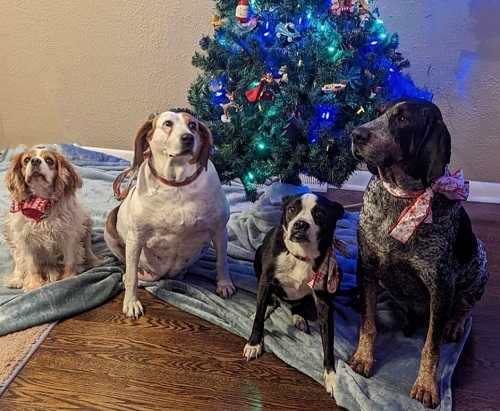 From
Jewells:
KT use if you want. I just thought this was adorable. Blue is on the far right, he was a Shep's dog who got adopted. As you see he seems to have fit right in. He was my favorite!
Sweet photo! Even the pups who aren't Blue are sweet!
* * *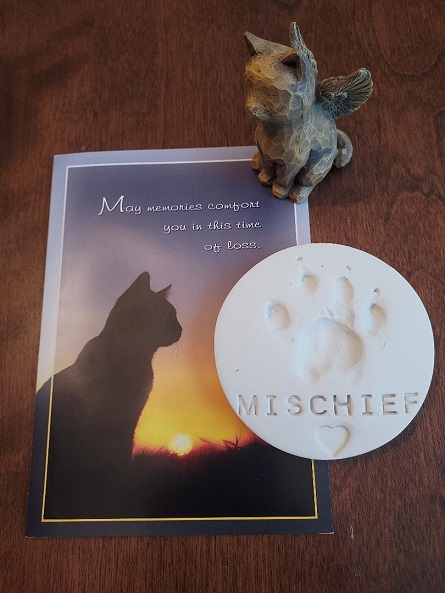 &&&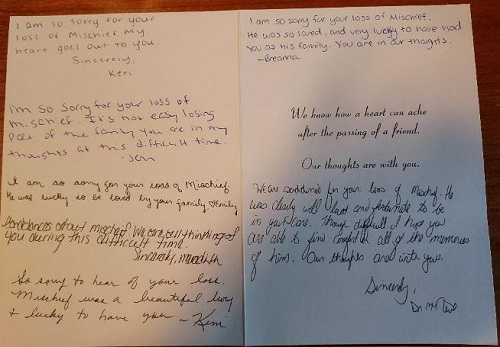 &&&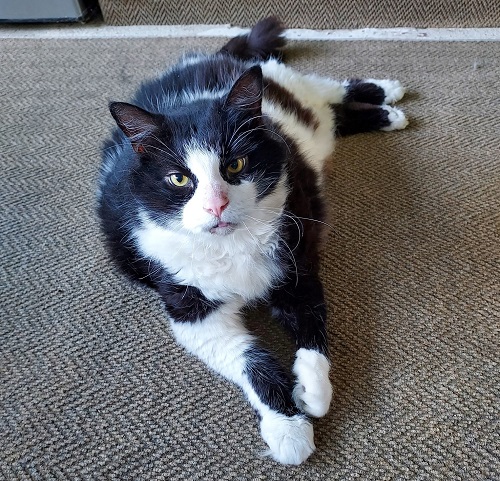 Good afternoon Sadly our cat Mischief passed away shortly before Christmas. Our veterinarian (Plaistow-Kingston Animal Medical Center) was very kind during the euthanasia process. They also sent a card, cat angel, and a paw print of him. He was very vocal and he used to "talk" to my wife about the issues and events of the day. But mostly asking for more cat treats... Thanks as always for the Pet Thread content and of course everything Ace of Spades HQ. Rodent
So sorry for the loss of your lovely cat, Rodent. Your vet is very thoughtful.
* * *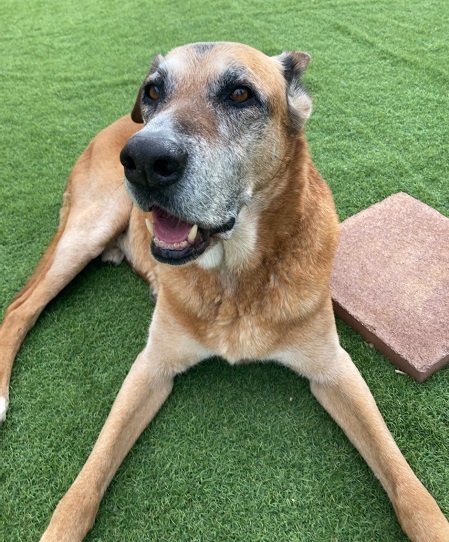 This is, well, a pooch I found wandering in our neighborhood, as he was followed by animal control. I asked the very nice animal control lady if I could take him, so as to avoid him winding up at the country shelter. She readily agreed, with two stipulations: She needed my a copy of my id and I had to go to the shelter and fill out a found dog report. No brainer, actually, I agreed, took the pooch home and my wife and I are diligently searching for the owner. He's very relaxed and settled in with our other two within a couple of hours. In case anyone is wondering, my wife is fully on board with doing this kind of thing. Neither of us like to see pooches in shelters if there's anything we can do about it. We've yet to name him, as we think he's got an owner who probably misses him terribly. Or, at least, we hope so. The pooch is too well cared for to be a random stray that's been wandering loose for a while.
This is a BIG wandering pooch. Hope you can find his missing family.
&&&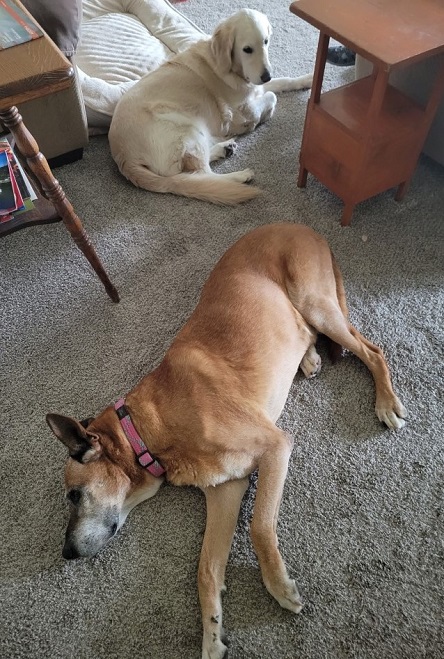 This is our most recent addition to the family, Bailey. She's keeping an eye on the new guy. My wife and I thought we would be without a pooch, shortly, due to the health issues our other Golden Retriever has. Hah. We're now a three dog family. (Old pooch is missing from these pictures.
Bailey looks like a fine dog.
&&&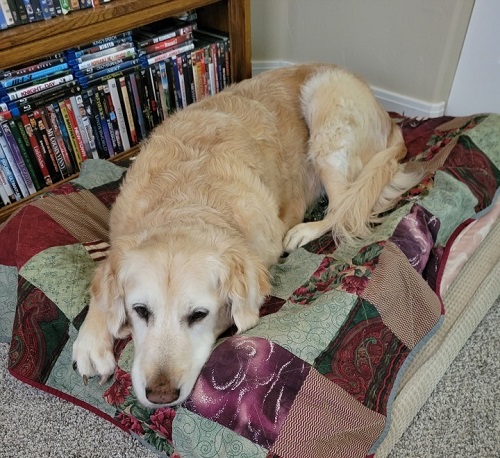 This is Nikki doing what she does best: Lay around and use those eyes to pull in the unsuspecting for attention. Poor girl was born with deformed front paws, but, still quite enthusiastic about food and attention, even at almost 15 years of age. We still can't believe we got her at age 10 and still have her around. Blake
Who wouldn't love Nikki?
* * *
At our house, our fiesty little poodle mix, Curly, was shaved in conjunction with surgery, and when he saw his reflection in the dishwasher, he thought it was another dog. He was ready for battle. Or at least for rousing the family to battle. He is still adjusting to his new look. He isn't Curly right now.
* * *
Appreciated the pet stories today. Thank you for sharing your pets with us.
If you would like to send pet and/or animal stories, links, etc. for the Ace of Spades Pet Thread, the address is: petmorons at protonmail dot com Remember to include the nic by which you wish to be known when you comment at AoSHQ, or let us know if you want to remain a lurker.
Until next Saturday, have a great week!
* * *
If you start feeling nostalgic, here a link to last week's Pet Thread, the
Ace of Spades Pet Thread, January 14
Some special PetMoron stories and photos there. Including the story about the littlest football fan. I closed the comments on this post so you wouldn't get banned for commenting on a week-old post, but don't try it anyway.
Posted by: K.T. at
03:20 PM