Gardening, Puttering and Adventure Thread, Jan. 7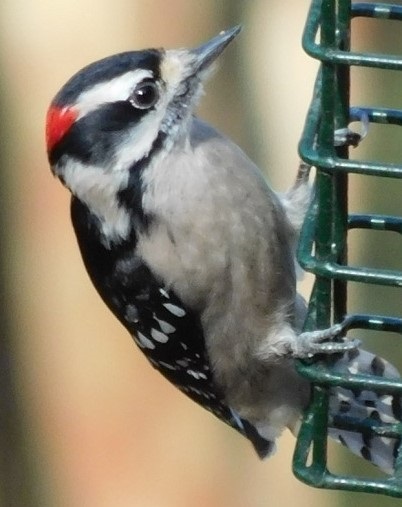 Hi, everybody! Still have Christmas lights up in the yard? Still seeing them? What's the weather like? We have had rain, wind, hail and fog. This week the Gardening Thread received some bird photos, above and below:
Bama Bubba here. Normally just lurk, but always enjoy the gardening thread. Not a lot going on in the actual garden this time of year except for onions and garlic, but it's getting close. And here are a few pictures of the birds which are always fun to watch.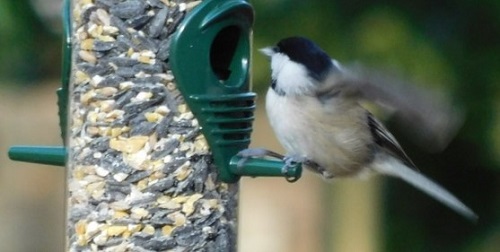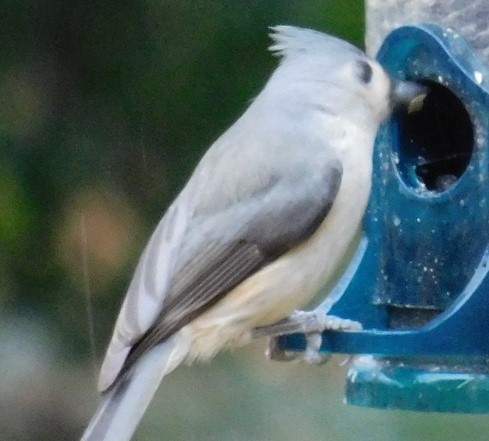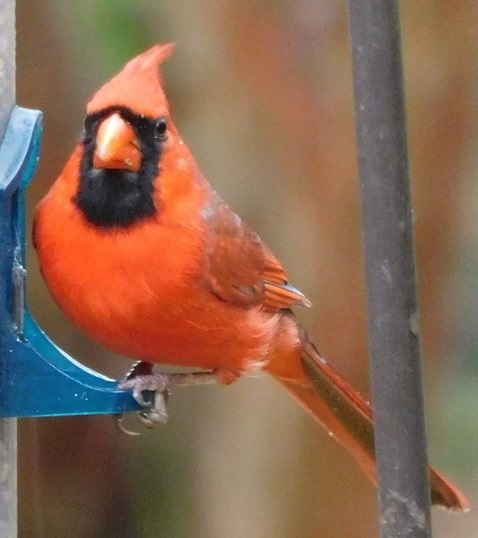 *
Edible Gardening/Putting Things By
Here are some cabbages getting ready to move outside in a few weeks. Bama Bubba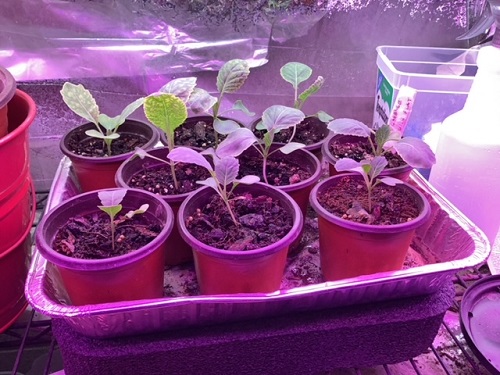 *
More on Catalogs
We had a great discussion of tomato varieties and catalogs in the comments last week. Gordon included commentary on Garden Gem and how to get
seeds from the University of Florida.
If you send them $10, you can get seed of Garden Gem Improved (late blight resistant), a cherry with a wild ancestor and a larger tomato, in order to become a "citizen scientist" in their program to introduce easy-to-grow tomatoes with heirloom-type flavor. If you send $25, they will also send "extra seeds". There is a nice PDF on their site with
tomato-growing tips.
*
Based on the comments last week, I discovered that
Hanover tomatoes
refer to tomatoes grown in a certain region - - not to a certain variety. So maybe soil prep is important! There is a similar famous tomato-growing region in Alabama where you can get
Slocomb Tomatoes.
*
Yesterday, I received the seeds I ordered from Tomato Growers Supply. The seed packets have nice variety descriptions. I also got a print catalog from John Scheepers Kitchen Garden Seeds. They are the people who put out the bulb catalogs. The garden seed catalog has lovely line drawings, but the website has photos. There is a blog, and several winter-focused posts are up. Here is their Piccolo Zucchini: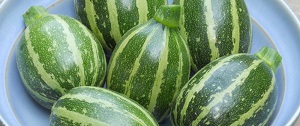 Have you ordered or received seeds? Found more catalogs?
*
Adventure
A natural place to visit in winter. Look for it in Clay County, Mo. You're pretty much on your own when you visit:
Gardens of The Horde
From
Hadrian the Seventh:
Her Majesty is tending the roses in our wild garden. While we may grow some herbs, the main purpose of our garden is to support the local bees, birds and butterflies. There's a fountain and birdbath in there and feeders out on the lawn. In the winter, it's a Hitchcockian mob scene. Firebushes, bottlebrushes, lavender, hibiscus, pansies and other flowers attract not only a large number but also a large variety of bees and wasps. Hummingbirds also love to feed here as well.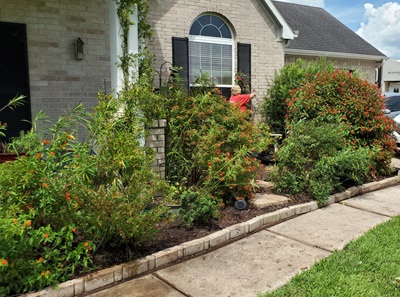 This year we've taken care to cultivate milkweed for the butterflies; Delilah is watching one land. This fall we counted some 10 newly-hatched monarchs, having passed through the caterpillar and pupal stages here. Our property is surrounded by farmland with few trees. Our location on the Texas Gulf Coast puts us in the migratory pathway for birds and butterflies. We don't strive to keep a neatly cultivated garden but one that supports wildlife, either resident or migratory. We enjoy watching our visitors and helping them out both summer and winter.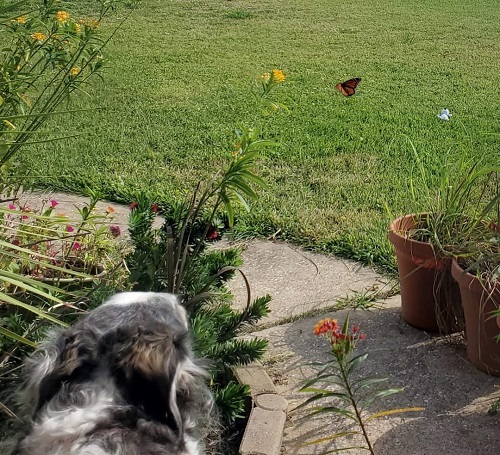 Looks like Delilah enjoys the wild garden, too! Anything going on in
your
yard or garden?
Hope everyone has a nice weekend.
If you would like to send photos, stories, links, etc. for the Saturday Gardening, Puttering and Adventure Thread, the address is:
ktinthegarden at g mail dot com
Remember to include the nic or name by which you wish to be known at AoSHQ, or let us know if you want to remain a lurker.
Week in Review What has changed since last week's thread?
Gardening, Puttering and Adventure Thread, Dec. 31
Any thoughts or questions? I closed the comments on this post so you wouldn't get banned for commenting on a week-old post, but don't try it anyway.
Posted by: K.T. at
01:15 PM