Elon Musk Demands Employees Sign Up For "Hardcore" Work Mode and Commit To Working Long Hours, Or Else Accept a Three Month Severance
First, Musk fired the "human bloatware" of people who never should have been hired in any company hoping to make it a profit one day -- members of the "climate team," the "human rights team," and the Niceness Maestros aplenty.
Then he began firing the obvious internal saboteurs who hated him so much, and were so determined to be a part of an anti-Musk Twitter #Resistance,
that they couldn't even hide their intentions.
"These tweets were posted one hour apart, noted Jason Howerton. Announcement of unsuitability for employment: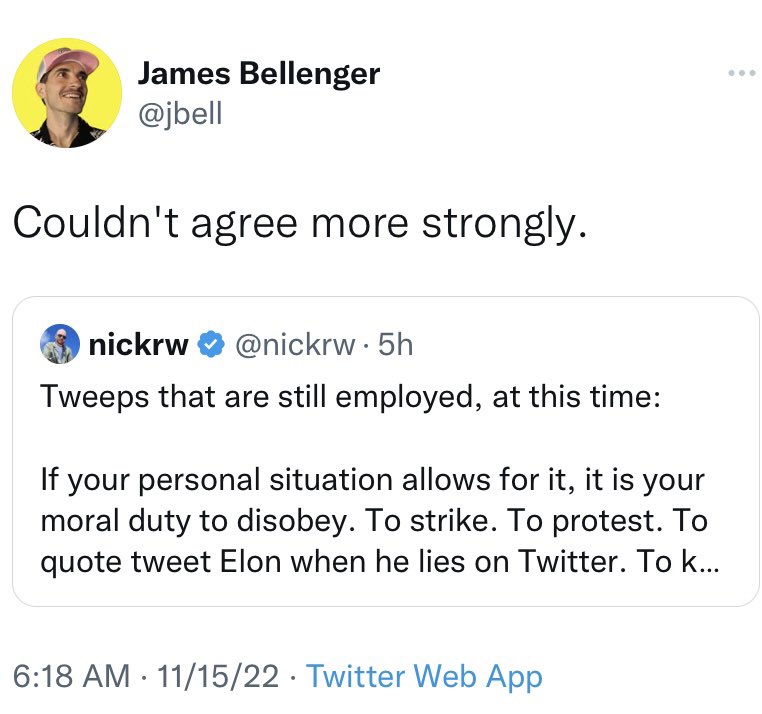 Announcement of unemployment: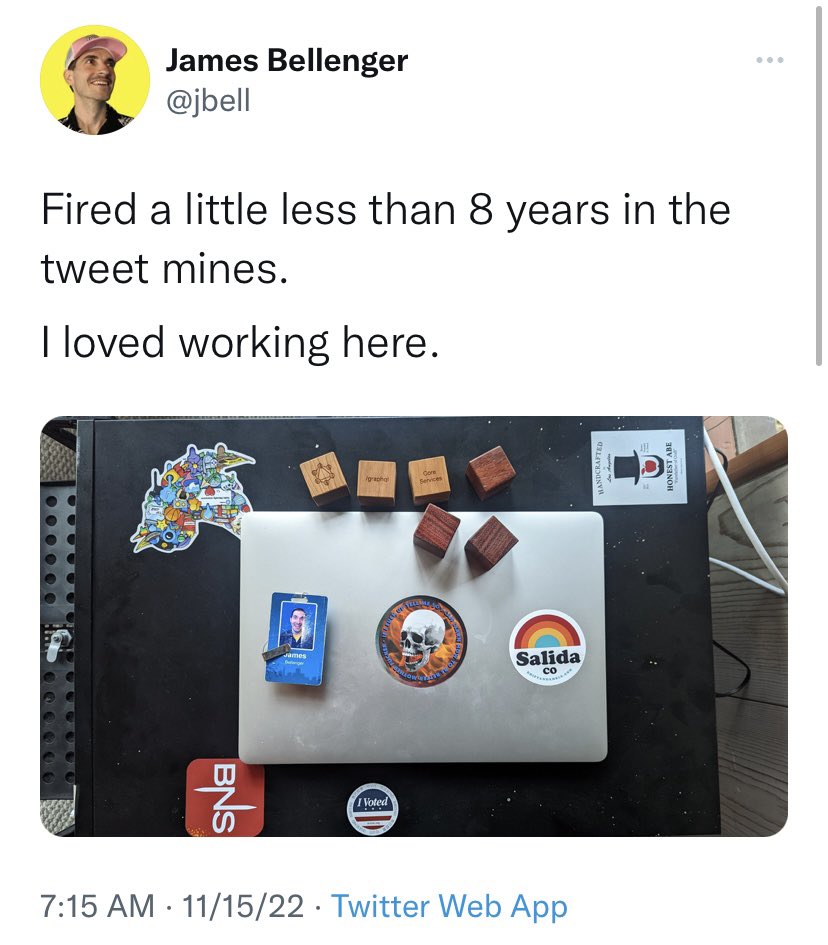 Leftwing tech "journalists" are whining that employees should be allowed to
openly announce an intention to be insubordinate or even commit sabotage against a boss they hate without consequence... so long, of course, that boss is associated with the right.
Leftwing bosses would never be expected to put up with "problematic" right-leaning employees.
Casey Newton
@CaseyNewton NEW: Employees who have criticized Elon Musk in Twitter's Slack channels were fired overnight over email. "We regret to inform you that your employment is terminated immediately," they're being told over email. "Your recent behavior has violated company policy." Employees say it appears that around 20 people have been fired so far for their Slack posts.
Real response to someone whining about the firing of these Exceptional People: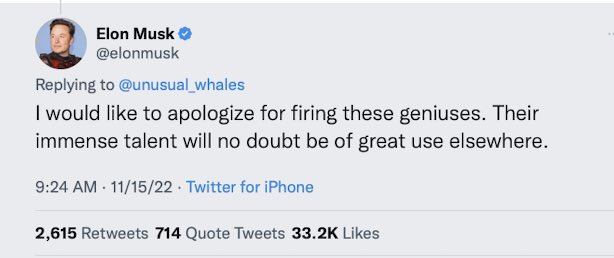 Elon Musk now tells his remaining employees to agree to "hardcore" work mode, or resign.
Elon Musk has reportedly given an ultimatum to workers: Commit to a "hardcore" Twitter or leave the company. "If you are sure that you want to be part of the new Twitter, please click yes on the link below," Musk told employees in an email that was sent to them Wednesday morning. The existence of the email was reported by the Washington Post. Those who fail to sign the pledge by 5 p.m. Eastern time Thursday were told that they would be dismissed with three months of severance pay. Musk told employees that Twitter "will need to be extremely hardcore" moving forward, according to the message. "This will mean working long hours at high intensity," he said. "Only exceptional performance will constitute a passing grade." The ultimatum comes as Musk -- consumed with the fear that disloyal employees will sabotage the platform -- reportedly has ordered senior staff at Twitter to comb through internal Slack chats to identify disloyal employees to fire, according to Insider.
Ed Morrissey observes that this new tranche of firing relies on employees to self-sort themselves as either hard workers or poor workers, and "self-deport" if they're the latter.
Rather than just chop for chopping's sake again, as Musk did at first, this time he wants the low-motivation brigades to self-identify to clear out more of the deadwood, as he would see it. This kind of approach has its risks, though: usually the people who have the most marketable skills leave first, and the deadwood sticks around. However, right now the tech industry is shedding lots of jobs and perhaps is on the cusp of a bubble burst, which means the marketable Twitter employees may not have many options at the moment.
Musk has previously created personal emails with tiny differences for each addressee, with variations in whether each sentence ends in one space or two -- so that when the email is inevitably leaked to the media, he knows who leaked it:
I first read about that style of leaker trap in Tom Clancy, who discussed it one of his books. Clancy discussed a variation of it -- I think Clancy knew the real technique, but changed the details in his novel in order to keep the secret safe-ish. (In the novel, documents were written with individually-identifying "spicy quotes;" the leaker could be identified according to which version of the spicy quote the press wound up printing. I bet it was really just the one-or-two-spaces trick he had actually been told about, though. Rethinking: Actually, the one-or-two-spaces trick can only be done with a copy/paste, which is only possible in a world in which everyone has a computer and uses email, which is
not
the world Clancy was writing in. So he must have been talking about a different trick. Maybe the "spicy quote" thing was real. I doubt it. Probably something like different choices in punctuation, whether double dashes, long dashes, semi-colons, colons, etc.)

Elon Musk
@elonmusk As Twitter pursues the goal of elevating citizen journalism, media elite will try everything to stop that from happening Mainstream media will still thrive, but increased competition from citizens will cause them to be more accurate, as their oligopoly on information is disrupted
Matt Taibbi just wrote about Biden's and the Deep State's increasing threats to investigate and prosecute Musk --
for crimes so heinous they cannot even speculate about what they might turn out to eventually be, but they'll get to that sometime post-trial.
We burn witches in America. When heathens won't convert, when the crop is bad, we still burn the village freethinker. The Federal Trade Commission last week told The Hill it was "tracking recent developments at Twitter with deep concern," adding, "no CEO... is above the law," clearly referring to the company's despised new owner, billionaire Elon Musk. Musk is the new bête noire of the American consensus. He is the Negative Current Thing, a role mostly played by Donald Trump since summer 2015, with occasional fill-ins (in no particular order, Vladimir Putin, Tucker Carlson, Novak Djokovic, J.K. Rowling, Jeremy Corbyn, Joe Rogan, Dave Chappelle, whatever they call Kanye West these days, and others have manned the slot). The coverage playbook for these heel-of-the-hour stories is rigid. Certain elements are always present. Criminal investigations are instigated. Advocacy organizations issue denunciations (some combination of the Anti-Defamation League and the ACLU's Chase Strangio is found in nearly all cases). News organizations demand the person's muffling. Unions, guilds, and associations threaten walkouts. Even if the villain leans left, he or she begins to be described as "right wing," a term with little political meaning left, that's just code for heresy now. It's different from cancel culture. Cancelations start with a transgression, or at least an accusation of one. The other story type starts with a broader offense called thinking for yourself, which triggers denouncers to work backward in search of wrongdoing. Musk is the paradigmatic example. He's achieved round-the-clock denunciation despite total confusion as to his core offense. It was weird enough last week when Joe Biden said it was "worth looking into" whether Musk is a "national security threat" due to his "cooperations" and "relationships" with other countries, as if it were obvious how either translates to wrongdoing. For those who believe Biden just fumbled a surprise question, the issue had long before been leaked to Bloomberg, which in late October reported anonymous officials in the "intelligence community" were "weighing what tools, if any," were available to stop Musk. The leakers not only seemed uncertain of what bureaucratic weaponry they could use on Musk, but what excuse they could put forward. The groping was so clumsy they claimed to be concerned about the presence of "foreign investors," despite the fact that the previous Twitter regime had been taking money from the same foreigners. After Biden spoke, National Security Adviser Jake Sullivan -- fast becoming the Madame DeFarge of the Biden administration -- all but rolled his eyes when asked if he could "offer anything about why" Musk might be investigated. "You heard the president," he chirped, not pausing his mental knitting. Public indifference to the madness of this was astonishing. We've had a secret grand jury system for centuries precisely to prevent this situation, i.e. the injustice of a person not charged with a crime having to live under public suspicion. Of course erstwhile progressives being indifferent to important civil liberties concerns has become routine in the Trump era. Musk is accused of something bad, but what? The New York Times penned a basic indictment on October 26th, "How Elon Musk Became a Geopolitical Chaos Agent," but the piece read like a parent's deranged fantasy about the impact of a child's friend who has a nose ring. The paper mourned Musk's "influence and ability to cause trouble," reporting he's often "waded into situations even after he was advised not to" (again, was this a preschool report card?). They blasted him for "seeming to align himself with the Kremlin" via a peace plan in Ukraine, but were more quiet about Joint Chiefs Chair Mark Milley proposing something similar. People have complained about everything from Musk mistaking a Chris Farley sketch for a movie to firing a lot of people (including former Homeland Security advisory committee member Vijaya Gadde) to a plan to desecrate the sacred blue check mark inspired moral horror. From The Hill: He slashed around half the workforce and rolled out a new Twitter Blue program that includes a verification check mark for $8 a month, which has led to widespread concerns over the impersonation of official accounts. Musk voted for Barack Obama in 2012, Hillary Clinton in 2016, and Joe Biden in 2020, but he's not being denounced as a dangerous right-wing reactionary and traitor because of his politics. The real problem is he's a rich industrialist who has mild disagreements with Current Thing speech theology, and enough money to refuse to back down when threatened. This can't be tolerated. A bigger worry, as Walter Kirn and I discussed, is that Musk could probably explode the Washington blob just by airing all the dirty correspondence from governments, ours included, that sent censorship and surveillance dictates to Twitter over the years. If he is indeed holding that grenade, he should pull the pin now. He would go down in history as an American hero, remembered as the man who used his billions to buy the unmasking of a corrupt political establishment.

Read the whole thing. There's more. He talks a lot about witch-hunting and the irrational mass moral panics that sweep through the, LOL, "elite" literally every two weeks. As John Ekdahl asked a couple of years ago: Do you even remember what the last Elite Moral Panic was, the crisis so threatening and so consuming we had to focus obsessively on it for one day and expunge or jail all the wrongthinkers? How about the one before that? You can't, can you? And yet the "Cognitive Elite" keep pushing these lunatic, juvenile hysterias every two weeks, completely forgetting that the last thing they said would literally Destroy Democracy, did not.
MuNuvians
MeeNuvians
Polls! Polls! Polls!
Real Clear Politics
Gallup
Frequently Asked Questions
The (Almost) Complete Paul Anka Integrity Kick
Top Top Tens
Greatest Hitjobs
News/Chat