Rumors of the Death of the Red Wave Have Been Greatly Exaggerated
Apologies to the blackpilled readers who don't want to hear anything positive about the polls, and to the Polls Are For Strippers people who don't care about polls generally.
But I've had these polling links piling up forever and I want to clear these tabs. There is now so much evidence that the public has turned in the GOP's favor that I really can't put off acknowledging it any longer. Big surge in the congressional control preference, shown by the Monmouth Poll: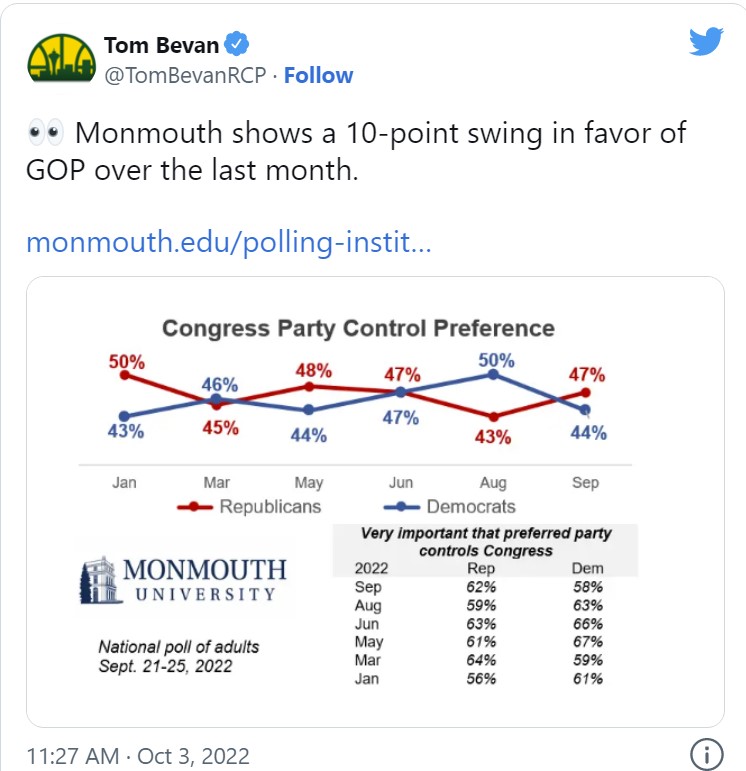 That is a poll of "adults," which favors Democrats. In addition, any poll which shows even a tie actually means that Republicans are ahead. Peruse (Garrett taught me that word) this list of the top issues according to the public -- and Biden's rating on handling them.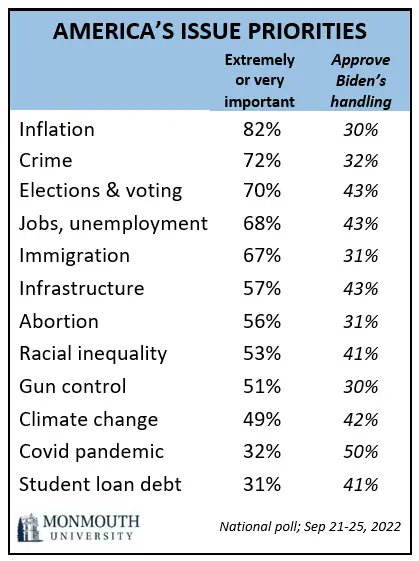 I know Democrats are "distancing" themselves from Biden
but Biden's allegedly the "moderate" version of a Democrat.
So we can take his rating on these issues a proxy for how the public imagines how a "moderate" Democrat would handle them. Via David Strom at Hot Air, who, weirdly, doesn't spend every post talking about "Trumpists,"
Nate Cohn of the NYT warned Democrats last week that the summer winds were turning against Democrats.
The Democrats' summer swoon, based on abortion, a temporary pause in inflation and rising gas prices, and Donald Trump dominating the news, was over. And now people were googling "inflation" and "immigration."
For most of the summer, President Biden and the Democrats had the political winds at their backs. ... But with six weeks until this November's midterm elections, there are a few signs that the political winds may have begun to blow in a different direction -- one that might help Republicans over the final stretch. The political spotlight may be drifting back toward issues where Republicans have an advantage, like the economy and immigration. It can be difficult to discern these kinds of subtle shifts in the national mood, but Google Search trends offer a decent rough measure. For the first time since the Dobbs ruling overturning Roe v. Wade, Google searches for the economy and immigration have overtaken searches about abortion. Searches for democracy or the Jan. 6 hearings have also fallen.
Send more illegal immigrants to blue jurisdictions, Governors. Cohn continued:
[T]his weekend, two polls showed Republicans with a lead among likely voters -- including an ABC/Washington Post poll showing Republicans up by five percentage points among likely voters. It may prove to be an outlier, or perhaps it's the first sign of a material shift in the race. The ABC/Washington Post poll wasn't the only measure of the race on Sunday. CBS News found Republicans ahead by one point among likely voters, 46 percent to 45 percent.
Republicans also enjoy an enthusiasm edge. Also last week, the Democrat-aligned Politico/Morning Consult poll showed Biden suddenly dropping
five points of job approval, with the GOP gaining on the generic congressional ballot.
Note the generic congressional ballot asks "Which party do you plan to vote for for congress in the upcoming election?" while the congressional control question asks "What party do you hope controls congress at the end of the election?" Slightly different questions. Basically the same thing, but not exactly.
[T]he poll... found Biden's approval rating dropping to just 41 percent, with 56 percent disapproving. That's down from 46 percent in last week's poll... which had represented Biden's 2022 high-water mark.... Forty-five percent of voters said they would vote for a Democrat for Congress if the election was today compared to 43 percent who preferred a Republican candidate, the poll found. In last week's poll, Democrats had a 5-point lead, 47 percent to 42 percent.
Like I said, Democrat-aligned. Ed Morrissey also complained that they're still surveying registered voters, not likely voters, despite the fact that people are already voting, due to the Democrats' demented insistence not just on early voting but crazy-early voting, before many contests even feature their debates. As silly as this poll's findings are, they do show the same shift to the GOP that others are finding. In specific races:
The Republican edges into a thin lead in a three-way race in the Oregon gubernatorial race.
About 32% of likely Oregon voters said they would vote for [Republican Christine] Drazen if the election were today, while 31% said they would vote for [Democrat Tina] Kotek, according to the poll conducted by Portland firm DHM Research. Betsy Johnson, a longtime Democratic lawmaker who is running unaffiliated, received 18% support.
A
left-wing poll puts Kari Lake four points ahead of Democrat Katie Hobbs in the Arizona governor's race.
Data for Progress, a left-wing pollster, shows former television news anchor Lake with 51 percent compared with Hobbs at 47 percent in a poll of 768 likely voters from Sept. 15 to 19.
By the way, Kari Lake continues to be a killer with the media:
She keeps on being all upside surprise. For Arizona Senate, Blake Masters is behind -- "behind" --
by just four points and the incumbent still can't cross 50%.
And a Republican who is only behind by 4% is essentially tied. I have to think that Kari Lake's success will help Blake Masters a bit too.
In Pennsylvania and Wisconsin, Mehmet Oz is coming back to be in a good position to win, and the indispensable Ron Johnson is now in the
"Don't get cocky, kid" sort of position,
expected to win.
Democrats are facing fresh problems in two pivotal Senate battlegrounds in which their nominees are facing attacks for being too progressive. What's happening: In Wisconsin, GOP Sen. Ron Johnson has pulled ahead of Democrat Mandela Barnes in the latest wave of public polls. In Pennsylvania, recent polling suggests Democrat John Fetterman's double-digit advantage over Republican Mehmet Oz has shrunk to a statistical tie. They are vying for the seat held by retiring GOP Sen. Pat Toomey. Why it matters: The Republican momentum in both states, acknowledged by strategists on both sides, means the pathway for Republicans to win back the Senate majority looks clearer. If they hold Wisconsin and Pennsylvania -- along with all the states Trump carried -- Republicans would need to unseat just one Democratic incumbent.
An Emmerson poll found that Oz was only behind
45 to 43.
I don't think the fundamentals favor Fetterman. By which I mean, having a functioning brain. I think people have enough retards in the White House. I think people took a gambled on a retard, I think they gave a retard every fair chance, and I think they've decided that high political office is not really a place for a retard to thrive.
Plus, there's this:
Not only is he holding innocent black men at the point of a shotgun and threatening their businesses, but meanwhile, he's promising to let murderers out of jail:
He has repeatedly stated that he'd love to let at least "one third" of all "second degree murderers" out of jail, if not more. And he doesn't seem very sold on keeping the first-degree murderers behind bars, either. I know we've had Biden as a Senator for fifty years, but there is a limit, surely:
Republican Adam Laxalt is ahead, within the margin of error, of the Democrat Catherine Cortez Mastro,
in Nevada's senate race,
and one suspects, as usual, that the polls understate his support. But the SEIU is warning that Latino are disappointed in Democrats and
may not even turn out for them at the rates the polls suggest they will.
Nevada Democrats see signs of nightmare scenario: Latino voters staying home
"It's what's keeping me up at night," said Melissa Morales, president of Somos PAC, which backs Cortez Masto. The state's ultra-competitive contest could be key to Senate control. But with only 37 days until the midterm elections, there are warning signs: At the doors, on the phones and on the streets, Latinos are threatening to stay home. And that is despite the presence of the first-ever Latina elected to the U.S. Senate, Catherine Cortez Masto, at the top of the ballot. Organizers in both parties say they see the same phenomenon developing, as do major Latino groups and the powerful Culinary Workers Union: Disgruntled over the economy and unhappy with their post-pandemic job quality, these voters, many of whom Democratic groups identify as once lifelong supporters, could sit this one out. That's on top of the usual challenges of turning out voters for midterm elections. ... In the near term, the stakes are high. By some measures, Democrats need to carry two-thirds of the Latino vote if they're to retain the Senate seat that could determine which party claims the Senate, and a governor's seat that has implications for how the 2024 presidential race is handled in the state.
And this doesn't happen too often -- the GOP has pulled ahead of the Democrats in terms of
favorability, 44% to 39%.
- Americans' views of the two major U.S. political parties remain more negative than positive, but the Republican Party's favorability is now slightly better than the Democratic Party's. Both parties' images have shifted slightly since last year, with the GOP's favorable rating edging up four percentage points to 44% and the Democratic Party's rating slipping by the same amount, to 39%.
That's not a "slight shift." Republicans hold a big edge in keeping the country prosperous, 51 to 41, and an enormous edge in keeping the country safe from foreign threats, 57 to 37. Buh muh climate.