Hurricane Ian Re-Energizes Over Ocean and Slams Into South Carolina Coast
It just made landfall again in South Carolina, now as a category 1 hurricane.
AccuWeather meteorologists warned that despite being rated lower on the Saffir-Simpson Hurricane Wind Scale than when it slammed into Florida with deadly consequence, Ian will still pack a punch and unleash life-threatening impacts as it pushes inland into Friday night. "Ian's structure is similar to that of a powerful nor'easter, with most of the storm's rain and wind focused to the north and west of the center," AccuWeather Hurricane Expert Dan Kottlowski said. "But, make no mistake, Ian will hit with the force of a hurricane in the Carolinas, especially along the upper half of the South Carolina coast."
It might not be as disastrous but it won't be any kind of fun for South Carolinians. Note they're predicting "extreme" storm damage between Charleston and Myrtle Beach, with 10-15 foot storm surges: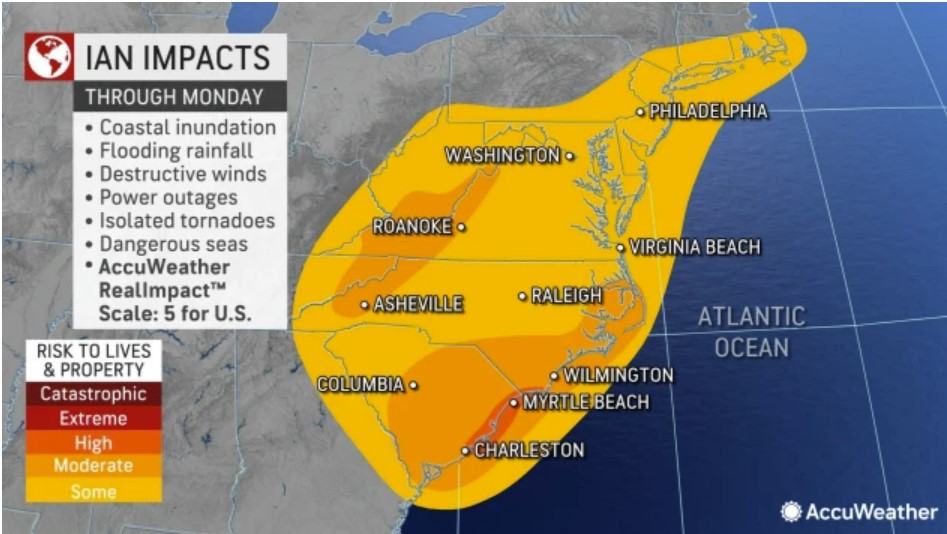 Keep yourselves dry and safe! The storm's track will take it onto land, into West Virginia, which, at least, should finally kill it, because, well, the only thing I know about hurricanes is that they strengthen over water and weaken over land.
Not as much media coverage of this, partly because the storm isn't as powerful, but mostly because there's no future presidential candidate the traitorous propaganda Marxist Media is looking to destroy based in South Carolina. The rescue efforts continue in battered Florida:
Prayers for Florida.