The Criminal Bail Organization Kamala Harris Promoted Just Sprung a Man Who, Of Course, Immediately Committed Murder Upon His Release
They're anti-political violence, you guys.
A bail fund backed by Vice President Kamala Harris sprung a convicted criminal who allegedly killed his nemesis over a "beef" he had with the man. Harris promoted the far-left Minnesota Freedom Fund amid the George Floyd-related riots in 2020 that saw parts of Minneapolis burn. Harris encouraged Twitter users to donate to the Minnesota Freedom Fund to bail out the protesters who were arrested as the unrest grew. "If you're able to, chip in now to the [Minnesota Freedom Fund] to help post bail for those protesting on the ground in Minnesota," Harris tweeted in June 2020. Local Minneapolis news reported that one of the people bailed out by the Minnesota Freedom Fund, Shawn Michael Tillman of St. Paul, was out for three weeks before he allegedly murdered an old nemesis with whom he had "beef." Tillman, who was bailed out on April 29 in connection to an indecent exposure case, allegedly fired six bullets into his victim at a St. Paul light rail stop on May 20, killing him.
The Federalist's Jordan Boyd talks about the accomplishments of the other proud alumni of the Minnesota Freedom Fund.
MFF has a history of paying for the release of dangerous criminals. In 2020, MFF shelled out $75,000 so a 36-year-old registered sex offender, who faced up to 30 years in prison for allegedly raping an 8-year-old girl, could walk the streets again. Before that, MFF bailed out a man who faced 20 years in prison for the burglary and assault of a 71-year-old woman.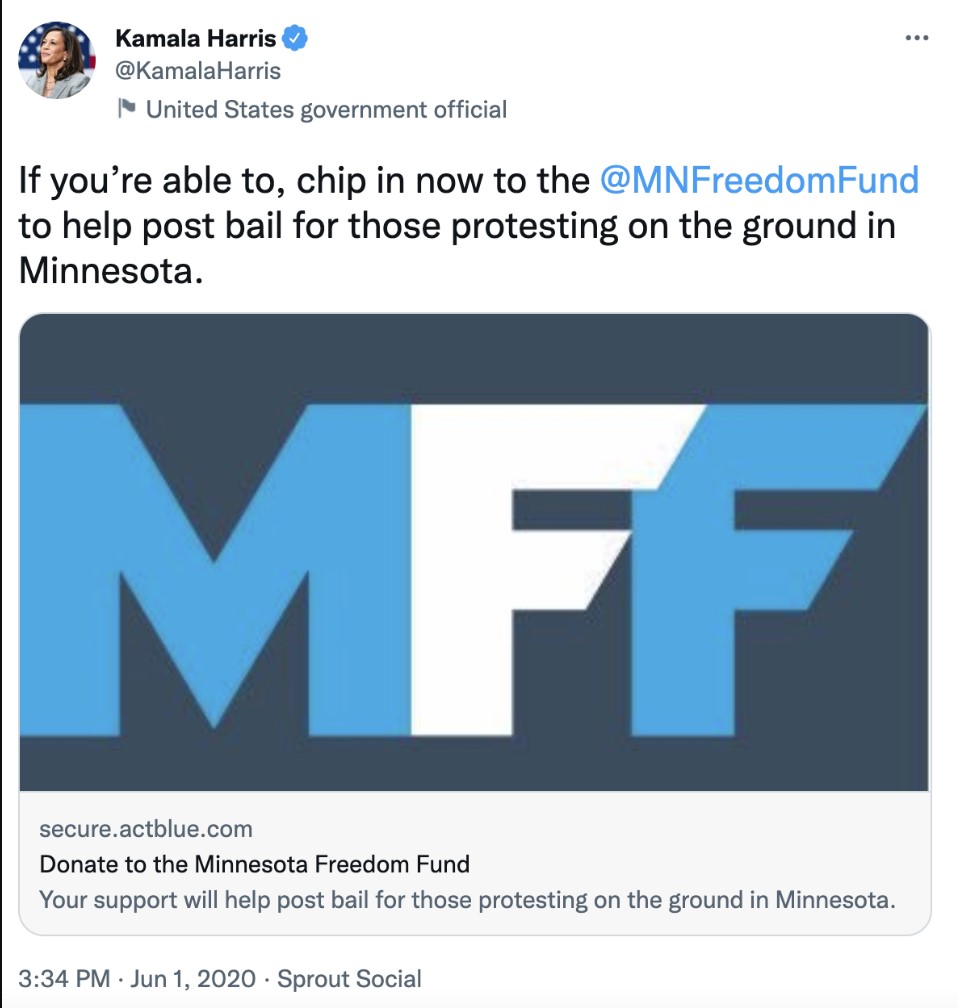 Thanks to Kamala Harris' promotion of the website, the "Freedom Fund" raised $35 million in the next few weeks, with which it purchased additional rapes and murders of law-abiding citizens. For "equity," you understand.
More of their Good Works from RedState.
This isn't the Innocence Project. This is the Guilty As Sin But We Don't Care, Criminals Are The Only People Worth Protecting Project. Meanwhile, a criminal sprung by a Portland "abolitionist" organization killed a mother
after just seven days out of jail.
A man in Portland who was out on bail thanks to a liberal "volunteer-run abolitionist organization" was arrested and charged for allegedly murdering the mother of his children just one week after being released from jail, according to local reports. Mohamed Osman Adan was arrested on Aug. 10 over allegations he cut off a GPS monitor he was wearing and broke a no-contact order stemming from allegations of strangulation and attempted assault against the mother of his children, 36-year-old Rachael Angel Abraham. He is accused of entering Abraham's townhome on July 26, which resulted in a warrant for his arrest.
Adan was able to post bail on Aug. 20, after Portland Freedom Fund president Amanda Trujillo provided $2,000 in funds, the Oregonian reported. His bail was set at $20,000, but Oregon often allows a 10% deposit of the full amount in order for someone to be released. The Portland Freedom Fund is a self-described volunteer organization that "only post bail for Black, Brown and Indigenous folks in Multnomah, Clackamas and Washington counties."
The murdered woman, whose murder the Portland Freedom Fund effectively sponsored, was herself "brown," and Muslim. Are they sure this is really for the benefit of "black and brown and Indigenous folks?"
Kamala Harris promising that antifa and BLM "are not gonna stop," and warning Americans that they had better give in to their demands. "Everyone beware, they're not gonna stop... and everyone should take note of that, on both levels."