Sunday Overnight Open Thread (8/14/22)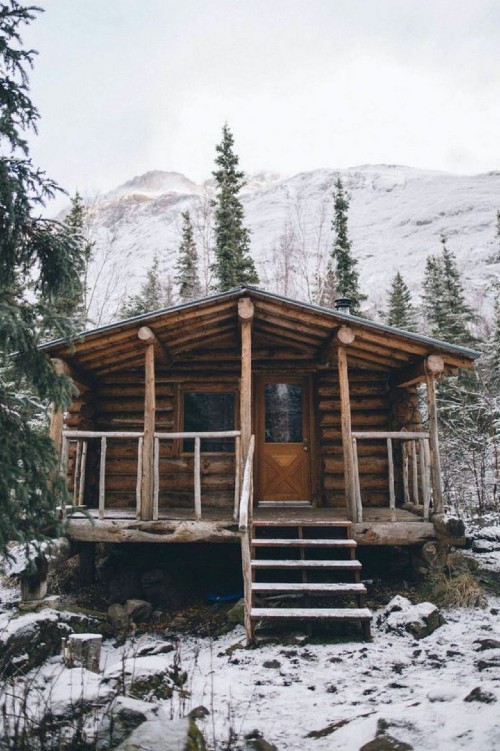 ***
The Quotes of The Day
Quote I
"It is stunning. It's like a lost world. It feels almost like Jurassic Park – different from anywhere else on the estate." Project manager Ben Eardley
Quote II

"From their vantage point, it's a million dollars very well spent. It's pretty rare you see this direct of a return on your investment. So, I guess I would congratulate them." Dean Baker, a senior economist at the Center for Economic and Policy Research, a liberal-leaning think tank
Quote III "The situation is entirely unique because the actions of the prosecutors here are incredibly outrageous. There's no question in my mind that the [Justice Department's] flagrant disregard of President Trump's clemency order is motivated by acrimony towards him." New York criminal defense attorney Joe Tacopina
***
The Comments of The Week
(In no particular order)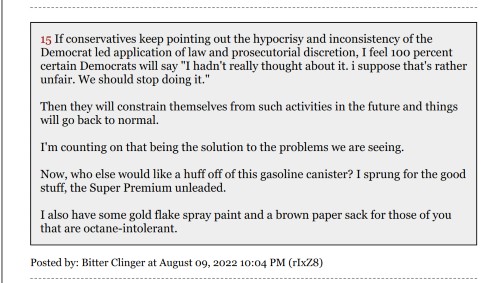 132 You are watching the whole Federal government lose its collective mind obsessing over one man who no longer holds office, never accepted a salary and likely has foregone his pension.
Posted by: Hadrian the Seventh at August 12, 2022 06:41 PM (1Nxff)
(Submitted by Clutch)
***
Scooter who?
Scooter Libby and the insufferable Cheneys. An interesting read especially about the incestuous Deep Swamp.

"Ihave been ashamed to hear members of my party attacking the integrity of the FBI agents involved with the recent Mar-a-Lago search," the perversely self-righteous Liz Cheney tweeted on Thursday. "These are sickening comments that put the lives of patriotic public servants at risk."
Rep. Cheney seems to have forgotten one significant event in her family's political life: the same weaponized deep state that okayed the raid on Mar-a-Lago convicted her father's chief-of-staff Lewis "Scooter" Libby on charges that were as manufactured as those leveled against President Trump. If Liz has forgotten, former vice president Dick Cheney surely remembers. Trump's pardon should have gladdened Cheney's heart. It certainly did Scooter Libby's. In June 2007, Libby was convicted in a D.C. court of one count of obstruction of justice, two counts of lying under oath, and one count of making false statements. "I believe firmly that Scooter was unjustly accused and prosecuted and deserved a pardon," Mr. Cheney told CNN's John King in 2009, adding, "I was clearly not happy that we, in effect, left Scooter sort of hanging in the wind." By "we" Cheney meant President George W. Bush. Cheney did little to conceal his disgust with Bush for failing to pardon Libby. The charges against Libby stemmed from an investigation into the leak of the name of the low-level, Langley-based, CIA agent Valerie Plame. The White House was alleged to have leaked her name to punish her husband, Joe Wilson, an international hustler and occasional ambassador. Wilson purported to be a whistleblower. He wasn't. He was a showboater. No "scandal" in recent history promised so much and delivered so little. The media liked Plame because she looked good. They liked Wilson for the same reason they liked Michael Avenatti, his willingness to give authoritative cover to their preferred narrative, in this case the belief that the White House, Cheney in particular, consciously lied about WMDs in Iraq. The leak, in fact, had nothing to do with Libby or Dick Cheney. No matter. In 2003, the ubiquitous mischief maker James Comey, then deputy attorney general, pressured his boss John Ashcroft into recusing himself from investigating the leak. (The deep state had apparently field tested the "recusal" con before running it on Attorney General Jeff Sessions in 2017.) To head up the 2003 investigation, Comey appointed Patrick Fitzgerald, a U.S. Attorney from Chicago and the godfather of one of Comey's children. In 2017, Comey would choose Fitzgerald to represent him after being fired by Trump.
***
***
What does Denmark know that Fauci and his sycophants don't?
Yesterday, we learned that the CDC is basically pulling the plug on the pandemic and telling everyone to just get on with their lives. When NPR covered the story, they gave the impression that there wasn't going to be as much of a push to get people vaccinated, either. But that's just here in the United States. Across the pond, the changes to official government policy are coming in a more fast and furious fashion. It was just announced in Denmark that vaccinations for children are ending entirely. We're not talking about removing mandates. Denmark is effectively outlawing the vaccination of children for COVID, saying it will "no longer be possible" for children under the age of 18 to receive first shots immediately and second shots will be banned in September. (Dennis Prager)
***
The Hodge Twins.......Counselor Says Minor-Attracted Persons Are Being Marginalized
***
As Sean Hannity would say, "They are great Americans."
Recall, investigative reporter Paul Sperry was suspended from Twitter earlier this week after he revealed the FBI may have had a personal stake and searched for classified documents related to Spygate. "DEVELOPING: Investigators reportedly met back in June w Trump & his lawyers in Mar-a-Lago storage rm to survey docs & things seemed copasetic but then FBI raids weeks later. Speculation on Hill FBI had PERSONAL stake & searching for classified docs related to its #Spygate scandal." – investigative journalist Paul Sperry said in a tweet Tuesday before getting suspended from Twitter.
***
I don't know about you.
But the last thing I want to be accused of is being an alienist.
Space boffin wants alien hunters to be more diverse - to stop people becoming alienist Alien expert Rebecca Charbonneau has warned humans that they will need to become more diverse when hunting for aliens otherwise we run the risk of being "alienist"
***
The Swamp, truth is stranger than fiction. You just can't make this shit up.
Of Course: Liz Cheney's Husband Works for Law Firm that Represents Hunter Biden
I want her re-election to go down in flames so bad.
***
Somewhere along the way, there was a lack of communication. This probably worked out for the best in the long run.
Update: Meat-Loving Groom Secretly Cancels Vegan Meals, Bride Cancels Wedding and Leaves Him
This bride discovered that her fiancé had gone behind her back and canceled the vegan meals she had ordered. This put the couple in a dicey situation, put marriage plans in doubt, and led the bride to rethink the engagement. In an update just posted, the original poster has returned to share with readers that she had decided to break off the engagement entirely and leave her fiancé. The original thread was posted to Reddit's r/AITA (Am I the A-Hole) subreddit by u/SarahJake2022, who initially posted the topic to see if she was in the wrong for her reaction to learning that her fiancé had canceled the vegan dishes that she had organized for her family. Worth noting here that the bride has multiple family members who are vegan, and her family is paying for the catering service.
***
The doomsayers are never held accountable. What a shame.
According to Al Gore, based on statements and "science" from "leading climate experts", the Arctic was supposed to be ice-free in the summer already years ago. Now that the summer ice melt season in the Arctic will end soon, by the middle of next month, it's a good time to see how Al Gore's prediction is faring. To do this we look at the latest from data the National Snow and Ice Data Center (NSIDC):
***
Talk about lazy and just mailing it in.
The House of Representatives on Friday voted to pass the $700 billion "Inflation Reduction" Act, which would not reduce inflation, and 158 of the lawmakers voted by proxy. The 158 lawmakers decided to vote by proxy at a time when there has been controversy surrounding the capability, as the Senate still required its members to vote in person.
Lazy disgusting slugs.
***
The days following the 9/11 attacks on NYC, Mayor Rudy Giuliani was outstanding.
However, it is time for Rudy Giuliani to slip into the background and shut his piehole.
Giuliani says Trump will "raid every one of Biden's houses" if the ex-president runs and wins in 2024.
"Breaking into the home of a former president is a political act," Giuliani told The New York Post.
The FBI is probing Trump for potential violations of the Espionage Act and obstruction of justice.
Rudy Giuliani earlier this week said former President Donald Trump would "raid" President Joe Biden's homes if he were to win the White House in 2024, with the ex-personal lawyer to the former president arguing that the FBI's search of Trump's Mar-a-Lago club was a "political act."
***
We all knew he pulled the trigger. Now the FBI says he did. The FBI? I'll have to think about that one.
In yet another investigatory coup by the FBI, the bureau's crack forensic boffins have officially determined what literally everyone else who knows even the first thing about firearms knew almost immediately after the movie set shooting last October. Alec Baldwin pulled the trigger on the revolver that day, killing cinematographer Halyna Hutchins and wounding director Joel Souza. Since everything the FBI does seems to be an open book these days, ABC News got its hands on the bureau's findings . . .
***
The ONT Musical Interlude & Fiberglass Insulation Emporium
On this day: August 14, 1988 - Roy Buchanan
Guitarist Roy Buchanan died after hanging himself with his own shirt in Fairfax County Adult Detention Center having been arrested for drunkenness. Buchanan released over 15 solo albums; Jeff Beck dedicated the song 'Cause We've Ended As Lovers' to Buchanan in 1975 on his Blow by Blow album. via thisdayinmusic.com
&&&
Born on this day: August 14, 1941 - David Crosby
American singer-songwriter and guitarist David Crosby, a founding member of both the Byrds and Crosby, Stills & Nash. With CS&N he had the 1969 UK No.17 single 'Marrakesh Express', 1970 US No.11 single with Crosby, Stills Nash & Young plus the 1970 US No.1 album 'Deja Vu' and the 1975 US No. 6 solo album 'Wind On The Water'. via thisdayinmusic.com
***
The ONT is proud to announce a couple of Genius Award Winners tonight.
With friends like this who needs enemies?
Posthumous Genius Award Winner
A man was crushed to death by a trash compactor after climbing into the garbage chute with the help of two people, according to the New York Police Department (NYPD). The man's body was found in a Brooklyn apartment building on Gates Avenue in the Bedford-Stuyvesant neighborhood at around 4:00 a.m. on Friday.
Loud pipes save lives. Gun fire can take them away.
Genius Award Winner.
ST. PAUL, Minn. — A Blaine man is in serious trouble with the law after he allegedly shot at a trio of motorcyclists and rammed a sheriff's deputy's squad car during an ensuing police chase. The St. Paul Pioneer Press reported Friday that 21-year-old Carson McCoy was charged Thursday in Anoka County with second-degree assault and fleeing police in a motor vehicle. According to the charges, the three motorcyclists were stopped at a red light in Ham Lake on Wednesday afternoon. A BMW ran the red light and nearly hit them. The motorcyclists eventually got ahead of the car and started yelling at the driver, later identified as McCoy. He allegedly sped around them and fired a handgun out of the sun roof and through the driver's side window.
***
Better gun control required.
Tonight's Feel Good Story of The Day.
Alleged intruders in Sherman Oaks, California, fled the scene early Saturday morning after a homeowner awoke, retrieved a gun, and began shooting at them. ABC 7 reports that the incident occurred just after 1:30 a.m.
***
Weekly commenter stats for week of 8-14-2022

Top 10 commenters:
1 [758 comments] 'jim (in Kalifornia)' [106.40 posts/day]
2 [563 comments] 'TheJamesMadison, navigating the destiny machine with Fritz Lang'
3 [504 comments] 'Christopher R Taylor'
4 [498 comments] 'Sponge - F*ck Joe Biden'
5 [447 comments] 'Aetius451AD'
6 [426 comments] 'Joe Mannix (Not a cop!)'
7 [420 comments] 'SMH at what's coming'
8 [416 comments] 'Helena Handbasket'
9 [407 comments] 'REDACTED'
10 [383 comments] 'rhennigantx' Top 10 sockpuppeteers:
1 [250 names] 'Ciampino - how many chins?' [35.09 unique names/day]
2 [202 names] 'Misanthropic Dildo'
3 [68 names] 'Count de Monet'
4 [54 names] 'Helena Handbasket'
5 [47 names] '18-1'
6 [40 names] 'jim (in Kalifornia)'
7 [40 names] 'I Mean'
8 [33 names] 'OrangeEnt'
9 [30 names] 'Axeman'
10 [25 names] 'REDACTED'
***
Tonight's ONT has been brought to you by Questionable Maneuvers.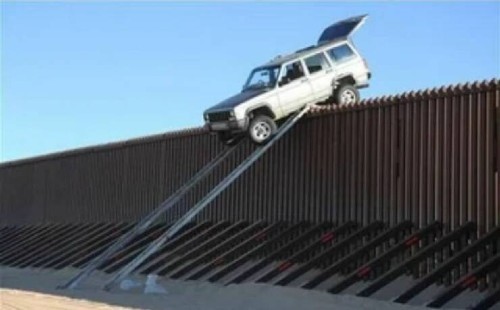 Notice: Posted with permission by the Ace Media Empire and AceCorp, LLC. ONT Tips, loose change, drink tokens and burner phones to petmorons at gmail dot com. Complaints, pissing & moaning to some other department.
Posted by: Misanthropic Humanitarian at
09:53 PM