Gun Thread: August 7th Edition!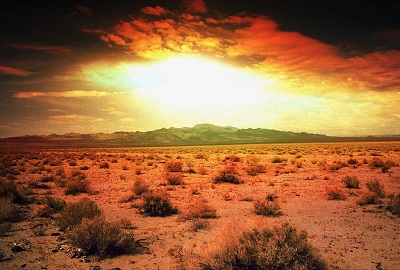 Howdy, Y'all! Welcome to the wondrously fabulous Gun Thread! As always, I want to thank all of our regulars for being here week in and week out, and also offer a
bigly Gun Thread welcome
to any newcomers who may be joining us tonight. Howdy and thank you for stopping by! I hope you find our wacky conversation on the subject of guns 'n shooting both enjoyable and informative. You are always welcome to lurk in the shadows of shame, but I'd like to invite you to jump into the conversation, say howdy, and tell us what kind of shooting you like to do! Welp, August is here with long hot days. One benefit we have here in the mid-Atlantic that you won't find in the picture above is oppressive humidity to go along with the heat. Yay, oppressive humidity
and
heat! There has been a ton of great content in the ol' Gun Thread inbox recently. Please keep it coming. Thank you!! With that, step into the dojo and let's get to the gun stuff below, shall we?
******
Featured Gun
We've been looking at pistolas for a while so why don't we switch to a revolver this week? This little fella is a Smith & Wesson Model 629-1 in .44 Magnum with a 3-inch barrel, made in 1987. The observant among you will note I have
not
put Hogue Combat grips on this gun, preferring instead to leave it with the original Goncalo Alves grips for aesthetic reasons. Sure, rubber grips would be much more comfortable, but the range babes prefer the wood grips and who doesn't want to keep the range babes happy?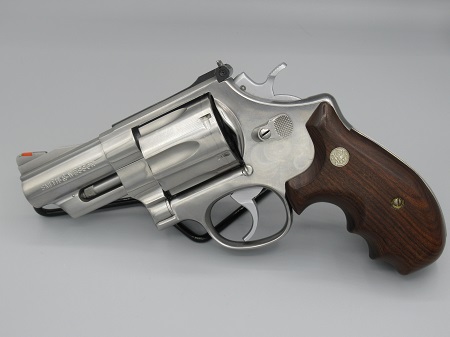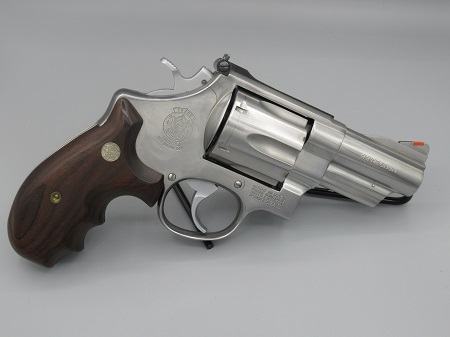 I think this is a really good-looking gun, and despite being a handful, it really is a lot of fun to shoot. One of the benefits of handloading is the ability to customize loads and find a compromise betwixt power and recoil that doesn't rattle your teeth out. How many snubby fans do we have?
******
Shooting Gear
Last week we looked at some rear bag options for mid and long-range shooting. What did we learn? We learnt that you need to have as stable a platform as possible to maximize your hits on target. I don't mean a little bit stable; I mean a lot bit stable. Q: Weasel, how stable is "a lot bit" stable.
A: Very, very, very stable. As stable as you can possibly get. Like anchored to the core of the Planet of the Earth, stable. So now that we understand rear bags and their required stability, let's wander up to the front of the rifle. For
practice and funsies
I use a
Harris S Bipod
.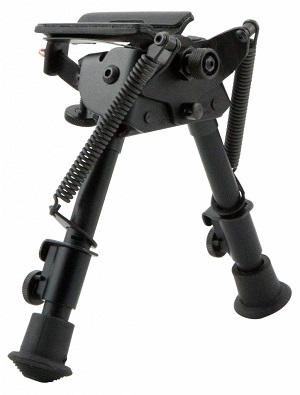 There are about a dozen models with different attachment, leg and swivel options, and the one you want depends on your rifle setup and to a lesser extent, your shooting style. However, there are a couple of things to keep in mind. First, you absolutely, positively want to use a
little
leg extension as possible, so get one with the 6"-9" legs. I do all of my shooting either prone or from a bench and try my best to use
zero
leg extension unless it is unavoidable. Second, you absolutely, positively want an 'S' or swivel model. With the swivel function you can often still shoot from an uneven position without much (or any) leg extension. Although the Harris products are extremely well made, the more leg extension you use, the wobblier your shit may become. Q: Weasel, is wobbly front shit bad too? I thought that was only for the back of the gun.
A: *SIGH* Wobbliness, in all its insidious forms, is bigly bad and quite possibly the work of Satan. Do not tolerate wobbliness. Depending on options, the Harris S series bipods are around $100-$150, and are worth it in my opinion because they are rugged, solid and reliable. In a pinch, I have used all sorts of other stuff as a front rest; ammo cans, rolled up jackets, rear bags - all sorts of goofy stuff. You can too, but why not give yourself the best possible chance of hitting the target? This is not the place to save a few dollars, folks. Why go to all of the trouble and expense to set up a long-range rig, and then set yourself up for failure in the last few percent of the job?
******
Range Reports
First up, our pal and delightful 'ette
Screaming in Digital
made a trip to the range and filed the following report.
I went to the indoor range Friday night. Had the place to myself. I brought my Rock Island 1911, the P365, and the S&W model 28 for funsies. I have started a new habit at the range of dry firing a few times before loading live ammo. Invariably I catch myself flinching or jerking the trigger the first time. This helps me get it out of my system! First, I put 50 rounds through the 1911. My targets were not too bad. For some reason I had a lot more difficulty focusing on the front sight tonight than I had just a few weeks ago. Did my vision really change that much in a few weeks? Last time, I tended to miss low. This time, I was missing high more than low. But getting a few more shots in the center as well.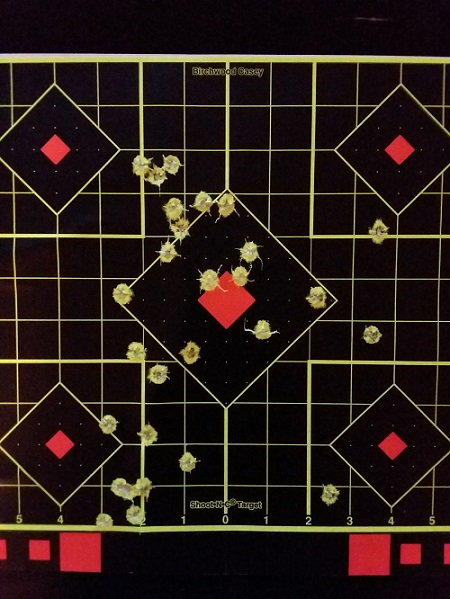 Next, I brought out the Sig. My trials and travails with this gun are well documented, if anyone actually reads my comments. I've had a couple of decent outings with it, but more often than not I can't hit jack or shit. I did some penny drills this week at home, and guess what, it works! I shot about 30 rounds at 5 yards. Lo and behold, most of them found paper! My last 5 rounds were my best and I got better when I went a little faster and didn't think so much. I had fun shooting this gun for the first time in forever. And I am happy with my target. Finally, I shot 20 rounds of .38 Special in the S&W model 28, grinning like an idiot with every shot. I love this gun so much. Since I may have to give it up soon, I plan to take it to the range every time while I can, for at least a few rounds.
Love it! If you are having trouble with something, focus on that
first
the next time you are at the range.
Concentrate
on what you are doing and start
s l o w l y
building speed as you methodically work on the issue. Very nicely done, SiD!!
******
Next up our pal, shooter, and good cooker
CBD
has a range report to share featuring a new acquisition.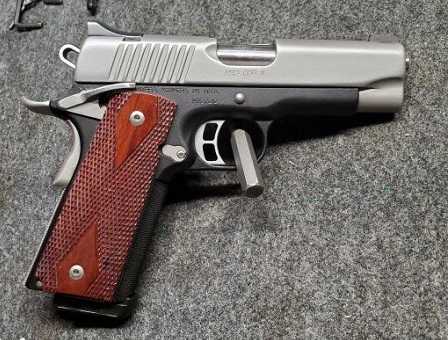 CBD brings the fancy sauce with a Kimber!
This is a Kimber Pro CDP II (Custom Defense Package) that I bought used...but damned if I can find much wear. It looks like it was barely fired., so I got a great deal on a safe queen! The reason for the purchase (other than the obvious: I don't have enough guns) is to add it to the list of possible carry pistols. NJ is following (grudgingly) the Supreme Court holding in NYSRPA v. Bruen and has eliminated the requirement for justifiable need for a carry permit. But I still have to qualify (in an as-yet unspecified way) with a specific pistol which will be listed on my permit. Yes, that is silly, but it is better than nothing. The pistol is a 4"-barrel, full-size alloy frame, with ambidextrous safeties (Yippee! I'm a lefty), a full-length guide rod (which makes it a pain to strip), and smoothed edges for ease of carry and draw. The only downside is that the tritium in the night sights has decayed to almost nothing (the pistol was built in 2002), so I will have to replace them soon. Of course, three drops of white paint will fix that for the time being... But on to the range! Of course, I started with a .22LR, because that's just fun! I have a new one (Browning Buck Mark) and it has the same grip angle as the 1911, so it makes sense to start with that. And did I mention that shooting .22LR is fun? I shot about 80 rounds, all in nice consistent groups. I adjusted the sights a bit, which is an immensely satisfying activity when it works...and it worked! Anyway, back to the Kimber and the qualification... The state-mandated qualification is rumored to be the same as the police qualification, which requires:
10 rounds fired at 25 yards
10 rounds at 15 yards
6 rounds at 10 yards
12 rounds at 7 yards
8 rounds at 5 yards
4 rounds at 1 yard 20 rounds are fired from a draw A few are with the weak hand, a few one-handed, some are kneeling, behind cover, over cover, etc. I need 40 hits on a large "Q" target to pass. So I figured I should use the small "Q" target (it's about half the size) just to focus my mind and give myself an excuse if I stank up the joint. The attached photo is two full magazines at 25 yards, fired fast. I am okay with the accuracy, especially because I couldn't really see the sights well. The closer distances were fine. I easily kept the rounds in a good group, even firing fast, so the only issue will be the 25-yard portion of the qualification.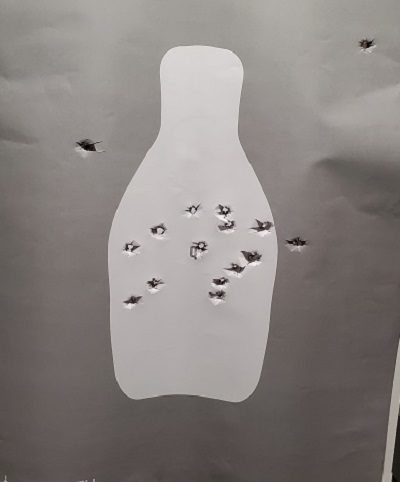 The pistol behaved...okay. I had two failures to feed from a full eight-round magazine (Wilson), which concerns me. Also, the slide didn't stay back once on an empty magazine. But I will put several hundred rounds through the pistol before I even consider carrying it, so it has some work ahead of it. But it shot like a dream! It sounds weird, but it felt like it shot softer than my heavier full-sized all steel 1911! That may be a function of the fine checkering providing an excellent grip, or the perfect balance with the 4" barrel (I think the 5" barrel makes the 1911 a little nose heavy). Maybe the spring is perfect for the ammo I was shooting, or maybe it was the phase of the moon, or perfectly fitting socks, but it sure did feel like it was an extension of my hand. So...wish me luck on this stupid test. The intent is obviously to discourage people from applying for carry permits, because the idea that civilians should qualify is offensive in and of itself (do we have to qualify to exercise our 1st Amendment rights?). But also shooting at long distance is just silly, because the overwhelming majority of self-defense shootings occur at practically point-blank ranges. Granting that the state has any right to dictate the terms of MY rights (I reject that), demonstrating the safe handling of a firearm should be the only requirement.
Very nice shooting, bro! Good luck on the qualification, and congratulations on the Kimber!
******
Next up, our pal and ammo cleaner-upper
That Deplorable SOB Van Owen
sends some pics on a topic that has been discussed before; the safety of firing old ammo.
Pictured are some Winchester 7X57mm rounds that I found today going through some of my old stuff. At a guess, I'd say they had been in the leather shell holder since 1971, maybe a little earlier.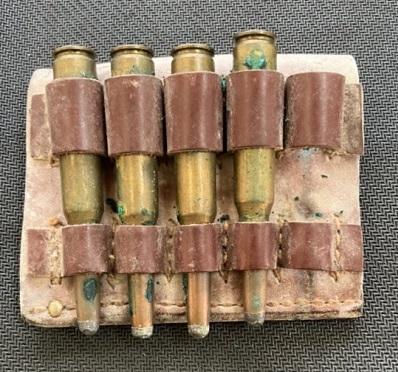 four rounds in the shell carrier
The headstamp is hard to see, but it says "SuperX 7m/m". The verdigris from where the metal contacted the leather came off with just a little scrubbing with a ScotchBrite pad. The primers look fine. I'm thinking there should be no problem firing them in my M1895 Mauser carbine. What does the Horde think?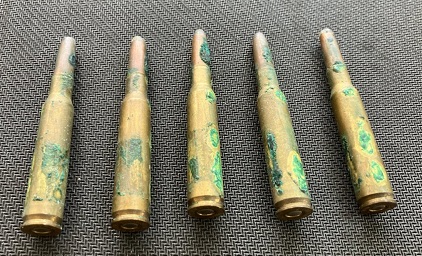 showing the verdigris - ewwww!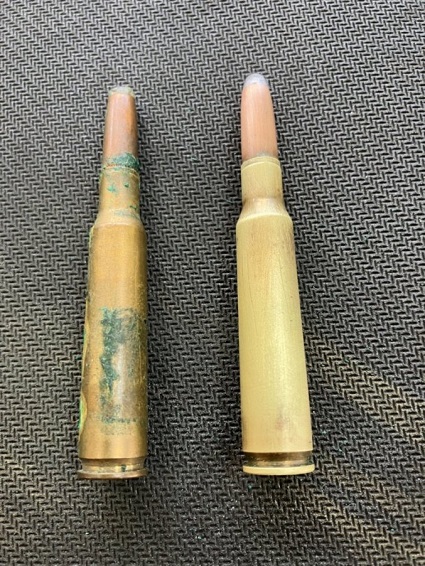 cleaned round on the right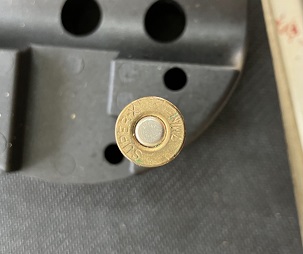 headstamp and primer
Very interesting! Thank you, TDSOBVO! All y'all, please be careful when contemplating shooting
any
ammunition showing
any
unusual signs! Anything on the outside of a cartridge case can cause pressure problems when fired, a potentially very serious problem. Anyone else using this or a similar method to clean cartridges?
******
75 Days!
The countdown to the TXMoMe continues! That's right, boys and girls, the TXMoMe is a mere 75 days from today, and by now you should be rushing your MoMe attendance plans to completion. There are lots of big doin's in the works and your hosts
Rancher Bob, Cow Horse Queen and Ben Had
are ready to welcome
YOU
to the festivities! Have you signed up? Are you on the exclusive guest list, or are you one of the mentally defective people who always finds a reason to make it
next year
? This year, along with the usual compliment of shooting clinic instructors, my main shooting buddy Geoff is planning to join us. In addition to being an all-round bigly good amigo, Geoff is also one hell of a shooter. Here's a video we put together at WeaselAcres a while back with another one of his shootin' irons. Last week we looked at an H&K MP5, so this week how about some Uzi fun?
I think this may have been the same day as the 'WeaselAcres Uzi Pine Tree Incident' of lore.
What is more funner than an Uzi! A suppressed Uzi, of course!
HINT:
Word has it there may be some, well let's just call them "special" weapons, available to shoot in Texas. I don't want to go into a bunch of specifics, but if you liked the videos,
plan on bringing a box of brass case 9mm ball ammo (example) with you to Texas.
Please, NO reloads! Holy Shitballs, people. Have I not implored and cajoled you enough? Do you require additional imploring and cajoling? I challenge you to find a single person who has attended a TXMoMe and not found it to be a
life altering experience
. Life altering for the
good
even! So please quit screwing around and making up reasons not to commit and start planning on getting your ass to Texas in October! You will see this material again, so for heaven's sake, so do yourself a favor and
email Ben Had
for details!
******
Musical Interlude - Ghost Riders in the Sky
Neil LeVang version. Maraca Guy is
en fuego!
***
Next, Glen Campbell and Roy Clark take a stab at it on Hee Haw.
***
Finally, The Outlaws version. I'm pretty sure
bluebell
toured with them for a while.
Same song, three artists. Which one do you prefer?
******
Gun Basics 101
Still nothing new video-wise from the She Equips Herself gal. Do we have volunteers for a search party? I received an email from our pal
prolix
regarding an issue which often occurs with a new pistol; and that is FTL, or Failure to Load. It's a condition where your shit is all wobbl... sorry, it's a condition during firing where a round jams in the action between the top of the magazine and the chamber. At best it's a nuisance, and at worst it can really mess up your day, as the weapon must be
cleared of the jam
before it's back in action. Anyhoo, here's what prolix axed Weasel:
Since you discussed 1911's last week, I thought that I would ask a question... After years of considering getting a 1911, I received a Springfield EMP for Christmas several years ago. Yes, I have a wonderful wife; no, she didn't quite understand what I was looking for. I haven't had any issues with it over the past several years. Last week, I purchased a Fusion Firearms 1911. When I took it to the range, my initial impressions were extremely positive. However, while firing both the EMP (9 mm) and 1911 (45), I ran into FTL issues. This has NEVER happened to me before, so it was quite the shock. So, I have 2 firearms of different calibers from different companies, but both with the same basic design. My first guess was that this was bad ammo. I actually had a different brand for the 45, and it worked fine, so that sorta proves the ammo culprit. However, a friend suggested that it could be the magazines. Any suggestions?
Man, sounds like Mrs. prolix is a keeper! Congratulations! Because I'm mildly retarded with low reading comprehension, I had to re-read prolix's question because this happened with
both
guns, not just the first as I initially thought. My advice is to a) buy Mrs. p flowers, and dos) not to worry about the new gun for a couple hundred rounds or so. The issue may resolve itself with the "problem" ammo as the gun is broken-in and the new parts make friends with one another and start working together. The 9mm is odd that it would act up at the same time. I would focus on that one first. My suggestion would be to head to the range with that gun and several different types of ammo. Number your magazines and take careful notes, recording the performance of each ammo/magazine combination to see if you can recreate and isolate the issue. Good luck and please let us know how it goes! But wait, there's more! In the time it took me to post this, prolix has been back to the range and figured it out!
So, the plot thickens? I went back to the range yesterday with both of these guns and a couple of .40s that I hadn't done much with over the past several years. This time I used Winchester ammo for both guns and had no problems. I also used GA Arms ammo for the .45 and didn't have any issues. Since Fusion only provided a single mag with my purchase, I had also picked up a couple of new magazines for that gun, and I had no issues with feeding from either. I hate to blame ammo, because I was using Federal when the 9mm had issues, and I've used Federal for my .357 for years with no issues and clearly, feeding isn't a problem in that case, but the correlation is hard to miss. Either way, at this point, I have another 2 working firearms that I feel comfortable enough to use for home defense.
This is a great example of working to identify and then solve a problem. What do you all think? Any other suggestions for prolix?
******
Cigar of the Week
I think tonight I will start with a
Diesel Robusto
from Cigars International. These are very well made and not for the faint of heart. Made in Nicaragua and under $5 each.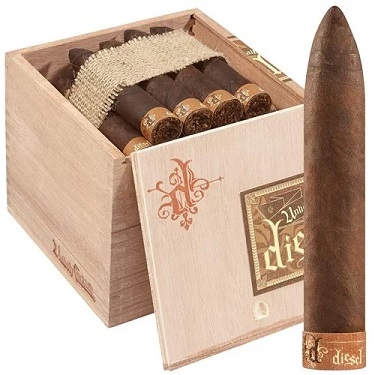 If you like strong cigars, this superbly constructed maduro is for you.
***
Here is Cigar Vixen at a Cigar and Scotch event featuring the Padron 6000 with Natural and Maduro wrappers. A Cigar Vixen two-fer!
******
Link-O-Rama
I'm really very seriously not kidding around anymore. Buy Ammo
AmmoSeek - online ammo search tool
GunBot - online ammo search tool
SG Ammo
Palmetto State Armory
Georgia Arms
AmmoMan
Target Sports USA
Bud's Gun Shop
***Mail Bag***
This week's mailbag entry is from our pal
Duncanthrax
who brings teh funny! (Pick the one on the right!)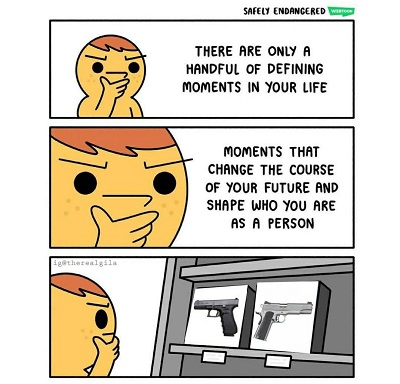 ******
Please note the new and improved
protonmail
account
gunthread at protonmail dot com
. An informal Gun Thread archive can be found
HERE
. Future expansion plans are in the works for the site
Weasel Gun Thread
. If you have a question you would like to ask Gun Thread Staff offline, just send us a note and we'll do our best to answer. If you care to share the story of your favorite firearm, send a picture with your nic and tell us what you sadly lost in the tragic canoe accident. If you would like to remain completely anonymous, just say so. Lurkers are always welcome!
That's it for this week - have you been to the range?
Posted by: Weasel at
07:00 PM