The Morning Rant: "Record Heat!" (When Heat Waves Are Reported By The Statistically Ignorant)
Every summer, there are heat waves somewhere on the globe, with "record heat" recorded in multiple locations. Along with these heat waves, the prophets of climate apocalypse warn that all these "extreme" new temperature records are proof of global warming.
I apologize for throwing math at you this morning, but I can only take so much statistical ignorance without wanting to respond. First off, temperature records have been kept, depending on location, for about 100 to 140 years. Let's split the difference and call it 120 years on average. Each weather station has a historical "record high" for each day of the year, and also a "record low" for each day of the year. Therefore, with 365 record high and 365 record low temperatures at each station over the past 120 years, an equal distribution (e.g. 365 divided by 120) would mean that each station records about 3 record highs and 3 record lows every year. How many times have you heard a fear-mongering journalist or politician hyping "an all-time record high for this date at the South Succotash weather station." So what? Statistically, anything less than three record highs per year at South Succotash is
below
average. And how many weather stations are there in the US? NOAA's domestic database is composed of
almost 15,000 weather stations.
So with 15,000 weather stations across the US, and with each expected to have on average 3 record highs per year,
there should be approximately 45,000 record daily highs per year in the United States.
Any MSM journalist reading this is probably already lost and unable to comprehend that "new record highs" doesn't simply mean "hotter than it used to be," but if they're still with me, their follow-up question might be: "But what about meteorological stations that are suddenly recording an all-time record high temperature, ever?" Here's a recent story to that effect.
European cities set all-time temperature records amid unrelenting heat wave [CNN - 7/15/2022]
New records have been set as temperatures topped 40 degrees Celsius (104 degrees Fahrenheit) across much of Spain and Portugal Wednesday amid a persistent heat wave across western Europe. On Wednesday, Zamora set its own record after reaching 41.1 degrees Celsius (105.98 degrees Fahrenheit), according to climate statistician Max Herrera. Soria set a record of 38.7 degrees Celsius (101.66 degrees Fahrenheit) that same day.
OK, let's do some math again.
There are over 22,000 European meteorological reporting stations across Europe and the Mediterranean.
22,000 stations divided by 120 years means that on average there should be 183 European weather stations that report an all-time, record-high temperature, each and every year. Of course, "average" doesn't mean "normal," some years have nasty heat waves with lots of new records, and others are milder with no new records. And don't forget, when there are record low temperatures, the climatistas still blame "climate change" for "extreme weather." Everything I wrote about record highs up above applies to record lows – there are just as many. Aside from the math up above, don't forget just how dishonest climate science has become. Remember how NOAA was caught systematically altering historical temperature records to create warming trends that did not exist before they made the adjustments?
The Stunning Statistical Fraud Behind The Global Warming Scare [Investors Business Daily – 3/29/2018]
NOAA has made repeated "adjustments" to its data, for the presumed scientific reason of making the data sets more accurate. Nothing wrong with that. Except, all their changes point to one thing — lowering previously measured temperatures to show cooler weather in the past, and raising more recent temperatures to show warming in the recent present.
Also, bad data collection is accepted in climate science if it serves the agenda. The weather station in Pinhao, Portugal just recorded an all-time temperature record of 47 degrees Celsius. Take a look at the weather station. It's sitting atop a stone wall, next to a brick wall. Any data collected there is worthless, because it's capturing heat stored in the rocks and bricks. How many other "all time records" are being recorded in urban areas with weather stations adjacent to stone, rock, and parking lots?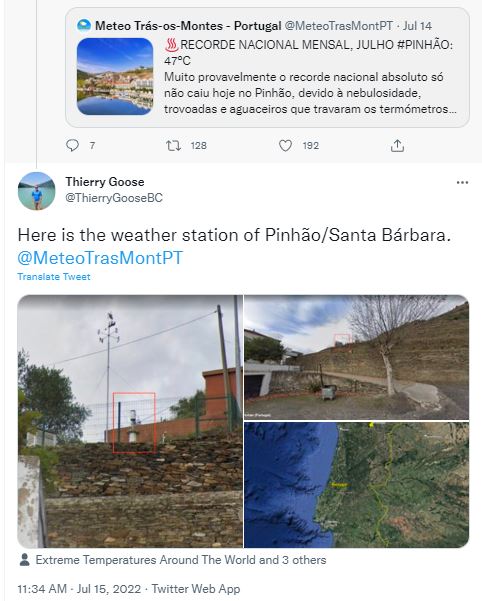 The most primitive religious belief of humans underlies the climate hysteria – that bad weather is caused by sinful human behavior, and if the virtuous don't stop the sinners, then apocalypse is imminent. It's way past time to stop listening to the statistically ignorant evangelists of climate science, and start mocking their ignorance and credulousness instead. (buck.throckmorton at protonmail dot com)
Posted by: Buck Throckmorton at
11:00 AM