Gun Thread: Dark Range Edition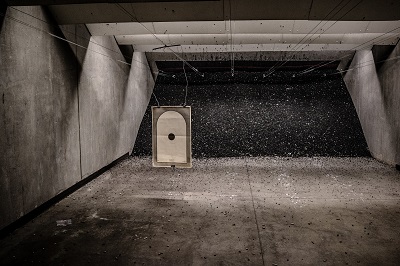 Howdy, Y'all! Welcome to the wondrously fabulous Gun Thread! As always, I want to thank all of our regulars for being here week in and week out, and also offer a
bigly Gun Thread welcome
to any newcomers who may be joining us tonight. Howdy and thank you for stopping by! I hope you find our wacky conversation on the subject of guns 'n shooting both enjoyable and informative. You are always welcome to lurk in the shadows of shame, but I'd like to invite you to jump into the conversation, say howdy, and tell us what kind of shooting you like to do! Welp, it hasn't been the greatest week here at the ol' blog. Late last year we lost
Tami
, and this week learned of the passing of our pals
Oregon Muse
and
redc1c4
. These were three people I had never met in person, yet each one was important to me. This blog and the community it has inspired is very special. It offers a refuge from a world gone mad, and provides just a little bit of stability in our otherwise chaotic and uncertain daily lives. Make no mistake, the friendships we develop here are just as tangible as those in the more traditional 'real' world. The holes left by individuals such as these will never go away, but with time, do become a little bit easier to navigate around. Raise your glass to those we have lost, and appreciate those you have while you have them. With that, let's get to the gun stuff below, shall we?
******
Happy Birthday!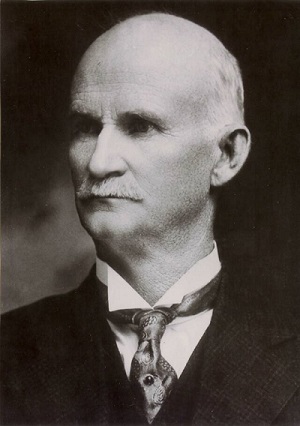 Today is John Moses Browning's 167th birthday. And he doesn't look a day over 29! And speaking of Browning... Boy howdy did I ever get an amazing response from my lame-o pictures of the 1911 taken in a lightbox last week, both in the comments and later by email. Thank you all very much! In case you missed it, here's one of the pictures I asked for help with.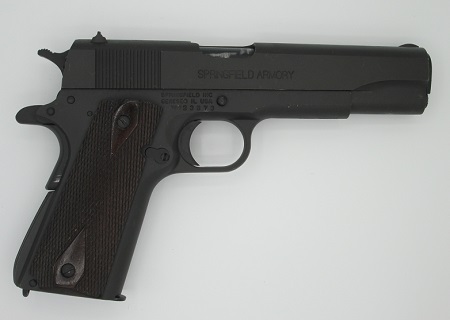 terrible, terrible picture
So the overwhelming consensus was the stark white background was freaking out the camera's light sensor and underexposing the gun portion of the image. I think I have that right. Anyhoo, the lightbox came with a few other backgrounds (black, gray and green) so I tried a couple of them out. Here's gray: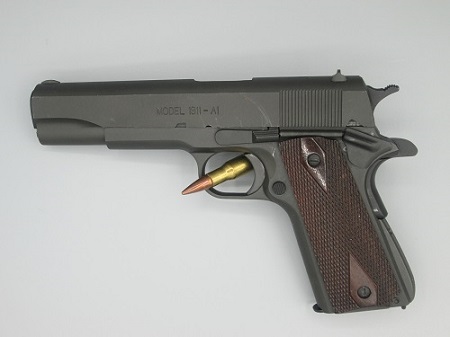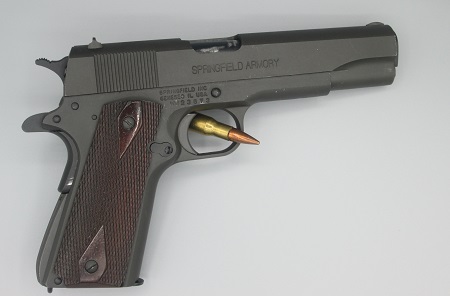 Here's green: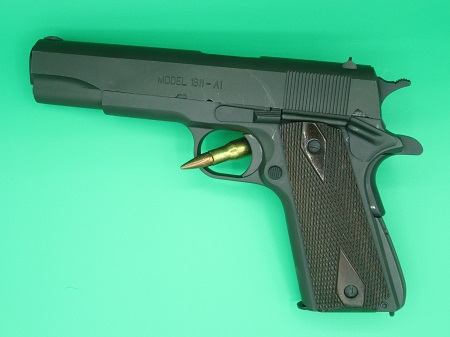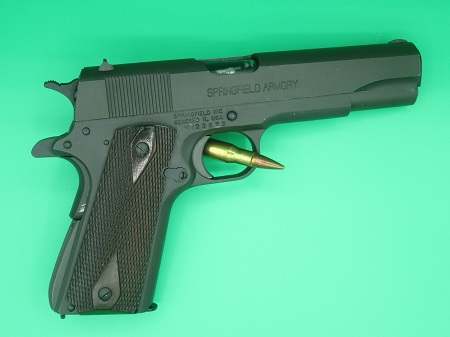 Well will you looky right there! It worked! Oh sweet baby Jesus it worked!!! A bigly Gun Thread
Thank You
to all of you photographers with big brains who identified the problemo. I really appreciate it! Now two questions; a) which background do you like better, and 2) is the color spelt
grey
or
grAy
?
******
First up, our pal
Scuba_Dude
heads to the range with a purpose!
After so many months since I last fired a shot when I was at the TXMoMe, I decided to dust of the Sig case and head to the indoor range close to me. When I got there I decided I wanted to start checking out potential conceal carry firearms. I plan on checking a new one out every time I go to the range. The first one up was a Smith & Wesson M&P Shield in 9mm. I found the gun fit nicely in my right hand but when I would then put my left hand into position my thumb came close to getting into the trigger well. Something to be conscious of in the future. The trigger was decent but the reset just was not as crisp as my Sig. A couple times I thought I had reset the trigger when I had not. and I think that led to one of the rounds being struck but it did not fire. You could see the dimple left by the firing pin on the primer but the round did not go off. I showed it to one of the RSO's who took the round and put it in his gun where it did fire after he pulled the trigger. Strange. I also had problems manipulating the slide lock but I will put that down to me. So my drill was this. Put target at 7 yards and took 14 shots (2 mags) at the center of the target. Then 7 shots one handed in my dominant hand at the head of the target. 7 shots one handed in my weak hand just to the right of the center of the target. Then 7 shots normal stance just above center of target.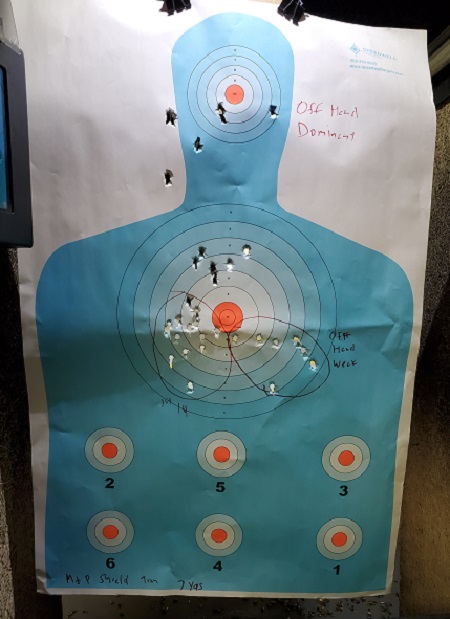 I then folded the target and shot at the small circle targets at the bottom. I numbered where each shot had hit. Total of 49 shots at the target.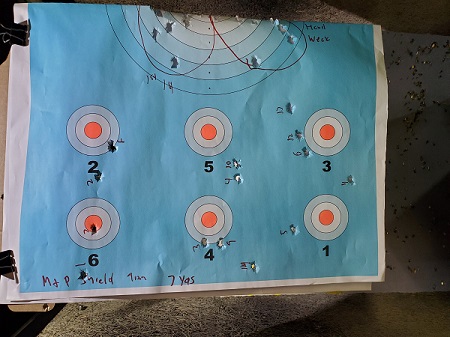 Next I took out my Sig Sauer P226 Legion RX1 in 9mm and proceeded to do the exact same drill at 7 yards. Only difference was I only took 10 shots (1 mag) for my 1st shots on the target. Then folded the target and shot at the small targets as fast as the range would permit. Left to right on top then left to right on bottom. 10 shots.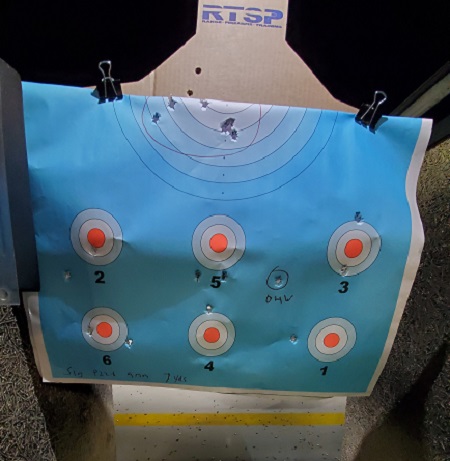 I then put my last target at 10 yards and repeated the same drill as above. Just that I shot 30 rounds at the small circle targets when I folded the target.
I think I did Ok, had a really bad flyer with the Sig weak hand at 7 yards, That hit near the bottom of the target (I circled it) but I think I did a little better when I was shooting at 10 yards.
Nice shooting and great report, amigo. Thanks for sending it in!
******
More Flintlocks
Recently we featured a couple of flintlock shooting videos which always draws considerable interest. Here's a (hour long) video on how they made them in the olden days.
If you're ever in Virginia, I'd encourage you to visit
Colonial Williamsburg!
If you are a fan of American colonial history, it's a must-see.
******
More NRA Shenanigans?
More accurately,
more Wayne LaPierre shenanigans?
If this is true, it pisses me off, and I am beginning to really, really, really not understand how LaPierre hasn't been kicked to the curb.
Anyone heard of the Guns & Gadgets guy? Is he legit? Are you hearing the same reports, and this story in particular?
******
Full-Auto 1911
A while back we looked at a fully automatic 1911. Our pal
Blasternaz
later spoke up saying he knew the guy featured in the video, Bob Ferris, and had actually fired the very weapon! Here are a couple more videos on the gun.
Thanks for the follow-up, Blasternaz!
******
Some time ago, we had a discussion on what to do after a self-defense shooting, and though there was a general consensus on the big items, opinions varied on some of the finer details. I ran across a couple of videos from the
Armed Attorneys
which might be worth your time. I think part of being a prepared individual is running through scenarios like this in your mind and mentally rehearsing the key steps you would take so you're not making it up as the smoke clears.
What do you all think? Agree? Disagree? Also, "you people" seem to be all the time losing your shit in canoes. 'Sup with that? Here's what they suggest if it happens to you.
******
Our pal
Jer
covers things not to do with some classics.
******
Cigar of the Week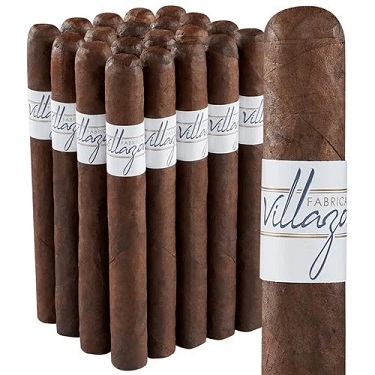 I can't recall if I have featured these before, and if so, they're worth another look. A nice strong maduro inexpensively bundled cigar from
Cigars International
******
Gun Basics 101
Here is the
She Equips Herself
girl with some tips on handgun accuracy.
******
Link-O-Rama
I'm really very seriously not kidding around anymore. Buy Ammo
AmmoSeek - online ammo search tool
GunBot - online ammo search tool
SG Ammo
Palmetto State Armory
Georgia Arms
AmmoMan
Target Sports USA
Bud's Gun Shop
***Mail Bag***
This week's entry is from our pal
fungusboy
. No, it's not
that
kind of shot!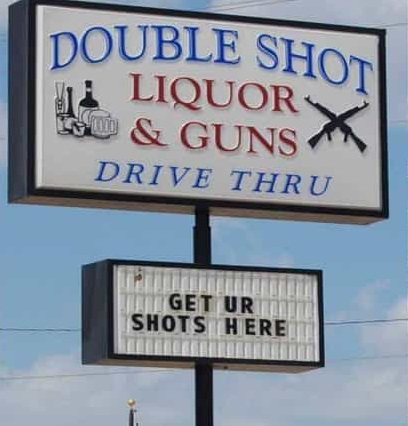 ******
Please note the new and improved
protonmail
account
gunthread at protonmail dot com
. An informal Gun Thread archive can be found
HERE
. Future expansion plans are in the works for the site
Weasel Gun Thread
. If you have a question you would like to ask Gun Thread Staff offline, just send us a note and we'll do our best to answer. If you care to share the story of your favorite firearm, send a picture with your nic and tell us what you sadly lost in the tragic canoe accident. If you would like to remain completely anonymous, just say so. Lurkers are always welcome!
That's it for this week - have you been to the range?
Posted by: Weasel at
07:00 PM