"Let's Go Brandon" Ad Is Just So Brandon
Before getting to that: Biden hits another new low, this time in the Harvard/Harris poll.
A new low for this poll, I mean.
Bidenís approval rating fell to 39 percent in the poll, which was released exclusively to The Hill. Of that, 18 percent of registered voters said they strongly approve of the job he's doing, while 21 percent say they somewhat approve. Meanwhile, 53 percent said they somewhat or strongly disapprove of his job performance.
Why not say what percent strongly disapprove? Does the Hill not want to upset its leftwing audience? Oh nevermind, got it right here: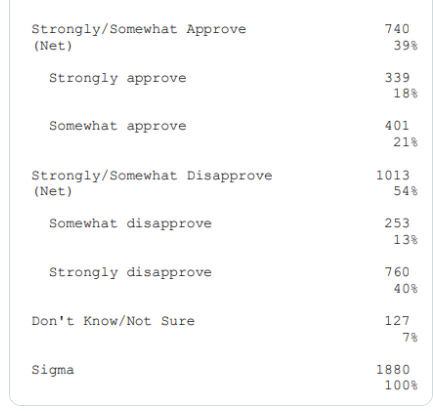 40% strongly disapprove of Brandon. NBC News also finds Biden and the Democrats unpopular -- which they spin as "Both Parties Are Unpopular." Well, yes, but the Republicans are always unpopular, especially in Democrat-oversample polls. The news here is that they're...
more popular than Democrats now.
Or, in NBC's telling: "Both Parties Are Unpopular."
Not only does our new NBC News poll show both political parties to be unpopular -- with the Democratic Party (33 percent favorable, 48 percent unfavorable) and the Republican Party (34 percent favorable, 44 percent unfavorable) both underwater. But you have to go back to 2015 when one of the two parties -- the Democrats -- actually had a net-positive rating in our poll.
That's a backdoor way to say "Our polls used to show Democrats with a net approval, but now they're at net disapproval." But the takeaway? "Both Parties Are Unpopular."
72% of the public thinks America is headed in the wrong direction.
This is only the second time their poll has shown 70% of higher on this question, which they call a "grim" tiding for Biden and the Democrats.
NBC finds him at 43% approval, 54% disapproval.
Which is just another way of saying, "Both Parties Are Unpopular." On to the new ad:
Another home run.
This isn't by Brandon's people. But it has that same smell of Depends Adult Undergarment Energy failure.
MeidasTouch prides itself on being about as anti-Trump and anti-GOP as one can get, or, as they put it, "pro-democracy." Their reach is pretty far, considering that they boast over 723,000 followers on Twitter. They've also taken to supporting President Joe Biden and the Democrats. For instance, they've tweeted in favor of Democrats maintaining control of Congress following the 2022 midterms, and jumped on the bandwagon of warning that Americans could be living under "a far right authoritarian government" otherwise. Their posts are sensational and full of hysteria, but now that they've gotten into the pro-Biden territory, they're noteworthy in other ways, which is to say how bad they are.
This is real. They're trying to "take Brandon back."
If you're wondering why he's blabbing out random nonsense, it's to spell out BRANDON. So clever!

B: Broadband lines
R: Roads, railroads
A: Airports, freight rail
N: No lead pipes
D: Deliver clean energy
O: Our Jobs, jobs, jobs
N: Network of charging stations
Meanwhile, here's what the Brandon Brain Trust is really doing:

Axios
@axios
EXCLUSIVE: Biden's inaugural committee will mark the first anniversary in office by blanketing airwaves with a Tom Hanks-narrated video promoting a recovering, resilient America.
Article here.

President Biden's Presidential Inaugural Committee will mark his first anniversary in office by blanketing today's airwaves -- from breakfast to evening news to prime time -- with a video promoting a recovering, resilient America. The video is narrated by Tom Hanks, who was part of Biden inaugural festivities, and features cameos by everyday Americans -- a UPS driver, a Teamster from Michigan and a bed-and-breakfast owner in Wisconsin. "I can feel the change," says Sandra Lindsay, a New York nurse who was the first person in the U.S. to get the COVID vaccine. President Biden says near the end: "I've never been more optimistic about America's future." What's happening: The committee, which was nominated for an Emmy, is spending several million dollars in leftover inaugural funds to air the ad on broadcast and cable TV today. The PIC then will spend a similar amount over the next week to amplify the video on digital platforms. The committee said in a statement to Axios: "In recognition of the Presidentís first year in office, the Biden-Harris Presidential Inaugural Committee believed it was important to celebrate the strength and perseverance of the American people in the face of extraordinary adversity, just as we did a year ago today." ... The ad doesn't comment on a candidate or party. As a 501(c)(4) organization, the committee is free to comment on the president whose inauguration it staged, Axios was told.
Did you catch that? It's a non-partisan 501(c)(4) organization which has its tax-exempt status because it operates, allegedly, for the purpose of "advancing the general social welfare" without advancing any political cause or lobbying for any specific legislation. But it's not advancing a political cause to spend their remaining funds propagandizing lies about Biden. I'm sorry, what "norms" did Trump disrupt again that are so precious we must "fortify" elections in order to restore them?