Gun Thread: Need Photography Help Edition!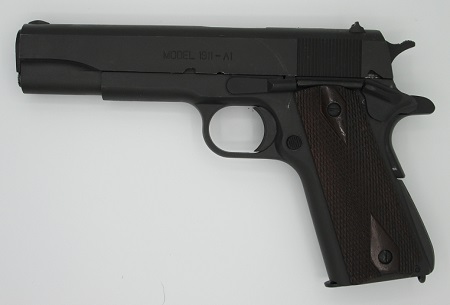 terrible pic!
Howdy, Y'all! Welcome to the wondrously fabulous Gun Thread! As always, I want to thank all of our regulars for being here week in and week out, and also offer a
bigly Gun Thread welcome
to any newcomers who may be joining us tonight. Howdy and thank you for stopping by! I hope you find our wacky conversation on the subject of guns 'n shooting both enjoyable and informative. You are always welcome to lurk in the shadows of shame, but I'd like to invite you to jump into the conversation, say howdy, and tell us what kind of shooting you like to do! Welp, your ol' pal Weasel is in the depths of hell, work-wise, so I haven't been able to even
think
about shooting (not really), much less do any shooting (really). At some point I'm going to need to get down to the farm so I at least don't forget where it is. Hopefully things will lighten up after January and I can skedoodle on down there. In the meantime, Gun Thread must go on!
Note: I'm a little behind on my email correspondence, so please forgive me if I haven't responded to something you've sent!
With that, let's get to the gun stuff below, shall we?
******
Halp!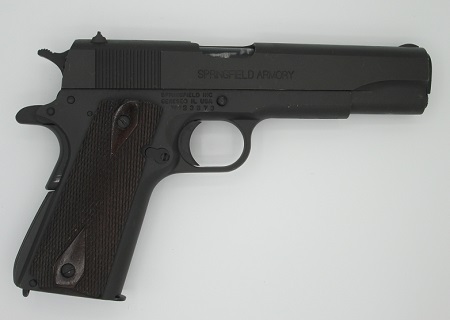 more terrible pic
Because
WeaselCares
, I picked up a photography light box to improve my pictures here on the ol' GT, but instead, it seems to have made things no bueno. I'm using a reasonably decent small Canon digital camera which I know takes good pictures, but as you can see, the results in the light box suck. I have tried turning the LED lights up and down (inside the box) but something ain't right. Any of you photography people out there have any suggestions on making these not look like shit? I suspect I need to do something camera-setting-wise.
******
Our pal
blake
has been to the gun store and the range!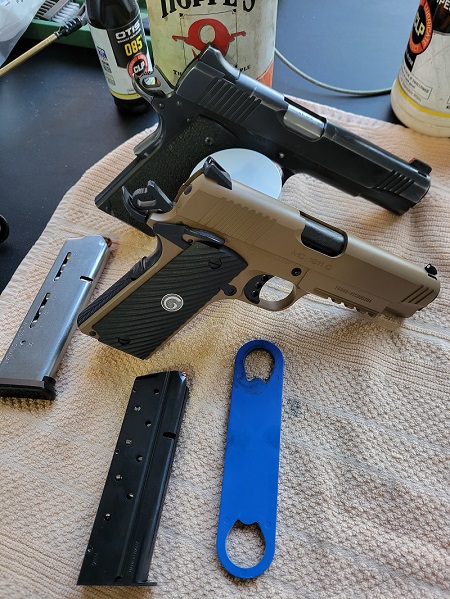 Well, I lasted all of 31 days, couldn't take it any longer, and headed to the nearest gun shop here in AZ to see what they had to offer. I was in luck, they had guns galore in stock! In fact, they had guns on the wall that would have put the owners in jail for a long while, had they been on display in CA! Yeah, plenty of short barrel carbines, evil black rifles with the shoulder thingy that goes up, detachable magazines capable of firing a zillion bullets per trigger pull, etc. The shop was everything CA politicians have nightmares about. I'd had a hankering for a 1911 style pistol chambered for 9 mm, but, a bit shorter barrel than my Kimber. As luck would have it the store had a dandy 1911 with a 4.25" barrel built by a company out of Turkey, Girsan, which is considered a "budget friendly" firearm. I asked if the store would accept a trade, specifically, a Lee Enfield, Mark IV. (before anyone has a conniption, the Lee-Enfield was a jamomatic for me. No matter what I tried, rim jams were a constant problem.) In the end, the trade covered most of the cost of the new pistol, but, I added a few bucks to the final purchase price buying a spare magazine, some practice ammo and some defensive ammo. Gun purchase note: I did fill out the 4473, but, no background check. AZ CCW permit, baby!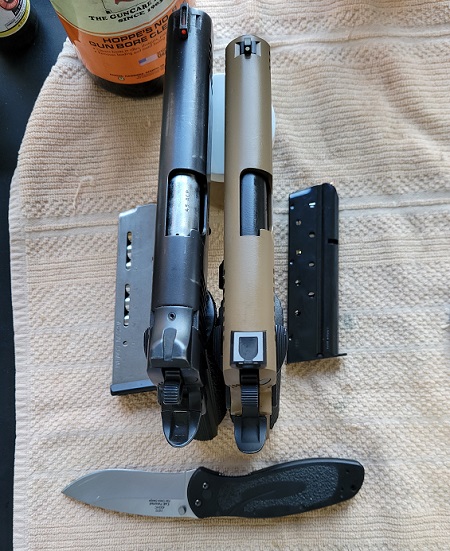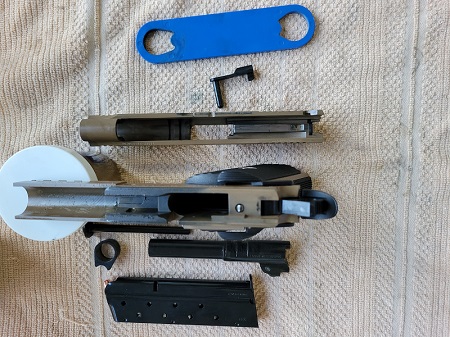 I have to admit, after putting up with the gun buying nonsense of CA these last couple of decades, it was nice to walk in, look at a gun, say, "I'll take it" and walk out an hour later. (it took a while to get the appraisal done on the Mark IV) So, my new purchase and I headed to the local range, to see if the gun would go Bang! when I pulled the trigger. I got to the range, took the gun apart, wiped it down and oiled it with some Otis CLP, put it back together, and proceeded to run some ammo through it. And, by golly, the gun shoots quite well. (sorry, no target pics, but, it appears the gun shoots pretty much dead center, though a bit low. How much was the gun and how much was me, no idea.) I'd add, reassembly after take down was a bit of a headache. Getting the slide lock to engage the barrel link pin was a bit tricky. I had two hiccups, both with the factory original magazine. On the last round, the gun stove-piped, twice. However, this wasn't an issue with the non factory mag. I would also mention the magazines I have for the gun are functional, and that it. The lack of basepad makes magazine insertion problematic. No worries, though, because I ordered some stainless magazines for the gun from Sig. After shooting some paper, I moved down to the steel portion of the range and, sitting casually on the tailgate of my truck, put a few rounds downrange at some plates and the plate rack, I'll be darned if I didn't connect and, I estimate I was shooting roughly 20 yards at the time. After that, it was time to get out my full size Kimber, and see how I did with it. I'm pleased to report I scored, at 18 yards, paced it off, on 7 of the first 8 shots shooting steel, Made my day, it did. I ran a few mags through the Kimber, called it a day and headed home. I'd like to also note the Girsan comes with a standard 3 dot setup, which I plan to get rid of. I'll switch it out to a fiber front sight and standard black rear sight. My thinking is: Handguns are all about the front sight. Lining up 3 dots for targets, great. Lining up three dots for defensive purposes, not so great. So far, I like the Girsan, but, I've only run 50 rounds through it. Fit and finish are okay, price is good, to soon to make a call about reliability.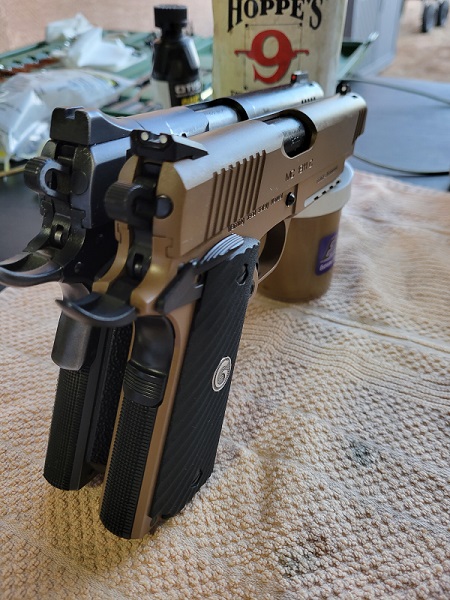 Great report and nice looking pistol, Blake! Congratulations!
******
Next up, our pal
Jesse (no longer) in DC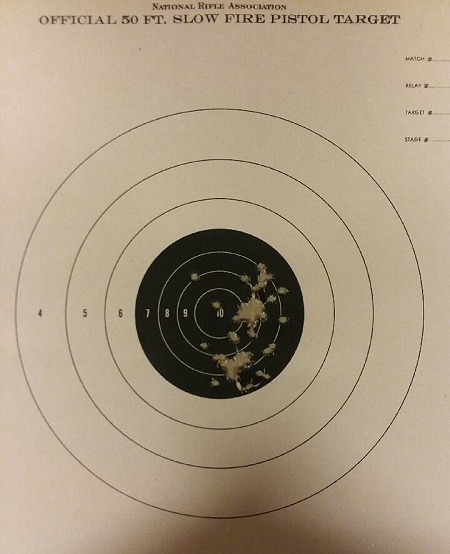 Went out with SiD to our local range to burn some powder on what is becoming our Friday date night.
She shot well indeed, but she can render her own range report.... I took my Ruger 10/22, which I had not shot in a while. This was fairly close range like 30 feet. I just wanted to sight it in. The target is 50 rounds of Norma Tac 22, and I never shoot this well. I shot 1 box and quit for the day. I have 2 magazines, so one group is 20 rounds, ( 2 x 10) and the other was 30. All fliers are on me. I had brought this to the MOME in case someone wanted to shoot it, but had no takers. It was another great day at the range.
Nice shooting, amigo! Is there really ever a bad day at the range?
******
Next up our pal
JerseyDevilRider
needs some help with a rifle identification and sourcing a part.
*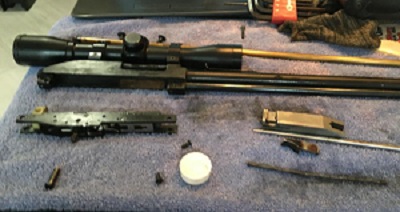 I need some help. I ended up acquiring a .22. Can't tell the the brand. I took it to the range with the old ammo. Jammed about 20% of the time. Tried new ammo and ended up less than 10% jams. So I stripped it down. The guy it came from never did and he had it for years. Just for varmits. I probably fired it more in a day than he did the whole time. Anyway, I bent the firing pin spring on reassembly. I could blame the old spring but I must share in the credit. I ordered a set from KIDD but none of them fit. Can you recommend a place and help me figure out the model and size of the spring? I attached some pictures, including one that show the dirt from one pass on the bolt/chamber.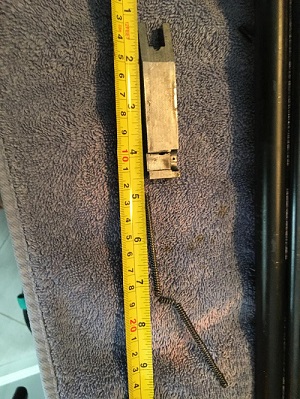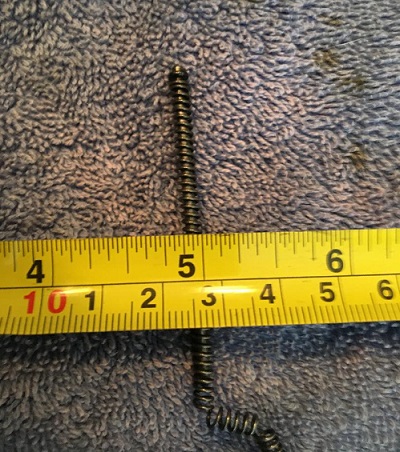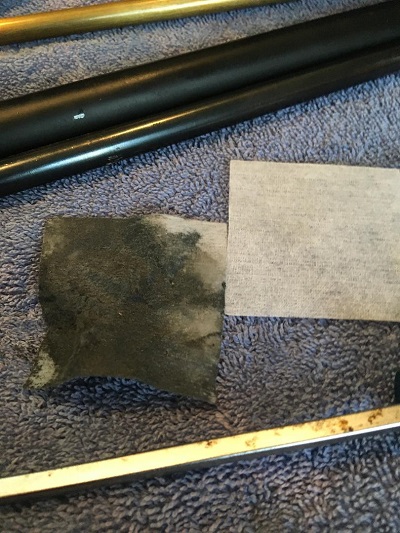 So how about it? Anyone recognize the make and model? How about a supplier for the firing pin? I recommended
Gun Parts/Numerich
, but figure there must be some other sources out there.
******
From time to time I get it into my head that I really need an antique flintlock. So far, I have managed to resist the urge, but it's probably only a matter of time. Here's a guy explaining the loading and firing process. A little on the slow side, but looks like fun, huh?
Can't find one for sale you like? Just build one!
Built one and fired it? Now it's time to clean, lube and otherwise maintain it!
I know we have a lot of black powder shooters here, like our pal
JTB
for instance. Anyone else?
******
With winter here we cannot always make it to the range and in the past, I have harped on the value of dry-fire practice drills at home. Q: Weasel, will you please shut your piehole about dry fire practice?
A: OK. Sure. No problemo. Here's Jerry Miculek running
his
piehole about it!
If you're not going to listen to me, listen to
Jer
!
******
Magazine Loaders
Loading magazines has never been something that bothered me much. I suppose I always figured loading was part of shooting. I do know it's something a lot of shooters don't particularly like to do, and that's why we have the speed loader. Here's one for the AR-15 platform from
RSS Speed Loaders
Here's a helpful video on how this gizmo works:
So how about it? Do you load magazines before you head to the range or after you get there? What's your opinion on this product; great idea or just another thing to take up space?
******
Stabby Things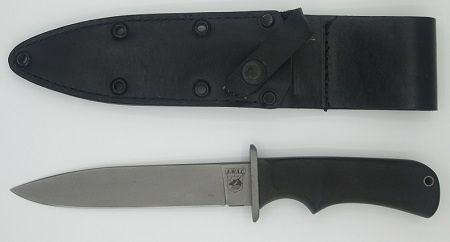 Here's a fun little bear fighter, an original Blackjack A.W.A.C. knife. A.W.A.C. stands for
A
ll
W
eather
A
ll
C
onditions, and it's one hell of a solid unit. A bought this example many years ago, and it's still unused in the box. Something happened to the Blackjack Knife Co., and this model is no longer produced, but there are still knives being produced under the
Blackjack
name.
Warning! More lousy photos!

I get the sense the original maker is no longer involved and the line was purchased by someone else. Anyone know what the story is with the company? Here's a seemingly useful resource for the
knife laws in your state
.
******
Cigar of the Week
This feature will be back soon - I'm compiling the list of cigar stores and small volume rollers, and I'd like to have a few more. So if you're sourcing your cigars from a local shop you recommend, please send me a link!
******
Gun Basics 101
Interested in buying a gun? Here's what you need to know about buying different state.
And here is a refresher on wat is needed ID-wise.
Link-O-Rama
I'm really very seriously not kidding around anymore. Buy Ammo
AmmoSeek - online ammo search tool
GunBot - online ammo search tool
SG Ammo
Palmetto State Armory
Georgia Arms
AmmoMan
Target Sports USA
Bud's Gun Shop
***Mail Bag***
This week,
WTM
brings the gun funny!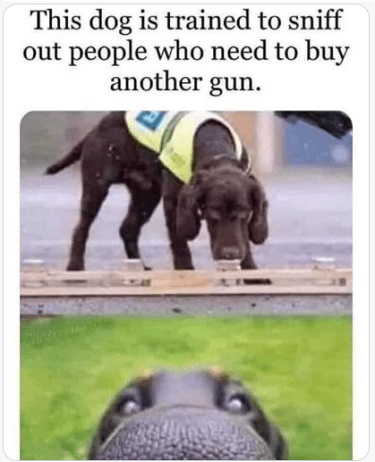 ******
Please note the new and improved
protonmail
account
gunthread at protonmail dot com
. An informal Gun Thread archive can be found
HERE
. Future expansion plans are in the works for the site
Weasel Gun Thread
. If you have a question you would like to ask Gun Thread Staff offline, just send us a note and we'll do our best to answer. If you care to share the story of your favorite firearm, send a picture with your nic and tell us what you sadly lost in the tragic canoe accident. If you would like to remain completely anonymous, just say so. Lurkers are always welcome!
That's it for this week - have you been to the range?
Posted by: Weasel at
07:00 PM