Gun Thread: Three Days After Thanksgiving Edition!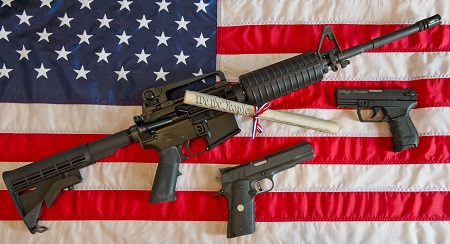 Howdy, Y'all! Welcome to the wondrously fabulous Gun Thread! As always, I want to thank all of our regulars for being here week in and week out, and also offer a
bigly Gun Thread welcome
to any newcomers who may be joining us tonight. Howdy and thank you for stopping by! I hope you find our wacky conversation on the subject of guns 'n shooting both enjoyable and informative. You are always welcome to lurk in the shadows of shame, but I'd like to invite you to jump into the conversation, say howdy, and tell us what kind of shooting you like to do! So what's up? Did everyone have a nice Thanksgiving? Did you have a nice meal and remember to
give thanks?
I am extremely blessed in life and I take every opportunity to give thanks for all that I have. Despite all of our problems, I sincerely believe I hit the jackpot on Day 1
simply by being born in this country.
I also think I'm pretty damn lucky to have the opportunity to write the Gun Thread every week and to hang out here with so many of you. Yep, very blessed, indeed. With that, let's get to the gun stuff below, shall we?
******
So next up on the ol' holiday calendar is Christmas, which many of you will recall is a time for receiving gifts. While some of the best gifts are those given to you, sometimes you have no alternative than to give gifts to yourself, which brings us to the topic for today. I was recently asked for a recommendation on selecting a rifle by someone falling into this latter category. I get this question a lot, and in order to provide a useful answer, some additional information is needed. Specifically, questions regarding the anticipated use and the budget must be answered.
Budget
The budget part is the easiest so let's get that out of the way first. In short, if you can't afford it, then don't buy it. A nice custom rifle with high quality optics will cost you $5,000 or more. Likely much more. It also may be that spending a lot is completely unnecessary as we'll see later. It's common for shooters suffering from sticker-shock to try and find corners to cut which virtually always ends in disappointment, then the subsequent purchase of the more expensive component they should have bought in the first place.
Buy once, cry once
some smart person has said. If your budget is $500, then look for a nice rifle in the $500 range. My dad always told me to
buy the best thing you can afford and then take care of it
which I think is great advice.
Anticipated Use
This is where things can get a little complicated. No single rifle really does everything well. My match guns for example are really good at making small groups from a long way away, but are wildly inappropriate for hunting or plinking or just about anything else due to their size, weight and the cost and effort involved in making custom ammunition, among other factors. They do
one thing really well
and that's it. In the particular case of my friend, he was looking for a hunting rifle that could occasionally be used as a target rifle. These are not necessarily completely incompatible uses, but some compromises will need to be made, mostly having to do with barrel length and profile. Another consideration I'll put here is ammunition and caliber. In this example my friend does not currently reload but may start in the not-too-distant future, so commercial ammunition availability is something of a consideration now. There is no point in getting something chambered in any exotic caliber if you do not reload and cannot find ammo, or cannot source components if you do reload. Regarding cartridge selection, there is no point in getting something chambered in the most favored long-range caliber of the week if all of your shooting is going to be done inside 600 yards. That's like putting racing tires on your otherwise stock 1968 Beetle, and just doesn't make much sense. I should also mention something about managing expectations. I have said this before, and I'm saying it again. In my experience, most shooters are better off investing in their marksmanship skills before anything else. That means time spent on the practice range shooting, and perhaps the occasional help of an instructor. For general hunting and target practice at mid-range, you do not have to go all bananas and over-the-top in your rifle selection, unless you really want to. Save the money for practice and lessons. If a super-deluxe extra-fine quality carved walnut stock is your thing, then go for it., ut if it's a rifle for general use, I always recommend keeping things simple and basic.
The Recommendation?
So all things considered, what did I recommend? A Savage bolt gun chambered in .308 Winchester. A new Savage Model 110 can be had at or below $1,000, and in my experience is plenty accurate straight out of the box. There are several models to choose from within the 110 family offering a great deal of flexibility. Add a decent NightForce scope and quality base and rings and you're in business. Why .308 Winchester and not something more exotic? The cartridge is very well suited for both hunting and target shooting applications, and decent quality ammunition can usually be found. It's also a relatively forgiving cartridge for reloaders when it's time for that. There are no doubt many ways to approach answering this question, and I am sure we'll hear a few of them tonight. What's your opinion and what would you recommend?
******
Up first we have a report from or pal
Xenophon
who shares a scary day on the range qualifying for his department.
Back in October, I took a certification course to become a rifle instructor for my department (~350 sworn if that matters). I've been assigned this particular rifle for around 10 years, and by this point probably had around 6k rounds through it, all factory ammunition, no hot rounds, tracer, etc.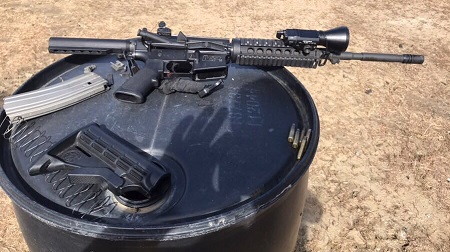 Day 4, towards the end of the day, so already around 200 through it. Training specifically was on reloads, 4 mags loaded with five rounds, concentrating more on form and fluidity of reloads than accuracy of shots. Magazine number 3 went basically crack, crack, BOOOOOF.
*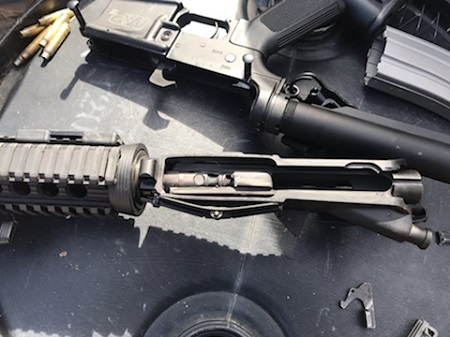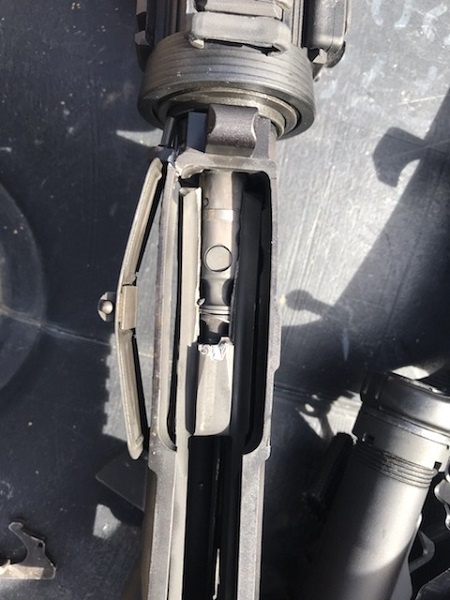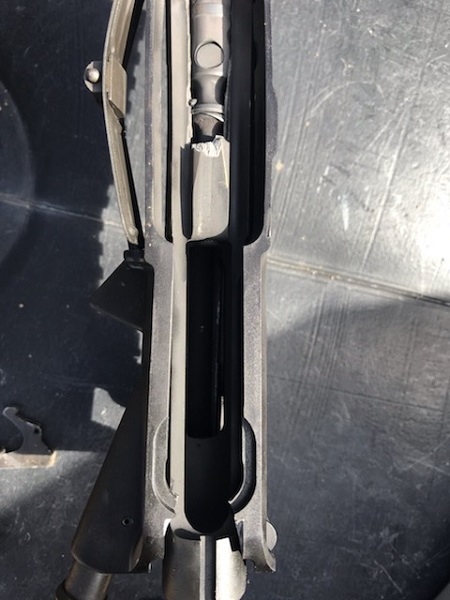 Big cloud of smoke, stinging pain in my face. Blood coming from my mouth. Instructor and everyone around me calls cease-fire with varying degrees of horrified shout. I was surprised how calmly I was able to set it down on the barrel in front of me, couldn't put it on safe, couldn't eject the mag. It's out in the pictures, we had to partially disassemble the gun to get it out. Best guess; one of the cartridges was a REALLY hot round. The bolt was still locked in the star-chamber, so a ton of gas went down either the gas tube or simply back through the bolt, blowing off the bottom of the bolt carrier, snapping the upper receiver at both the pivot and the rear takedown, blowing the rest of the gas out of the bottom of the magazine (causing it to bulge as you can see, and bending the dust cover out) along with the rest of the rounds in the mag. The charging handle and extended release hinge blew back and hit me in the face, giving me a minor cut on my upper lip that stopped with gauze and pressure after about a minute. Initially thought I'd need stitches and that it went through my upper lip, turns out it was just a good cut that bled (like a stuck pig, ba dum bum tish). Armorer and range master said this was the worst they'd ever seen. We never did get the bolt out, it got sent back to Smith & Wesson for Xrays and they hopefully will be able to tell what happened. Armorer looked down the barrel (remarkably intact) and said he could see the bolt face, so the brass apparently disintegrated (it definitely didn't eject). The barrel wasn't deformed or flowered, so I don't think it was obstructed. Pass on my new philosophy why there's no such thing as an Eye Protection Nazi, only people with experience. And shooting handguns is for fun, shooting long guns is for therapy.
Holy Shitballs! Damn, bro! I really appreciate your sending this in. It's a not-so-subtle reminder
to wear eye protection!
There is usually no way to tell when this might happen and you go home blind and with a trigger sticking out of your forehead. Fortunately, Xenophon wasn't seriously injured. Thanks for sharing this story!
******
Q: Who has been to the range?
A: Why, our pal
Ed L
has been to the range!
The revolver is a 1949 Colt Officers' Model Target in .22LR. I picked this up earlier this summer at Chantilly for $800 complete w/ original box and papers. As you can see, it shoots just fine at 10 yards. The sights are a bit low. The action is similar to the original Python, with a very light single action trigger and a heavier, stacking double action trigger. A previous owner added a front strap to the grip to improve their grip for a larger hand.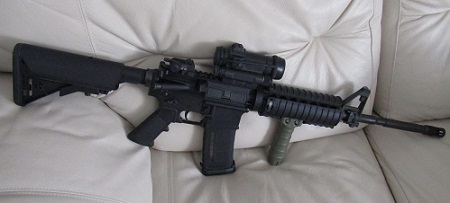 Rechecked the zero on this AR. It's a Colt LE6920 SOCOM that came with Knights Armament quad rails and MATECH backup iron sights. I added the vertical grip, B5 SOPMOD stock, and Aimpoint Comp M4S red dot sight. I bought the vertical grip and Aimpoint M4S for my last deployment to Afghanistan. The Aimpoint lived up to its reputation; one AA battery got me though the whole deployment. I bought the rifle after I came back more as a memento rather than a SHTF scenario. I changed my mind about it last year.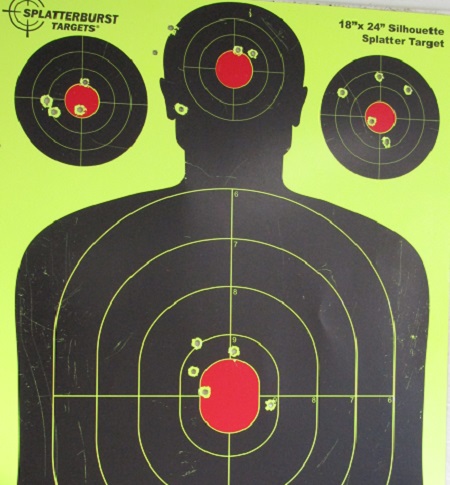 Here are the results. Range is 25 yards from a standing position using 5.56 mm M193 55 grain ammo. Best group is the torso target. The biggest downside of this setup is the weight. The SOCOM heavy barrel, plus quad rails, really piles on the pounds. Holding the rifle steady for a 25 yard standing shot gets hard after the first couple of shots. Total weight of my setup is over nine pounds (7 for the rifle, 1 for the Aimpoint, 1+ for the stock and vertical grip). It's ironic that the M4 replaced the M16 to save weight, but all those gains and then some have all been given back for more attachments on the rifle.
Excellent report, Ed L, and very nice shooting! Thank you! I'm a big fan of revolvers, but also like the look of the rifle. Very well done. Appreciate it!
******
Next, we hear from our pal
No Name Nobody
who shares a range report on a day of shooting on
his
organic tree farm!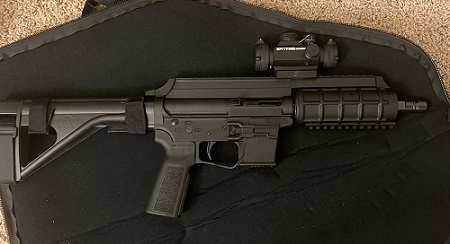 I'm a long-time lurker in good standing. Attached is the picture from the day at the range on the family farm. Yes, I too am an organic tree farmer. I bought the Extar EP-9 after Blaster's report. I've been looking for an H&K SP5 style weapon for a long time that didn't cost an arm and a leg and this one fits the bill. I figured for $600 bucks with the optics, I'd take the chance. I love this firearm so far. My little brother and I ran about 200 rounds through it yesterday. It ran like a sewing machine. Not one misfeed, failure to eject or misfire.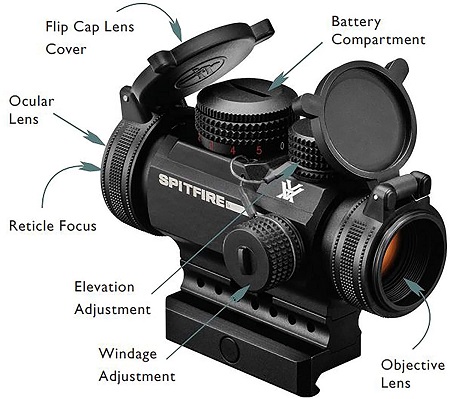 I tried out Blaster's recommended $30 Gaialoop red dot. Does not work outside with sunshine and high sky. The dot just disappears. So I bought a Vortex 1X prism scope with an etched reticle. Has 5 brightness settings for either green or red reticle for varying light conditions. A bit more than 30 bucks, but it's a very nice optic.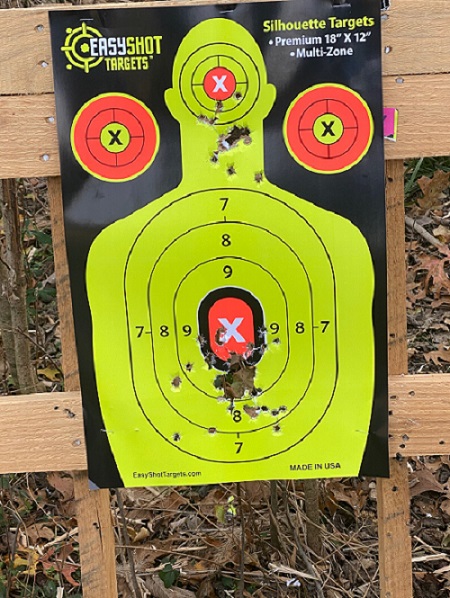 This is the last silhoutte target of the day after zeroing the scope. These were shot from 15 yards. I used the 17 round mag that comes with the firearm from Extar firing at the center mass "X" and my little brother used a 15 round glock mag that I purchased yesterday and shot at the "X" in the head area. Looks like co-witness puts the rounds a little low after the zero. I'll be shooting again and adjusting in the very near future. That is I would be shooting again and adjusting in the very near future if not for the tragic boating accident on the way back to the house from the farm.
Nice shooting and great report N3! I hope you'll check in again with a follow-up after you have had a chance to shoot it some more. Thank you for the report, thanks for de-lurking, and welcome to the Gun Thread!
******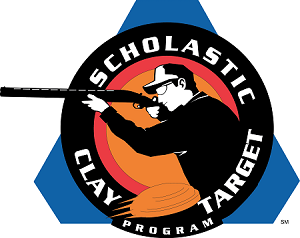 Our pal
MW in Texas
shares a link to an auction where the proceeds benefit High School seniors headed for college. Looks like a ton of great stuff. Check it out! This is an auction organized by the
Scholastic Clay Target Program (SCTP)
that raises money for
scholarships for graduating seniors that have participated in school shooting competitions
.
******
Gun Basics 101
This week we have a review of the Shield Plus from the
She Equips Herself
girl. Also covered are some concealment considerations.
******
Cigar of the Week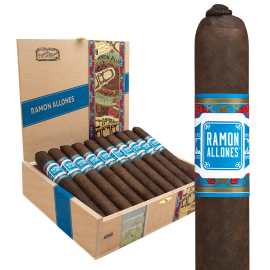 This week we return take a look at the
Ramon Allones Heritage
. Handmade in Nicaragua, these are very well constructed medium to full bodied cigar at around $4.50 each. Weasel approved.
******
Link-O-Rama
I'm really very seriously not kidding around anymore. Buy Ammo
AmmoSeek - online ammo search tool
GunBot - online ammo search tool
SG Ammo
Palmetto State Armory
Georgia Arms
AmmoMan
Target Sports USA
Bud's Gun Shop
***Mail Bag***
Our pal, delightful 'ette and
TXMoMe Prize Wenchlin-duh
shares a great new target design!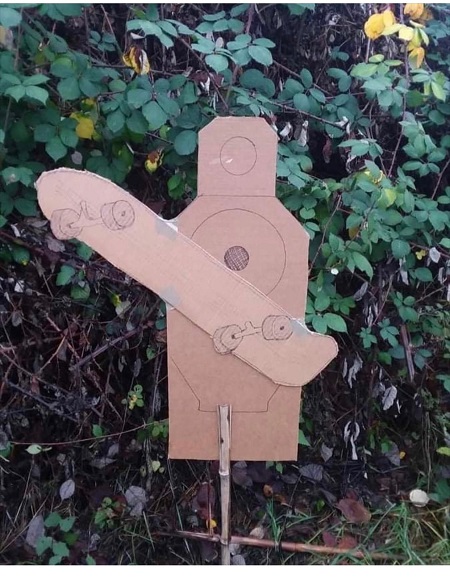 ******
Please note the new and improved
protonmail
account
gunthread at protonmail dot com
. An informal Gun Thread archive can be found
HERE
. Future expansion plans are in the works for the site
Weasel Gun Thread
. If you have a question you would like to ask Gun Thread Staff offline, just send us a note and we'll do our best to answer. If you care to share the story of your favorite firearm, send a picture with your nic and tell us what you sadly lost in the tragic canoe accident. If you would like to remain completely anonymous, just say so. Lurkers are always welcome!
That's it for this week - have you been to the range?
Posted by: Weasel at
07:00 PM