Quick Hits: Democrat Media Collusion Edition
The Washington Post has finally corrected its defamatory claim that Tom Cotton was spreading a "debunked" "conspiracy theory" about the Wuhan Virus possibly having escaped from the Wuhan Institute of Virology.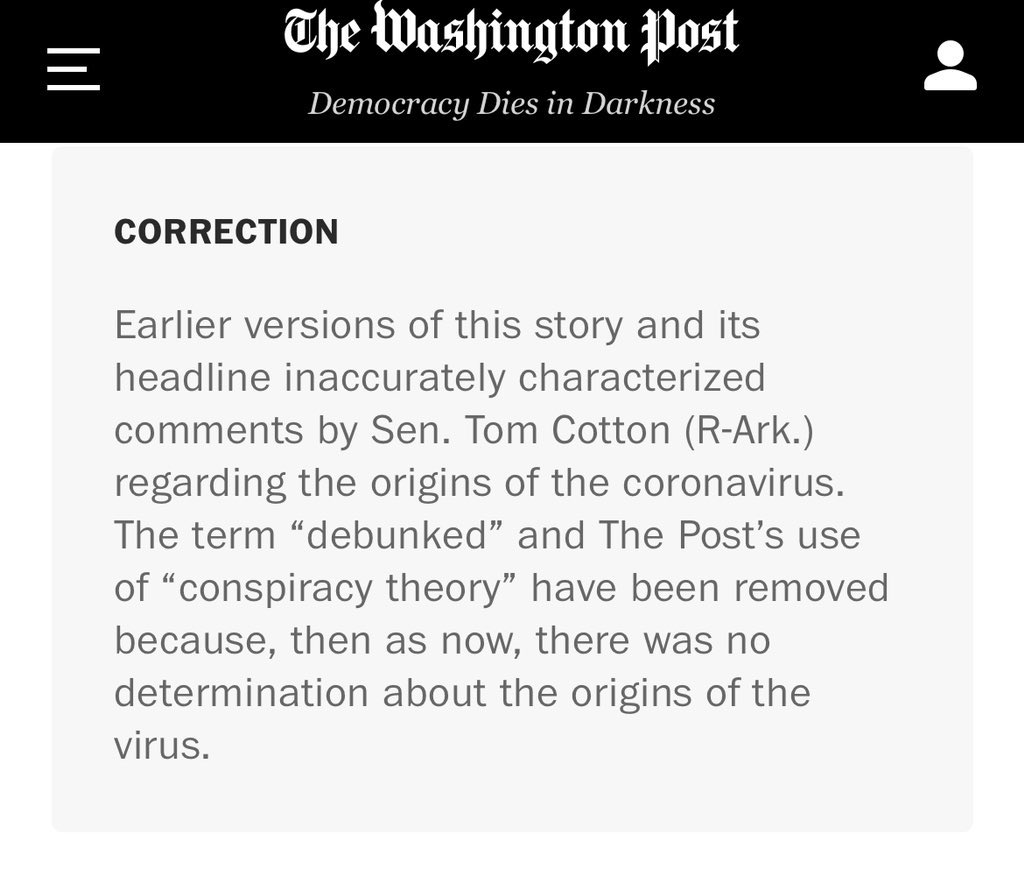 As Raheem Kasem noted, the difference between "conspiracy theory" and "reluctantly admitted fact" is now six months. President Trump laid blame for vaccine hesitancy at the feet of
Joe Biden and Kumala Harris, who both -- in what is obviously a coordinated messaging campaign -- raised fears about the soon-to-come virus for the most corrupt of partisan motives.
"If you remember, when I was president, there were literally lines of people wanting to take it," Trump said, pointing to vaccine hesitancy among some Americans. "Now, you have a different situation, and it's very bad." Trump went on to point to comments made by some Democrats, including future Vice President Kamala Harris, who said they may not trust the effectiveness of a vaccine that he was pushing. "Of course, they famously said, if Trump came up with it, I'll never take it," Trump recalled. Trump blasts Biden's 'rushed' Afghanistan exitVideo
"They disparaged the vaccine, and now they wonder why people aren't wanting to take it?" He continued. "It's a disgrace." "Look, it was one of my greatest achievements doing it in less than nine months instead of five years, or maybe never," Trump said, referring to the approval timeline for some vaccines at the FDA. "We saved millions of people all over the world." But pointing back to those against getting a jab, Trump said: "They don't trust this president, and that's why they're not taking it."
If Grandpa Droopdiapers and Kumala really wanted
their own voters
to take the vaccine, they'd admit that they deliberately ginned up fear about the vaccine so that no one would have any hope for an end to the pandemic and apologize for doing so. But they'll never admit that. They'll just keep claiming it's all Trump Supporters' fault, and of course, Ron DeSantis' as well.
Jen Psaki admits, proudly, that Biden's illegal vaccine mandate excludes his illegal alien constituents, for some reason:
A
Trafalgar poll finds opposition to Biden's vaccine mandate.
58.6% of voters do not believe President Biden has the constitutional authority to force private businesses to require vaccine mandates for employees, while 29.7% believe he does have the authority, and 11.7% aren't sure. 68.2% of Independent voters donít believe President Biden has the constitutional authority to force private businesses to require vaccine mandates for employees, while 21% believe he does have the authority, and 10.9% arenít sure.
The FEC has ruled that the conspiracy between the Democrat Party, the Biden Campaign, the social media monopolies, and the media to suppress the Hunter Biden laptop story was okey-dokey and perfectly legal.
The Federal Election Commission (FEC) dismissed a claim from Republicans that Twitter violated election laws just weeks before the 2020 election by suppressing a New York Post report on Hunter Biden, son of President Joe Biden. While reporting on the FEC's decision, The New York Times on Twitter and in its article called story about Hunter "unsubstantiated," even though it was based on extensive documents obtained from a laptop belonging to the president's son. Numerous outlets have since corroborated and accepted the laptop story. Even CNN acknowledged that the FBI did receive a laptop purporting to belong to Hunter and that "the assumption is that it is Hunter Biden's laptop." Many other outlets tiptoed around the information in an effort to avoid reporting it, such as The Washington Post, which was still forced to admit at least some of the information from the laptop could be verified as true. Outlets continue to couch the story with speculations that the laptop may be fake or stolen or "Russian disinformation," even though no such evidence exists.
A Canadian professor called the 9/11 memorials another
"dumb little annual pity party."
Flaky Florida Democrat congressional candidate and Very Online twitter idiot Pam Keith
Agrees, claiming that the January 6 riot was worse than 9/11.
Pam Keith, a former Democratic candidate for Congress, reflected on the 20th anniversary of the Sept. 11 attacks by saying the Jan. 6 riot at the U.S. Capitol has replaced it as the worst day in recent U.S. history. "On 1/6/2021," Ms. Keith posted Saturday on the social media service Twitter, "9/11/2001 ceased being the worst thing that happened to America in my lifetime." Ms. Keith, 51, added that it felt "really weird and painful to process and say that" before concluding: "But it's the truth. And quite frankly... it's not even close."
An MSNBC dickmouth also
claimed that Trump supporters are worse than the 9/11 terrorists-- on 9/11.
Weird how the media never, ever challenges Democrats on their extremist statements. Including the widespread conspiracy theory that 9/11 was an inside job. That's because the leftwing media agrees with these extremist beliefs and conspiracy theories. Speaking of: The disastrous Democrat Party really, really needs there to be a successful sequel to the January 6 production.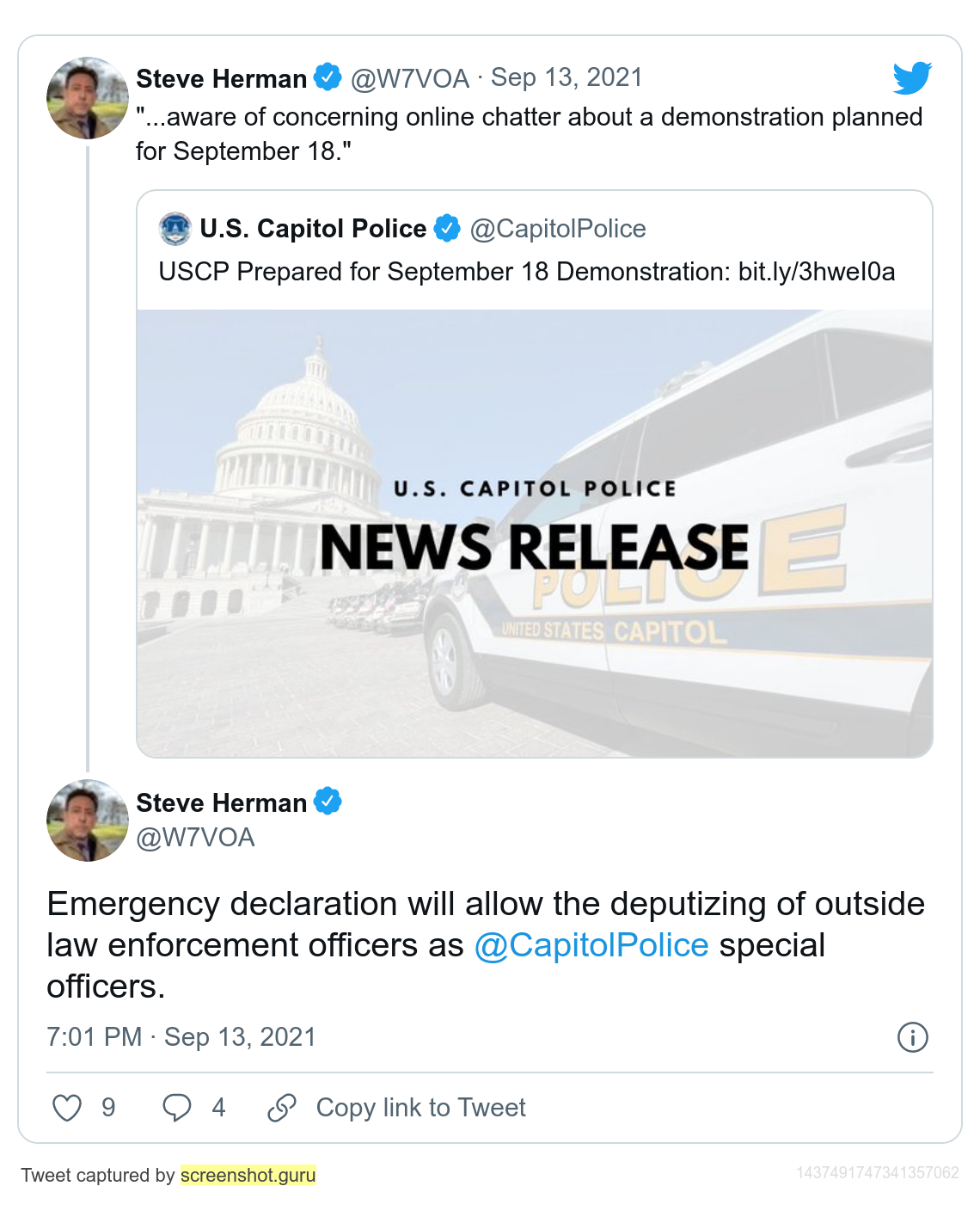 A Scott Rasmussen poll finds that Democrats believe that
Trump supporters and the unvaccinated are the biggest threat to the nation.
You know, the unvaccinated. Mostly blacks and Hispanics. Democrats be racist, yo.
Fifty-seven percent (57%) of Democratic voters believe supporters of Donald Trump are a serious threat to the nation. A Scott Rasmussen national survey found that 56% of those in President Bidenís party also consider the unvaccinated a serious threat. That's a higher level of concern than Democrats express about the Taliban (44% see it as a serious threat); China (44%), or Russia (37%). These results help explain the tone and actions taken recently by President Biden. Republicans and Independents have a much different view of the threats facing the nation. For Republicans, the top concerns are the Taliban (66%), Defund the Police Activists (62%), and China (58%).
Man kicks a woman in the chest and down an escalator because the woman said
"Excuse me."
In New York City. Obviously. Must have been one of those January 6th rioters.