TWITTER, WHICH CENSORS TRUMP FOR TWEETING WE NEED LAW AND ORDER AS "GLORIFYING VIOLENCE," ALLOWS HASHTAG "BURN LOUISVILLE" TO TREND FOR HOURS IN MIDDLE OF RIOT SITUATION
It's still up.
I'm getting tired of having to live under monopolistic censorship just because Jim Fucking Jordan likes getting paid off by Google.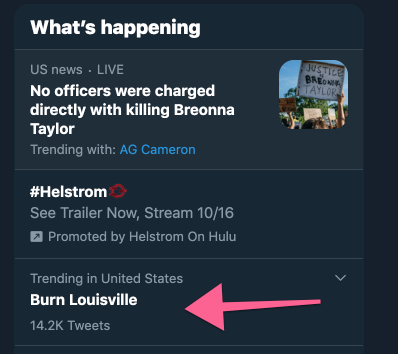 And they do. Jim Jordan takes a lot of Google money, and a lot more Google money indirectly through the various groups Google funds. And I'm tired of having a party leadership dominated by traitors in the pay of the enemy. And if takes voting Jim Jordan out of fucking office -- well, I'm sure we'll do just fine without him. Twitter should be subject to lawsuit for any damages caused by their incitements.
They've left up this incitement from a leftwing professor to
murder former Trump NSA spokesman Michael Anton
for nearly a week, despite being repeatedly warned about it. What would be the argument against that, apart from "Google Money has made Jim Jordan Gay4Pay"? And no, Jimmy Boy -- I don't want another Failure Theater hearing where you talk tough to google and facebook
for the cameras
while distributing talking points behind-the-scenes about
how to forestall any action against your Cash Money Johns.
A memorandum leaked ahead of a Wednesday antitrust hearing suggests Republican members of the House Judiciary Committee drafted talking points to help them defend tech companies against claims they have become too monopolistic. The 37-page memo was prepared in advance of an antitrust subcommittee's hearing with tech CEOs including Amazon's Jeff Bezos, Apple's Tim Cook, Facebook's Mark Zuckerberg, and Google's Sundar Pichai. Marked "confidential," the document threatened to undermine Republican efforts to appear tough on the companies amid claims they have not only engaged in anti-competitive practices, but have also sought to censor conservatives online. Four themes summarized on the first page began with a brief acknowledgment of conservatives' concerns, calling "political bias in Big Tech" a "problem that must be highlighted … so that consumers are aware, the market can respond, and lawmakers can evaluate options." The final three themes emphasized the need to defend "Big Tech" from regulation, stating, "Antitrust law should be used to promote freedom, competition, and the American dream, not to punish success or attack companies."
Part of antitrust law is about stopping monopolies from using their monopoly position to
squelch businesses in other fields.
You know, like conservatives' access to advertising revenue from third parties. But Jim Jordan's okay with Google using its power to destroy conservatives, conservative think tanks, and conservative citizens. Because Google pays him to be okay with it.
...
Some conservatives on Wednesday expressed their displeasure with the news, and especially with Rep. Jim Jordan (R-OH), after the memo widely circulated on social media. "He needs to give an explanation for why his office put out a memo for this hearing that might as well have been written by Google's lobbyists," Human Events publisher Will Chamberlain wrote on Twitter. Breitbart News reporter Allum Bokhari wrote in another message directed at Jordan, "Big tech has faced billion-euro antitrust fines in Europe and taken it on the chin. Has GOP ever proposed any punishment close to as severe for political bias?"
And no Jim, I don't want to hear you grandstand and yell at Google on camera again --
I already know you've worked out a Joint Defense Agreement with your co-conspirator behind-the-scenes.
Do you guys work out the exact script -- the exact pretend-angry question you'll ask, and the exact rebuttal offered by Google, Twitter, and FaceBook -- or do you allow some light improvisation in your Failure Theater performances? Do you find that some light improvisation makes your performances feel more "organic"?
Contact Google's Capitol Hill shill Jim Jordan
here.
Meanwhile -- Twitter's getting
the riots it's inciting.