The Morning Report - 7/31/20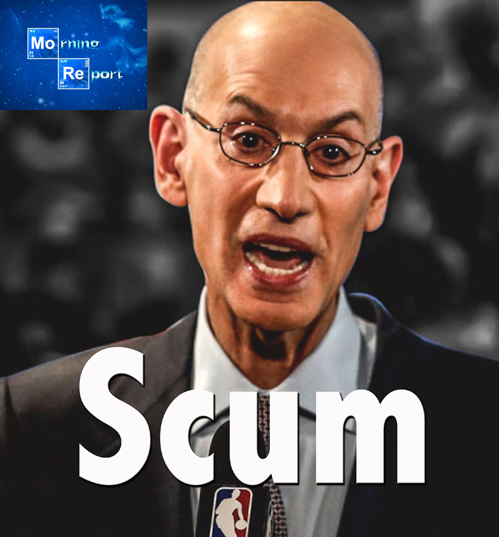 Good morning, kids. The weekend is here and the end of July. Already. We're still having to deal with much of the citizenry fearing for its life thanks to a massive and successful psychological warfare operation that has convinced them that a virus that is marginally more dangerous than seasonal flu is an extinction level event that warrants masks, environmental suits and the self-inflicted destruction of our economy in order to cope with it. Naturally, the magic bullet is defeating Donald Trump and instituting the overnight final transformation of the last vestige of America as founded into a totalitarian, socialist hell-hole. As an aside, I realize the late Herman Cain died from the Chinese Lung AIDS. But what the cranks, crackpots and trolls won't tell you is that he was a senior citizen, as is the overwhelming majority of victims of this and other respiratory viruses including common colds, a cancer survivor with a compromised immune system, and as a black person might also be more genetically predisposed to be more vulnerable (though I can't confirm that with 100% certainty). With 150,000 victims - assuming that that is an accurate and honest count, which I seriously doubt - out of a population of nearly 320 million, do the math. Circling back, the cries for more draconian, almost medieval measures and reinstituted lockdowns grow shriller and louder even as now an overwhelming torrent of evidence from doctors and other honest "experts" is pouring in, both confirming the uselessness and danger of the aforementioned measures as well as the real magic bullets: HCQ as a treatment and prophylaxis as well as getting back to normal human interaction to spur herd immunity. See: Sweden. Yes, the Sweden that Bernardo Sandersnista and every other filthy socialist hack is always screaming about insofar as America should be emulating it. The silence from those quarters now about that country is deafening. The science and statistics are in. Lockdowns and masks are dangerous to our health and wellbeing - physically, mentally, and societally. Yet still, the Democrat-Media Complex persists. And speaking of persistent, as in cancerous anal warts, the Democrat-Media Complex was absolutely orgasmic over the economic numbers that came in yesterday. Evidently the economy - thanks to its self-imposed strangulation which had nothing to do with the Trump administration's previous 3-year economic miracle - contracted by 33%. What the propagandists conveniently don't tell you is, while the downturn is nothing to cheer, it's 33% ANNUALIZED, not in the last quarter alone. Cue Richard III's line about lawyers and substitute in journalists (lawyers now come second). So, while we're all sitting at home, watching our government add trillions of dollars of more debt in a comparative nanosecond to the trillions accumulated during both the Dubya and Obama years as businesses large and small collapse and die, switching the channel we are greeted with the sight of American (or all things considered, anti-American) cities in the hands of bona fide, dictionary definition (dictionaries published more than 10 years ago, that is) terrorists/insurrections burning them to the ground while the "journalists" and gigantic fat-bergs of greed and power-lust tell us that what we're seeing is either a "myth" or it's a result of evil police officers arresting innocent, patriotic citizen protesters. Lest we forget the "mostly peaceful" protests, which are rapidly becoming a mostly peaceful mash-up of
Kristallnacht
and Dresden, are supposedly as a result of the death of a career criminal at the hands of Minneapolis police over Memorial Day weekend. In point of fact, we have yet another psychological warfare operation insofar as a problem that is created by Democrats in Democrat controlled cities and states (bad policing and the generational immiseration of American blacks) is used as a pretext to blood libel America as founded, free market capitalism, Judeo-Christianity, and non-colored persons into putting 244 years of its history, and 2,000 years of societal development into an oven and turning on the gas... and liking it. And woe betide anyone who objects.
Lowest of the low, representing what I just stated were the actions of the NBA.

On a court that says in large black letters, "Black Lives Matter," every player, coach, and referee in attendance at the Thursday evening Utah Jazz v New Orleans Pelicans NBA game took a knee during the national anthem... The kneeling from the NBA players and staffers comes the day after a bombshell ESPN report outlined alleged abused [sic] of children at NBA youth training camps in China. "Every player, coach and ref takes a knee during the national anthem before the Pelicans-Jazz game," Bleacher Report posted on Thursday night...
There is no difference between the black-clad Antifa terrorists who firebomb courthouses, George Soros who is no doubt financing much of this terrorism, "reporters" who lie to our faces, and the likes of LeBron James and Adam Silver, who allow this debasement and defiling of the nation that made their success possible. In fact, they are quite possibly even more reprehensible and contemptible than the brain dead youth with the Molotov cocktails. They're not only a mortal enemy. They. Are. Scum.

CIVIL WAR 2.0: LEFTIST REIGN OF TERROR, WAR ON POLICE
NOTE: The opinions expressed in some links may or may not reflect my own. I include them because of their relevance to the discussion of a particular issue. ALSO:
The Morning Report
is cross-posted at
CutJibNewsletter.com
if you want to continue the conversation all day. Follow us on Twitter:
@CutJibNews