Ace of Spades Pet Thread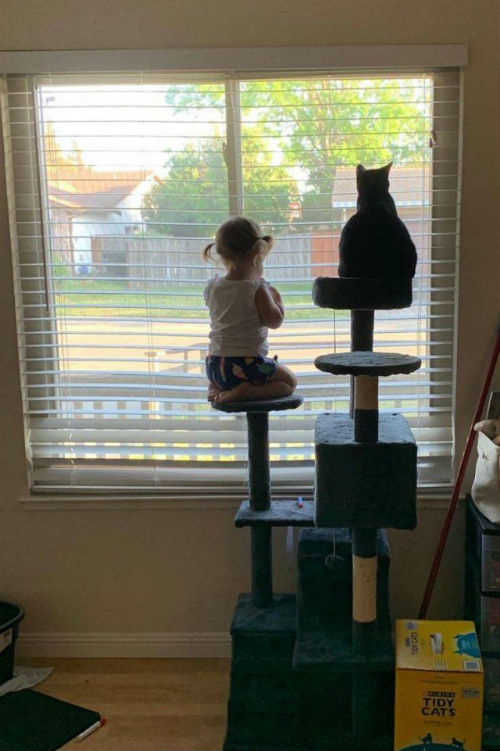 ***
Good afternoon and welcome to the almost world famous Ace of Spades Pet Thread. Kick back from whatever you're doing and enjoy the world of animals.
Please leave current events at the door. Thanks.
***
A Little of This. A Little of That.
Cute........Thanks to Anonosaurus Wrecks
***
Glenda submitted this. Your thoughts?
***
Thanks to Jake Holenhead for this interesting video.
***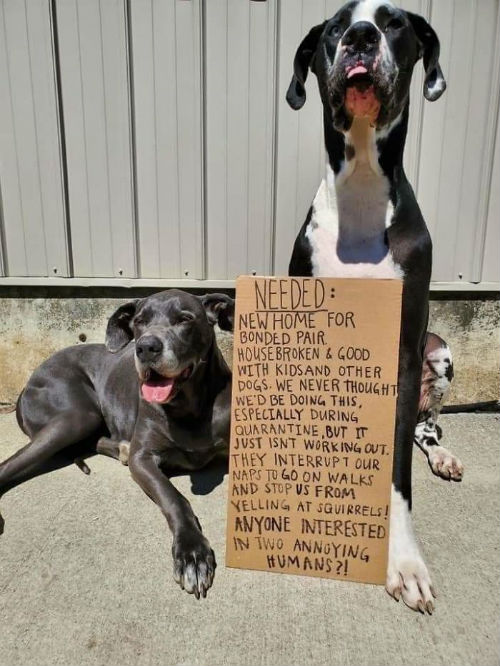 (H/T Blake)
***
Meet The PetMorons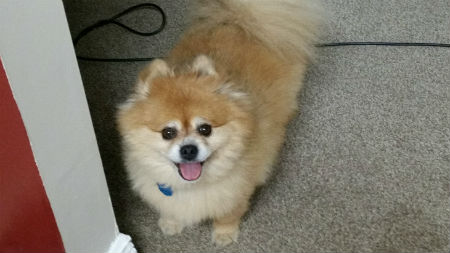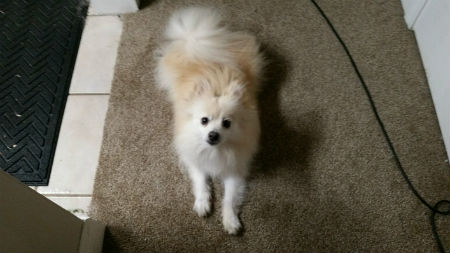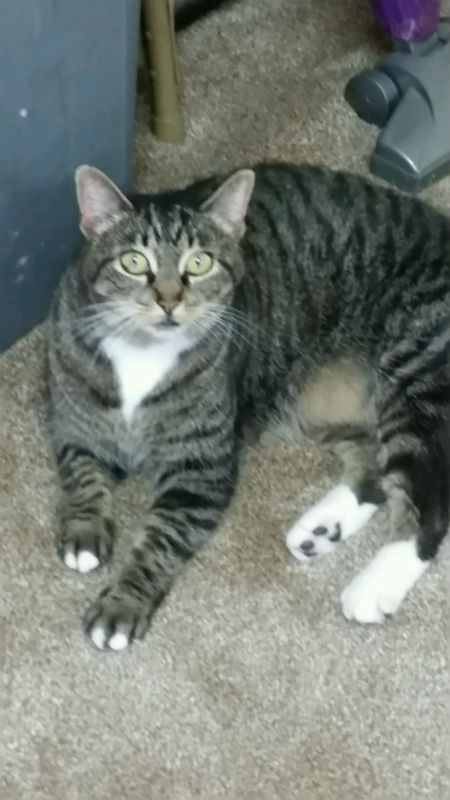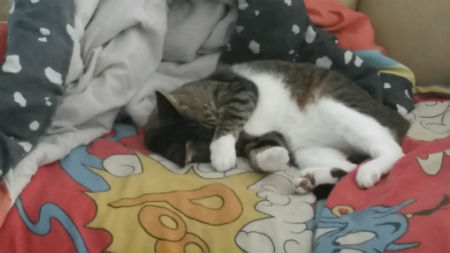 Love the Pet Thread and the site I never miss it!!! The first picture is our Pomeranian, Haggard. He is a red merle Pom so our son suggested Haggard as in Merle Haggard, it stuck. He will chase a ball all day if you let him. He loves getting in the pool. My husband cannot get in without him. The second picture is his sister Prissy. We first named her Dolly but changed her name to Prissy because she is. The third pic is of our garage cat, Gabby. After Hurricane Michael, Cat 5, in 2018 we found her in the neighbors torn up garage and brought her over to ours since she and our house cat, Baby, do not get along. She will talk your head off. Sweetest cat I have ever seen. I love the white heart on her chest and the painted toes on her paws. She will lay in your lap and purr for hours if you let her. She comes and goes from in the house whenever she wants. The fourth picture is Baby, she is shy and a typical cat. We are in Panama City, Fl and got hit really hard by Hurricane Michael. People are still working to fix their homes and businesses. I just wish we didn't lose all of the trees, I miss them. - Thank you - Tina
We are happy to have you as a regular and contributing to the thread today. It certainly appears that your home is pet friendly. Thanks for sharing today.
***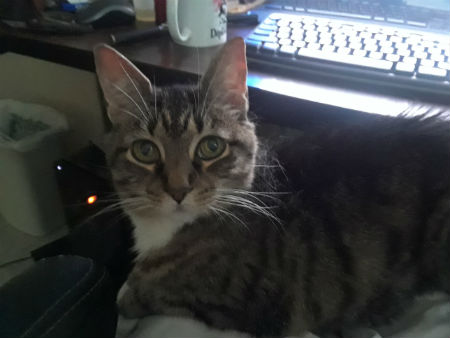 Hi MH, I love the pet thread and just about everything else on AoSHQ. Maybe you can find room for our kitty. Just an ordinary tabby housecat but she got her name in an interesting way. We got her from someone advertising free kittens on the supermarket bulletin board. She was the last of the litter and a runt so the owner kept her for a few extra two weeks. No idea what to name her but we got takeout Chinese food that night and my Wife asks the guy at the counter how to say "cat" in Chinese. He says "mao and hao mao means "good cat" (assuming he meant well behaved). HaoMao is 19 now. She has chronic renal failure, hypertension and hyperthyroidism but is doing great. Hope to have her for a little while longer. Cheers! - Eric
Eric we always find room for a PetMoron. Sometimes it takes a little time for them to get their 15 minutes of fame. Sounds like HaoMao has had a wonderful life with you folks.
***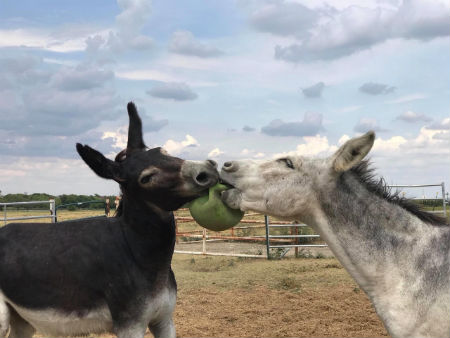 These are my good friends Buster (brown) and Barry Wayne (grey). They are best of friends and will play with anything they find laying around including someone's misplaced boots. Both are big snuggle bunnies and very affectionate. Of course having a full grown donkey lay the whole weight of his head on your shoulder isn't very comfortable but they get a pass for being so sweet. Buster has been known to give a little love nip if you haven't him enough scratches. Both of them were rescued from the kill lots. - MW in Texas
Love nips eh? Hate to see what happens when they can't sit on the couch with you. J/K. You certainly have a large heart and it is quite apparent. Good on you for the rescue.
***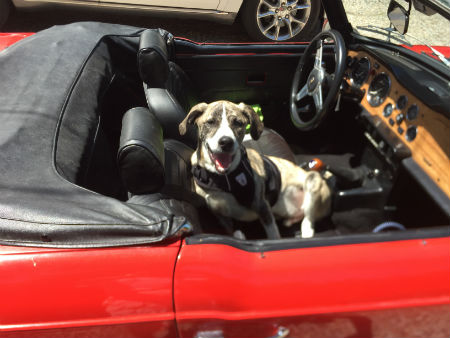 Mis Hum I sent you a picture of Elvis a couple weeks ago but I saw that you said you had lost a bunch of recent emails so here is another one. This is Elvis a couple days after I adopted him. Turns out he loves going for car rides and seeing the sights. He's a very happy guy and despite his attempts at acting like a tough guy he's a big marshmallow. - JackStraw
I can see why Elvis loves car rides. On a sunny warm day not much beats riding around in a convertible. Thanks for submitting Elvis' photo again.
***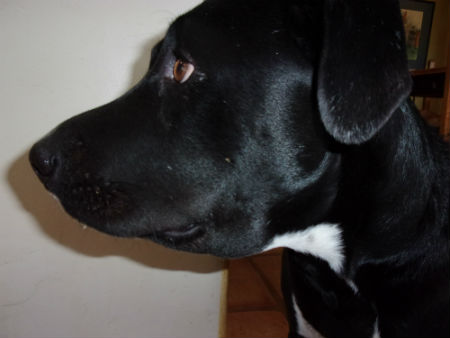 Hey Mis Hum,
You have featured our latest rescue when we got him 8 months ago. On his 8th month anniversary of his new home, Wiley got bit by a rattlesnake. He likes to leap onto our patch of fake grass, and he saw it mid leap but there wasn't time to correct course. When he landed the snake bit him on the nose. Mr. Wee Kreek saw it and yelled to me. We thought he might not have gotten bit because Mr. Wee Kreek said he leapt almost three feet in the air to get away from the snake. When I got to him, I saw blood dripping down his nose. I had to get him and our other dog inside, and Mr. WK got on the phone to the Vet. In these times of "social distancing" there aren't as many Vets for emergencies open and we had to go about 20 minutes away to get to one that was open for emergencies. The bastard snake got away while I was getting the dogs in and I will always regret that. Wiley spent about 21 hours in the hospital, got three vials of antivenom, and we spent $2800. He is doing great. He is already back to his amazing self after only a week. We have spent the week preparing our fencing for an additional layer of "snake fencing"on the outside which means digging a 2 inch trench and clearing back all foliage so we can attach 1/4" wire mesh buried two inches down and extending 34" above ground. Most of you think digging a two inch trench is no big deal, however we live on a mountain full of rock so this is more of challenge than it sounds, as well as being in the mid 90's. This is supposed to keep the rattlesnakes out. All the local stores were out of the 1/4" wire mesh so we had to order it online. I have attached a picture of our little man after he got home. His nose is a bit swollen and his neck is pretty puffy. We only could find 1 puncture so we think he only got half a load of venom, which maybe why he has done so well. Any other petmorons out there with advice about keeping the snakes out? Has anyone else installed snake fencing?
Wee Kreek Farm Girl
We are glad to hear that Wiley made it. I have no personal experience with snakes living in the frozen tundra. He certainly is loved by you folks. Hopefully there are some Morons here who can help out on the snake issues you face.
***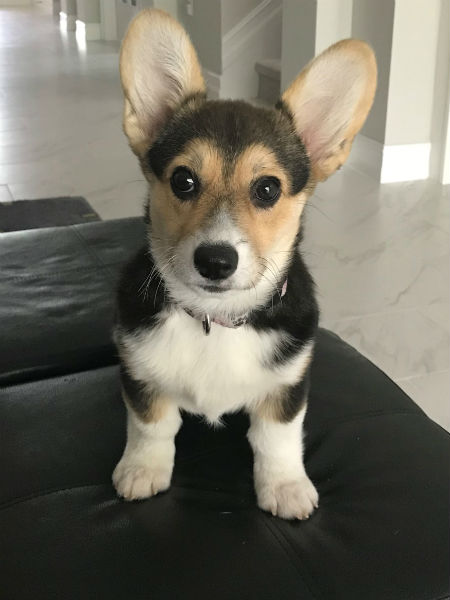 This is Lily, tricolor Pembroke Welsh corgi, age 4-1/2 months. Mr and Ms Les Kinetic are getting trained by her.
So that little cutie is herding you and the Mrs. up already? So cute yet so much work, good luck with that.
***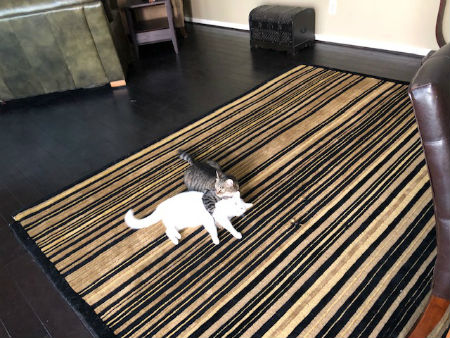 I sent a pic of Bogie and Bacall back when they were 14 week old kittens. This is them now at 2 years old. Don't regret a second of getting them. Kilroy wasn't here
Adorable kittehs Kilroy. Sounds like a fun 2 years with hopefully many more to come. Thanks for sharing today.
***
Thank you all for your submissions of links, pets and their stories. A wonderful group certainly! We still have quite a full in-box here at the Pet Thread. We will get to your pets as soon as we can. If you do need to reach out in the meantime petmorons at gmail dot com. The Pet Thread staff wishes you a safe and happy Memorial Day Weekend.
Posted by: Misanthropic Humanitarian at
03:00 PM