Ace of Spades Pet Thread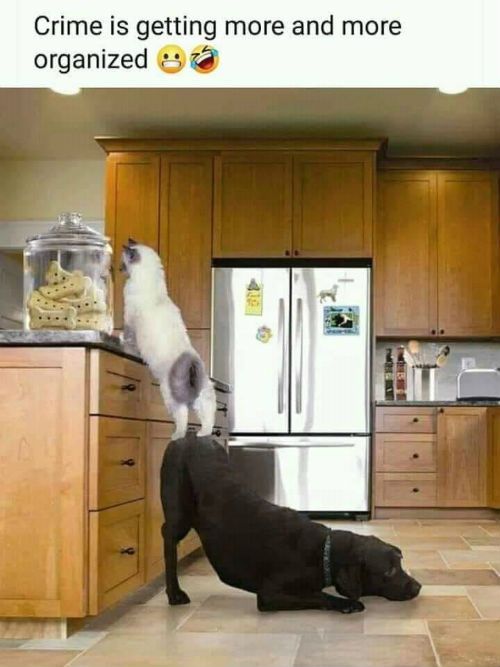 ***
Good afternoon and thank you for stopping by. Welcome to the almost world famous Ace of Spades Pet Thread. Rules? Sit. Stay. Enjoy the world of pets.
***
A Little of This. A Little of That.
Today's Feel Good Story
Dying man gets to say goodbye to his best friend.
***
Hey Kids, if you are perusing the Pet Thread today.
Your Mom and I could use one of these.
From our friend and regular contributor Hank Curmudgeon. Quite the story.
***
Some fabulous photography.
Frisbee catching dogs.
H/T Wee Kreek Farm Girl She says she is jealous. That makes 2 of us.
***
"I found this short video on the web and thought it would be funny to show so close to Halloween. It's pretty funny.
Best regards, JustJP"
***
There was an extremely high amount of pet photos in the In-box this week. Let's get to it and .......
MEET THE PETMORONS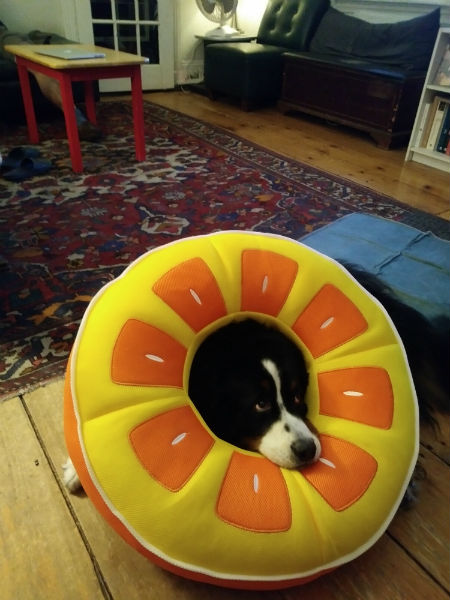 Hmmmm...should this pic be on the pet thread or the gardening thread? My poochie Stella is enjoying impersonating a flower with her candy corn-colored autumn donut. It's really a flotation device for summer swimming pool fun that was marked down at the grocery store to $3. It's hard to find big toys for big dogs so I have to get creative. She loves to get a good trip on this thing and shake it and drag it around. Hopefully it'll last until Halloween! - JuJuBee
Adorable and a great photo for the Pet Thread. Is the autumn donut still in one piece or has it been disposed of properly in the correct bin? Thanks for sharing JuJuBee.
***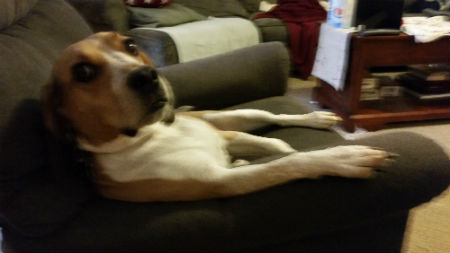 Aelishdad here, lurker extraordinaire. Behold the grandsons dog, Lucky, that I somehow am responsible for. Got from county shelter about 5 years ago, he came in with two smaller females, one of which was the boss dog. He is NOT spoiled! According to the Grammie. Does he look spoiled to you? Didn't think so. So I walk him, feed him, semi-train hm and pay his medical and boarding fees...and he sleeps with the Grammie. Yeah, a hard life indeed. And he protects us from the deer, bunnies and chipmunks, and toads.
Quite the granddog you have there Aelishdad. I think I can safely say that the Horde is happy that he protects you from those villains you mentioned. Thanks so much for sharing.
***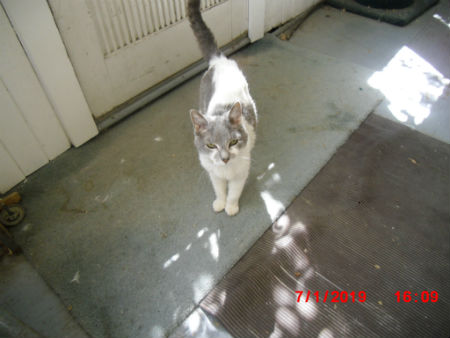 Hi!
I've been a moron for many years! Mostly lurking tho. Hard to converse with 700+ comments per thread, lolz! Here is my Miss Moo-kitty, age 19 this past August. A friend had her since she was tiny, but had to find her and 2 others a new home 4 years ago. She's an 'only cat' and sacred of everything (except thunder) but full of love and purrsonality. Cheers!
5Cats (& Moo)
A happy belated birth day to Miss Moo-kitty. It sounds like she found quite the home with you. As an "only cat" I suspect she is quite spoiled.
***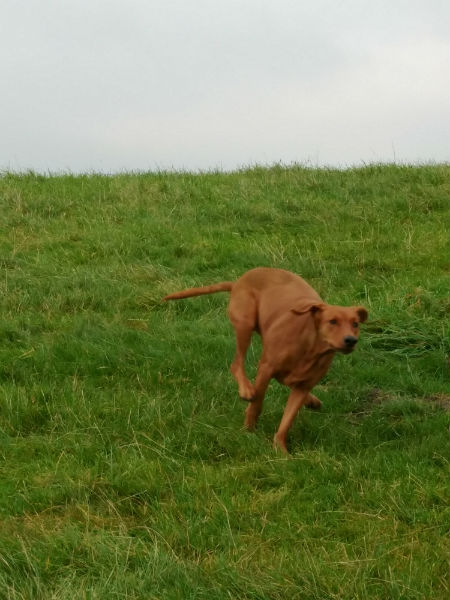 Hello Mis Hum, I'm a longtime fan of AOSHQ and of the Pet Thread in particular. Really looking forward to reading it every weekend. Today I felt it was about time to present our dog: Abby, a German Pinscher, 4.5 years old now. We have her here since early 2018.
Abby loves running, digging and playing at the beach. Small problem is that she likes to roll in washed up things. So I have to wash her thoroughly once in a while... Like today.
She is a good and friendly dog and always comes back to me when I call her. Only not when busy rolling. Here you see her running down the sea-wall. I cannot make her more happy then going here. And that makes me happy too! All the best from The Netherlands, - Scarface
The Netherlands? Well we are almost world famous! Hey, thanks for sending in Abby's photo and story. She seems to enjoy the great outdoors. The Horde understands the pleasure that a pet brings. Thanks so much for sharing.
***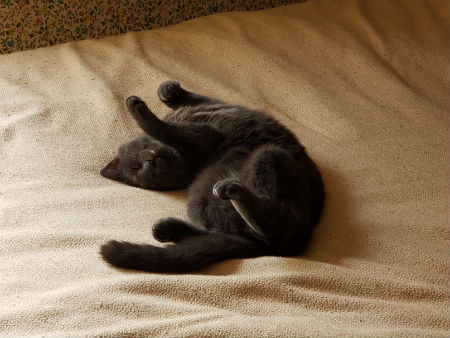 Here's my younger rescue cat, Quicksilver.?? She was a stray or feral kitten who was living around an abandoned service station, and was surprisingly approachable after a week or less of my feeding her.?? But then I lost track of her for several months and presumed that she was dead.?? When I located her again, she was so infested with intestinal worms that straining to go to the bathroom had caused her to prolapse.
I managed to capture her and take her to a local vet on the eve of a November cold front that sent temperatures into the low 20's.?? The veterinarian was able to mend her injuries, but told me that if 'Quickie' continued to live outside, she would soon be suffering from worms and prolapse again.??
Since I already had an 11-year-old indoor cat I'd rescued as a kitten, and since Quicksilver apparently had been living on the streets for most or all of her life, I was more than a little worried about what I was getting myself into.?? And she struggled with irregularity and illness for 5-6 weeks, and had several more multi-night stays at the vet clinic.?? But since January she has done remarkably well, including post-spaying.???? And my older cat has learned to, well, tolerate her.?? I love my new little nitwit. - David
What an adorable little kitteh. And what a wonderful heart you have to take in little Quickie. Sounds like everything is working out wonderfully at your home.
***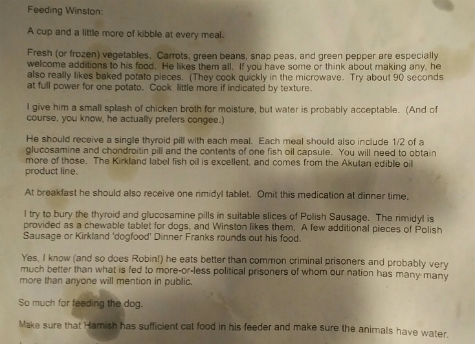 My parents travel a lot, and attached are the LUDICROUS instructions YD, Sr. leaves in his opulent kitchen for us kids to follow. THIS IS HOW THIS DOG EATS EVERY DAY. It's completely bananas, and I can't stop laughing every time I read them. I joke to him that his inclusion of the kibble is purely for his own benefit, so that he can pretend what he's making is dog food, and not a multi-course meal for humans. Also, in the last line, you can note his relative disregard for the cat. - Yudhishthira's Dice
I know you have a great sense of humor on The ONT. Not sure if you're pulling our leg or not with this. Wonderful directions nevertheless.
***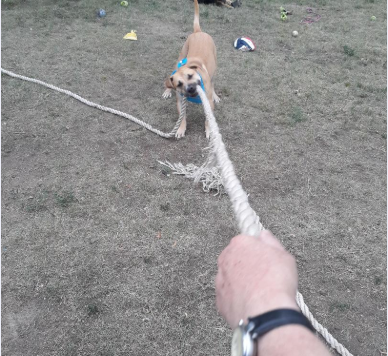 My second submission to Pet Morons. This is cullypants,
I have no idea where that name came from, Daughter #2
named him. He's 14 months old and weighs 50-55 lbs.
He is part Mastiff, part Pitbull and part Corgi, his family
tree is ..... let's just say ...... rather intriguing. In this picture he is playing his most favoritest game in
the world - TUG-O-WAR. He's a powerful puppy and has
pulled me off my feet. What you can't see in the picture
is his "200 mile per hour tail." He is one of the happiest
dogs I have seen. - Christopher
Quite the family tree. We won't ask. You don't have to tell. Isn't that a great thing about a puppy, there tail wagging 200 MPH? Cullypants is an unusual and unique name. Thank you for sharing.
***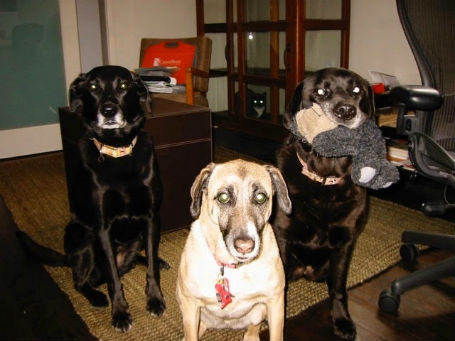 Hi, long time reader, but not commenter. Love the pet thread and thought I would share this cherished photo. It shows our old gal Lucy (center) surrounded by her friends Rio (to her left) and Jazz (to her right) and, if you look closely, Mr. Kitty in the bookcase in the back. You can almost imagine each pet's role in this "gang" by the way they hold themselves. Sadly, they've all passed by now, with Mr. Kitty outlasting them all and making it to 21.
Cheers,
Double Deg
We appreciate you being a long time reader. What a great group setting! I bet it is a cherished photo. So sorry to hear that they have all passed over the Rainbow Bridge. Never an easy thing to share. Thank you.
***
What a great group of pets and wonderful stories. Thanks to you who have submitted items for the Pet Thread today. If you would like to share something with us, feel free to contact the Pet Thread at petmorons at gmail dot com. Have a great week!!!
Posted by: Misanthropic Humanitarian at
03:05 PM