Ace of Spades Pet Thread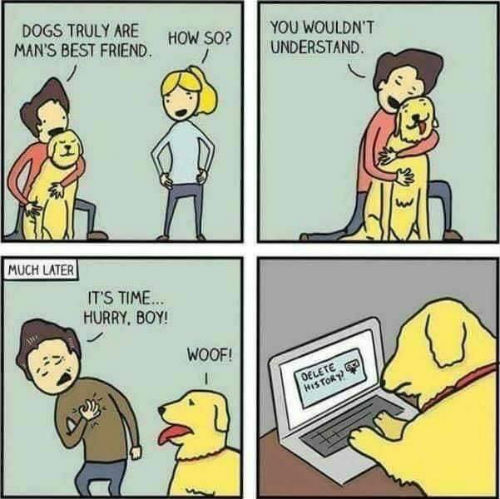 ***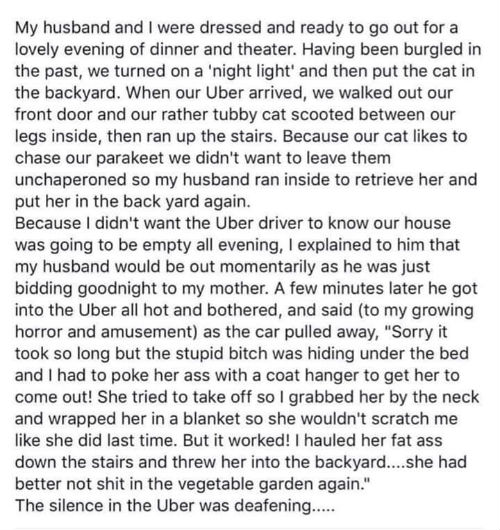 ***
Good afternoon Morons & Lurkers. Welcome to the almost world famous Ace of Spades Pet Thread. Sit. Stay. Enjoy the world of pets!
***
A Little of This. A Little of That.
Cute.
H/T Tami
***
Cute video, Cats In Therapy.
H/T Hank Curmudgeon
***
Quite the one trick pony doggeh.
***
Why do dogs live such a short time? A six year old explains.
The little boy seemed to accept Belker's transition without any difficulty or confusion. We sat together for a while after Belker's Death, wondering aloud about the sad fact that dogs' lives are shorter than human lives. Shane, who had been listening quietly, piped up, "I know why." Startled, we all turned to him. What came out of his mouth next stunned me. I'd never heard a more comforting explanation. It has changed the way I try and live. He said, "People are born so that they can learn how to live a good life — like loving everybody all the time and being nice, right?" The six-year-old continued, "Well, dogs already know how to do that, so they don't have to stay for as long as we do."
***
One hell of a happy ending.
A 14-year-old Fox Terrier was reunited with her owner on Friday after she went missing 12 years ago from Florida and was found Tuesday over 1,000 miles away in Pennsylvania shivering under a shed. Humane Animal Rescue in Pittsburgh facilitated the reunion of the dog named Duchess with her owner Katheryn Strang.
***
***
MEET THE PETMORONS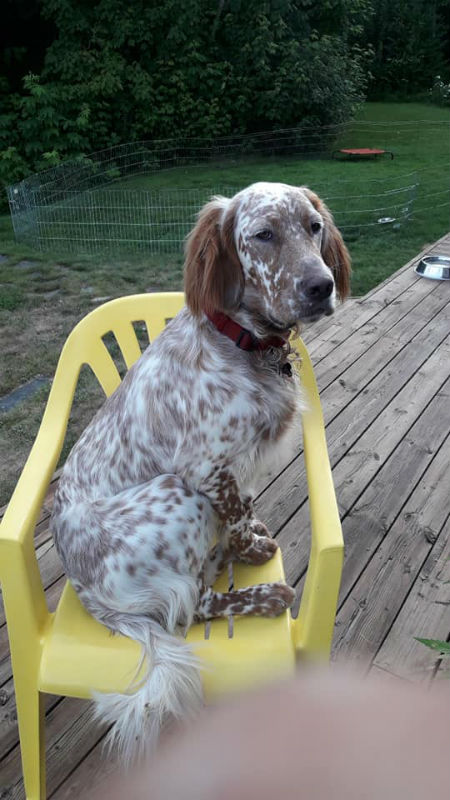 &&&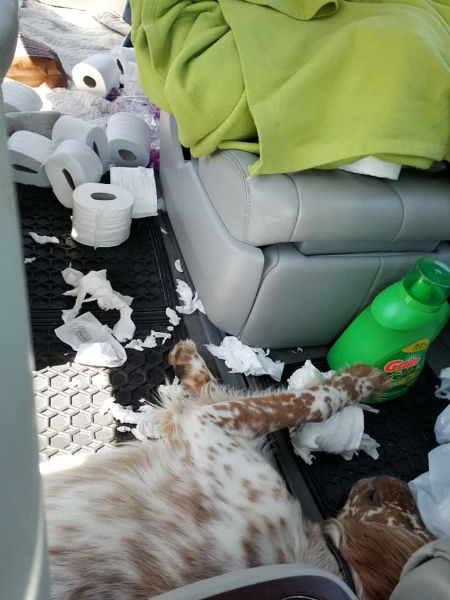 Well, lookee here! Levon the Terrible is a year old. 13 months now actually. He is just a big lovable goof, (large for an English Setter at this age) but has to be the weirdest dog we have ever had. When he awakes in the morning (often too early) he makes a continuous noise like an air raid siren until he is let out of his crate. A couple months back, we made the mistake of leaving him the van with 48 rolls of toilet paper. We hope he grows out of it. Hard to stay mad at this face though. -Thomas
Even when they are terrors, nothing is better than a Setter. OK, I'm biased. What a beautiful trouble maker. Thanks for sharing.
***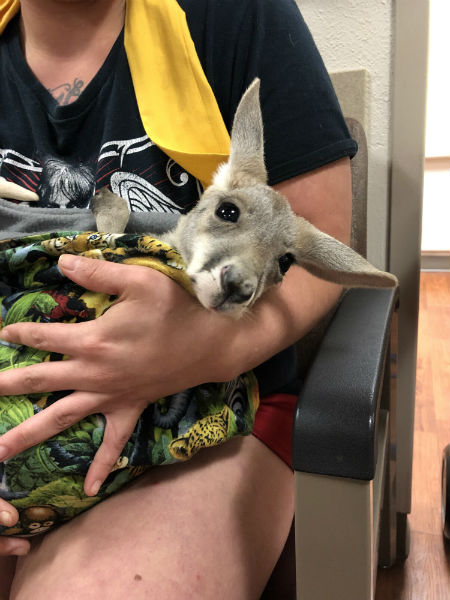 MisHum, See if anyone can identify this dog breed. Eromero
OK, I'll venture a guess. Could it be a
Border Collie
Kangaroo? So let us know exactly what we have here Eromero.
***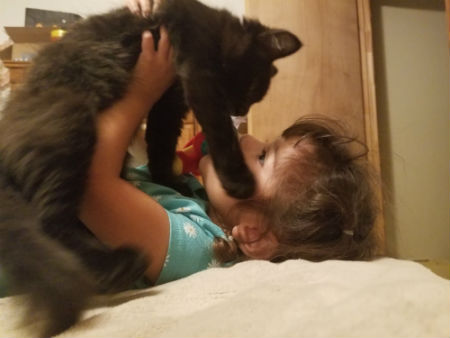 &&&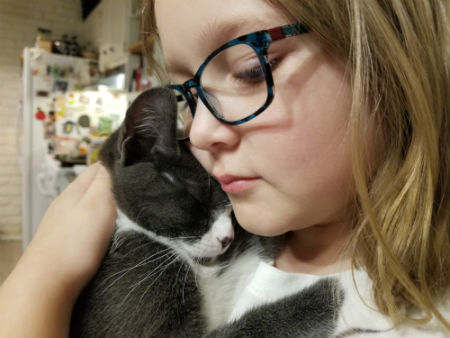 Greetings once again, Our canine overlord, The Countess Etta Hildegaard von Dusseldorf, Ruler of Upper Schnauzernia, was featured several months ago and in the interim, we have further complicated our lives by introducing 'the twins' to the Royal Menagerie. These two brothers are The Baron Wilhelm Reinhardt von Meowsensturm, Ruler of Middle Felinenbrau (the grey and white short-hair) and The Archduke Johann Heinrich von Schwartzenschnitzel, Ruler of Lower Raubkatzenbruk (the black fur ball). Neither lacks for attention or love from our daughters and both are infinitely patient with the questionable actions of their Relentlessly Adorable Toddler Subject. Long may their odoriforous litter box activities bless this kingdom! - Brian
These photos are precious. Every child should have a pet in their life, you have provided in an abundance. Thanks so much for sharing your family with us today.
***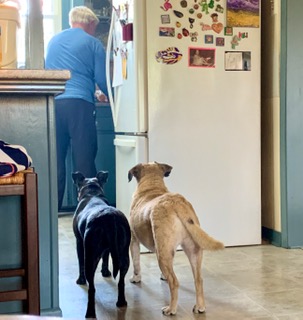 Lurker, here, when I post, it's as "Reine". I absolutely love the pet thread, and I've sent in photos of my pets. These two belong to my daughter, and they are watching as Le Roi fixes a plate of food. What you see here is pure, unadulterated HOPE that a scrap will come their way. Alas, it was not to be. The light colored pup on the right is Sam, about 9 years old with a few age-related issues creeping in. He's been with my daughter since her college days and she could not have asked for a more loyal and protective buddy. The black pup on the left is Rosie, a foundling, about a year old. She is a pit bull, and as best we have been able to determine, she was abandoned after having a litter of puppies. We are thankful she seems not to have been used as a bait dog; she is as sweet a dog as it's possible to be. She had to be treated for an infection and for heartworms, but it's all behind us now and she is healthy.
So you have a pair of barkkuum cleaners, how adorable!!!! It appears that Sam and Rosie are best buds as well as kitchen supervisors. We are happy to hear that you love the Pet Thread. Thank you.
***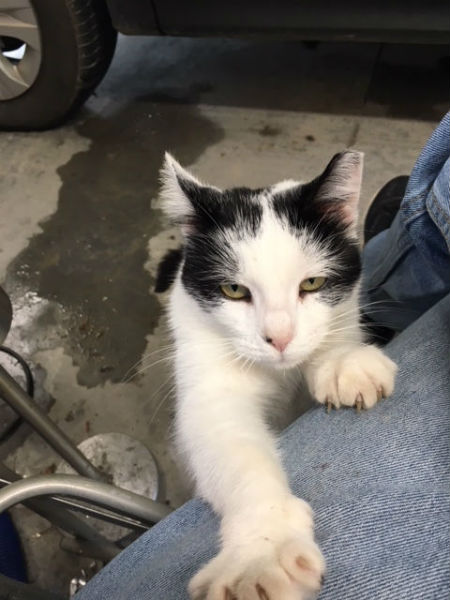 Hi Ace:
Recreant here. I've previously shared pictures and described the antics of Saki, our rice wine kitteh. This is Clipper. She and her brother came to our place this past April. Her left ear shows that she was a feral cat who was neutered (hence the name Clipper, duh). A friend who does TNR work and fosters abandoned kittens told us its not unusual for a feral cat to become domesticated, if they're caught while young or if they find a home where they're fed, cuddled and have a warm, dry place to sleep. Every feral cat has an ancestor who was domesticated. Cats are hard wired to be our companions, even though they can be standoffish at times.
The Horde have big hearts and it was quite obvious that you Recreant. Cute kitteh, here's hoping for a long and happy life as a lap cat. Thanks for sharing.
***
This is Whiskey. We got him at the rescue society. We were told he was around eighteen months old. He seems to be part chow. He's very affable. He goes nuts, running in circles around the yard -- run, run, run, LEEEEEAAAAP! He loves his squeaky toys, and he enjoys dropping them at my feet so I'll toss them for him to chase. When he's done with that game, he'll pile them all in one place and guard them. In the photo, he's lying on his hoard: you can see the dragon and part of the goose. He's got a plushy bone, a duck, and an amorphous plushy thing underneath him. He also really enjoys disemboweling the toys. The goose, the duck, and the dragon have long since gone to that squeaky toy heaven... From long time lurker, Lee Also.
Whisky sure has puppy eyes. He sure seems like a happy puppeh. We don't think that he has enough toys. You probably should get him some more. We appreciate your submission.
***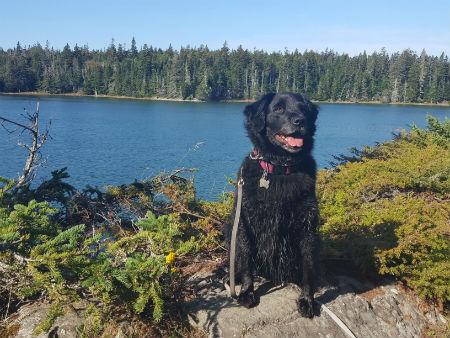 MH -
Mrs. OCiS and I sent to Acadia National Park a couple weekends ago with our Flat-coat Retriever mix Fenway. This was taken around Ship Harbor which is on the southeastern portion of Mount Desert Island. As you can see, she had an opportunity to enjoy the ocean water here. Fenway, even at 9 years old, absolutely loves climbing on rocks and boulders. Wish my knees and ankles did.

For dog lovers out there, Acadia National Park and Bar Harbor are VERY dog friendly. We stayed in a cabin at a campground that allows dogs. Many restaurants in Bar Harbor allow you to eat outside and have your (well behaved) dog at your side. The public shuttles that transport you from campgrounds to inside the park also allow dogs. The lakes and ponds within the national park don't allow dogs to swim in them as they are a public water supply. So off to the beach trails like we did.

There is lots of hiking trails for all abilities. Many many miles of carriage trails which is basically crushed stone roads that are great for bicycling, horseback riding, and walking. The Rockefeller family purchased over 1,000 acres that abuts Acadia National Park. Many trails are cross from one to the other. Best part is the Rockefeller family will allow you to walk your dog off leash on their land. Once you are back on Acadia National Park, you have to leash up.

If any 'rons want more info on Acadia, recommendations for accomodations, etc., feel free to email me at ourcountryisscrewed at the gmail dot com. Thanks MH for keeping this much anticipated weekend post alive on Ace of Spades.
--Our Country is Screwed
OCIS, I appreciate your kind words. Wow, what a gorgeous setting for Fenway's
photo. Acadia National Park sounds like a beautiful place. And a place you love. Awesome.
***
What a great group of PetMorons, Morons & Lurkers. Thanks for taking the time to submit your pet photos and stories. Also the links were great as usual. Keep up the good work. If you have something to share you can reach us at petmorons at gmail dot com. Have a great week!!!
Posted by: Misanthropic Humanitarian at
03:00 PM