Ace of Spades Pet Thread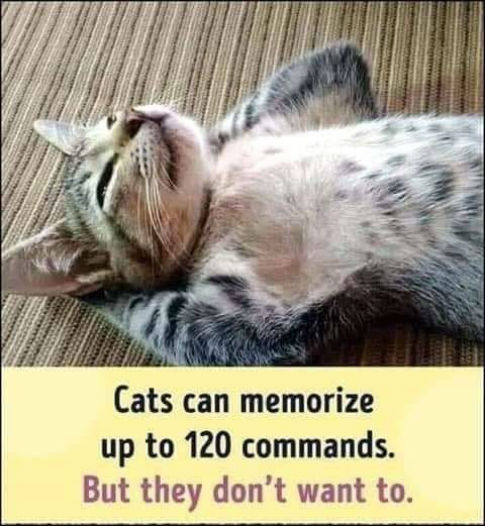 (Ace of Spades Pet Thread rates this as =
TRUE
. H/T ALH)
***
Good afternoon and welcome to the almost world famous Ace of Spades Pet Thread. We appreciate you stopping by. Kick and back and enjoy the world of pets.
***
A Little of This. A Little of That.
***
Cute although
someone has a lot of time on their hands.
H/T Tami
***
Contrary to popular belief,
cats really do bond with their humans.
***
Good doggeh..............
***
We've heard of criminal rehab programs involving dogs.
Indiana has something similar only using cats.
H/T Shibumi
***
Meet The Pet Morons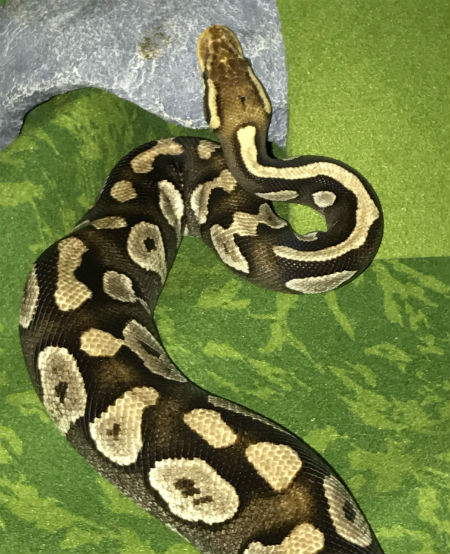 Hello! Here's a photo of my daughter's lovely Ball Python named Savannah. - Kevin
Wow, a most unusual pet. Quite colorful. I hope she's careful when she curls up on her couch. Thanks for the submission.
***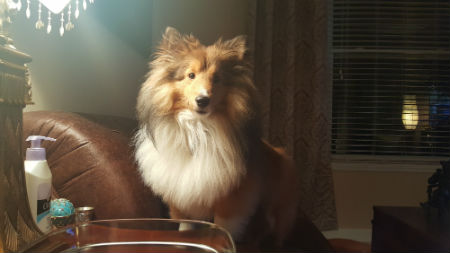 This is my Shetland Sheepdog, Pippin. He wanted popcorn but it just happened that the light falling on his face and his finally grown-up mane just looked spectacular. He is a finicky little guy who the neighbors call His Highness and the Prince but who has no dignity or common sense whatsoever. Thanks for what you do every week, I always enjoy the pet thread! - Melissa
No need to thank me. I thank you for you spending time here and also sharing Pippin's photo with us. Nice photo what a handsome guy!
***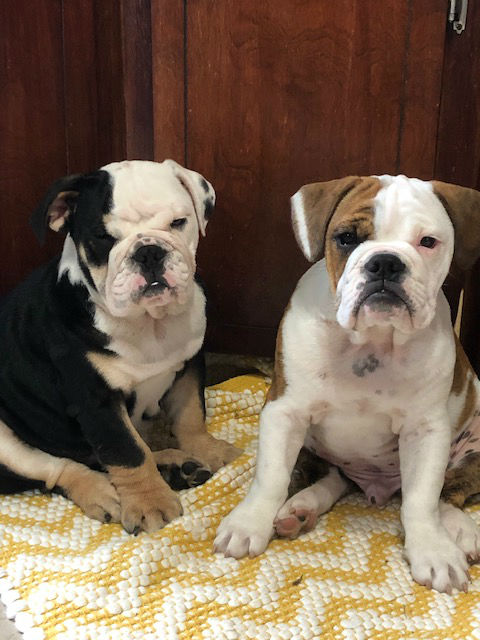 &&&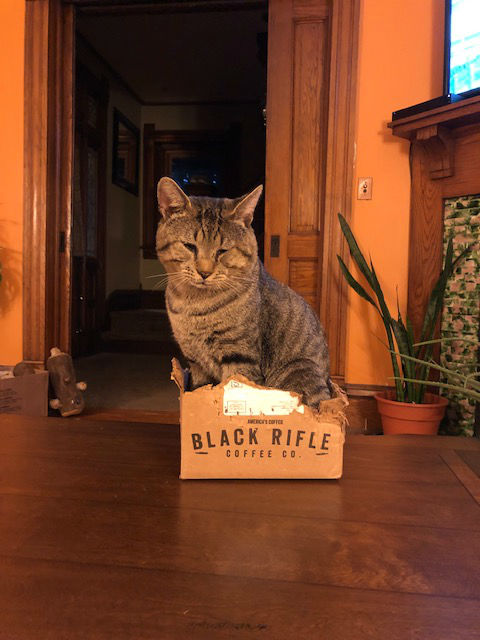 MisHum, thanks for the pet thread every week. Kinda light traffic during the summer, but I expect it will pick up when it's cold. Attached are pictures of our bulldogs, Sarge and Tank. Sarge is the brindle and white, Tank is the black and white. Tank loves the pool! They both love hiding among the hostas and the ferns. I've also included a picture of Hobo, the feral (semi-feral, now) cat. He is not typically a box sitter, so I was really amused when he chose the tiny Black Rifle Coffee Box that the dogs chewed up. Use any or all! -April
Thanks April for the words of support. And thank you for the photos. Great photos you took. You caught them at the right moment. We appreciate you submitting them.
***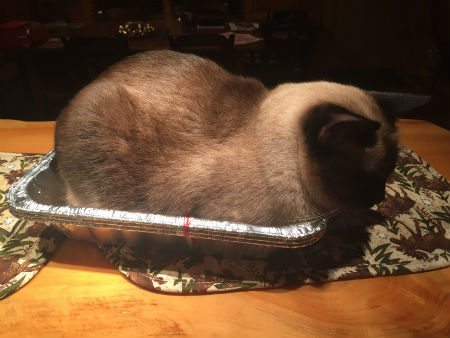 Mis Hum, RI Red here. Max was pushing his luck with the baking pans.
Hopefully you didn't bake Max. Quite the photo you captured there. Thanks for sharing!
***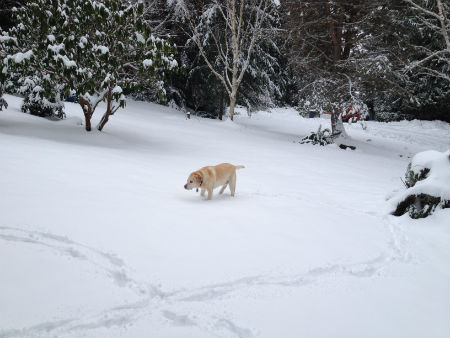 Exliberal here, mostly lurker, occasional commenter. I've shared my pictures of our cat Dexter with you, buy haven't sent you any of our Labrador Retriever, Summer. Such a good girl! She went with us everywhere, loved to boat and of course swim and fetch tennis balls. The last year of her life she was fully blind (you can see her eyes in this picture - due to a genetic disorder) but it never stopped her spirit, or a love of snorfling (dog people know what that is) in the snow or the love of going for a walk with my husband. In fact, she was so good on a leash you wouldn't have known she couldn't see unless you looked at those eyes.. Except when she smelled a raccoon, and then she wanted to charge off in to the forest, leash be damned!... But not a good idea for blind dogs. She's been gone since 2012, and we still miss her every day. She rests in our back yard, with a small plaque that says "World's Best Dog." This is making me tear up as I write… Anyway, I'm about ready for another pup, but alas the hubby says "We just got rid of the kid!" so until one comes out way, or the time is right, we wait. Just us, cat Dexter and assorted chickens. Love all the pictures, it's the favorite part of my Saturday. - Julie
You have been without a dog long enough. Tell Mr. Julie to lighten up
Some dogs memories just last forever. Thanks for sharing her story with us. Sounds like she was an amazing pooch.
***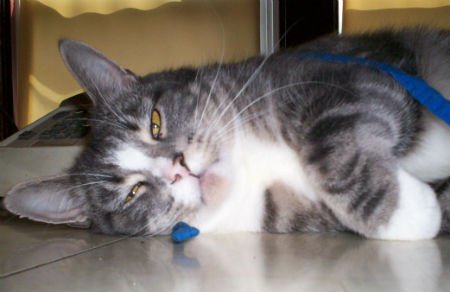 In 2004, my gf and I were bicycling on the Sugar River Trail in Wisconsin. Near the town of Monticello, this cat came out of the weeds about 50 yards ahead of me. I stopped, and he came running to me and rubbed all over my legs. He was about six months old, and gaunt as a skeleton, with shoulder blades almost piercing the skin of his back, and patches of fur missing all over. He obviously wasn't going to make it as a feral, so my gf tended him while I raced ten miles back to our car. He became one of our indoor-only foundling cats. We had him treated for numerous parasites, and he fattened up quickly. I don't think there was any cat ever so devoted to me as Cheesehead was. My gf said that when he anticipated me coming home from work, he would race around the house in excitement. When I got there, he would be waiting on the bed for me to toss him a toy out of my pocket. At age nine, he got a terrific fever, but the vet and I were able to save him from that, and he lived very happily for another year before succumbing to cancer. Toward the end I took him on leash walks outside so he could experience the outdoors again for a little while, and he relished that. - gp
Talk about being at the right time at the right place. What an amazing story of love. Every week I'm amazed at the size of Moron hearts. Sorry you lost your bud to cancer. That sucks.
***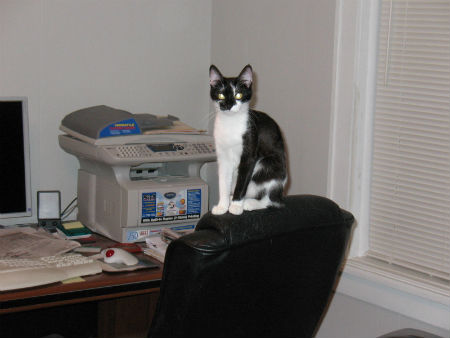 An old picture, she's now almost 12 years old now - She was a feral cat.?? Animal control trapped and took away her mother and all her litter mates while she was still a kitten.?? I started putting out food for her - never got closer to her than, say, 10 yards or so.?? I had no plans to adopt until the day I sat on the back stoop watching her eat, and she wandered over and and crawled up into my lap. - David
What a cute cat! I can see how you wound up adopting her. Quite the rescue story. Thank you for sharing.
***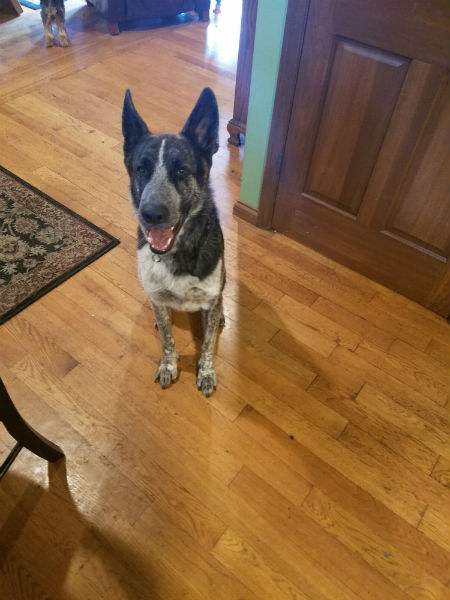 Hey there, lurker from damn near the beginning. I can't say thank you enough to Ace and all the co-bloggers for entertaining me with their witty take on things over the years. Spent the last 10min reminiscing about pudding, crossbows v.s longbows, and of course...the Kaboom Cereal post.....good times. This is Grady, who is basically a 90lbs goofball. He loves nothing more than playing at the dog park or hanging out at school with me. He'll just run from lab to lab to see how many students he can get butt scratches from. He actually is a GSD, and not mixed with a healer or such. Got so many questions I ended up getting him a DNA test to find out finally. This is like stepping into a confessional and admitting you have not repented...ever. - Uber Lurker
Feels good, doesn't it? Your confession aside Grady appears to be one happy-go-lucky
dog. Thanks for sharing, it was tough picking out today's photo.
***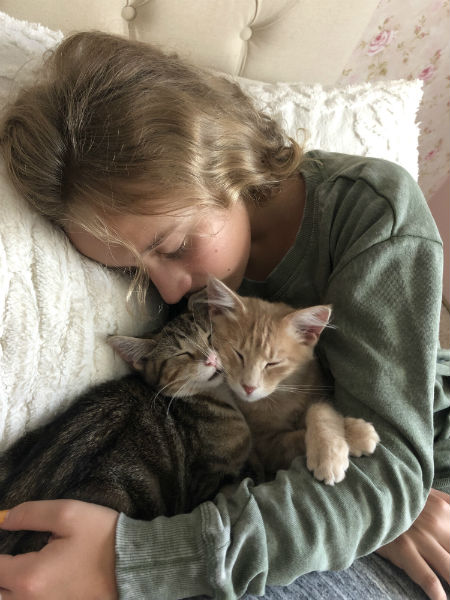 Love your thread. Here's my granddaughter with her two new kittens. They have voracious appetites but love to cuddle too - Eric
Quite the photo. I believe every child should have a pet, your granddaughter has two. Wow. We appreciate the submission.
***
The In-box was quite full this week. Thanks for submitting all of your photos and stories this past week. What a great group of pets and Morons. We didn't get around to all of the photos. So be patient we will. If you have something you wish to share, you can reach us at petmorons at gmail dot com. Have a great week!!!
Posted by: Misanthropic Humanitarian at
03:00 PM