Ace of Spades Pet Thread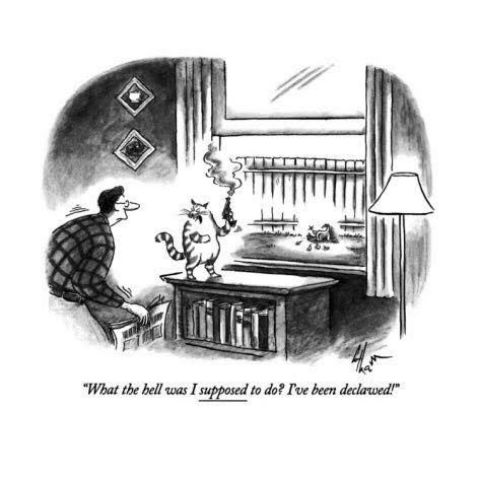 (H/T Legally Sufficient)
***
Good afternoon and welcome to the almost world famous Ace of Spades Pet Thread. So what's up this afternoon? Hope you have some time to enjoy the world of pets.
***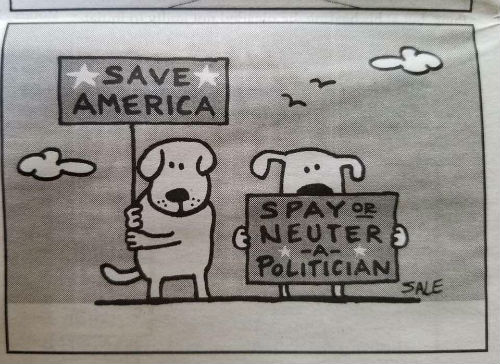 This is about as political as we get here.
***
A Little of This. A Little of That.
From our friend Shibumi,
Some wonderful photos of cats taken at the right time.
***
H/T from Hank Curmudgeon,
The Cat Whisperer.
On a winter's night in 1949 in New York City, young marketing student and budding photographer Walter Chandoha spotted a stray kitten in the snow, bundled it into his coat, and brought it home. Little did he know he had just met the muse that would determine the course of his life. Chandoha turned his lens on his new feline friend – which he named Loco – and was so inspired by the results that he started photographing kittens from a local shelter. These images marked the start of an extraordinary career that would span seven decades.
***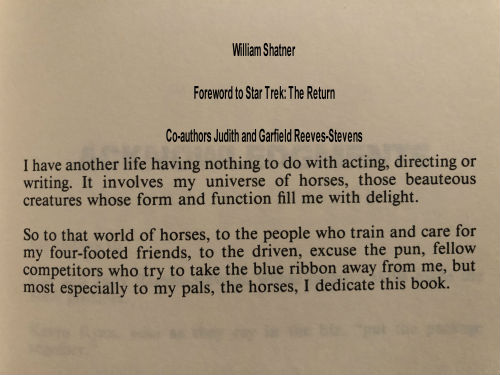 I recently stumbled across a Star Trek Book, started reading it, and was pleasantly surprised to find this foreword and a bit of information I never knew about William Shatner.
Sorry about the crappy image quality and text overlay.
Regards - Hrothgar
No apologies necessary. We appreciate you thinking about the Pet Thread.
"Who knew fish were affectionate? - Creeper" thanks for the H/T.
***
Meet The PetMorons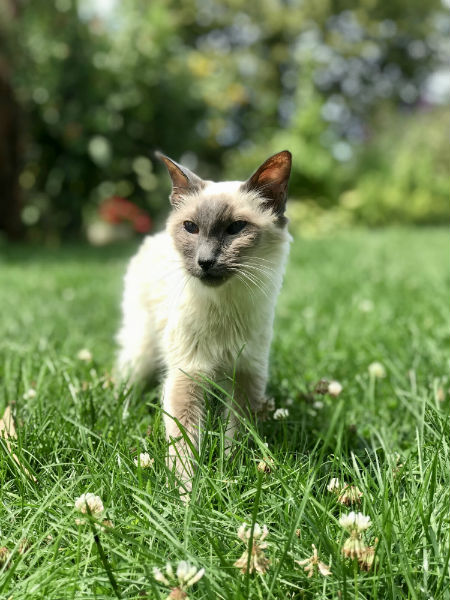 Hello! Thecommander here. You have posted Fleury's pic in the past - thank you! This pic was taken this week just before she crossed the rainbow bridge. She wanted to go outside in the worst way and I think she wanted to feel the sun on her face one last time. She went to sleep shortly after this was taken. I miss her. Best. Cat. Ever.
So sorry to hear of your loss. It's always tough to lose a pet. Hopefully this tribute will help with your grief.
***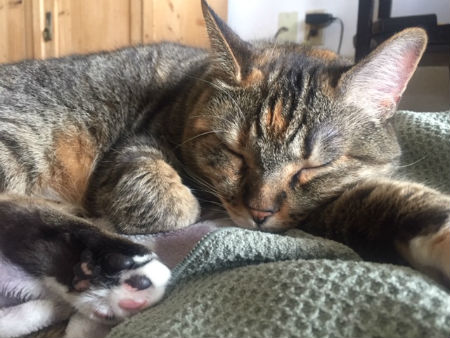 Howdy y'all. This is Lucy. She is a 7 yo rescue cat. She's doing really well since her medical scare four weeks ago. She licked some anti inflammatory gel off my knee and it darn near shut down her kidneys. Lucy was my sweet companion through surgery, chemo and radiation. She sat with me after I had a heart attack and had to be "mellow" for a couple months. Our fur friends are the best friends. I thank all y'all for the prayers for her. She's much better and has been practicing her nighttime antics and is almost back to normal. Smooches,
Nurse ratched.
That is frightening. Who would have thought a little lick of medicine would do so much harm to a feline. Glad both of you are on the mend.
***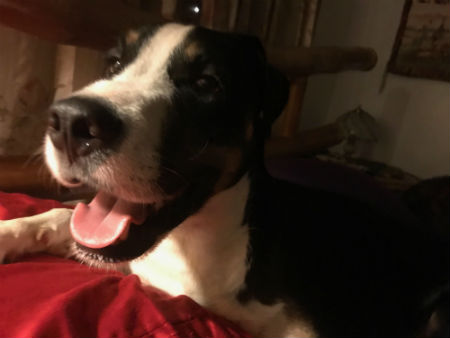 This guy has had more shots in the past few weeks than I have had in my life trying to mend his leg, he lives to run (and bark) but he is determined. - Suzanne
He looks like a happy go lucky excitable boy. Hope he is feeling better. Thanks for the submission.
***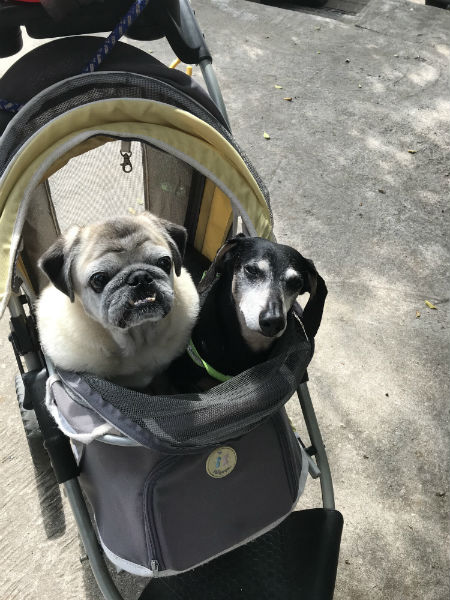 Mis Hum, Greetings once again. Publius Redux checking in from Hong Kong here. Still no PRC tanks rolling in . . . yet. And the international news makes it look as if the place is on fire and it's the zombie apocalypse, but with egg rolls and duck sauce, but I assure you it is not. That being said, protests continue and seem to be slated to go on indefinitely. Not sure how it will end - but your man in Hong Kong will keep you advised. Anyway, I thought it might be topical to show you a pic of my neighbor's dogs. Not sure if my neighbor is an honorary Moron (as my Cantonese s*cks) but in broken English he has said " Trump, very strong leader. Hong Kong like Trump. He tell Beijing to treat protesters humanely!" Anyway - for a city that you might not think is convenient for dogs, and which is super hot in summer, Hong Kongese love their dogs and, when they get old, the dogs that is, they drive them around in prams! Like these two. Yin and Yang (Yin is the dachshund, Yang is the pug - at least I think that's their names. Again, my Cantonese is almost non-existent) . Cute as buttons and on top of the world. See? They are not worried about the protests. They are two lucky dogs. Enjoy.
Pax Ex. Publius Redux
Thank you so much for checking in Publius Redux. Your email proves that the Pet Thread is almost world famous. Yes, your neighbor is a honorary Moron and his dogs honorary PetMorons. Thanks again!
***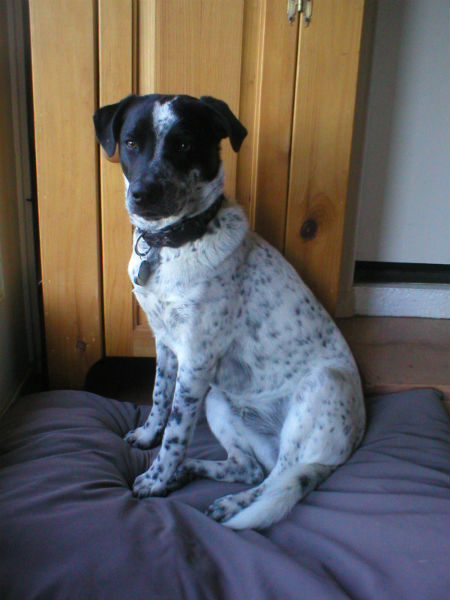 Our beloved Binny died in our bed with his Dad holding him and his mom kissing his head at 2:40 in the morning. Nine years ago we brought him home. He was just 4 months old and he had the task of filling his mom's heart because it had a giant hole left by her first dog Troopie. I thought that nothing could fill that hole but Binny knew better. He picked me as much as I picked him, He put his whole heart into being the best dog that ever lived. He was my constant companion, loyal, brave, he loved me more than anything, he not only filled the hole in my heart but made it bigger. I know people say that theirs is the best dog that ever lived but we felt that our Binny was the most loyal, brave, smart, and intuitive dog that we ever knew. He protected his mom from rattlesnakes, our neighbor from Javalina, a little dog he didn't even like from a coyote and he knew when weather was coming better than any weatherman. He was in his prime and he never let on that he was not feeling well or anything was the matter until it must have gotten so bad that he couldn't do it anymore. He stopped eating on Monday and we took him to the Vet three times that week and on Sunday when they finally took an x-ray we discovered he had a tumor in his chest that had spread throughout his lungs. He died that night.
Wee Kreek Farm Girl
What a handsome lad. Condolences on your loss. Losing a relatively young dog to cancer is
tough
sucks. Hang in there folks.
***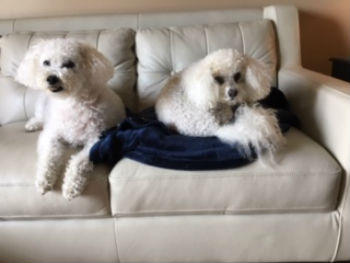 Hi to all. I love Ace and always look forward to seeing and reading the Pet Thread. Here's our current family of pets. Rufus is our 10-year-old schnoodle. He's an easygoing (I.e., lazy) little guy. Lily has been with us for almost two months. She's a Bichon who we inherited after my mom died. Lily is 12 years old, and her energy and spryness puts Rufus to shame. We chuckle at the fact that we have two small white dogs! The two get along great. Thanks for doing the Pet Thread. Mrs. SOB
First of all, condolences on your mother passing. It is great news that Rufus took to his new roommate. It appears that Lily will whip Rufus into shape. Thank you for your contribution.
***
Thank you for all the photos recently. You Morons are great. Once again, you folks demonstrate why the AoSHQ is the best site on the interwebz. If you have something you wish to share with us, please feel free to contact us at petmorons at gmail dot com. Have a great week!!!
Posted by: Misanthropic Humanitarian at
03:00 PM