The Morning Report - 6/11/19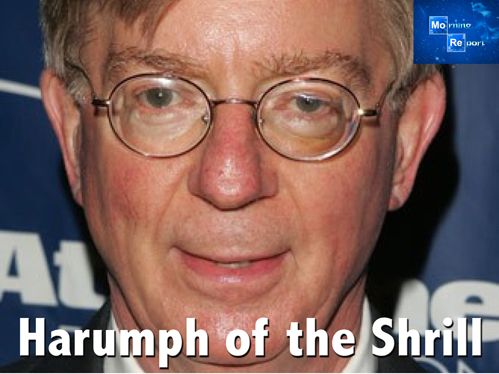 Good morning kids. Tuesday and before we get to the current chazarei, there are massive protests taking place in Hong Kong over a proposed extradition law that would allow Kongers to be shanghai-ed to the mainland for trial. The bill is wildly unpopular, yet the HK city council is ramming it through anyway (sound familiar?), as the majority of that body is pro-Chi-Com. The 1997 handing back of HK to China was predicated on a framework that allowed the city to retain a degree of political autonomy, including what is supposed to be an independent judiciary, but the so-called "one country, two systems" framework has eroded over the ensuing years to the extent that international trade and markets could be affected, as well as the diplomatic front. Stay tuned. Back over here, the President's resounding success in forcing Mexico to stop aiding and abetting the Soros/Globalist/Leftist bought-and-paid-for Central American migrant invasion force continues to make headlines. Mexico has increased ten-fold the number of troops stationed at its southern border while Secretary of State Pompeo assures us that migrant invaders will be sent back to Mexico "at full throttle." Meanwhile, we have Gavin Newsom, who heads what amounts to a failed feudal state decreeing that California taxpayers, who can't afford the government-imposed ObamaCare, will foot the bill for free healthcare for illegal aliens while shriveled-up-old-man-testicle George Will spews "immigration uber alles, you filthy lumpenproles" while proudly announcing he will vote for any Democrat in 2020 over President Trump. This man is a fraud, a stooge, a confederate. You're not a conservative, but you played one on television and in the funny papers for like 30 or 40 years. And, ironically, it took Trump to finally expose you and your ilk. As a wise man once said "LOL! Get fucked." Two other associated links in the politics section (
Conservatives, Re-Think Your Giving
and
Exiling David French's Conservatism
) that play off this sorry old prune's embarrassing display. To the ongoing Congressional Persecutions and Clinton/Obama Coup and Mueller Deception and Cover-Up we go where, if it's possible, Jerrold Nadler made even more of a jackass of himself by trotting out ageing Watergate conspirator and proven liar John Dean to testify for no reason other than attempting to compare what happened over 45 years ago to Donald Trump. It's beyond farcical but in case you were too young or, like me, you let the three networks and two newspapers write the history, you were wholly unaware of the fact that John Dean was a complete scumbag. From the second link in the section:
...The Shepard books go into great detail on the treacherous, deceitful and dissembling John Dean, who set up the criminal intelligence activities, then ran a botched coverup, and when in trouble for his perfidy, jumped ship and turned witness against his bosses, and therefore was portrayed by the Nixon haters as some kind of virtuous hero. Dean was horrified by the prospect of jail and became a liar and false accuser, never spending a day in jail...
It's pointless and a distraction to rehash Watergate, but suffice it to say that in the cold light of day, Richard Nixon at worst should have faced perhaps a censure from Congress. Donald Trump, along with the American people and the Constitution, on the other hand are the aggrieved parties today. What both have in common, as the article and its subject allude to was that Nixon and Trump were victims of plots engineered by the Deep State to take them down (albeit Nixon's cronies did break into the DNC offices and should've been and were punished for that; the rest was political retribution). In any case, the GOP members on that committee wasted little time in ripping John Dean to shreds and deflating Nadler's balloon if not his gas giant of a planet-sized man gunt. Even Democrats see that this entire stunt is backfiring hugely and, as Carter Page rightly indicates, is nothing more than a full-blown cover-up of their own crimes against Trump. To that point, as Lloyd Billingsley states in the last link vis a vis Bruce Ohr, it's time for AG Barr's prosecutor John Durham to get cracking and get with the indictments. Onward to the Democrat Scandal Sheet where despite calling for Coonman Northam to resign all those eons ago for his minstrel show proclivities, four Dems in Virginia are happy to accept his campaign lucre. One wonders if this is a bribe from the baby killer or a shakedown from the four. Also, this Neera Tanden bint what heads the so-called Center for American Progress may hate Facebook, but she sure does love its money. Typical. Civil War 2.0: An essay on the campaign to delegitimize political opponents and the toxic effect it has on the civil society. Politics: As predicted scant weeks ago by your host and cob, it looks as if the Democrat Socialists are lining up Chiquita Khruschev AOC to make a primary run at Cuck Schemer.
Considering she reportedly ran away from a real GOP challenger to her House seat Richie Valdez at the NYC Puerto Rican Day Parade
(as well as Schemer's political muscle), she and her handlers may be biting off more than they can chew, despite the oversized joke shop donkey chompers teeth. That said, the far Left Maoists are playing havoc in the House with Nancy Palsi and causing quite a public stink over impeachment. Pass the popcorn. Elsewhere, Elaine Chao is firing back at accusations of hinky finances helping hubby Cocaine Mitch, President Trump has a higher favorability rating in NYC than Bill De Bolshevik, Black candidates polling horribly in Iowa, Lefties are compiling a list of hack-in-black judicial nominees for the next Dem prexy in case Trump loses, which appears to be wish-casting as 2020 is looking more like 1996, Victor Davis Hanson looks past 2020 to see how the Dem-Media-Complex will smear Trump in the future, and finally "Paying Off the Many At the Expense of the Middle" looks at how to defeat this national popular vote cancer. First Amendment and Fake News Fakery: Joe Bidet might be a paste eating pervert but he's always been a petty thuggish tyrant, Masterpiece Cakeshop gets sued
yet again
in an attempt to wipe them out. The Left really are vicious, vindictive and Islamic in their approach, aren't they? Disgusting. Also, Google makes YouTube's breaking of its service agreement SOP in going after "wrong-think," Leftist agitprop organ Think-Progress in financial trouble, Al Jazeera targets GOP Rep Bergman for op-ed they disagree with, and the media's sweeping under the rug of the Nice-inspired DC terror truck plot. Guns: Jews. With guns! High time too. Abortion: Joe Bidet's flip-flop-flip on the Hyde Amendment has Dems and Trump smelling blood in the water (no, not like a lifeguard at a mikvah). Also, Leftist mobs target Trump aide over book that accurately describes horrors of abortion and does overturning
Roe v. Wade
really require a Constitutional amendment? This essay says yes. YMMV. Discuss. Foreign Desk: We mentioned the situation in HK. Also, SoS Pompeo says Jeremy Corbyn will rhetorically get his cake-hole shut if he continues with the Joo-hate, Farsis claim they sent an alleged US spy to have a visit with Hezbollah, should the US sell $100 billion in arms to the KSA?, US readies $2 billion in arms for Taiwan and a look at recognizing the latter to get at the Chi-Coms, Farage is PDT's only real ally in the UK, did Narendra Modi win in India because of Islamophobia?, brother of
Whoa, Fat!
working for the CIA?, and an Israeli operation still reverberates 37 years later. DEE-Fense: From commenter 2nd Amendment Texan on the problems of the US military relying on Russky rockets to deliver satellites into orbit. Good read, thanks! We-All-Slam-For-I-Slam: NY imam convicted of terrorism being deported back to Iraq, sadly not on Aerolineas Pinochet, CAIR trying to put the Muzzy-muzzle on Raymond Ibrahim at the Army War College, and this Debbie Almontaser is a dangerous piece of work. Domestic News: Colorado woman claims child welfare services "stole" her disabled son, is it too late for California?, and YIMBY vis a vis solutions to the housing crises across America. Crime and Punishment: Legalizing marijuana will only make crime worse, per this essay. Healthcare: WHO says if you're going to get ebola, you might as well lie back and enjoy it. Education: Toronto schools going full Marxist vis a vis the dress code, the roots of purging western civ from the campus and trouble brewin' at the UCLA Bruin if you talk about terrorism. Red Greens: What can't "climate change" cause? Obama flunkie sez border crisis and Pete Buttplug sez national security threats. Feminazism and Homsexualization: Johns Hopkins research indicates you aren't born a homo or a transgender freak, and the Cartoon Network is a rainbow of pornographic brainwashing. Hither and Yon: SCOTUS will not review "In G-d We Trust" challenge, Christian Toto high on Rob Schneider, gamers fight back again against SJW, and a somewhat misleading title but a good essay on the Left's fundamentalist, blinkered lizard brain. Anyway, links from around the world, across the nation and up your street. Have a better one and remain blessed. NOTE: The opinions expressed in some links may or may not reflect my own. I include them because of their relevance to the discussion of a particular issue.

AMNESTY, IMMIGRATION, MIGRANT INVASION BORDER WALL, BORDER SECURITY