Wednesday Overnight Open Thread (11/7/18 )
***
The Quotes of The Day
Quote I
The late Jennifer Lynch, QC, then head of the Canadian "Human Rights" Commission, used to talk about "balancing" free speech with other rights - and, then as now, "balancing" is code for nullifying: If your right to free speech has to be balanced with people's "feelings", then as a practical matter there is no free speech. Mark Steyn
Quote II
Again, I bear no animus toward you. I wrote not "pot-shots," but simply quoted your own words—as did hundreds of other writers and journalists who found them emblematic, as I did, of a cultural and political denseness that helps to explain the Trump victory. Your current scurrilous tweet alleging that I am a Nazi sympathizer only confirms your original unhinged posting. So not only do you write recklessly and inaccurately, but you display a certain crudity perhaps unbecoming of a CEO of a corporation. That you couch your views with an aura of self-assumed cultural superiority is really quite sad. Victor Davis Hanson
***
Cheese is good stuff. Can one improve it?
One cheese maker is attempting to do so via music.
But one cheese enthusiast in Switzerland has taken his passion to a new level. Beat Wampfler of Burgdorf, Switzerland has been playing music from the likes of Led Zeppelin to his cheese to see if this will make it taste better.
***
Pass the popcorn,
while the needles and shit are cleaned off the streets of San Francisco and billionaires duke it out.
Politicians and tech executives are split on San Francisco's Proposition C, which would impose an annual 0.175 to 0.69 percent tax on businesses with over $50 million in gross receipts and would double the city's current spending on services for the homeless. And while many have spoken out about their position ahead of Tuesday's vote—including but not limited to Twitter's Jack Dorsey, who opposes Prop C—two tech company heads are duking it out on Twitter. Mark Pincus, the billionaire founder behind American game developer Zynga, tweeted Saturday that Prop C was "the dumbest, least thought out prop ever" and instructed his followers to "get the facts and vote no." Responding to the tweet early Sunday morning, CEO of Salesforce and Prop C proponent Marc Benioff chimed in, asking Pincus to detail a plan for addressing the city's homelessness and requesting information about what Zynga, in particular, is doing for them now.
***
The Founding Fathers must be spinning in their graves.
The 2nd Amendment and the right to protect yourself really doesn't exist in Massachusetts.
(T)he First Circuit of the US Court of Appeals ruled that the right to self-defense is at its "zenith inside the home," and the right is "plainly more circumscribed" outside.
"The "core right" protected by the Second Amendment is for citizens to use arms in defense of home, the court said in its decision. "Public carriage of firearms for self-defense falls outside the perimeter of this core right."
***
The USA has been involved in Afghanistan for quite some time. It is time to evaluate our presence.
Taliban is on the offensive and productive.
The Taliban stormed yet another Afghan military base overnight, this time in the western province of Farah near the border with Iran. All but three of the border policemen manning the outpost were either killed or captured, according to reports. Farah is the fourth military base to fall to the Taliban in just the first six days of November.
***
Loud pipes save lives
Harley-Davidson to offer an electric motorcycle.
Harley-Davidson released further details on Tuesday about its forthcoming, highly anticipated electric-powered motorcycle, the LiveWire. A production model of the HD LiveWire was unveiled at the EICMA show in Milan on Tuesday. The urban-ready design includes features including seven—or more—riding modes and a fully adjustable Showa suspension, which offers extra control for city riding conditions. Riders will be able to accelerate the all-electric, aluminum frame bike with a twist of the throttle—no clutching or gear shifting necessary.
***
The NRA has sued New York state, claiming their 1st Amendment rights were being stomped on.
Their lawsuit can continue.
The NRA claims, though, that state officials did more than just enforce insurance law, or punish the NRA and the insurers for violations of the insurance law. Rather, the NRA argues, the officials tried to pressure banks and insurers who were subject to New York law (which many major banks and insurers are, since they do business in New York) to stop dealing with the NRA altogether—and that the reason for this was the NRA's politics. Today, U.S. District Court Judge Thomas A. McAvoy allowed the NRA's free speech claims to go forward (though not their other claims). Here's an excerpt from the opinion, NRA v. Cuomo, which I think is quite correct on this point:
***
We've covered men changing their sex to female to get lower auto insurance rates.
Why not change your age to meet more 'ettes?
h/t fastfreefall
Genius!!! And worth a complimentary one year Platinum Subscription.
The ONT Musical Interlude
November 7, 1974, Ted Nugent won a National Squirrel-shooting contest after picking off a squirrel at 150 yards. The heavy metal guitarist also shot dead 27 other mammals during the three day event. via thisdayinmusic.com
Do we really need a reason to play some Uncle Ted? Nah, I didn't think so. Double points for Caturday Night, amirite?
***
November 7, 1967, Reg Dwight (Elton John) and his song writing partner Bernie Taupin signed to DJM publishing, their signatures had to be witnessed by their parents because they were both under 21 years of age. Taupin answered an advertisement for a lyric writer placed in the New Musical Express, the pair have since collaborated on over 30 albums. via thisdayinmusic.com
Who has been a bad boy? You, you, you. You have been a very bad boy.
***
Blue wave!
Never heard of it.
LAS VEGAS (AP) — Nevada brothel owner and reality TV star Dennis Hof died last month but still won a heavily GOP state legislative district after fashioning himself as a Donald Trump-style Republican candidate. County officials will appoint a Republican to take Hof's place in the state Assembly. He was found dead Oct. 16 after a weekend of parties celebrating his 72nd birthday. Officials are still determining his cause of death, but they don't suspect foul play. He beat Democratic educator Lesia Romanov for Nevada's 36th Assembly District, which includes rural communities and large stretches of desert in the southern part of the state.
A new way to spell loser, Lesia.
***
There has to be an easier way to obtain money, unless you are a
Genius Award Winner.
FLINT, MI. — "It's just one of those bizarre cases," Genesee County Sheriff Robert Pickell said. He explained a woman called his office in October saying her son had been kidnapped. "She said my son is being held against his own will for ransom money and I believe he's a drug dealer," Sheriff Pickell explained to WJRT.
***
Sunday is not Dr. Rao's golf day.
Tonight's Feel Good Story of The Day.
Dr. Ramana Rao has been providing free health care services to the poor for the past 44 years through his free clinic in Bangalore, India.
***
Tonight's ONT has been brought to you by Road Signs.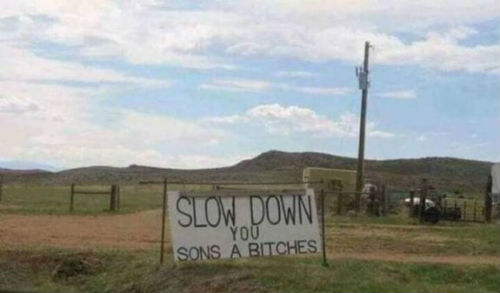 Notice: Posted with permission by the Ace Media Empire and AceCorp, LLC. Produced in an Aceville facility which uses nuts, dairy, Valu-Rite and Confectioners Glaze (Shellac).
Posted by: Misanthropic Humanitarian at
10:06 PM