Gun Thread: In the Beginning... [Weasel]
While thinking about topics for the Gun Thread it ocurred to me an article on the AR-15 would be interesting. After all, vast numbers of regular people love them, while probably just as many anti-gun wackos love to hate them. They're simultaneously called 'America's Favorite Rifle' by the NRA and gun rights advocates, while being villified and cursed as the root of all evil by nearly everyone else. What a great topic! It's edgy and relevant! I'm so smart!! Yay Weasel!
What quickly became apparent is that many, many volumes could be filled on the subject, including it's adoption and use by the military as the M-16 and the countless variants now produced by hundreds of manufacturers for the robust civilian market. The demand for aftermarket parts alone has created an entire accessories industry. So all of a sudden, this great idea started to look like a lot of work and therefore became both instantly unappealing and a thing to be avoided. How can I half-ass the gun thread for another week? Perhaps another look at the .38 Special? Well, come on down to the basement and let's see what we have in gun safe #3.
In the beginning...

1977 Colt SP1
Any discussion of the AR-15 has to begin with the Colt SP-1, and what do you know, I just happen to have one right here. This particular rifle was made in 1977 by the Colt Mfg. Co. of Hartford, CT., and while this pre-Ban rifle has a scary bayonet lug, you will note the absence of flashlights, Pez dispensers, snow tires, ipods, bipods, antennae and all manner of other goofy stuff some people like to attach to these guns. Designed by Eugene Stoner of the Armalite Corporation in 1956 and based on the AR-10, the AR-15 is a gas operated, lightweight semi-automatic rifle firing a 55 gr, .224" (5.7 mm) diameter bullet at over of 3,200 fps. Heavier bullets in the 80 gr range are available for longer-range applications in rifles with the appropriate barrel twist rate. Due to production issues and other business related problems, Armalite licensed the design to Colt in 1959. With some design changes, Colt marketed the semi-automatic version to the civilian market as the Colt AR-15, and to the military as the select fire M-16, beginning in 1964. The civilian and military versions were made on the same production line using many of the same parts.
.223 Remington vs 5.56 NATO
Ho-lee-crap is this ever the mother of all topics for Internet Gun Forum Special Tactical Ops Secret Kung-fu Ninja Commando Experts (without a girlfriend). I will tell you this:
- they are similar but not identical
- the 5.56 NATO is loaded to a higher internal pressure and has slightly different dimensions
- different ammo behaves differently in different rifles because they are different (write this down)
- there you have it
- The End
Magazine Capacity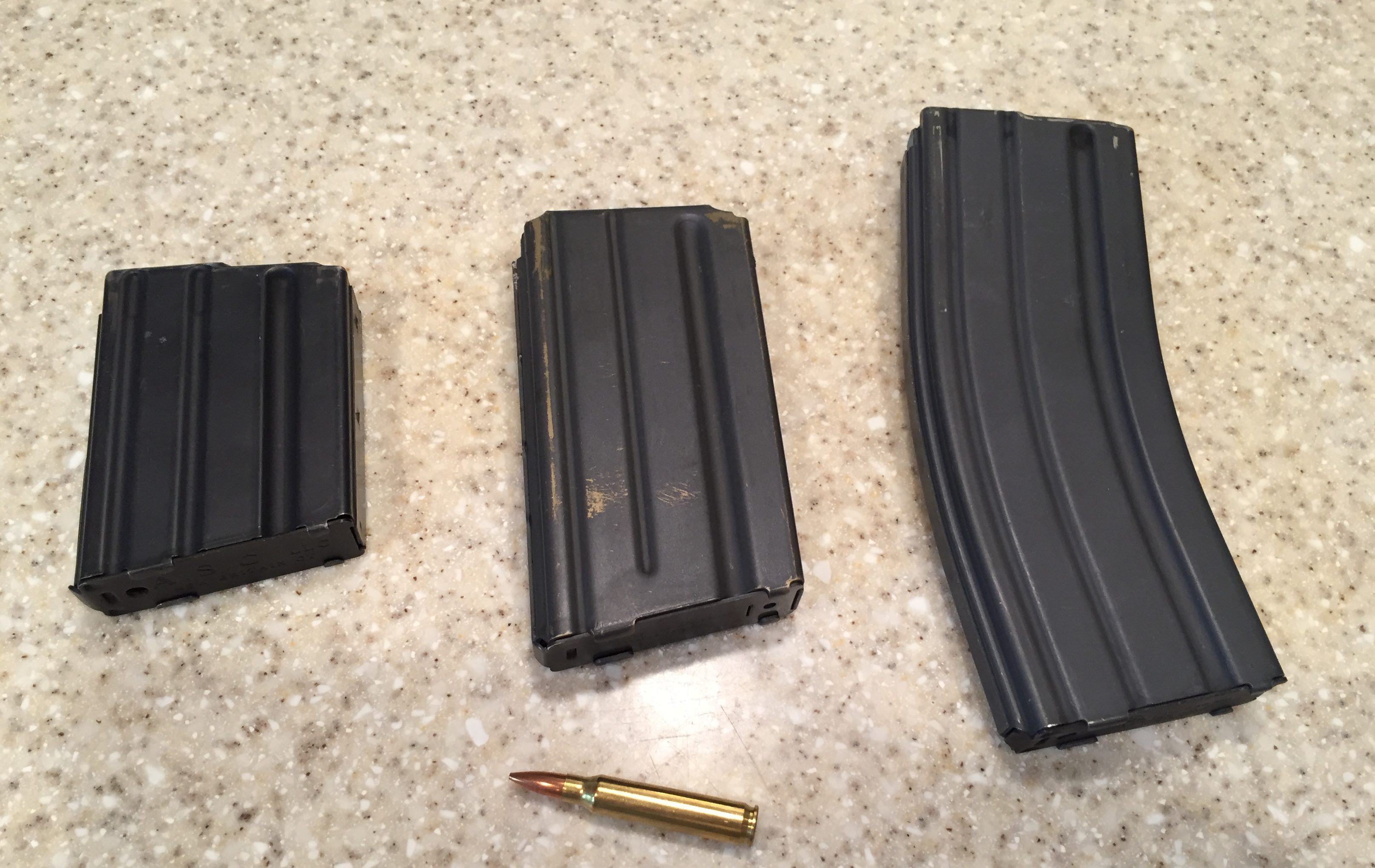 small(l) medium(c) large(r)
OK, magazine capacity is the other thing that causes heads to explode. Some states restrict the capacity of magazines which its citizens are allowed to own. While I think a restriction is retarded bullshit, I also happen to prefer and generally use the smaller capacity magazines because in my experience they feed more reliably and more importantly they don't interfere with firing from the prone position. Having said that I absolutely support the right to own high capacity magazines if for no other reason than it really pisses off the left, so I have a bunch of them.
Links:
American Rifleman Article: AR-15
Build Your Own Video
1995 Colt AR-15 Manual
***This Quiet Gun***


.300BLK courtesy lurker
This week's quiet gun is an integrally silenced AR chambered in .300BLK. How appropriate! The upper, made by Liberty Silencers, is the Leonidas model and is ear-safe when shooting outdoors. According to its owner and lurker, Mr. Thomas Needleman of 612 Crabapple Street, Lizard Lick, NV 86314, when using subsonic ammo it is so quiet you can hear the buffer spring inside the buffer tube. It's extremely reliable with accuracy very good out to 100 yds. Thanks for sending this in!!
*************
If you care to share the story of your favorite firearm, send a picture with your nic and tell us what you sadly lost in the tragic canoe accident. If you would like to remain completely anonymous, just say so. Lurkers are welcome! Email: guns at happyplacearsenal dot com That's it for this week - have you been to the range?