The Morning Report - 10/5/18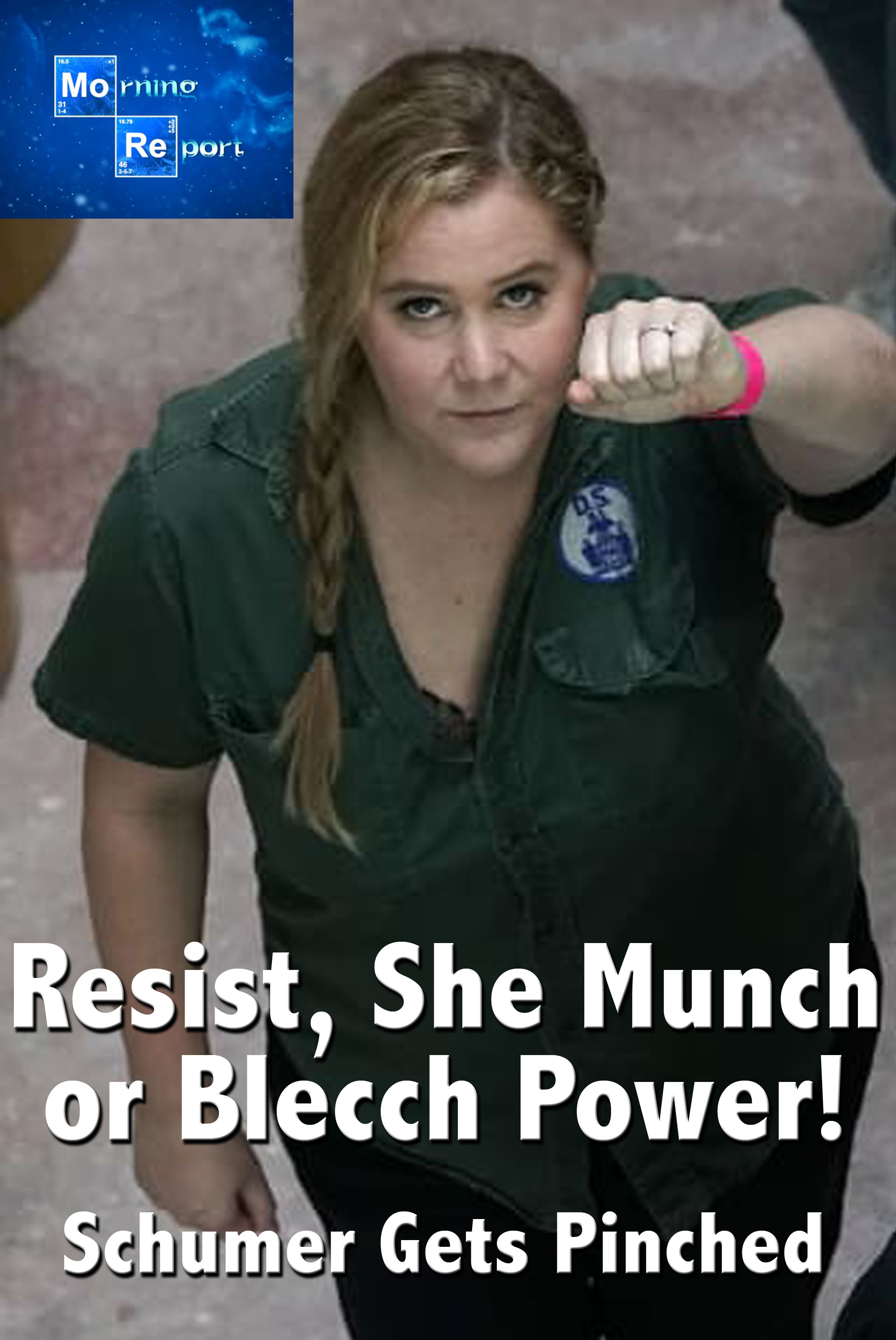 Good morning kids. The weekend is here, thank G-d, and once again I feel drained, revolted, frightened and relieved all at once. The final Democrat-demanded FBI investigation actually ended, much to their surprise, and even more surprising to them found nothing to corroborate the lies told by Christine "Bridie Murphy" Ford. So of course, in a twist of supreme irony, the Dems are ranting that the FBI is engaging in a cover-up. How soon they forget how they rushed to defend their sacred honor from the accusations of helping engineer the Russia Pee-Pee dossier to take down candidate and then President Trump. Clown nose on, clown nose off. And so it goes. We have links that delve into this final report, including Orrin Hatch dissecting Ford point by point. As to the nomination, the big-ish news that broke late yesterday was that Montana Senator Steve Daines, who is a confirmed "yes" vote, would miss Saturday's session to attend his daughter's wedding. Most if not all of you I'm sure are aware that a) the cloture vote will take place some time today, and the 30-hour clock that will commence immediately after will stop anywhere from say 10PM Saturday night to perhaps in the wee small hours of Sunday morning, b) Daines has assured McConnell that he will indeed be back in time to cast his vote (I saw somewhere that a plane is on standby for his use) and c) McConnell holds the gavel and he can call the vote any time he wants. That said, although the news appears to be that the twin Dem-Curious Dames of Doom are supposedly "yes" votes after this last FBI report, the longer the actual vote is delayed the more opportunity for all sorts of shenanigans to occur. So hold your breath and stay tuned (I know you all will). The big story for me is how this confirmation process has become the death rattle of the old Democrat Party (not that it was responsible for anything to be proud of for the past 200 odd years anyway) and the veneer of civility and respect for the rule of law, and its complete transformation and subsuming into and by a full-on bust-out Marxist neo-Maoist tyranny that is now openly fomenting political violence and the destruction of whatever vestiges of the Constitution and American principles of jurisprudence as well as comity that remain extant. And to paraphrase the great Fred Allen you can take what's left of any sense of decency the Dems may have had, place it in the navel of a fruit fly and still have room for three caraway seeds and Hillary Clinton's heart. But I digress... The long march through the institutions, primarily through academia, has given us at least three generations of American citizens at best ignorant of our heritage, culture, laws, traditions and Judeo-Christian morality and ethics and as we are witnessing openly contemptuous of it and growing violent in the extreme to any and all who defend it.
David Horowitz, who truly is a tireless defender of liberty and freedom (ironic since he was once a red-diaper baby and fellow traveler of Bill Ayers and the Weathermen) states it plainly
:
Every American should be concerned that an ideology so antithetic to everything this country has stood for should now be the conventional wisdom of half the country (including all the persecutors of Judge Kavanaugh). The U.S. Constitution does not contain the words "white," "black," "male" or "female," precisely because the Founders believed they were creating a society in which true equality would one day prevail. It took nearly two hundred years to bring about the social changes that would realize that dream.For the last fifty years, however, the left and the Democratic Party have been working hard to turn back the clock and reverse these gains - - to introduce racial and gender categories and quotas into virtually every aspect of social life, to portray white Americans as guilty before the fact, and non-white Americans as innocent even when the facts show they are not. The progressive goal is totalitarian in nature: to erase individuals, their achievements and failures and every aspect of the circumstances in which they find themselves, in order to judge them on the basis of their skin color, their gender and their sexual orientation.
Q.E.D. On the one hand, more and more young people are being suckered in by the likes of farshimmelt Commie alta-koker Bernie Sandersnista and totally hip Democrat-Socialite Loopy Ocasio-Fiasco. That is a trend that has to be addressed by dealing with the wellspring of the poison, the schools. But at the grassroots level, the media and the schools cannot hide the successes this President's policies are bringing and have brought in not quite two years, especially in contrast to what the last President's polices have wrought over the previous eight. It's tangible, to the extent that formerly solid Democrat constituent groups such as blacks and latinos are fleeing that party because they are directly and tangibly benefitting, and putting that into context of at best being taken for granted, and at worst used as political cannon fodder for well over half a century now. But the coming of the age of Trump, (which goes hand in hand with the age of Obama), as well as the salutary effect of talk radio, alternate media and the blogosphere - which in point of fact is now mainstream - has exposed the Democrat-Left for who and what they are. Not long after election night 2008, the conventional wisdom was articulated by leftist hack know-nothing John Meacham, to wit
"we are all socialists now
." Well, after getting a dose of it with the eight year Obama reign of error, America reacted on election day 2016. As frightening as the polls about young people may be vis a vis socialism et al, a majority of Americans still reject the policies of the Democrat Left. Rush Limbaugh said this yesterday and it really hit me
Do you realize, folks, 80%, if not more, of the liberal agenda that is governing the culture of this country has not passed in our Congress or legislatures? That's 80% of the destructive pop culture impulses of the American left have been forced on us by courts - - and that is why, all of this, among many other reasons, is so crucial to the Democrat Party. Because they cannot... Look at gay marriage and all these other things. None of that happened in the United States Congress via legislation. There were periphery bills on it, but most all of this stuff - - including other cultural things - - happened because judges either reject legislation to defeat this stuff or they impose their own political views, like Roe v. Wade was imposed in 1973 on the Supreme Court. And because there have not been actual votes, democratic votes on some of these key seminal issues, we are constantly roiled. The Democrats do not want votes on these issues because they've not gotten to the point where they would win them - - and if you think they would, take a look at the eight years of Obama. What did Obama do, what did he have to do to get his agenda enacted? Congressional action? No. This one was Obamacare, and that required a bunch of trickery, and there wasn't a single Republican vote for it. Obama got everything he wanted done via executive action and executive order, which is one of the reasons why Trump's had such ease repealing it.
So a majority of people in this country are forced to live in a culture that they reject and yet has not been voted on.
And that is why they are in freakout mode over Brett Kavanaugh. Putting everything else aside, the Dem leadership is both caught in as well as caught
up
in what may very well be an historical turning point in the party's history and the nation's history. Donald Trump has destroyed the media gatekeepers and is getting the message out directly to the American people. Every election cycle since 2010 has seen Democrats wiped out; in all likelihood they will suffer perhaps an even bigger wipe out next month. And with the incredible power they wield at the Supreme Court threatened to be taken away for at least a generation or more, there is no recourse but extremism. In rhetoric and deceit hurled at Brett Kavanaugh, his family and supporters, and in intimidation and physical violence to political leaders and ordinary American citizens. Whether Kavanaugh is confirmed or not, I think they and we are at a crossroads. God help us. Speaking of Kavanaugh, there was a large, loud protest at the Senate offices and one of the barricades, Amy Schumer, was arrested, Soros is organizing a massive riot/protest in case Kavanaugh is confirmed, and several great links and essays about the utter insanity of the Democrat Left and what they are now unleashing on the nation. Sliding over to politics, the Kavanaugh character assassination is looking more and more like a Wellstone millstone around the Democrats come November. Indications are that they are losing the key suburban female voters over this insanity as well as other groups described above. The President was at a rally in Minnesota and lit into Al "Groper" Franken and Keith "Pimp-Slap" Ellison, and more than likely is going to be on the road stumping for the GOP for the next few weeks as we race towards the midterms, Sheldon WHorehouse is facing a real fight in Rhode Island, Fauxcahontas and Chubby Jello-Brains love them some hot Joo-hate (your Democrat party, folks) and finally even NPR is panicking that Dem voter enthusiasm has all but evaporated. In first amendment and fake news news, Facebookers are freaking out that their veep actually sat behind Brett Kavanaugh at the hearings and he can't be fired, hell freezes over and Bret Stephens thanks PDT for standing up to the bullies, a Brooklyn College professor will probably be lynched for criticizing the Kavanaugh fiasco, and a frightening tale of what happens when the mob comes after you in Canada for just speaking the truth. Internationally, VP Pence rips the Chi-Coms and they fire back, the Chi-Coms are worried about Putin colluding with India, and the Chi-Coms are hell bent to control space both outer and cyber as the high ground for a future war. From hither and yon lots of links touching upon the cultural fallout from the Kavanaugh show trial and finally a piece laying the blame for much of the state of the court at the feet of Anthony Kennedy. Anyway, links from around the world, across the nation and up your street. Have a better one and remain blessed.