The Morning Rant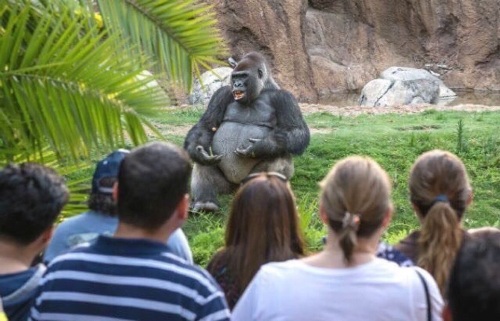 "Isn't it weird how many people say they have tapes of Trump saying or doing horrible things, but they never show you what they have? Omarosa is the latest example, she says she has audio of Trump farting in an elevator or some damn thing and I guess we're now supposed to all go running out and buy her stupid book about what a horrible man he is -- which mysteriously did not prevent her from hanging around him for years. And then there's that sleazy little shitweasel Penn Jillette who says he heard Trump say, quote, racially insensitive things, unquote. He's not going tell you what these things are, mind you, just like Omarosa hasn't released the tapes she supposedly has. We're just supposed to take their word for it. But at some point, you've just got to say: put up or shut up, bitches. In contrast to this neverending circus, there's David Daleiden, the man behind getting Planned Parenthood to admit on camera that they're chopping up aborted babies and selling the parts for profit. He's been under an unconstitutional gag order for 3 years because the National Abortion Federation got a judge with ties to Planned Parenthood to buy their bogus arguments and Daleiden has appealed to SCOTUS. He says he has more undercover footage that he says, quote, includes some of the most damning and incriminating tapes that we ever recorded, unquote. And you know what? In contrast to Omarosa and Jillette, I believe him. Nobody will have to say put up or shut up to Daleiden. If anybody had something on Trump, they would've released it by now. But if Daleiden had had a free hand, he'd have released his evidence already. As it stands, the gag order might be lifted by October -- just in time for the mid-term elections."
And Speaking of Being Released In October:


The Dumb, It Burns!

Jeffrey Toobin: "Antifa is widely perceived as an African-American organization." What, is he high?? Dumbness level: 999.975 millikohns. This close to the singularity, relativistic effects become more pronounced and space-time is warped by the sheer weight of the dumb.
NOW THIS IS JUST MEAN: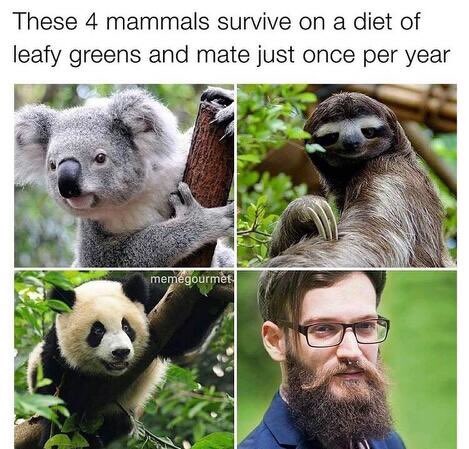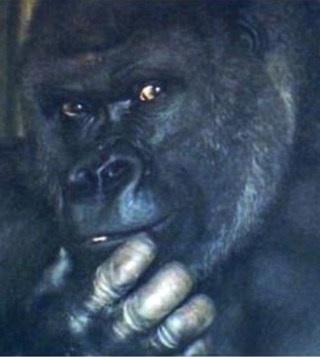 "I'd say once a year for that
guy is mighty optimistic."
I LOVE These Guerilla Theater Tactics: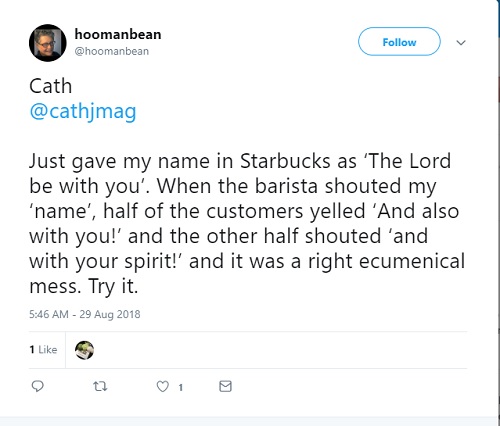 Not Buying: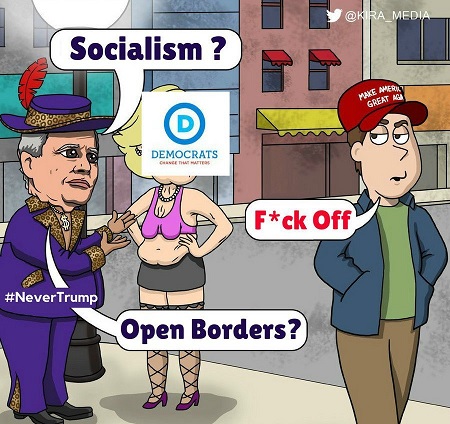 And Now, Some Good News:
Thank God For President Trump!
AoSHQ Weekly Prayer List
For submission guidelines and other relevant info, please contact FenelonSpoke, who is managing the prayer list. You can contact her at fenelon direction 18 circle 'a' gmail dot com (All one word, no spaces) If you see a prayer request posted in a thread comment, feel free to copy and paste it and e-mail it to her.
Prayers for Comfort after Death and Healing and strength for survivors: 8/1-Week Geek asked for prayers for his friends, D.V. J.V, and B.V. 19 year old Son and brother died in lake accident July 29th. 8/12-TonyPetes' father-in-law, a Korean War vet, died recently. Father-in-law had 4 sons and 1 daughter, TonyPetes' wife. Prayers for repose of his soul and comfort for survivors. 8/12-Grammie Winger, prayers for comfort and strength after recent death of her father. 8/12-Infidel, prayers for she and her family after the death of her father. New Request: 8/24-Jane D'oh's son's friend-a young Marine was murdered while in Mexico. Friend's name was E.G. Prayers for strength and comfort for E.G.'s family and friends and that murderer or murderers might be held accountable and justice might prevail. Requests for Continued Prayer: 7/24-Bitter Clinger asks for prayer for his former pastor who is recovering from a car accident in which his wife was killed. 7/24-Kemp reports that after 3 months his grandchildren are home from NICU (Thanks be to God), but will need continuing prayers for strengthening and healing as it's "a long road." He thanks people for their prayers. 7/24-AntiSocialist asks for prayers for herself for healing. Having treatments for pancreatic cancer. OK so far, but it is very scary. 7/24-WTP asks for prayers for Jake, son of a good friend, who has lymphoma and parents insurance has run out. Caring site for donations is https://tinyurl.com/yct9hvzv 7/26-Founder's MIL is having radiation treatment for glioblastoma. Prayers for she and flounder and family who are moving over so that she can sped time with beloved grandchildren. 7/26 "Dang" reports cancer has come back. Stage 4 of cancer of esophagus. Prayers for healing 7/26-Insomniac has difficult and complicated family issues. Needs prayers for himself and his children. And prayers that important relationships won't be damaged and others would not exploit situation for their gain and others loss. 7/31-Pooky's girl reports that Pooky is sleeping better, not hearing voices when sleeping due to increase in medicine, but is struggling with personal interaction. Prayers for healing and Pooky's girl asked for prayers that he move up in company so that he doesn't have to work so many hours which causes stress. 7/31-Hrothgar's sister is home but very weak and frail. Hrothgar concerned about her living arrangements (is alone) and finances connected to moving to a assisted living facility. Needs rough places made smooth fort that. ****7/31-Slapweseal caring for mom who had stoke and for dad**** Things have gotten "exponentially worse" Please continue the prayers 8/6-Miley-Asks for prayers for focus and strength to help get her mother is retirement home and brother in VA home. Prayers that she "stay sane" and "be her best self." 8/6 Lurker Phineas has inoperable advanced prostrate cancer, Asked for prayers to bear effects of hormone and radiation treatment, wisdom for doctors, peace for children and that he might live long enough to comment his memory with granddaughters ages 2 &4. Prayers for successful treatment 8/6-Beverly, Has dad dealing with senility. Waiting for legal ruling by judge on emergency conservatorship for dad's assets. May rough places be made smooth. Beverly needs courage, strength, and God's wisdom. Brother needs spiritual healing and conversion, too. 8/15-Aelfheld's friend in rehabilitation needs continued prayers for regaining strength and mobility. 8/15 CountryBoy had a heart attack while in doctor's office and was taken immediately to ICU. Is home now. Needs prayers for strength, healing and recovery. 8/15 SteveOReno- Son has Bipolar 1. Was doing o.k managing illness. but then abused drugs and had an overdose. Son is living with parents now. Please pray that he gets clean, manage bipolar and can keep his job and please "pray for his parents too." (Fenelon's note). 8/17 Laughing in Tx-Wife had biopsies, Has cancer. One lymph node has abnormal cells. Will need to wait a few weeks to see the extent of things. Continuing prayers for wisdom for doctors and healing for LIT's dear wife *8/20-Moki's daughter has had bad white counts and gamma globulin. Is starting school again. Please pray for positive resolution for medical issues, wisdom for doctors, healing, and strength. New requests for healing, God's presence, strength and peace: 8/22 NorthernLurker-Prayers for his friend Pat who has surgery for cancer and whose wife died the next day. Cancer of Pat is terminal. Also prayers for his friend Karen who has terminal cancer. 8/23-ElvenPhoenix-Father, J.S. has heart disease, diabetes and end stage renal failure. Also, prayers for Mother to get through this season of her life with strength, grace and dignity. Continued prayers needed for healing from cancer and other issues: 8/27-Buzzion's friend is attempting to get custody of ex-husband's sister's daughter from foster home which no longer wanted her. Friend is dealing with "flaky foster parent and difficulties of family court." May rough places be made smooth so Buzzion's friend can bring girl to loving home. August 29-Fox 2! reports that his brother is out of the hospital and in rehab. Working on a number of issues both chronic and acute. Thanks horde for their prayers. Please continue to keep in prayers for healing: Sumdumchief, John, Dave@BuffaloRoam, Grannysaurus Rex, Lurking Curate, and Mr Feverhead. All of these posters have significant health concerns, and Mr. Feverhead is trying to work his way though a divorce with best results for children, as well as dealing with cancer treatments. Job related prayers: Donna&&&& looking for a job. Votermom's friend Karen needs a new and better job. 7/24- Calm Mentor . Needs job. Very successful in inside and outside sales but hasn't been able to find work in his field. Lives in Northern Georgia. Any leads on jobs can be put in this thread or when he is on the board. ******** For information on his situation and to give donations Gofundme site is https://tinyurl.com/y7zac66o. He thanks everyone for their generosity and prayers. 7/26-Red1c4IRL reports that his wife, DeDe, who works in pharmacy field lost job because of internal, unsupportive office politics, Red asked for prayers for strength and stability in search and that search for job would be short and productive.

****Please note; For purposes of length I am trying to keep the prayer list to approximately five weeks. We will continue to pray for earlier concerns.If you would like a situation to be placed back on the prayer list, have any updates or praise reports, please notify me at: FenelonDirection18 (at sign) gmail.com, I cannot be on all the threads. Thanks, and thanks for being prayer warriors!
Posted by: OregonMuse at
11:12 AM
MuNuvians
MeeNuvians
Polls! Polls! Polls!
Frequently Asked Questions
The (Almost) Complete Paul Anka Integrity Kick
Top Top Tens
Greatest Hitjobs
News/Chat