The Morning Rant: J.V. Edition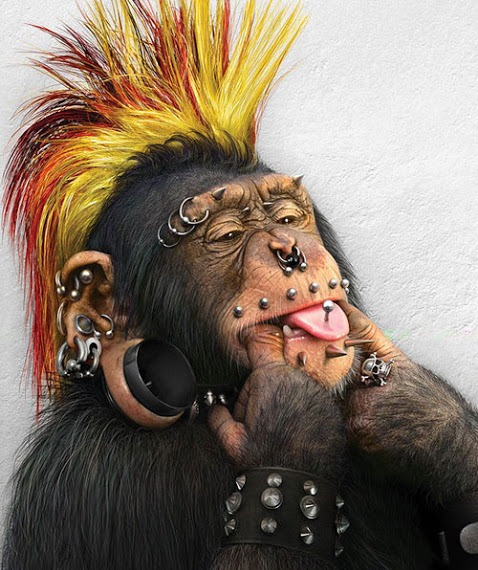 Humans are really, really cruel and mean sometimes. Why didn't they just throw some poo at this guy and call it a day?
Arizona Cop Acquitted for Killing Man Crawling Down Hotel Hallway While Begging for His Life
You want a rant? I'll give you a rant. This is murder, and no amount of obfuscation or sucking up to the cops (I'm looking at you Patterico) will change the facts. Sure, you can break it down frame by frame and contort and massage your way to a conclusion that maybe, just maybe, the cops had a tiny window during which it wasn't perfectly, 100% clear that all they had was a dumb drunk on their hands who was terrified and who was also horribly confused by their psychotic, pulling-the-wings-off-flies behavior, and even more insane instructions. The fact is that policing in America is broken, and this case is a perfect example of it. We have morphed from the idea that policemen are our friends and neighbors and are there to help, into some dystopian nightmare where rogue cops get to do pretty much whatever they want and then get away with it. And why do they get away with it? Because the thin blue line protects them. That line usually includes the prosecutors, who need the cops to lie about evidence and lie on the stand and lie to judges about warrants, so that Mr. Prosecutor gets a promotion and a ticket to the state capital or a cushy private sector job. And in return? He tanks murder prosecutions against the cops. And the so-called "honest cops," who supposedly make up 99.9% of the police in America? Bullshit. They are crooks too. Because every time they turn their backs on the criminality of one of their fellow officers they are breaking the law. The shooter had "You're Fvcked" etched on the dust cover of his rifle. As far as I am concerned: QED...murder. And I am sick and tired of hearing about how the lives of our police officers are so damned important. I don't see firemen hanging out outside of burning buildings until everything is safe. A lot of those guys run into burning buildings to save people...because that's the job, and that's the risk they signed up for. Cops also signed up for similar risks. Civilian lives are more important than cop lives. Sorry, but that's the reality. If you don't want to take the risk, then don't become a cop. Become a tree-trimmer or a cab driver or a construction worker or a lumberjack. But wait...those occupations are MORE dangerous than being a cop. I have seen out-of-control cops behave exactly this way, even here in my little slice of suburbia. An asshole buzz-cutted iron-pumping cop screwing with some poor soccer mom who is late to pick up her kids from school, or a bunch of idiot drunk teenagers? Wow...real tough. How about you take a little jaunt to Afghanistan and cower in your piss and shit while real men fight real bad guys and still have the time and humanity to care for the weak and the defenseless. But you won't do that, because they don't make nearly the money that you do as a wannabe tough-guy who is just itching to shoot someone, and deep down inside you know that you aren't the real man you want to be...You aren't tough...you're just a bully. And now a murderer. And just in case you might think that I am furious simply because this is a white victim, take a look at
this video of the Walter Scott Murder.
It's just as bad. At least he's going to jail, to the surprise of everyone involved, most of all him and his buddies.
******
Shocking as it may seem, we may be getting a raw deal from our Republican overlords.
Hooray, concealed carry reciprocity? Not so fast
. Yeah, I know, I'm just as surprised as you are.
******
What kind of a sick fvck thought of this. Come clean....it was obviously a Moron.
******
L.A. Speed Check