Saturday Gardening Thread: Wild Things [KT]
Well, OK, it's not a tornado, a hurricane or blizzard, but I thought this photo was representative of damage from the recent Atmospheric River that hit the West Coast. I have been on this road in the summer. This is McKinley Grove Road, 7.5 miles above Dinky Creek Bridge. Excepting fire-related weather events, this is about the wildest kind of weather we have had in Central California lately. Has weather affected your gardening or other activities this week? Problems anticipated in the coming week?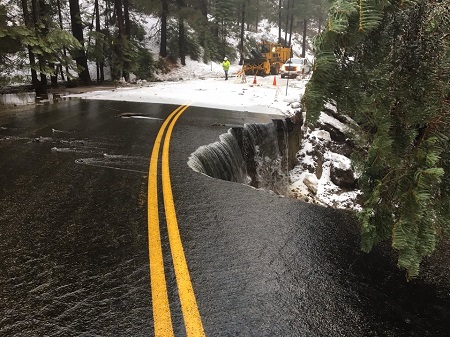 Due to technical difficulties, we do not have as many of Kindltot's wildflower photos as I had planned. But we can adjust. We can also discuss some other wild things. UPDATE: More photos added.
Wild Birds and other critters
Have you ever wondered how little birds that don't migrate make it through brutal winter weather? Here are some insights.
Are you doing anything different to help birds or other wildllife make it through particularly awful winter weather? Seen any wild critters lately? I heard a hummingbird yesterday. Didn't see it. Seemed too early.
More Wild Flowers of Oregon
Here are some great photos from Kindltot, and some interesting facts about the flowers. Here's Kindltot:
Oregon has a lot of lilies. They are very prolific and some of them were a staple food for the local Indians. A few of them are like the Tiger Lilly - which I can't find my pics of - and are the standard lily type flower, but the smaller ones that aren't the standard Easter Lilly shape are very pretty. The Lamb's tongue (fawn lily or Erythronium oregonum) has two mottled base leaves that are supposed to mimic a lamb's tongue (hey, I'm just passing on traditional lore here) and bobs around on it's stalk. It is found all through Western Oregon and Washington.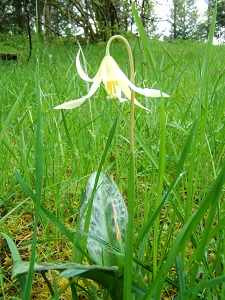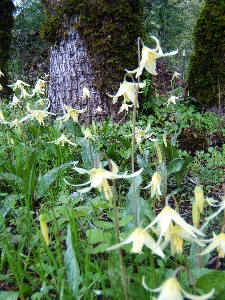 There is a variant called the Pink fawn lily which is found on the ocean side of the coast range. The next two pics are from the Rice Museum West of Hillsboro. The Rice family were amateur geologists and also liked to plant wildflowers. When they died they donated the house and the collection to be a museum. It is a gorgeous place. There appears to be some hybridization going on here.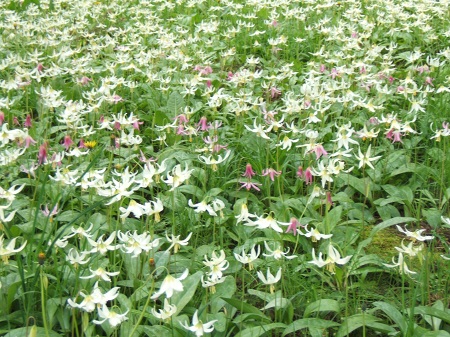 Wildflowers and rocks, too! Mr. Bar-the-door would love that museum. He has been doing some rockhounding lately. Nice that they feature wildflowers, too. Maybe we should visit.
Most of the lilies are spread by birds, and need to be either stratified or, apparently, passed through the alimentary canal of a bird to germinate.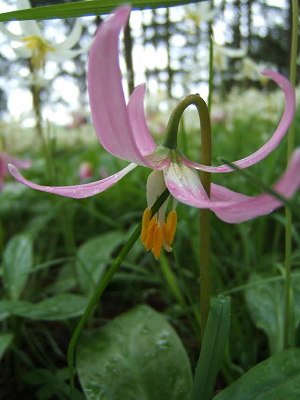 My friend had a small section of brush that she wanted to be more of a lawn under some oaks where she had feeders. I mowed it the first year in late summer and to my surprise the next year the lamb's tongues came up even thicker without the competition. For the years I spent up there I was surprised that the property had so many wildflowers, and realized that the farmer who ran cattle on the property only ran them in the late summer when the ground was hard and their hooves wouldn't tear up the banks where he drove. I think that was the secret there, and I am looking for an excuse to not mow my yard until late July, but I doubt "wildflower cultivation" would be accepted as why my yard is 5 feet deep in grass.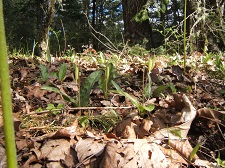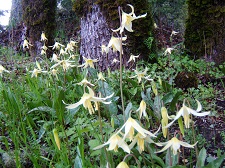 There are several species of Erythonium native to North America. They are also known as trout lily, dog's-tooth violet or adder's tongue. I like both the flowers and the plants. Wouldn't mind giving up some lawn for them, if I had a lawn.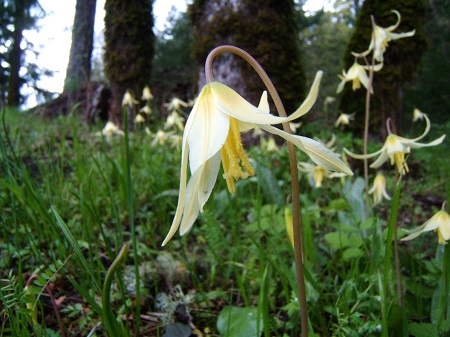 My books tell me that the pink fawn lily was used as a sometimes food source for coastal Indians, but the real food source for the Indians in this area was the Camas lily, Camassia quamash . .
Check back for the Camas lily in a future episode.
Gardens of the Horde
You probably don't remember when I reported on planting
Baby Broccoli 'Artwork'
in pots last spring. It was advertised as "bolt-resistant". That was an understatement, at least in terms of bolting in hot weather. I left one pot after buds had shriveled some, just to see when it would bolt. It did not bolt over summer! It started forming new buds and just recently started to bolt. Maybe this one is programmed to bolt in cold weather. Buds were tastier than in our hot spring weather, and very tender. Flowers taste pretty good raw, in moderation. You might try a few plants when they appear in stores if your spring weather is more moderate than ours. Anything going on in your garden? Repairs in the yard from weather damage? Hope your week goes well.