Sunday Morning Book Thread 04-10-2016: Honest Graft [OregonMuse]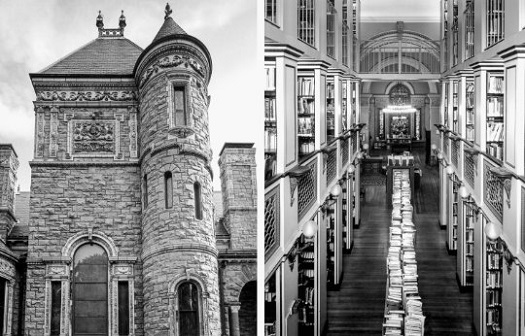 Millicent Library, Fairhaven, Massachusetts
Good morning to all of you morons and moronettes and bartenders everywhere and all the ships at sea. And to all you young lovers wherever you are, we hope your problems are few. Welcome to AoSHQ's stately, prestigious, internationally acclaimed and high-class Sunday Morning Book Thread. The Sunday Morning Book Thread is the only AoSHQ thread that is so hoity-toity, pants are required. And when I type up the book thread, my pinkies remain elevated the whole time, that's how classy it is.

"Books are the liberated spirits of men, and should be bestowed in a heaven of light and grace and harmonious color and sumptuous comfort, like this, instead of in the customary kind of public library, with its depressing austerities and severities of form and furniture and decoration. A public library is the most enduring of memorials…. All other things which I have seen today must pass away and be forgotten; but there will still be a Millicent Library when by the mutations of language the books that are in it now will speak in a lost tongue to your posterity."
--Mark Twain, in an 1894 letter, wherein he called the Fairhaven library "ideal"
Sad Puppies IV: The Embiggening
Larry Correia has announced that he won't be involved with SP this year, so, according to
the Sad Puppies IV web page
, the mantle was taken up by
Kate "the Impaler" Paulk
,
Sarah Hoyt
, the Beautiful But Evil Space Princess, and the Redhead of Doom,
Amanda Green
. Here is
the list
they've compiled from submitted recommendations from readers. Here it is in
spreadsheet form
. And the social-justice-wanker crowd's reaction is getting more and more over-the-top hysterical. This is what Irene Gallo, art director for
Tor/Forge Books
said about the Puppies *last* year:
"There are two extreme right-wing to neo-nazi groups, called the Sad Puppies and the Rabid Puppies respectively, that are calling for the end of social justice in science fiction and fantasy. They are unrepentantly racist, sexist and homophobic. A noisy few but they've been able to gather some Gamergate folks around them and elect a slate of bad-to-reprehensible works on this year's Hugo ballot."
You will never see a more wretched hive of scum and villainy as that statement. It's the Mos Eisley cantina of dishonesty and lies. Author Eric Flint, no conservative he, devoted a blog post to
fisking it
, it was so disgusting.
Free Audio Book
And while we're on the subject of Sad Puppies, a new one from
the Evil Lord of Evil Himself
is scheduled for release next month.
The Adventures of Tom Stranger, Interdimensional Insurance Agent
will be available on May 24th. Here is what you need to know: 1. This is an audio book
2. It is narrated by actor and conservative favorite
Adam Baldwin
3. If you pre-order it now, you can get it for FREE
4.
Here is the link
And here's a taste:
Rifts happen, so you should be ready when universes collide. A policy with Stranger & Stranger can cover all of your interdimensional insurance needs. Rated "Number One in Customer Satisfaction" for three years running, no claim is too big or too weird for Tom Stranger to handle.


But now Tom faces his greatest challenge yet. Despite being assigned the wrong – and woefully inadequate – intern, Tom must still provide quality customer service to multiple alternate Earths, all while battling tentacle monsters, legions of the damned, an evil call center in Nebraska, and his archnemesis, Jeff Conundrum. Armed with his Combat Wombat and a sense of fair play, can Tom survive? And will Jimmy the Intern ever discover his inner insurance agent?

It's time to kick ass and adjust claims.
Don't know if there will eventually be an ebook version. I would assume so, but I couldn't find any information on it.
The Nazi Occult Library
Nazi a-hole Heinrich Himmler was supposedly really into the occult. So much so that he built up a uuuge library of occult books.
Which has been found
:
A rare library of books on witches and the occult that was assembled by Nazi SS chief Heinrich Himmler in the war has been discovered in the Czech Republic.


The books - part of a 13,000-strong collection - were found in a depot of the National Library of Czech Republic near Prague which has not been accessed since the 1950s.
Raiders of the Lost Arc depicted this as a Nazi search for some occult object of unimaginable power that they could use as a military weapon, but the reality is far more prosaic:
Himmler was obsessed with the occult and mysticism, believing the hocus-pocus books held the key to Ayran supremacy in the world.

The bulk of the collection was called the 'Witches Library' and concentrated on witches and their persecution in medieval Germany.
So, he was just looking for some sort of primeval "Aryan" religion to supplant Christianity. Not the Necronomicon, then. No doorways to unnatural dimensions where the geometry is all wrong, and nobody getting their face melted off. No supernatural weapon. Dang. That might have been useful. I figure what our country needs most of all right now is a visit from the Great Old Ones, I mean, why should we be supporting the LESSER of two evils? We should go all-in on this. We need to wipe the slate clean. We need to counter the seductive allure of the Sweet Meteor of Death (SMOD) campaign with our own Great Old Ones (GOO) Party. SMOD vs. GOO. Whoever wins, we lose. Like that
Simpsons spoof on the 1996 elections
where Clinton and Dole were kidnapped and replaced by interstellar ne'er-do-wells
Kang and Kodos
. You know, if that actually happened right now, I probably wouldn't object. (I've always gotten a kick out of K & K. They look like octopuses stuffed inside an
old school vacuum tube
.)
Moron Recommendations
A couple of weeks ago, moron commenter 'MarkW' recommended
The Proud Tower; a Portrait of the World Before the War, 1890-1914
by historian Barbara Tuchman. Why? Because
[i]t's a fascinating history of a period when the ruling class was completely out of touch with the common people because of changes in technology and demographics, and also refused to heed signs of unrest such as suicidal terrorist attacks, shootings and bombings. There was one assassination too many, though. The result was WWI...
Let's see, out of touch leaders, rapid technological advancement, terrorist attacks, changing demographics, what other age does this remind me of, hmmm, wait, don't tell me, it's right on the tip of my tongue...
___________
Moron commenter Hillbillyking recommends
Barry Eisler's novels featuring John Rain
, a half-Japanese, half-American assassin-for-hire, who specializes in making his kills look like natural causes. The first in the series is
A Clean Kill in Tokyo
:
[T]he aftermath of an otherwise routine hit on a government bureaucrat brings Rain to the attention of two men he knows from the old days in Vietnam: a friend who's now a Tokyo cop and an enemy who betrayed Rain long ago and is now the CIA's station chief in Japan. Like the gangster who hired Rain to kill Yasuhiro Kawamura, they want something the dead man had--a computer disk containing proof of high-level corruption, information that could destroy Japan's ruling political coalition. The search for the disk leads them to a woman Rain has come to love, a talented young jazz musician who also happens to be Kawamura's daughter. In this taut, brilliantly paced debut thriller, set in a vividly rendered Tokyo, the author manages an unlikely feat; he earns the reader's sympathy and concern for his protagonist, an amoral assassin who is one of most compelling characters in recent crime fiction.
The Kindle edition is $4.99 Hillbillyking especially likes the latest in the series,
The God's Eye View
, which he calls "a stark portrayal of what could be going on behind the scenes with the NSA":
NSA director Theodore Anders has a simple goal: collect every phone call, email, and keystroke tapped on the Internet. He knows unlimited surveillance is the only way to keep America safe.

Evelyn Gallagher doesn't care much about any of that. She just wants to keep her head down and manage the NSA's camera network and facial recognition program so she can afford private school for her deaf son, Dash.

But when Evelyn discovers the existence of an NSA program code-named God's Eye, and connects it with the mysterious deaths of a string of journalists and whistle-blowers, her doubts put her and Dash in the crosshairs of a pair of government assassins.
The disturbing part is that there are probably government officials even now who believe as this fictitious NSA director does.
___________
Hey, ever hear about the
New Jersey shark attacks of 1916
?
[They] were a series of shark attacks along the coast of New Jersey, in the United States, between July 1 and July 12, 1916, in which four people were killed and one injured. Since 1916, scholars have debated which shark species was responsible and the number of animals involved, with the great white shark and the bull shark most frequently cited. The incidents occurred during a deadly summer heat wave and polio epidemic in the Northeastern United States that drove thousands of people to the seaside resorts of the Jersey Shore.
Moron in good standing Mary Poppins' Practically Perfect Piercing recommends two books on the subject,
Close to Shore: The Terrifying Shark Attacks of 1916
by Michael Capuzzo and
Smile, You Son of a...
, ha ha, no, actually it's
Twelve Days of Terror: A Definitive Investigation of the 1916 New Jersey Shark Attacks
by Richard G. Fernicola Author Peter Benchley denied the Jersey shore attacks were the inspiration for his 1974 novel
Jaws
. Which still costs $11.99 on Amazon for the Kindle edition.
___________
And speaking of MP
4
, earlier this week, I opined that perhaps our country would function better if we simply allowed some low-level bribery, and were upfront about it. MP
4
's response was this book,
Plunkitt of Tammany Hall: A Series of Very Plain Talks on Very Practical Politics
by George Washington Plunkitt, an old-school Tammany Hall machine politician who was active at the beginning of the 20th century. His ruthlessly pragmatic talks on How Civil Governments Should Do Stuff established him as kind of a low-rent
Machiavelli
for the modern world. He is famous for arguing for a distinction between "honest" and "dishonest" graft, and by "graft", I think he means "using your political position to channel public funds to yourself." So what, exactly, is the difference between the two?
Plunkitt's wiki page
explains:
For dishonest graft, one works solely for one's own interests. For honest graft, one pursues, at the same time, the interests of one's party, state, and person.

He made most of his money through the purchase of land that he knew would be needed for public projects. He would buy such parcels and then resell them at an inflated price. (This was "honest graft." "Dishonest graft," according to Plunkitt, would be buying land and then using influence to have a project built on it.)
Actually, even with the explanation, I'm not seeing much of a distinction between the two. There seems to be a (for lack of a better word) temporal element here. That is, if the project is already going to happen, then it is all right for a politician to
climb on board the gravy train
contribute to it in such a way that he personally profits from it. But you can't start one yourself, and start paying yourself from it. Now *that* would be wrong. At least, that's what I think he's saying. Does that make sense? Probably Plunkitt's most famous quote is, "I seen my opportunities and I took 'em", which is as good an explanation of his ethical system as any. Wiki also says:
Plunkitt was also a thoroughgoing party man, believing in appointments, patronage, spoils, and all of the practices curtailed by the civil service law. He saw such practices as both the rewards and cause of patriotism. He hated the civil service system and believed it would be the downfall of the entire governmental system.
Heh. After the various scandals involving bloated and corrupt government service agencies, I'm tempted to agree with Plunkett on this. Plunkitt's book is only a buck ninety-nine on Kindle.
Books by Morons
I got to read an advance copy of moron lurker Joe Courtemanche's debut novel
Assault on Saint Agnes
. When I first loaded it on my tablet, it was like 11PM and I thought I'd read a page or two to get a feel for it. Well, next thing I knew, it was 12:30AM and I was 20 chapters into it and I had to force myself to put it down, otherwise I'd have been up all night. So yeah, it's a page-turner:
When terrorists assault Saint Agnes Church in Saint Paul, Minnesota, they expect to find a congregation of lambs: they get Bobby Kurtz instead. An unrepentant Cold Warrior, Kurtz destroys the terror cell with violent finality. Against his will, Kurtz is pulled back into the life he left behind decades before. He reluctantly picks up the burden of hunting the terrorists in our midst. He risks his life, and his marriage, in a single-minded pursuit of victory over evil.
The author is eminently qualified to write about Islamic terrorism:
Joseph Courtemanche is a former Police Officer and Middle East/North Africa analyst. He is a distinguished veteran of the Naval Security Group of the United States Navy, and an Arabic Linguist with training at the University of Minnesota and the Defense Language Institute (Honors Graduate)
You can purchase Assault on St. Agnes at the above link, or it is available for pre-order
on Kindle
.
___________
About a year ago
, I heard from a moronette who wanted help for her son, Zeppy Chang, to help get his book self-published, and to clean up the editing issues that were a problem in his book,
Dungeons and Diamonds: Press Start
. Mr. Cheng appreciated the help he received, and for the past year, he has been writing like a hyperactive demon monkey. He has since published 4 more SF-F novels, and I don't know how he finds the time to play the video games or watch the anime that serve as his inspiration. I'll just list the titles:
Binary Seven
Power Trip: The journey of a card-playing hero
War on the Rolling Plains
Armed, Cute, and Dangerous
The prices range from 99 cents to $2.99.
___________
Moronette 'votermom' is putting together a list of moron authors over on the Goodreads site which is intended to be accessible to non-members.
Here is the list she has compiled so far
. Let her know if there's an author she's missing.
___________
Don't forget the AoSHQ reading group on Goodreads. It's meant to support horde writers and to talk about the great books that come up on the book thread. It's called AoSHQ Moron Horde and the link to it is here:
https://www.goodreads.com/group/show/175335-aoshq-moron-horde
.
___________
So that's all for this week. As always, book thread tips, suggestions, bribes, rumors, threats, and insults may be sent to OregonMuse, Proprietor, AoSHQ Book Thread, at the book thread e-mail address: aoshqbookthread, followed by the 'at' sign, and then 'G' mail, and then dot cee oh emm. What have you all been reading this week? Hopefully something good, because, as you all know, life is too short to be reading lousy books.