The Art of Saying "Nice Doggie" Until You Find a Rock [Weirddave]
At the recommendation of Zakn, I've been listening to Dan Carlin's Hardcore History podcast on WWI. It's excellent, I highly recommend it ( if you have 20 hours to listen to an in depth examination of the war ). Anyhow, listening to the podcast, I was struck by an urge to play ( or in this case run ), another game of Diplomacy. Wiki has a full rundown of how the game works here, but these are the basics.
What is Diplomacy?
Diplomacy is a board game that dates back to the late 1950s. Even though it is nominally set in 1901, it depicts the seven great powers of Europe on the eve of WWI. Seven players represent England, France, Germany, Italy, Austria-Hungary, Turkey and Russia. What makes Diplomacy unique is that there is absolutely no element of chance. No dice are rolled, no cards are drawn. The players negotiate amongst themselves (by email) before each turn, and each player submits orders to the GM by a certain deadline. All of the unit moves are adjudicated simultaneously.
The Map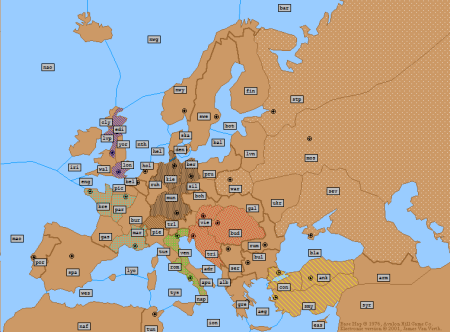 From Wiki:
The board is a map of 1914 Europe plus portions of the Middle East and North Africa. It is divided into fifty-six land regions and nineteen sea regions. Forty-two of the land regions are divided among the seven Great Powers of the game: Austria-Hungary, England, France, Germany, Italy, Russia, and Turkey.[9] The remaining fourteen land regions are neutral at the start of the game.
Thirty-four of the land regions contain "supply centers", corresponding to major centers of government, industry or commerce (e.g. Vienna and Rome); twenty-two of these are located within the Great Powers and are referred to as "home" supply centers. The remaining twelve are located in provinces which are neutral at the start of the game. The number of supply centers a player controls determines the total number of armies and fleets a player may have on the board, and as players gain and lose control of different centers, they may build (raise) or must remove (disband) units accordingly.
Units
There are only two units in the game, armies and fleets. Only armies can occupy land tiles, only fleets can occupy sea tiles. Coastal tiles can be occupied by either armies or fleets. Units have 3 possible moves each turn. They can move to an adjacent tile, they can hold in place, or they can support another unit moving or holding (as long as the supporting unit can legally move to the tile that is being supported. An army can't support a fleet moving into a sea tile, for example). A fourth move, "convoy" is available to Fleets in sea tiles, allowing them to transport an army from a coastal tile across the sea to another coastal tile. Convoys can also move across any number of sea tiles
in one turn
as long as there are fleets in all of the intervening tiles and they all order convoy that turn. (The most elegant endgame possible is convoying an army from Syria to St. Petersburg, capturing the 18th supply center needed for the win). "Combat" is decided in favor of the unit with the greatest numerical total of moves plus supports into a tile. Equal results "bounce" and all the units stay in their original place. A losing unit is "dislodged" and must retreat to an adjacent tile or disband. (Please note "MOVEMENT IN CERTAIN UNUSUAL POSITIONS ON THE BOARD" from the Diplomacy rules
here
for the very few special cases on the map)
Turns
There are 3 turns per game year, spring, fall and winter.  Spring and fall turns have 2 phases, the movement phase and the resolution phase. All orders are adjudicated in the movement phase, and then players are notified if they have units that have been dislodged, they must retreat or disband in the resolution phase. In the winter turn, players may build new units on a home supply center if they have captured additional supply centers, they must disband units if they have lost supply centers. First player to control 18 SCs in a winter turn wins.
Negotiation
Obviously, no one player can decide on their own to fight everybody, the countries are too evenly matched. The game is played by email. Each player will give me an email to use that I will provide to all of the other players (privately, not here). The game would start, say, Sunday night. Monday and Tuesday the players can negotiate with each other, singly or in groups, it's quite up to the individuals involved (England "Hey France, why don't you support my fleet from Lon to Eng, and I'll support your army from Mar to Spa", etc). All parties submit orders to me by Tuesday midnight, I'll adjudicate Wednesday morning. Retreats are due by Wed night, then negotiate again with Fall orders due Friday midnight. Saturday would be fall retreats and Sunday winter builds/disbands. After each round I'll mail results and updated maps to all players.
Movement
Lets look at the map again, this time with all of the starting units in place: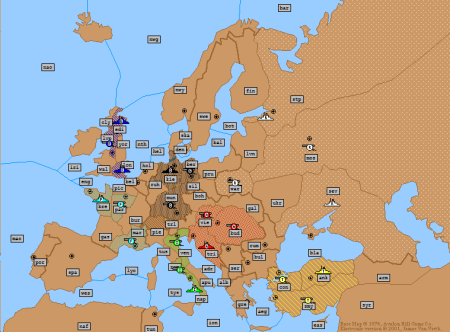 I'm not going to do moves for everybody, but this should illustrate the concept: Russia
A War to Gal
F Sev to Bla
A Mos to War
F Stp to Bot Turkey
F Ank to Bla
A Con to Bul
A Smy to Con Austria-Hungary
A Vie to Gal
A Bud S A Vie to Gal
F Tri to Ser Those orders resolve like this:
Austria:
A Budapest Supports A Vienna - Galicia
F Trieste - Serbia (*Fails*) - Because a fleet can't move to a land tile
A Vienna - Galicia Russia:
A Moscow - Warsaw (*Fails*) - Because the Warsaw army was unsuccessful in moving to Galicia
F Sevastopol - Black Sea (*Bounce*)
F St Petersburg(sc) - Gulf of Bothnia
A Warsaw - Galicia (*Fails*) - Because Austria supported it's army from Vienna to Galicia Turkey:
F Ankara - Black Sea (*Bounce*)
A Constantinople - Bulgaria
A Smyrna - Constantinople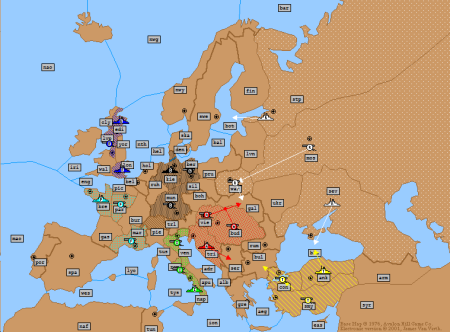 And give the following result: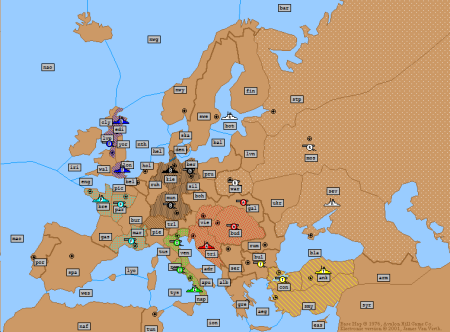 If this map held for the fall turn (assume nobody moved), then Turkey would be able to build an army or a fleet in Smyrna during the winter turn because it now occupies the supply center in Bulgaria, giving it a total of 4 SCs which would support 4 units.
Stabbing
The art of this game is to work with another player(s) until it becomes advantageous not to, at which point you stab them in the back. You don't have to stab, two or more players could play the whole game in concert, but everyone must be aware of the possibility. ANYTHING goes. France could swear on it's dead mother's grave to help Germany attack Italy and instead support Russia into German territory. Austria could work with Turkey for years and then slip in behind overextended Turkish units in concert with Russia. It doesn't matter, and "He lied to me!" is never a defense. Suck it up, this is the big leagues, European domination is at stake. Those are the basics. So who wants to play? If you're interested, chime in here and send me an email to AceDiplomacy@gmail.com. When I have 7 players, I'll assign countries and set up a game schedule. A couple of things: #1 You don't have to have experience to play
#2 Don't commit if you aren't willing to keep at it. I'm envisioning one game year per week, with delays, it'll take us a couple of months to finish the game.
#3 Don't expect to win. Most games end in a DIAS (deal involving all survivors), just like in real life. Germany didn't disappear when it lost WWI, after all.
#4 Don't get into this if you can't stand to lose. Players who you thought were allies will stab you to their advantage. You can't take it personally.
#5 You say you've played Risk? Diplomacy is to Risk as MLB is to T-ball I've played in and GMed dozens of Diplomacy games in the past, and it's always been a ton of fun for those involved. Ace doesn't think a weekly thread would have a wide enough interest to be worth doing, but every once in a while I'll post a weekend thread updating the game. It's a tough game. I've only won a solo victory once (And that was in a Chaos variant.(What I've described above is the basic game. Variants take the basic game and change it. Different maps, different units, etc, there are thousands of them. Chaos involves the same map and rules, but 34 players each start with one home SC and 1 unit. I was Holland and I worked together with St. Petersburg the entire game until I pulled off a beautiful 4 SC stab to get me to 18. I'm kinda proud of that one.) ). OK, that's it. It's 1914. The lamps are going out all across Europe. We shall not see them lit again in our lifetime, but if you're smart enough and ruthless enough, maybe it won't matter because they'll all belong to you. Who wants to play?
ETA
: The maps aren't that clear when shrunk down to fit this screen. Here is a large map with all of the provinces clearly marked.
Map