Saturday Gardening Thread: Down and Dirty [Y-not and KT]
PLEASE KEEP THIS THREAD FREE OF POLITICS. THANKS. Y-NOT
Y-not
: Good afternoon, gardening morons and moronettes! Spring is here!
Seems like the past week has really accelerated signs of Spring here in Kentucky (and also in Alabama and Tennessee, where we were during part of last week). Daffodils are up (and past, actually) and many flowering trees are doing their thing.
Last Fall I shared some pictures I took at Cheekwood
, a fine botanical garden (and art museum) in Nashville. Looks like I need to get down there again soon to catch the tulips in bloom:
What's blooming where you are this week? In honor of the mudslinging in this year's GOP primary, I thought we'd talk a little bit about dirt. Some of you may be getting ready for the new season by starting some plants in pots or simply setting up container gardens. Here's a link to an article in
Fine Gardening
about potting soil that may by of some use to you. I thought this was interesting:
Soilless potting mixes are relatively free of living organisms, but mixes made with soil or compost are not. Some gardeners talk about "sterilizing" their potting mixes by baking them in the oven to rid the soil of harmful organisms, limiting the hazards of damping-off and other diseases. What I hope they mean is that they "pasteurize" their mixes. Heating homemade potting mixes to sterilizing temperatures wipes out all living things, beneficial and detrimental, leaving a clean slate for possible invasion of pathogens and causing nutritional problems such as ammonia toxicity. Pasteurization, which occurs at lower temperatures, kills only a fraction of the organisms. The best way to pasteurize your soil is to put it in a baking pan with a potato embedded in the soil. Bake it at 350 deg F for about 45 minutes. When the potato is cooked, the potting mix is ready.
Hmmm, sounds like something CBD might want to include in the Sunday Food Thread... Or
not
! If you are starting plants from seed,
Fine Gardening
also has some advice on how to ensure success. Or you might find this article at
Mother Earth News
helpful. I doubt I'll be able to do much more than some container gardening this year as we are still trying to get settled into our new digs. (SWIDT?) Speaking of soil, here's a problem many of us have probably encountered in our gardens:
In our last home, our neighbor's sprinklers were set to run too long, resulting in a somewhat spongy section in our lawn. Have any of you had similar problems?
Better Homes and Gardens
has advice on how to deal with poorly drained areas. This article from
The Sensible Gardener
might also be of help.
So the two most important issues pertaining to lawn drainage are soil permeability and yard topography. Consider where the water is coming from and how it travels on your yard. If a fair percentage of the water actually trickles down from elsewhere (your roof, your driveway, for instance) and ends up on your yard, then you need to find a way to divert the excess water, possibly using drains. If the rain falls directly on your yard and just sits there, then there are a few options. You could work on the nature of your soil and the topography of your yard, as explained below. You could also consider installing drains. If the problem is not too major, you could simply get wet plants or create a rain garden.
Alternatively,
just go with it
!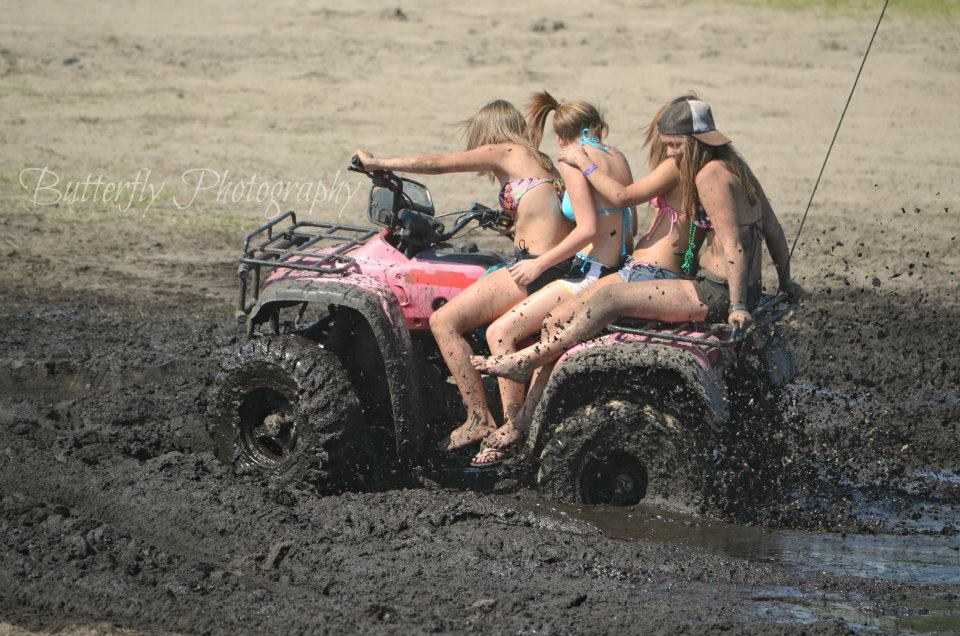 Now,
heeeere's
KT
! We have had some great spring-like days this week, sometimes briefly at the edge of "hot" for a couple of hours in the afternoon. Have you had good gardening weather? My remaining turnips, planted in the fall, are blossoming now. Nice for the bees, and I have been eating some of the blossoms, too. Mr. Bar-the-Door is not much into eating flowers. I sometimes wonder if there are any Morons out there who secretly feast on tasty edible flowers when there are no women around. The purple kohlrabi planted at the same time as the turnips is still sweet and mild, though a little firmer than it was earlier in the season. It is "Kolibri", a hybrid that gets good reviews. There are a couple of green cultivars that have an edge on earliness, or maybe a slight edge on flavor, but the purple ones are much more striking. Members of The Horde in cooler climates may be able to get a spring crop in. Generally, it is better to pick spring-planted kohlrabi smaller than kohlrabi that matures in cool fall or winter weather. I think they are the most carefree members of the cabbage family to grow (at least in terms of insect vulnerability). Have you ever tried growing it? Anybody grown one of the giant ones? We usually eat kohlrabi raw, but a cookbook author at
Rural Intelligence
was inspired to substitute it for potatoes to make oven fries. "So the other day, I'm staring this beautiful bunch of kohlrabi in the face, or, rather, in the weird UFO-like purple tendons . . . "
Hope Gardens,
a garden how-to site, provides additional recipes: kohlrabi roasted, on crostini, in Indian cuisine, etc.
I am late with spring planting this year. Long story. Wouldn't be a very successful farmer right now. Hope some of you are doing better with your planting schedules. The celebrated Iowahawk has long been interested in farming, but since he moved from a Chicago high-rise to
El Rancho de Hawko,
it seems like he has begun paying a little more attention to yard and garden topics. Feeling a little stressed lately?
And it looks like his wife has been out enjoying the garden, too! Is the women's high jump also a Zen thing?
The Royal Azalea In
last week's thread
we discussed hellebores, based on a comment the previous week by JQ Flyover. We will be bringing up other topics from recent comments in future weeks. Remind me if we don't get to yours. This week, I thought it would be nice to ID the delicately-colored pink azalea that JQ's grandmother called a "Korean Azalea". I am pretty sure that it is the Royal Azalea, AKA Rhododendron schlippenbachii. We have seen some gorgeous azaleas in
past threads.
But the Royal Azalea is different from most of them. This azalea is notable because it will thrive in less-acid soil that most azaleas. It is quite hardy. The flowers are fragrant and the leaves have nice fall color. The flowers emerge at about the same time as the leaves. JQ says that the leaves also have a minty-peppery fragrance if bruised. She advises us that the plant is kind of leggy. I prefer to think, "open and airy". The majority of azaleas now grown in gardens are hybrids. But the Royal Azalea is still grown as the species. It is even grown from seed, particularly for bonsai. You can
order seeds
using the AoSHQ Amazon link.
But don't try this at home unless you are willing to
baby the seedlings.
"The seeds of Royal Azalea are extremely tiny. Wear your glasses and don't breath while handling. Sow indoors. . . For best results, please follow the instructions in the order provided." The page linked above also includes good information on how and where to plant this azalea, plus some interesting information on where the species came from:
This species was introduced to the west when it was discovered in Korea in 1854 by a Russian naval officer, Baron von Schlippenbach, for whom it is named. Its natural range extends from Korea into bordering parts of Manchuria and Russia. It is one of the commonest shrubs in Korea, being the dominant undergrowth plant in some forests. During June, these areas are transformed into vast drifts of pink.
In their natural habitat, the plants are bigger than most garden azalea plants. They can grow to 15 feet under some conditions. Their leaves make me think "Rhododendron" rather than "Azalea". But then, all azaleas are actually rhododendrons. The natural color range of the Royal Azalea is white to pale pink to rose pink. The white ones are called by a different name than the pink ones in Korea. I think the pink ones are delightful.
Louis the Plant Geek
grows this azalea in his garden and warns that the plant is sometimes subject to die-back after several years, a branch at a time. So if JQ wants to keep her grandmother's clone going for future generations, she might want to start some cuttings.
Y-not
: Thanks, KT! Let's wrap things up with a song...
What's happening in YOUR gardens this week?
PLEASE USE THE THREAD BELOW THIS ONE FOR POLITICS AND OTHER CHAT. THANKS.