Sunday Morning Book Thread 10-04-2015: The Children of Santayana [OregonMuse]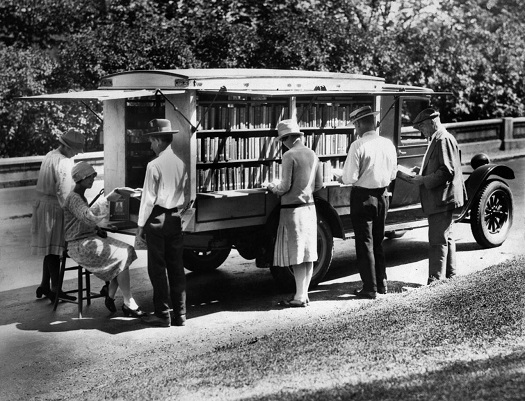 First Bookmobile In Cincinnati, 1927
Good morning to all of you morons and moronettes and bartenders everywhere and all the ships at sea. Welcome to AoSHQ's stately, prestigious, internationally acclaimed and high-class Sunday Morning Book Thread. The Sunday Morning Book Thread is the only AoSHQ thread that is so hoity-toity, pants are required. Or kilts. Also, assless chaps don't count. Serious you guys. Kilts are OK, though. But not tutus. Unless you're a girl.
People who say they don't have time to read simply don't want to.
-Julie Rugg
History On The Cheap
"Those who do not remember the past are condemned to repeat it." - George Santayana
So Amazon keeps popping up a bunch of these 99-cent history books as suggested reads for me. There seems to be an almost infinite number of them available and the reason they're so inexpensive is that they're all public domain works from the late 19th or early 20th century. I would recommend any of them as good introductions if you ever wanted to learn something of the history of a particular country. Another advantage is that, being very much old-school, they're not going to subject you to left-wing harangues about the evils of colonialism or the rah-rah lesbian sisterhood. Not that these 19th century guys were free of biases, they had their own biases, but they're not modern biases, which makes up for the stuff they got wrong, that is superseded by more modern scholarship. Not that a history noob like me is going to know this. Now if you're a serious historical inquirer like moron commenter boulder terlit hobo, these books probably aren't for you, but for the rest of us, the inaccuracies aren't going to matter a great deal. And studying history is a good thing. Just ask Mr. Santayana. So, if you're interested in a history of Japan, you could try
History of Japan, 660 BC to 1872 AD
by William Elliot Griffis for a good overview. For China, there's
History of China From the Earliest Times to the Manchu Conquest
by Herbert H. Gowen. And then there's
A History of China
by Wolfram Eberhard, and this one is FREE. Another freebie is
Korea's Fight for Freedom
by Frederick Arthur Mckenzie. This is not a general history of that country, but rather an account of the oppressive Japanese occupation of Korea in the early 1900s written by an Englishmen who was there at the time. It's more of a memoir than a history, but even so, it still sounds like a worthwhile read. One Amazon reviewer says:
For those of us that were stationed in Korea and grew to appreciate the culture and the people it provides historical insight into the pain and suffering of these good people. After reading the accounts of some of the oppressive acts that have been carried out against this country one has to wonder if the nation can ever be reunited and if the wounds will ever be healed.
And let's not leave out India:
History of India. From Ancient Times to the 20th Century
by William W. Hunter, and by "20th Century", I think it means "about the time of WW I". I found out recently that India has 16 languages, none of which are related to each other. So you know the history has to be fantastically complex. See
History Of India From The Earliest Times To The Sixth Century BC
by Romesh Chunder Dutt and Cristo Raul Europe, you say? Well, we've got that covered, too:
A History of France From the Earliest Times to the Treaty of Versailles
by William Stearns Davis. Also
A Short History of Germany From the Earliest Times to the Treaty of Westphalia
by Ernest F. Henderson and
The History of Italy, from the Fall of the Western Empire to the Commencement of the Wars of the French Revolution
by Colonel Proctor. ...and a bunch on England. Here's two:
England During the Dark Ages
by John Green and
History of the Conquest of England by the Normans: All Volumes
by Augustin Thierry Perhaps some of these 99-centers are available for free from Gutenberg (I didn't check), but in some cases, perhaps the Kindle editions might be better. At least in the case of the Kindle edition of Charles Oman's classic multi-volume history of the "dark" ages, which has been
re-edited and re-formatted with new illustrations and maps designed specifically for a superior reading experience on all Kindles and on the iPhone/iPad via the Kindle app. Names of kings and major political/military persons have been updated and major typographical errors found with the previous Kindle edition have been corrected.
The Dark Ages - Book I of III
The Dark Ages - Book II of III
The Dark Ages - Book III of III
And, of course,
no one expects the Spanish Inquisition
. It's chief weapons are fear, surprise, ruthless efficiency, and
a fanatical devotion to the pope
. Or
maybe not
.
Exceptional
The Amazon review of Dick and Liz Cheney's new book
Exceptional
contains what appears to be the Forword, which says, in part:
Our children should know about the boys of Pointe du Hoc and Doolittle's Raiders, the Battles of Midway and Iwo Jima. They should learn about the courage of the young Americans who fought the Nazis at the Battle of the Bulge and the Japanese on Okinawa. They should learn why America was right to end the war by dropping the atomic bombs on Hiroshima and Nagasaki, and about the fundamental decency of a nation that established the Truman Doctrine, the Marshall Plan, the Berlin Airlift, and the North Atlantic Treaty Organization. They need to know about the horror of the Holocaust, and what it means to promise "never again."

They should know that once there was an empire so evil and bereft of truth it had to build a wall to keep its citizens in, and that the free world, led by America, defeated it. They need to know about the terrorists who attacked us on 9/11, the courage of the first responders, and the heroism of the passengers on Flight 93. They should understand what kind of world militant Islam will create if we don't defeat it.
Which sounds good. We all of us here agree that our children ought to be taught America's greatness. But then he says this:
Just as one president has left a path of destruction in his wake, one president can rescue us. The right person in the Oval Office can restore America's strength and our alliances, renew our power and leadership, defeat our enemies, and keep us safe. It will not be easy. There are difficult decisions to be made and very little time.
The problem here is that the Cheneys think that
everything was just fine until Obama showed up
:
"For the most part, until the administration of Barack Obama, we delivered," they wrote, arguing that Obama, who Cheney once called "the worst president history has seen," has "departed from this 75-year, largely bipartisan tradition of ensuring America's pre-eminence and strength."
I find this incredibly myopic, ignoring as it does decades of cultural rot and subversion, quite apart from politics. Where does he think the rot came from? There are reasons why schoolchildren are not being told about Pointe du Hoc and the Battle of the Bulge, and it didn't start with the Obama administration. The Obama administration is the fruit, not the seed. Obama is a symptom, not a cause. So something like this
We are living at another hinge point of history and require a president equal to this moment. We must choose wisely.
...is quite inadequate. We're beyond the point where we can fix things by voting for some other guy. The problem is that the lack of confidence in American values and American civilization brought about by the institutional march of progressivism goes back many years and Americans have the attention span of a gnat. This is why voting feels so much like exchanging one set of deck chairs on the Titanic with another. Nothing is going to get fixed until we, collectively, come to view progressivism as we do phrenology or eugenics. It's going to take years of work to repair the damage, not just an election.
Will Edit For Food
A while back
, I pimped the book
Hard Bite
, which is about a serial revenge killer in a wheelchair who carries out his murdering with the help of his homicidal monkey. The author, when she isn't writing books, is busy editing them. Or wants to be. She has a book editing service she'd like all you moron authors to know about:
As you know, I'm a book editor (fiction and nonfiction)...who gives a fair shake to conservative-leaning manuscripts? I have seen with my own eyes, fledgling writers get criticized by literary gatekeepers for their values, when they deserve unbiased critique.

Anyway, maybe Horde writers would like to know what I offer. Try it free: First 3 pages edited FREE including notes.
More info, including pricing, at
the author's website
.
And Now, A High-Class Literary Announcement
I heard from high-class moronette author
Elisabeth Wolfe
about a high-class event coming soon a city near you(perhaps):
A neat opportunity for book-loving 'rons and 'ettes that I don't think is being advertised much (at least I heard about it only through the grapevine): The National Theatre production of Hamlet, starring Benedict Cumberbatch, is going to be broadcast to movie theaters in the US on October 15. It's one night only in most places, but selected theaters will also have encore showings after October 22. Details, including venues, are available at http://ntlive.nationaltheatre.org.uk/productions/ntlout10-hamlet.
Point / Counter-Point
Here is a very silly article
by a very silly HuffPo contributor about how authors should not write prolifically. And
here's a thorough fisking of said article
by prolific author Larry Correia. You be the judge. Me, I like "prolific" because it's got "pro-life" in it.
Books By Morons
I heard this week from a lurking moronette
Candace
, who has written a number of Christian-themed YA fantasy novels.
Where Dragons Dwell
. One Amazon reviewer says
We are always looking for good books to read as a family - and this is one of our favorites! A tale of love and sacrifice - battles and dragons! We have a tween boy, teen girl and we all LOVE this adventure.
Whom Dragons Rule
Is the sequel. I'm guessing there's going to be a third in the series before too long. She's also the author of the "King" series,
The Pursuit of a King (A Tale of Wisdom)
, which is available for FREE:
A dream. A king. A riddle. A map. A journey. A dungeon (or two). A decision. A sacrifice. A sword. A throne. The Pursuit of a King (A Tale of Wisdom) recounts the adventures of Artemerio and Barto as they cross deserts, climb canyon walls, face the evil Dunley, rescue Lady Wisdom, save cities from certain destruction (using only cake!)--and discover their destinies.
There are three others in the series:
The Heart of a King (A Tale of Faith)
The Honor of a King (A Tale of Mercy)
The Son of a King (A Tale of Love
) All of Ms. Little books have MULTIPLE TRIGGER WARNINGS for extolling the virtues of courage, hard work, responsibility, self-sacrifice, and actual good versus actual evil.
___________
I first mentioned
Patrick Chiles
' sci-fi novel
Perigee
back in 2012. Well, he's finally finished writing the sequel,
Farside
, and here it is:
A missing spacecraft –
A cryptic message –
And a fearsome secret hiding in plain sight.
Five years after he was marooned in Earth orbit, Ryan Hunter must go even farther to find the man who saved his life.
With former astronaut Penny Stratton, he leads an unconventional rescue team into a threat beyond anything he could have imagined. What he can't know is that the fate of millions rests on their shoulders.

Because something big is coming...
Only $3.99 on Kindle.
___________
So that's all for this week. As always, book thread tips, suggestions, bribes, rumors, threats, and insults may be sent to OregonMuse, Proprietor, AoSHQ Book Thread, at the book thread e-mail address: aoshqbookthread, followed by the 'at' sign, and then 'G' mail, and then dot cee oh emm. What have you all been reading this week? Hopefully something good, because, as you all know, life is too short to be reading lousy books.