Sunday Morning Book Thread 07-12-2015: War On The Private Mind [OregonMuse]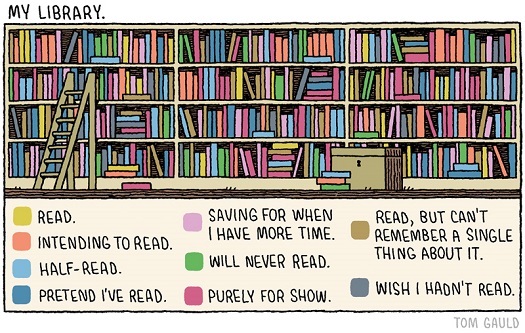 (Cartoon stolen from
here
.)
Good morning to all of you morons and moronettes and bartenders everywhere and all the ships at sea. Welcome to AoSHQ's stately, prestigious, internationally acclaimed and high-class Sunday Morning Book Thread. The only AoSHQ thread that is so hoity-toity, pants are required. Or kilts. Serious you guys. Kilts are OK, too. But not tutus. Unless you're a girl.
Book thread
TRIGGER
SPECIAL SNOWFLAKE WARNINGS because you may hear that an armed society is a polite society, immigration laws ought to be enforced, and that democracy will last only until people discover they can vote themselves rich from the public treasury.
That is a good book which is opened with expectation and closed with profit.
-Amos Bronson Alcott
I dunno, that sounds awfully retrograde to me.
This Is How You Will Be Made To Care
"I don't care about all of this crap" my #2 son said to me a few months back when we were discussing Gamergate. "If they want to have their politically correct games, fine. I don't want to play them." But of course it doesn't work that way. I told him, "You may not be interested in Gamergate, but Gamergate is interested in you." We went back and forth a few times, but I'm not sure he really understood what I was trying to say. I'm afraid he will, soon enough.
This piece in the Federalist
, linked in the sidebar, that comes close to capturing the way I've been feeling the last two years:
A lot of people are scratching their heads today, wondering how life got to be so surreal, so fast in the United States of America...The Great Unraveling continues at a rapid clip when slipping on a pronoun in these days of transgender rule could cost you your career or earn you massive social media rallies chanting "hater" at you.

Even benign reminders of the First Amendment—embodied in Religious Freedom Restoration Acts—are quickly dispatched by mob hysteria. One day a supposedly principled leader like Indiana Gov. Mike Pence promotes the RFRA, and the next day he folds and essentially signs on with the mob.
Of course, this is yet another illustration of how now is the time when we desperately need heroes, and all we get are cowards. The author's main point is that conservatives know nothing about social psychology while progressives are expert at exploiting it, which is why we keep losing. Along the way, she references some classic books on manipulating public opinion and mass movements. The first is
Public Opinion
by Walter Lippmann, first published in 1922. Lippman was a writer, journalist and political commentator, probably the most influential pundit of his day.
His wiki entry says
:
Lippmann was an early and influential commentator on mass culture, notable for not criticizing or rejecting mass culture entirely, but discussing how it could be worked with to keep democracy functioning. In his first book on the subject, Public Opinion (1922), Lippmann said mass man functioned as a "bewildered herd" who must be governed by "a specialized class whose interests reach beyond the locality." The elite class of intellectuals and experts were to be a machinery of knowledge to circumvent the primary defect of democracy, the impossible ideal of the "omnicompetent citizen". This attitude was in line with contemporary socialist thinking.
So, how is all of this leading-of-the-unwashed-masses-to-a-glorious-future-by-an-enlightened-few going to be accomplished?
Propaganda
by Edward Bernays, nephew of Sigmund Freud, and who has been dubbed "the father of public relations", has the answer:
Bernays applied...some of the ideas of Walter Lippmann, [and] became an outspoken proponent of propaganda as a tool for democratic and corporate manipulation of the population. His 1928 bombshell Propaganda lays out his eerily prescient vision for using propaganda to regiment the collective mind in a variety of areas, including government, politics, art, science and education. To read this book today is to frightfully comprehend what our contemporary institutions of government and business have become in regards to organized manipulation of the masses.
Another classic book, one that offers a more in-depth view of the subject, is
Propaganda: The Formation of Men's Attitudes
by French sociologist/theologian Jacques Ellul, which, unfortunately, has not yet been converted to e-text. One Amazon reviewer notes:
You will find many less than intuitive but fascinating notions in the book. For instance: Education increases the ingestion of propaganda. In fact it is a prerequisite. It is no wonder Saddam Hussein worked to increase literacy in Iraq -- all the better to try to propagandize the people with words and mold them into a cohesive whole. Another idea: Democracies like the U.S. are very vulnerable to propaganda. In fact, this form of government makes propaganda all the more necessary, since you must work on people's minds more than their bodies (it is not a dictatorship.) People in democracies should expect to be heavily and relentlessly propagandized.
Whereas Bernays thought propaganda was wonderful and participated in a number of PR campaigns, Ellul not so much:
[Ellul] views propaganda as ultimately dehumanizing, necessary and inevitable at the same time. Propaganda, ANY propaganda, regardless of motives or veracity, serves to reduce the individual to function as a meaningless syphon.
('syphon' is an actual word, by the way. I had to look it up) And finally:
Perhaps Ellul's most important insight was that the educated believed themselves immune to propaganda when, due to their proclivity for reading and watching news and other governmental outflow, such "intellectuals" were actually far more vulnerable than masses who did not receive propaganda as often.
So, getting back to Lippman, he didn't stop with that one book:
Later, in The Phantom Public (1925), Lippmann recognized that the class of experts were also, in most respects, outsiders to any particular problem, and hence, not capable of effective action.
That's an interesting admission: the masses are fools but the experts are incompetent. That's not a political philosophy, that's a formula for despair. But hold on, there's more:
From the 1930s to the 1950s, Lippman became even more skeptical of the "guiding" class. In The Public Philosophy (1955), which took almost twenty years to complete, he presented a sophisticated argument that intellectual elites were undermining the framework of democracy.
As a leading public intellectual, Lippmann was able to hobnob with the movers and shakers. So what all of his elite friends think of his evolution of thought?
This book was very poorly received in liberal society.
Which is not surprising. "You're all worthless and weak" is always a hard sell. So how do we fight this?
The Rape of the Mind: The Psychology of Thought Control, Menticide, and Brainwashing
by Dutch psychiatrist Joost A. M. Meerloo, written
...after years immersed in the study of social psychology and countless interviews with victims of mental coercion, including Nazi officers and American prisoners of war in Korea. This treasure of insights was written for the layman. It is an absolute must-read for anyone who hopes to uphold the dignity of the individual. The book offers the psychic defenses so lacking among those who submit to logicide.
Here's one particularly effective tool:
Along these lines, Meerloo offers a prescription: "We must learn to treat the demagogue and aspirant dictator in our midst just as we should treat our external enemies in a cold war – with the weapon of ridicule. The demagogue himself is almost incapable of humor of any sort, and if we treat him with humor, he will begin to collapse..."
This. A lot more of this. That SJWs all seem to be humorless bastards is a huge, gaping weakness for them, ripe for exploitation. It is unfortunate that few on our side want to take advantage of this, or even see that it exists. The Kindle edition of Merloo's book is available for only $3.99.
Q: When Is A Bestseller Not A NY Times Bestseller?
A:
When Ted Cruz writes it
:
The New York Times informed HarperCollins this week that it will not include Ted Cruz's new biography on its forthcoming bestsellers list, despite the fact that the book has sold more copies in its first week than all but two of the Times' bestselling titles, the On Media blog has learned.
How big a seller is it?
Cruz's "A Time For Truth," published on June 30, sold 11,854 copies in its first week, according to Nielsen Bookscan's hardcover sale numbers. That's more than 18 of the 20 titles that will appear on the bestseller list for the week ending July 4. Aziz Ansari's "Modern Romance," which is #2 on the list, sold fewer than 10,000 copies. Ann Coulter's "Adios America," at #11, sold just over half as many copies.
Sales of Cruz' book did not meet the NY Times "standards" for inclusion. When asked what those standards are, the reply from the Times' spokesperson was basically a non-answer:
Asked to specify those standards, Murphy replied: "Our goal is that the list reflect authentic best sellers, so we look at and analyze not just numbers, but patterns of sales for every book."
Later on, she said in an e-mail that "the overwhelming preponderance of evidence was that sales were limited to strategic bulk purchases".
A Time For Truth
by Ted Cruz is currently a #1 bestseller on Amazon, and I think I know what "strategic bulk sales" means, but even so, the Times' explanation is annoyingly incomplete. Rush used to talk about this sort of thing. Back in the Jurassic period prior to the internet, when his first book
The Way Things Ought to Be
was climbing the chart, Rush complained that they would not print the entire bestseller list, wherever his book was, they'd print only those above it. If
TWTOTB
was at number 8, they'd only print the top 7, and then when he moved to number 6, the next week's list would only show the top 5. I think Rush might have been exaggerating a bit, as I've seen them print the full list, even with conservative books occupying as many as 3 or 4 slots on the list. By the way, the unhinged 1-star Amazon reviews of Cruz' book are hilarious.
Boys & Reading
Here's an article
bemoaning the fact that it's tough to get boys to read nowadays. Various theories are proposed as to why this is:
According to one theory, girls' brains are more verbally oriented, often making reading skills easier for them, while boys' brains are visually oriented. Another theory is that boys are more physically restless than girls.
And so on. Undoubtedly, all of these play a role. But my theory is simpler: if you want boys to read, then give them books they will want to read, i.e. action, adventure, narrow escapes, hair-raising chases, featuring men who are strong and tough. But of course, this would be like anathema to the feminists who dominate the publishing industry. So instead, you get revisionist fairy tales where instead of being rescued from a dragon by a manly knight in shining armor, the damsel constructs a firearm and shoots the dragon herself, this rendering the (male) knight pretty much superfluous. So, yeah. Boys don't want to read. I hope nobody is surprised by this.
Books by Morons
A long time reader and lurker e-mailed me earlier this week and let me know he has just released a new book on worship,
Meditations on Reformed Worship: Motivations, Principles and Practices
. The author, Matthew Powell, is a pastor in the RCUS (Reformed Church in the United States). He is also the author of an earlier book,
The Essentials of the Christian Religion
. Also
The Lord is There: Studies in the Book of Ezekiel
.
AoSHQ Book Club
Later on today (sometime around 6:30-7:00pm EDT), ace will be putting up the AoSHQ Book Club Thread. This week's book is Edgar Allan Poe's
Fall of the House of Usher
. This is the Kindle version, but no doubt it's available for free on Gutenberg or other e-book sites.
___________
So that's all for this week. As always, book thread tips, suggestions, bribes, rumors, threats, and insults may be sent to OregonMuse, Proprietor, AoSHQ Book Thread, at the book thread e-mail address: aoshqbookthread, followed by the 'at' sign, and then 'G' mail, and then dot cee oh emm. What have you all been reading this week? Hopefully something good, because, as you all know, life is too short to be reading lousy books.