Sunday Morning Book Thread 07-05-2015: The Course of Human Events [OregonMuse]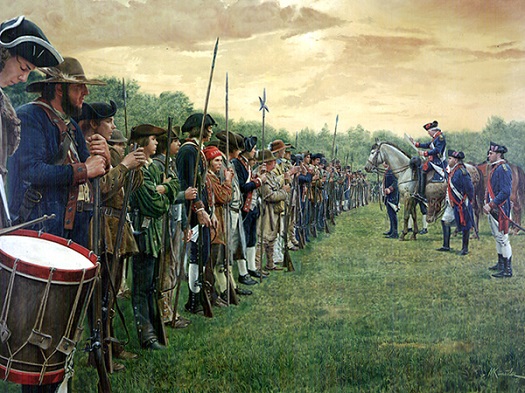 "We Hold These Truths To Be Self-Evident, That Everyone Is Entitled To Elect Their Own Profligate And Irresponsibile Leaders, A Lifetime Of Free S*%# From The Government, The Destruction of Traditional Morality, And Compulsory Gay Marriage For All."
Good morning to all of you morons and moronettes and bartenders everywhere and all the ships at sea. Welcome to AoSHQ's stately, prestigious, internationally acclaimed and high-class Sunday Morning Book Thread. The only AoSHQ thread that is so hoity-toity, pants are required. Or kilts. Serious you guys. Kilts are OK, too. But not tutus. Unless you're a girl.
Book thread TRIGGER WARNINGS for holding these truths to be self-evident, that all men are created equal, that they are endowed by their Creator with certain unalienable Rights, that among these are Life, Liberty and the pursuit of Happiness. Also, that George Takei is a perfect example of what happens when you scratch a progressive and, hey looky there, a racist pops out.
Once you learn to read, you will be forever free.
-Frederick Douglass
Not many people knew this better than Douglass did. From his
wikipedia page
:
When Douglass was about twelve years old, Hugh Auld's wife Sophia started teaching him the alphabet, although Maryland state law prohibited teaching slaves to read...When Hugh Auld discovered her activity, he strongly disapproved, saying that if a slave learned to read, he would become dissatisfied with his condition and desire freedom...One day Mrs. Auld saw Douglass reading a newspaper; she ran over and snatched it from him, with her face showing that education and slavery were incompatible with each other.
What we take for granted, Douglass had to fight for. Of education being incompatible with slavery there can be no doubt. After all, an educated man might ask the question, why do I have to wear these chains? History teaches that an ignorant populace is the breeding ground for tyranny and despotism. Did you think Billy Ayres doesn't know this?
Exceptional Americans
There is no question that Douglass was a remarkable man and our country is better for him having lived in it. Blogger
Don Surber
, last seen
on the ONT
explaining how the
British dissing of Ben Franklin to his face
was a factor in the colonies subsequent decision to take up arms against England, has written a book of biographical sketches of some other, not as well-known, remarkable Americans,
Exceptional Americans: 50 People You Need To Know
. Surber's book
tells the stories of 50 less-than-famous people who -- given the opportunities that our great nation provides -- made their country and indeed, the world, better. From Anne Hutchinson's stand for freedom of religion, which helped establish Rhode Island, to Norman Borlaug's rise from a farm boy to a Nobel laureate, whose improvements to wheat have saved a billion lives, Americans have made the world better. Most of the people profiled are little known today, but their names should be sung from sea to shining sea. This book is a tribute to only a few of the millions of Americans who have made the USA the greatest land of all.
The Kindle edition is available for $2.99. And while I was looking at that book, Amazon showed me this YA book,
Bad News for Outlaws: The Remarkable Life of Bass Reeves, Deputy U.S. Marshal
.
Sitting tall in the saddle, with a wide-brimmed black hat and twin Colt pistols on his belt, Bass Reeves seemed bigger than life. Outlaws feared him. Law-abiding citizens respected him. As a peace officer, he was cunning and fearless. When a lawbreaker heard Bass Reeves had his warrant, he knew it was the end of the trail, because Bass always got his man, dead or alive...He made more than 3,000 arrests, and though he was a crack shot and a quick draw, he only killed fourteen men in the line of duty. The story of Bass Reeves is the story of a remarkable African American and a remarkable hero of the Old West.
So here's someone who spent his entire life running around, arresting and shooting people. I suppose it would be churlish of me to point out that if he were white, he'd be condemned as a racist oppressor. But carping aside, Reeves sounds like a complete badass. AMC should make a TV series about him.
An Unlikely Story
In light of the recent SCOTUS Obergefell v. Hodges decision, I offer this: Rosaria Butterfield used to be a tenured professor of English and Women's Studies at Syracuse University. A self-described "leftist lesbian professor", she and her partner were active in many progressive causes. She despised Christians. Then, she became one. Then,
her conversion story she wrote for Christianity Today magazine
went viral. Then, she wrote a book about it,
The Secret Thoughts of an Unlikely Convert
.
She does not like gay "reparative " or "conversion" therapy
where they try to make a homosexual heterosexual. Even though she herself is now married (to a man (who has always been a man)) and is a homeschooling mom, she thinks that celibacy is the better choice for homosexuals who wish to follow Christ, which has the advantage of being a long-standing Christian tradition, from its earliest days. A more "filled-out" version of Butterfield's testimony, one which I like a little better, can be found in one of her other articles,
Engaging Gay Activists on Campus: A Primer
. She's also written a follow-up book,
Openness Unhindered
, which was just released on July 1st. Butterfield's
response to the Obergefell decision
is quite good, and the accompanying graphic (go to the
main page
and scroll down a bit to see it) is brilliant. And, this being the book thread and all, she's got a good article on reading, written for a Christian audience,
You Are What - and How - You Read
.
New Old Pournelle Series Now Available on Kindle
Back in the 80s, science fiction author Jerry Pournelle edited a multi-volume series of stories and articles focusing on various aspects of war, called, appropriately enough,
There Will Be War
. I believe there were 9 in the series. The first two are available on Kindle, and presumably the others will be forthcoming.
The first volume
contains the classic western short story
Spanish Man's Grave
by James Warner Bellah and also the original
Enders Game
(before Card expanded it into a full-length novel).
Volume 2
has also been released. I have not seen Volume 3 as of yet. Fun Fact: The person chiefly responsible for converting Pournelle's
TWBW
series to e-book format is none other than veteran moron commenter epobirs, who is listed as the technical editor. Maybe he could fill us in on the release dates of the other books in the series. While I was getting information on Pournelle's book, here's another one that Amazon waved in my face, and it might be of interest for a number of you on this Smart Military Blog,
A History of Strategy: From Sun Tzu to William S. Lind
, by Martin Von Creveld, and with a forward by Jerry Pournelle, which
...begins with the Chinese military literature, then reviews the Greek, Roman and Byzantine works before proceeding to the Middle Ages. From Machiavelli and Montecuccoli to Guibert and Frederick the Great, van Creveld chronicles the gradual transition from medieval to Napoleonic warfare. Subsequent chapters delve into the literature of naval warfare, including Mahan and Corbett, then examine the works of the leading strategists of the early 20th century, including Moltke, Liddell Hart, and Ludendorff. The final chapter considers the modern strategists behind such concepts as Mutually Assured Destruction, terrorism, insurgency, and 4th Generation War.
At 116 pages, it's a lot shorter than I thought such a wide-ranging survey would be. I don't know if that's good or bad. It's $4.99 on Kindle.
The Origin of Pulp
Here is
a lengthy New Yorker piece
on the origin and history of paperback books, based on the book
American Pulp: How Paperbacks Brought Modernism to Main Street
by Paula Rabinowitz. And if you get tired of reading such a long article, there are a couple of cartoons on the page that you can use to play the game ace mentioned awhile back where you discard the original cartoon caption and replace it with "I think I'm going to kill myself", and see that it still works.
For Those Of You Who Just Can't Get Enough 50 Shades - Now, There's More
Grey: Fifty Shades of Grey as Told by Christian
by E L James has just been released. And,
guess what happened
?
The new book "Grey" by E.L. James -- which tells her "Fifty Shades" story from Christian Grey's point of view -- has topped 1 million in sales in just four days.

Publisher Vintage Anchor announced the news Monday. Tallying print, audiobooks and e-books together, "Grey" has sold more than 1.1 million copies.
I wonder if it's any good? Hint: no.
This NY Times review
says, hell no. Or, you can read this,
The 10 Very Best Lines From The New York Times Book Review Of "Grey"
Moron Recommendations
In the mood for a little horror reading? Lurking moron Christopher wants me to tell you all about his author friend's books. The eponymous main character of the first one,
Teddy
, has an unusual problem:
Teddy Dormer lives with a condition unlike any other: in order to sleep, he must not only inadvertently steal the ability for others around him to sleep, but he also experiences their worst nightmares, memories, and darkest secrets. This is a condition he has lived with his entire life, often with dire consequences, but he has a system that works for him. Teddy lives on the road, perpetually moving from place to place, never subjecting his presence on the same population for longer than a single night.
But then, of course, Something Happens, and everything goes to smash. Christopher also tells me that Michael Anderson's second novel,
Wake
is
one of the creepiest things I've read in a long time and that's saying something because very little creeps me out these days. It's another Teddy Dormer story, but far darker. I'm only about halfway through the book, and it's one of the weirdest things I've read involving a whole host of dark stuff like demon kids, school shootings, Japanese ghosts, and viral contagions spread through radio and television signals. And Michael promised me it gets weirder.
Sleep tight, kiddies. Don't let the bedbugs bite. (Insert
Cryptkeeper laugh
).
___________
Heard from another lurker, Michael Kennedy, an actual 'MD' doctor, who has a couple of books out, the first being
A Brief History of Disease, Science and Medicine
. This is a college-level
...introduction to the history of medicine [which] begins with the evolution of infectious diseases at the end of the last ice age. It describes the origin of science and medicine in ancient civilizations, including China and India. The first third of the book covers the early period that is considered the "classical" history of medicine. The remainder describes the evolution of modern medicine and surgery up to the present. The final chapter is a history of medical economics and explains the origin of health insurance, HMOs and medical malpractice lawsuits, subjects explained nowhere else in the medical school curriculum.
Dr. Kennedy has also written a personal memoir, available on Kindle,
War Stories: 50 Years in Medicine
.
A memoir of a medical career of 50 years. The memoir is chiefly about patients and their stories. What we did then and what we know now.
I'll bet he's seen a lot in 50 years.
___________
Now who doesn't like compost? Certainly lurking moron
David the Good
from last week's gardening thread does. Heck, he even wrote a book about it,
Compost Everything: The Good Guide to Extreme Composting
. David says:
It has really been a good seller thus far, mostly because it tosses out all the hard work and restrictive rules on composting. After years of experimentation with Native American methods and various other techniques, that book almost wrote itself. And it's funny, which is more than one can say about Ag Extension composting guidelines.
If there's a lazy way to do it, you know most morons will like it. Thanks to moronette Tammy al-Thor for passing this along.
___________
So that's all for this week. As always, book thread tips, suggestions, bribes, rumors, threats, and insults may be sent to OregonMuse, Proprietor, AoSHQ Book Thread, at the book thread e-mail address: aoshqbookthread, followed by the 'at' sign, and then 'G' mail, and then dot cee oh emm. What have you all been reading this week? Hopefully something good, because, as you all know, life is too short to be reading lousy books.