Sunday Morning Book Thread 05-31-2015: The Patriarchy Strikes Back [OregonMuse]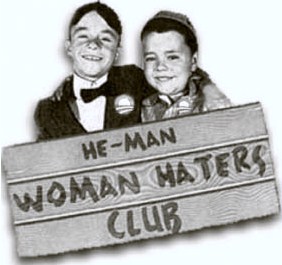 The Inklings: C.S Lewis (left) and J.R.R. Tolkien
Not shown: Charles Williams and Owen Barfield
Good morning to all of you morons and moronettes and bartenders everywhere and all the ships at sea. Welcome to AoSHQ's stately, prestigious, internationally acclaimed and high-class Sunday Morning Book Thread. The only AoSHQ thread that is so hoity-toity, pants are required. Or kilts. Kilts are OK, too. But not tutus. Unless you're a girl.
Book Quote
The book you don't read won't help.
–Jim Rohn
Another Bastion of Cisnormative Oppression Identified
I really loathe the Marxist obsession with race, gender, and class. And I hate how this obsession has seeped into pretty much everything. Get a load of
this crap
:
In a pub in Oxford there lived some writers. Not nasty, dirty decadent writers, whose books were filled with intimations of sex and an oozy smell, nor yet dry, bare Modernists with a horror of heroics or fantastical things: These Oxford writers were Inklings, and that means heterosexual white male Christians who created some of the most enduring works of 20th century fantasy.
Yes, be sure and point out that these guys were "heterosexual white male Christians", because it's just so, so
super
-important that everyone absolutely
has
to know this. And then there's the progressive appeal to butthurt:
Their scholarly machismo made it possible for Lewis to do a very public volte-face from heartfelt atheism back to Christianity but never entertain the thought of a female Inkling.
Yeah, because it's a well-known fact that the Inklings group was formally organized as a
He-Man Woman Haters Club
that routinely rejected highly-qualified female applicants in order to preserve and protect their white male privilege. But what did you expect from a bunch of machismo-laden white guys?
Christian faith was indisputably one strand of the Inklings' creative DNA, but what then to make of all those elves and heraldic creatures and otherworldly voyages, the underlying obsessive strangeness of so much of their fiction?...One is left with the impression that within each of those hearty, laughing, church-going writers, there beat a pagan heart.
Apparently, the only way the reviewer can come to bring herself to admit that she very much enjoys the writings of these cisnormative white guys (whom she has undoubtedly been taught to think of as class enemies and bad people) is to pretend that they're something entirely different than who they actually were. Because, you see, only pagans can write good stuff. Not those icky Christians! It's kind of like she's an ardent feminist who keeps a stash of bodice-ripping romance novels underneath her bed that she reads on the down low, when she thinks no one else is looking. The book she's talking about, by the way, is this one,
The Fellowship: The Literary Lives of the Inklings: J.R.R. Tolkien, C. S. Lewis, Owen Barfield, Charles Williams
. I'm not sure what this new book offers that's any different than earlier efforts (fo example,
this one
,
that one
, and
this one here
), not that I was able to find out much about it from this review. However, I did learn much about the author's inability to see anything other than through the Marxist categories of race, gender, and class, the holy trinity of a godless faith. And thus we see yet another example of how progressivism poisons everything it touches.
Are You Worth $3.4 Million Dollars?
You are if you're
science-fiction writer John Scalzi
:
John Scalzi, a best-selling author of science fiction, has signed a $3.4 million, 10-year deal with the publisher Tor Books that will cover his next 13 books.
Yeah, I know he's quite the SJW, but I like this:
Mr. Scalzi...said his wife, Kristine, had kept his ego from going supernova.

"My celebration, personally, has just been standing around," exclaiming with profane expressions of delight, he said. "And my wife saying, 'Yes, now go take out the trash.' "
We all of us, even SJWs, need someone in our lives who is able to tell us that we're (a) full of crap, (b) bughouse crazy or (c) both. It's one of the keys to remaining sane. If you get powerful enough, or rich enough, or isolated enough, you get closer and closer to the point where you will longer know what normal is any more. $3.4 million probably isn't enough to get him there, but it's good to hear he has some perspective on it.
Dadly Virtue
Early for Father's Day, but the same gang of ne'er-do-wells what gave us
The Seven Deadly Virtues: 18 Conservative Writers on Why the Virtuous Life is Funny as Hell
have come out with a new one,
The Dadly Virtues: Adventures from the Worst Job You'll Ever Love
. It covers all aspects of the job from 'A' to 'Z', and the chapters appear to be arranged in chronological sequence of dadhood, from when the first newborn baby arrives, all the way to grandfatherhood. Authors include conservatives Matthew Continetti, Stephen F. Hayes, James Lileks, David 'Iowakawk' Burge, and others. Jonah Goldberg's chapter is excerpted over at National Review,
What Having a Dog Can Teach You about Life
. In
a Fox News interview
, authors Hayes and Jonathan Last bring up Tucker Carlson's chapter on adventure, where he talks about building a potato cannon with his kids, and then they run out of potatoes, so they load it with Barbie dolls, only the hair catches on fire, so you have these flaming lawn darts shooting out over the lawn, lodging in trees, etc. I think my respect for Carlson just rose a notch. And unlike most best-selling Kindle books that are often exorbitantly priced at $15.99, $16.99 and even higher, the Kindle price for
TDV
is a more reasonable $9.99. Lastly, I like the cover art. It shows a new dad holding a drooling baby he obviously doesn't know what to do with (note the splat of spit-up directly over his shirt pocket), but his own father is standing behind him, resting a calm, reassuring hand on his shoulder, so we know everything is going to be OK.
Ann Coulter Is At It Again
Her latest book,
Adios, America! The Left's Plan to Turn Our Country into a Third World Hellhole
is scheduled to be released on June 1st. Hey, that's tomorrow.
In her Townhall column
, Coulter mentions
Teddy Kennedy's 1965 Immigration Act was expressly designed to change the demographics of our country to be poorer and more inclined to vote Democratic.
I'm curious to see how she proves intent ("expressly designed"). While there's no doubt that "poorer and more inclined to vote "Democratic" was indeed the result, I hope it doesn't turn out to be a bunch of "post hoc, ergo propter hoc"-ery.
With no welfare state to support them, about a third of pre-1965 Act immigrants returned to the places they came from. British and Jewish immigrants were the least likely to go home -- less than 10 percent did.
I've always thought that what we call an immigrant problem is mostly a welfare state problem. If illegal immigrants weren't showered with benefits (from the public treasury) immediately upon arrival in this country, maybe the problem would be more manageable. But what do I know?
Although America is admitting more immigrants, they are coming from fewer countries than they did before 1970. On liberals' own terms, the country is becoming less "diverse," but a lot poorer and a lot more Latin.
In fact,
America has already taken in one-fourth of Mexico's entire population
My first reaction was this could not possibly be true. But Mexico's population in 2013 was 122 million. and
wikipedia
notes that there are anywhere between 7 and 20 million illegals currently residing here, so Coulter's claim sounds quite plausible.
In Denmark, actual Danes come in tenth in criminals' nationality, after Moroccans, Lebanese, Yugoslavians, Somalis, Iranians, Pakistanis, Turks, Iraqis and Vietnamese.
Immigrant crime is a problem that no one, and I mean absolutely no one, in pretty much the entire world, wants to talk about. Merely mentioning it brings an immediate accusation of racism. Coulter complains about not being interviewed on major media outlets despite being a best-selling author, but if that's what she wants, she should rewrite her book along crudely Marxist lines, i.e. she needs to rail against "big business" and "big agriculture" and how the evil capitalists, whether Democrats or Republicans, always need an oppressed working class to feed off of, and how that has been the historic function of illegal immigrants all along. She'd have no trouble getting interviews, then.
24
A bit of false advertising here as it sounds like some of these
24 Books You Can Read In Under An Hour
sound like short stories (notably the ones labelled as "Kindle Singles"), but there's some classics on this list. To which I would add the following short books:
Barak Obama's Foreign Policy Triumphs
Barak Obama's Domestic Policy Triumphs
Rules For Chastity
by Bill Clinton
We Won't Behead You This Time: The Islamic Pacifist Tradition
Going Around The Bend: Feminists Who Aren't Bughouse Crazy
by
Robert Stacy McCain
I'm sure I've missed a few.
Moron Recommendations
Longtime moronette 'tms' has a recommendation, and I can no better than to simply quote from the e-mail she sent:
I'd like to recommend Do Over: Rescue Monday, Reinvent Your Work, and Never Get Stuck by Jon Acuff. I am not typically a career/business/time management/self help reader...However I am really enjoying Do Over...For people actually grinding at a time clock job, I think you'll love it. It's about developing and applying the four things that actually matter: character, skills, relationships and hustle. It's funny and doesn't try to me more than it is.
Acuff is also the author of
Start: Punch Fear in the Face, Escape Average and Do Work that Matters
and
Quitter: Closing the Gap Between Your Day Job & Your Dream Job
.
What I'm Reading
I've started the
Elmo Jenkins
series with the first novel,
Ordained Irreverence
. Elmo is a recent seminary graduate who is interning at a large, nondescript Protestant church in some city somewhere. Even though it's fiction, the author, McMillian Moody says that most of the events are inspired by actual events from the days when he, too, interned at "a large downtown church." It kind of reminds me of James Herriot's 'All Creatures Great and Small' books, where all the stories are autobiographical and all the real-life names are changed to something else. Some reviews say the
EJ
books are "laugh out loud" funny, but I do not find them so, at least not this one, which has been mildly amusing at best. This doesn't mean it's a bad book, I'm enjoying reading it, and I like Elmo, the main character, as he has to learn the business of his calling to serve God, and how to deal with the unique personalities of both the church staff and members of the congregation. In other words, kind of like Herriot, only with extra added religion, which, by the way, isn't especially intrusive. The other Elmo Jenkins books are
Some Things Never Change
,
The Old Man and the Tea
and
A Tale of Two Elmos
.
___________
So that's all for this week. As always, book thread tips, suggestions, bribes, rumors, threats, and insults may be sent to OregonMuse, Proprietor, AoSHQ Book Thread, at the book thread e-mail address: aoshqbookthread, followed by the 'at' sign, and then 'G' mail, and then dot cee oh emm. What have you all been reading this week? Hopefully something good, because, as you all know, life is too short to be reading lousy books.